We use affiliate links. If you buy something through the links on this page, we may earn a commission at no cost to you. Learn more.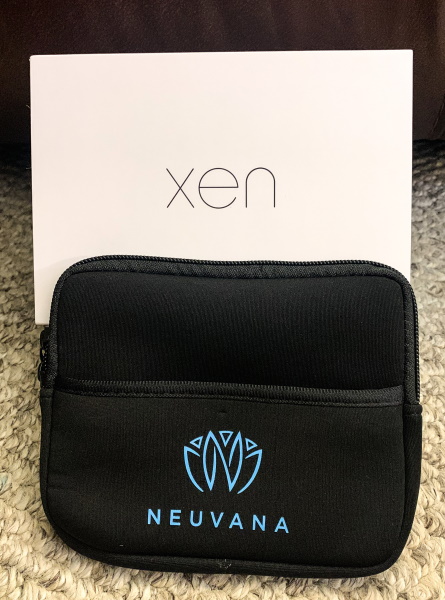 REVIEW – I have reviewed a few devices that promise relaxation and better sleep, and so far I have only found one that lives up to its claims and that has become a solution to help with my insomnia. Xen by Neuvana is a new device that has a unique approach towards helping with relaxation and sleep.
What is it?
Xen by Neuvana uses the power of neuroscience by leveraging how the brain, body, and nervous system work together and promises to deliver benefits like better sleep, less stress, more tranquility, a brighter mood, enhanced focus, and reduced cravings.
What's in the box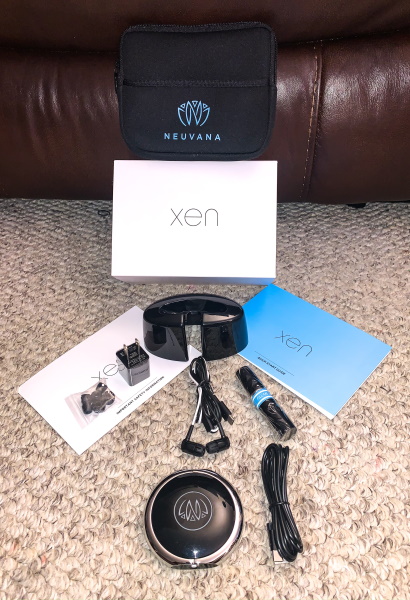 1 x Xen
1 x Xen Headphones
1 x Xen Ear Tips in sizes S, M, L, XL
1 x Xen Display Stand
1 x USB-C Charging Cable + Adapter
1 x Charging Stand
1 x Micro-Drop Sprayer
1 x Quick Start Guide
1 x Important Safety Information
Design and features
Specifications
Compatible mobile devices (required for use): iPhone®/ iPad® / iPod touch® with iOS® 11 or later; Android™ device with OS 5 or later
Battery capacity: 900 mAh, 3.7V
Charging port: USB-C
Charging time: Up to two hours | Usage time: Up to three hours
Features
All-in-one bundle with everything you need to get started with Xen
Xen syncs to your music library, Spotify®, Pandora®, and other streaming apps
Easily control and track your session with the Neuvana app
Requires a compatible mobile device (iPhone®/iPad®/iPod touch® with iOS® 11 or later; Android™ device with OS 6 or later)
Connects wirelessly to your phone or tablet via Bluetooth
High-performance earbuds deliver crisp, clear audio
Built-in rechargeable battery provides up to three hours of continuous use
Xen Display Stand conveniently holds your Xen while charging or not in use
On the top flat surface of the Xen, there is a logo that is lit by LEDs when in operation. The flip side is a black plain surface. The device has a surrounding chrome metal edge.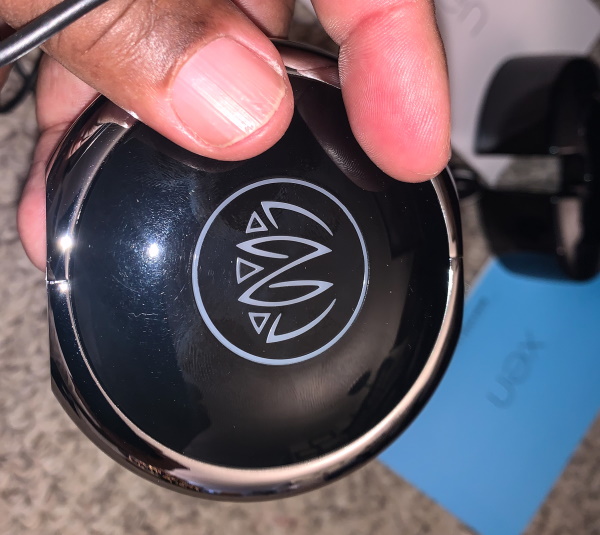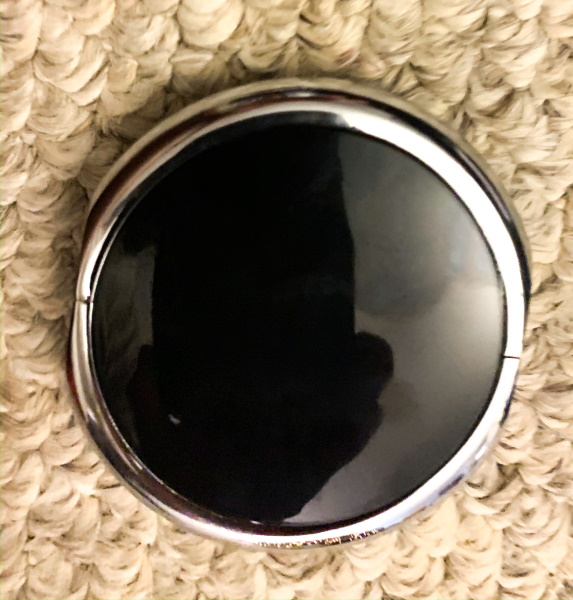 On one side of the round edge of the device, there is a flat section with the power button. On the opposite side, there is a smaller flat section with the USB-C port.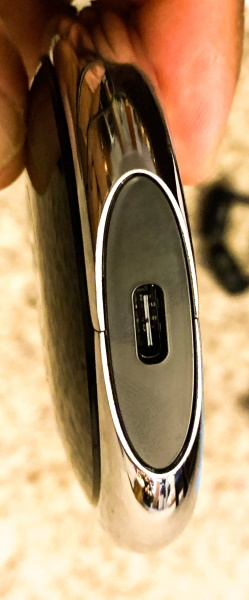 The earbuds are wired with a USB-C connector on the end.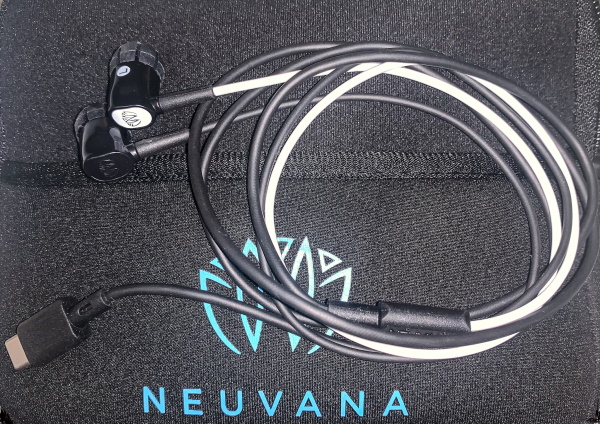 Performance
The following are Neuvana's statements about the Xen:
Designed to stimulate the vagus nerve
By leveraging how the brain, body, and nervous system work together, Xen by Neuvana can create happier, healthier, more balanced lives
Get the benefits of vagus nerve stimulation while listening to your music. Xen syncs to your music library, Spotify®, Pandora®, and most other streaming apps.
The Xen device has a built-in USB-C port that is used to charge the main unit. The earbuds also connect to the main unit via the USB-C port. While charging the main unit, the LED in the center that illuminates the logo, blows red, and once fully charged, it glows green.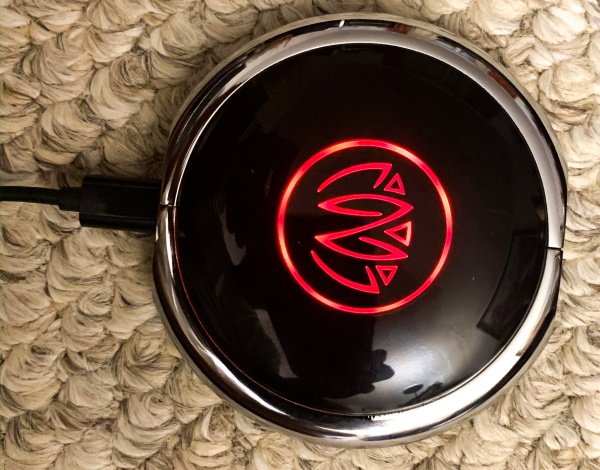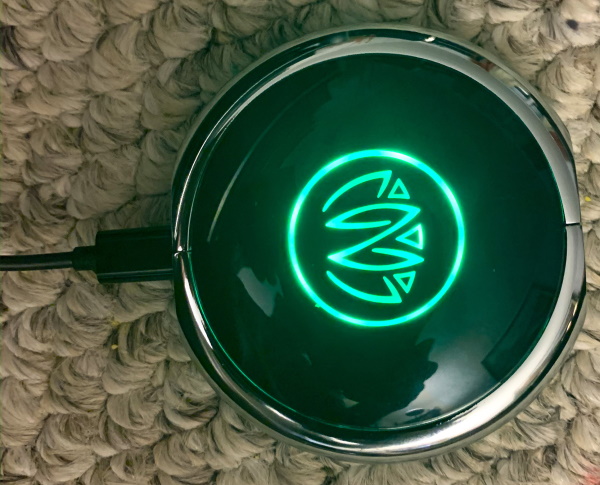 Once you have fully charged the device and installed the app, the next step is to connect it to your phone. The Xen requires you to pair to both your phone's Bluetooth settings and within the app. You must pair the device from within the app each time you use it.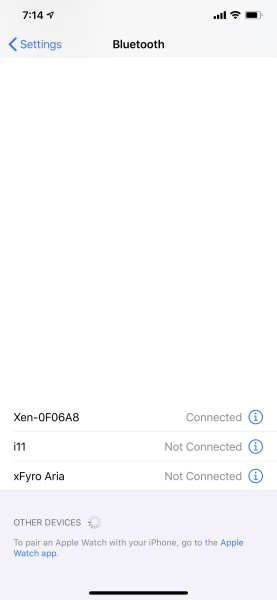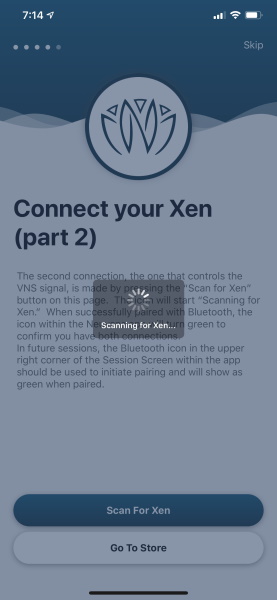 Once connected, you then get to the main screen and options. You have a choice of Sync to music, Sensation or Ambient sounds.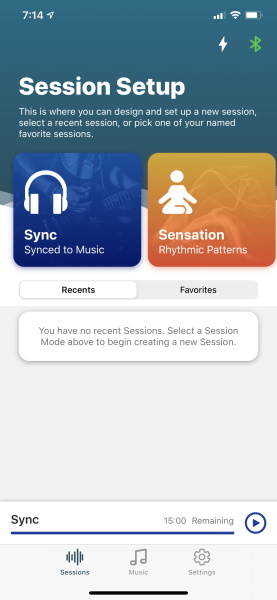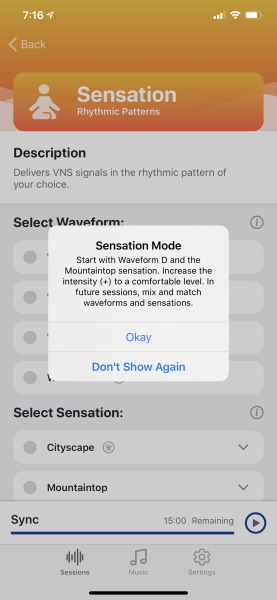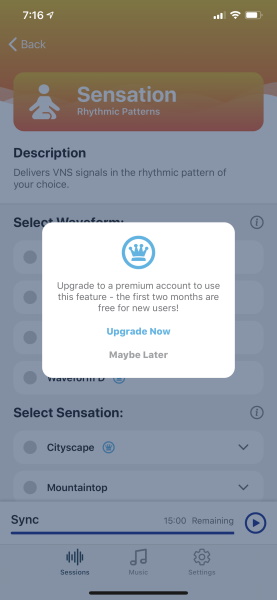 One main issue with the service is that the waveform suggestion that pops up on the screen requires a premium subscription to use, Not sure why that would be presented to a new user.
I tested all of the features that this device offers. The waveform and intensity features were not discernible in any way, shape or form, at least not to me. I turned up the intensity levels to the maximum for each feature but there was no difference that I could tell. Even after several 20-minute sessions, I was unaware of any effect. The Music Sync feature works via the iTunes option but fails to work for the external music app option.
When listening to music via the iTunes option, it sounds quite good, and the Bluetooth connection remains solid. The Ambient sound feature works well.
What I like
The build quality
The audio reproduction of music
The solid Bluetooth connection
What I'd change
The requirement to pair twice, once via the phone's Bluetooth settings and again via the app.
The requirement to pair via the app each time you use the device
The design that includes the heavier unit and the lighter wired earbuds that do not work well for sleeping
The less than comfortable ear tips
The requirement to upgrade to use the recommended therapy settings
The somewhat cumbersome app experience
Final thoughts
For many years I have kept a very busy schedule and have struggled to relax even when I have managed to carve out some relaxation time. In addition, I have suffered from insomnia for over a decade. I have found myself searching for and researching available devices that can help with both issues. A couple of months ago, I found a device that works quite well to help me to relax and sleep, so when I got the opportunity to test the Xen, I figured that I would give it a shot to see if it is even better. In many ways, the Xen design and the claimed power of neuroscience do not work for me. Issues with relaxation and sleep are very specific to each individual, and I would even go further to say that no two people are completely alike when dealing with these challenges. So, while I cannot endorse this product, I will not say that it may not work for someone else.
Price: $399
Where to buy: Neuvana website
Source: The sample for this review was provided by Neuvana