We use affiliate links. If you buy something through the links on this page, we may earn a commission at no cost to you. Learn more.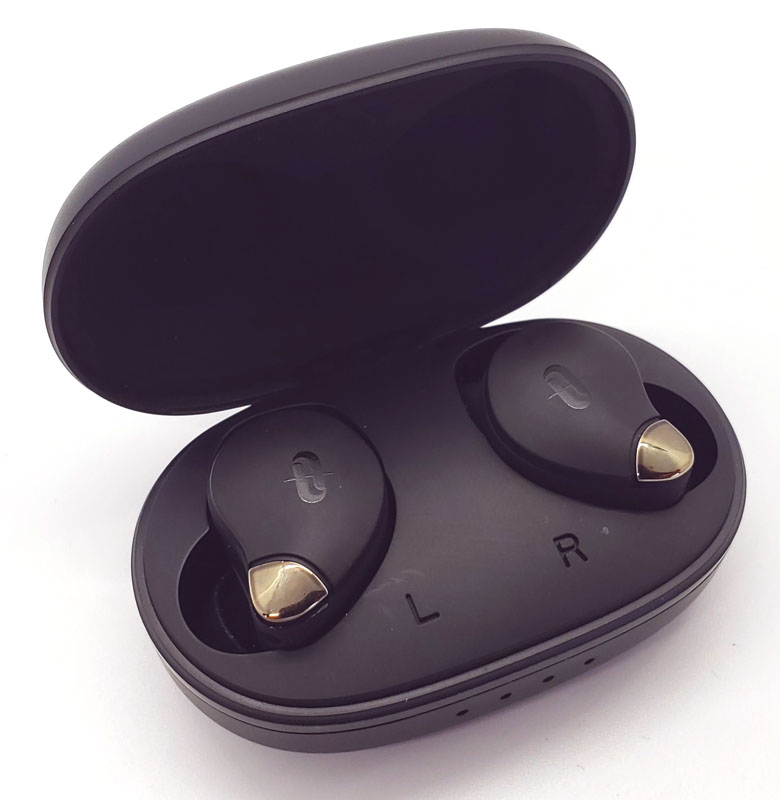 REVIEW – Intelligence, artificial or otherwise, seems to be in short supply these days. If we can apply intelligence to our communication, it would be a great thing, right?  TaoTronics it trying just that by offering the world's first real-time artificial intelligence (AI) based voice enhancement to your phone calls.  While it won't add actual intelligence to your conversations, will it make at least the words you say easier to understand, even if it can't help the message itself?  Read on and let's find out.
What is it?
The SoundLiberty 79 earbuds are true wireless stereo (TWS) wireless earbuds that can play music over Bluetooth 5.0 as well as allow you to make phone calls.
What's in the box?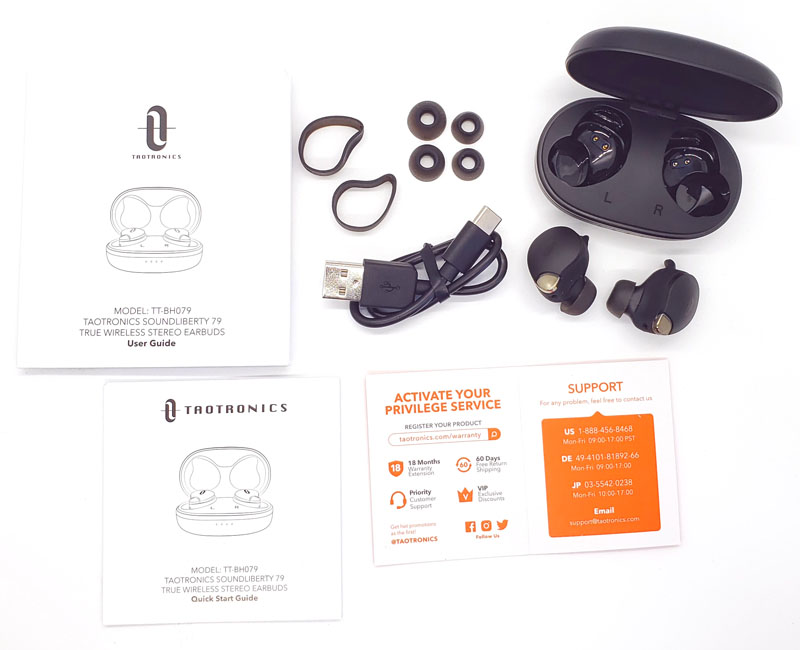 Left and right earbuds
Storage and charging case
USB-A to USB-C charging cable
Two styles of ear hooks (one style installed)
Three sizes of ear tips, one size installed
Quick start guide
User manual
Support guide
Hardware specs
Case dimensions: 2.6 x 1.6 x 1.1 inches
Case weight: 1.3oz
Earbud weight: approx. 0.17oz
Connectivity: Bluetooth 5.0 (up to 30m/98ft)
Playtime: 8 hours per charge, 28 hours total between case charges
Codec: SCB,AAC
Water resistance: IPX7 (Protected against immersion in water. Immersion for 30 minutes to a depth of 1 meter.)
Design and features
If you're familiar with wireless earbuds, then these should be no great surprise.  They all look pretty similar, mainly because there is only so much you can do with such a small item.  Having said that, let's take a deeper look.
Setup
Setup couldn't be simpler. As soon as you open the lid, the earbuds power on and look to pair.  Select them on your phone and *boom* – they're paired.
The rest of the setup involves charging, and that's pretty simple too.  Plop them in the case, plug it in and wait for the lights to all turn on.  That's it.
Design
The case and earbuds are made from a hard-touch matte-finish plastic.  Both the case and earbuds feel very firm and well-made.  I don't feel like I have to handle these with kid-gloves and that they are made to last.
The case itself is oval – like a semi-flattened egg.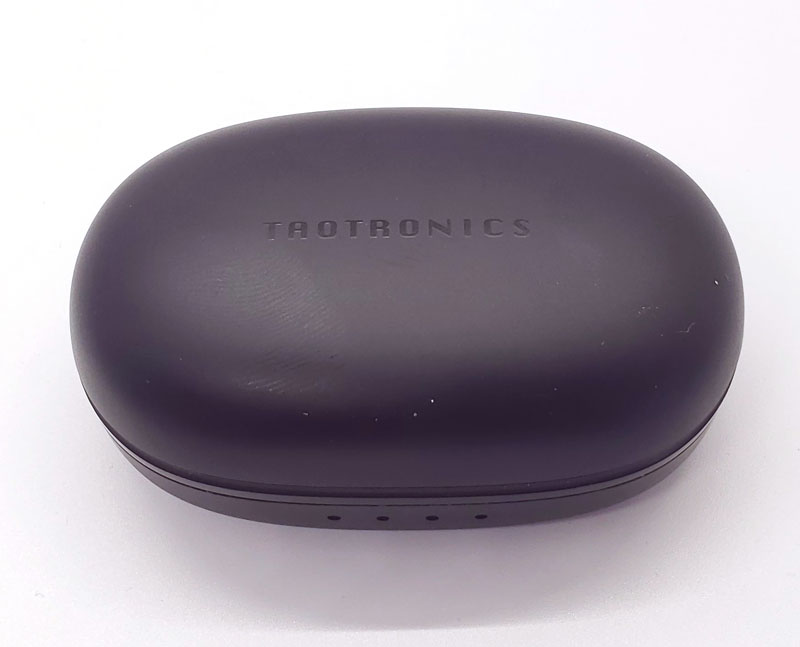 On the front, we find four indicator lights.  The lights illuminate from left to right in succession when the case is being charged.  When you insert the earbuds, the two left and two right lights show a relative charge for each earbud.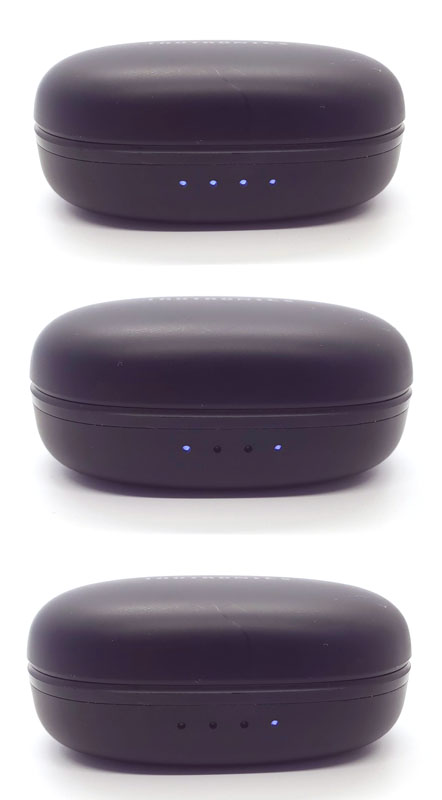 Under the magnetically closed and hinged cover, we find the earbud receptacles.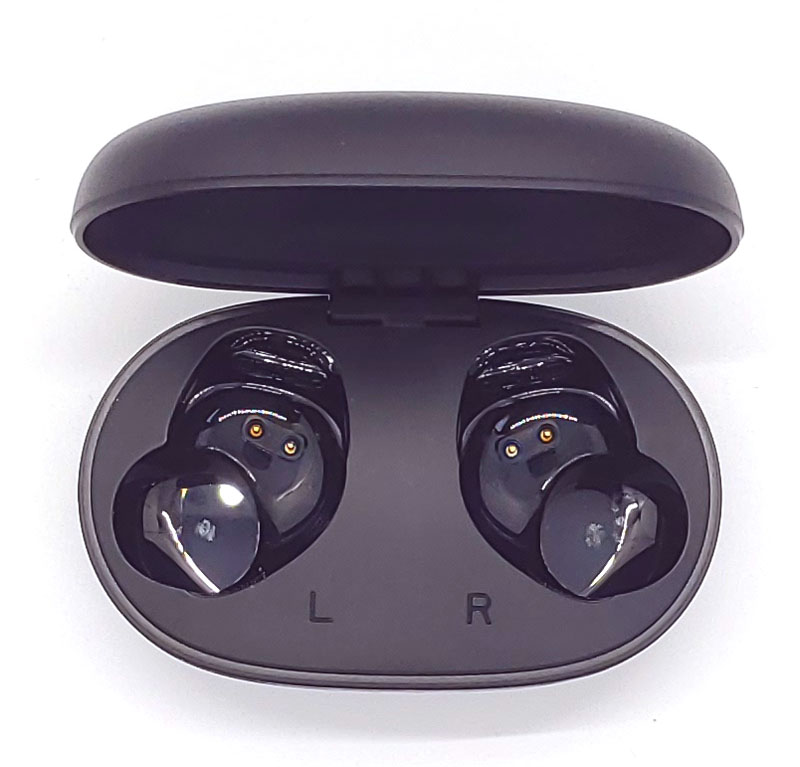 Each is form-fitted and labeled for the left and right earbuds.  Magnets in each side pull the earbuds into the receptacle and bring the charging pins into contact with the charge contacts on each earbud.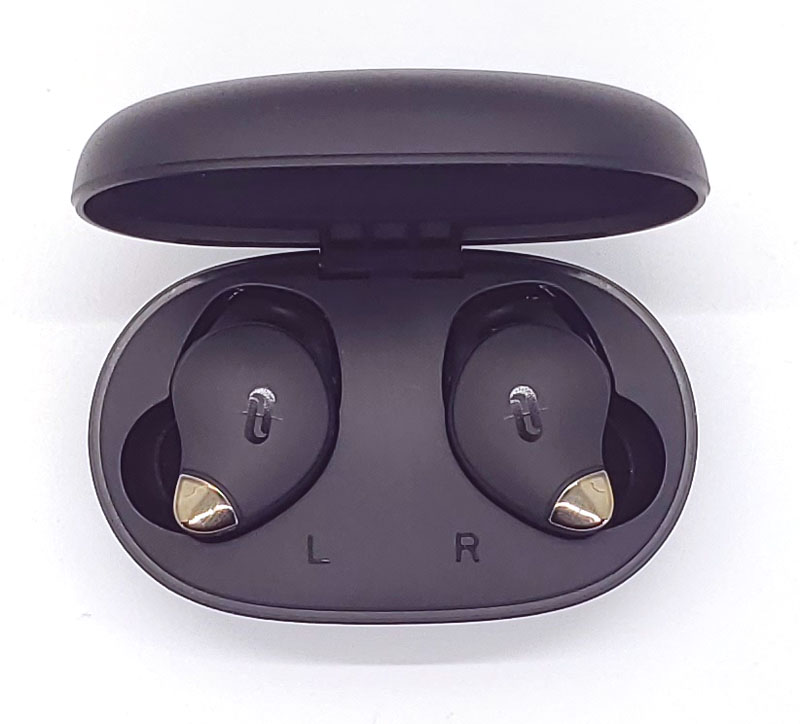 The back of the case holds the USB-C charging port and the hinge.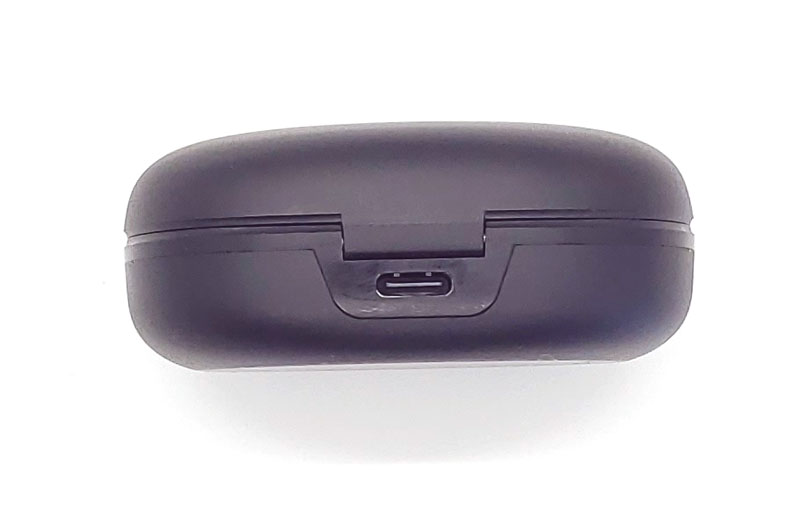 The bottom of the case is smooth and contains all the typical tech info.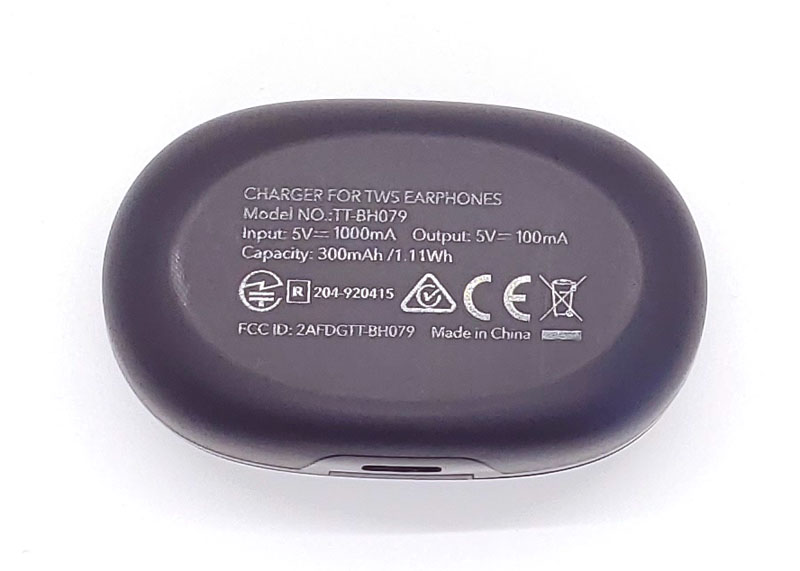 The earbuds themselves are nicely designed.  The exposed side has the TaoTronics logo on the touch-sensitive button.  The sliver tip on the bottom is just a bit of bling.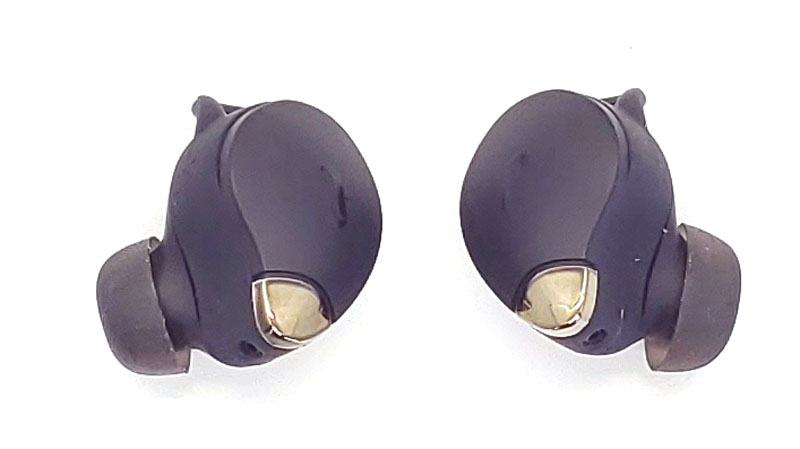 Below the silver tip, you can just see the microphone port. The tips have a slight gold appearance in these photos due to the lighting, but they are in fact, silver.
Flipping the buds over, we see the charging contacts. The ear hooks are also visible on the top,  Right below the ear hook, right on top of the buds themselves is a small LED indicator. It flashes white when powering on and then flashes blue when connecting. Once connected, they flash blue every ten seconds.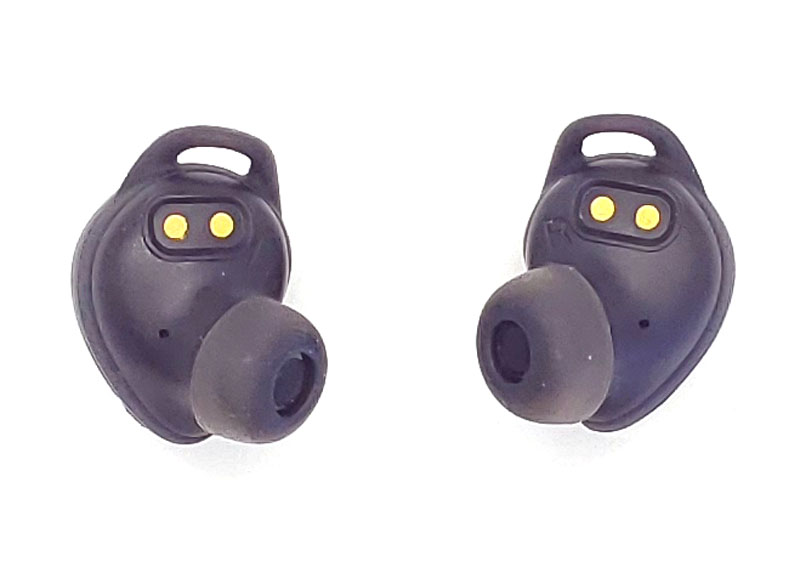 Right next to the charging contacts, there is a small "L" and "R" embossed into the plastic for the left and right buds respectively. You can also get a good look at the silicone ear tips.  Readers with better-than-average eyesight may have picked up that the tips in the photos look to be different sizes.  They are.  That's because I have different size ears.  My right ear canal is slightly larger than my left.  Before taking photos, I pulled off the attached medium tip from the right bud and attached the large.
Performance
First, I'll address how to use the earbuds. The surface of each bud is touch-sensitive.  This is great since you don't have to push a physical button, which usually means shoving the buds hard into your ears. Just a light tap does the trick.  The commands are as follows:
Music

Tap on left: lower the volume
Tap on right: raise the volume
Double-tap  either: start/pause music
Triple-tap left: Previous track
Triple-tap right: Next track

Calls

Tap either: answer an incoming call
Long-press (2S) either: reject an incoming call
Long-press (2S) either: end an in-progress call
Long-press (4S) either: Redial

General

Long-press (2S) either: Turn on/off voice assistant access

Note that a "toot" is heard, but there is no indication of whether you just turned access on or off. When I did turn it on, my Samsung Galaxy S9+ gave me the options of using Google, Bixby or Alexa, with Google as the default. Your choices will depend on the available voice services on your device.
Overall, the touch controls worked well and I appreciated not having to push on the earbuds. It took a few tries to get used to how the buds respond to touch, but it was very simple to learn.
The questions at hand are:
How do they feel?
How do they sound?
How do I sound when on a call?
In order…
Fit
I have really sensitive ears – not so much in what I hear, but how my ears feel when things are stuck into them.  Let's get this out there – I don't like earbuds.  I haven't found a pair yet that I like to wear for extended periods.  I have another pair of wireless earphones, but the two sides are connected by a neck-wire. The ear tips are more of a form-fitting device than just a bud-style, and I can wear those for a long time without discomfort. But, I hate the neck wire as every time I turn my head, it sticks on my skin or collar.  Putting the SoundLiberty 79s into my ears didn't feel like they would last long.  I know plenty of people that wear earbuds for hours on end.  I am not one of them. These were substantially better than others I have tried, but still, I always knew there were there. I can't fault the SoundLiberty 79s for this as it's the fault of my overly sensitive ears.
From a style standpoint, I think they look good.  They don't stick out much and if you're not looking for them, they just kind of blend in.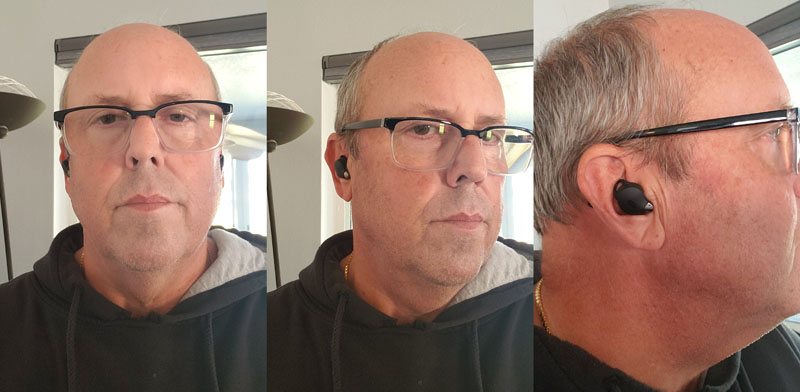 I like the default ear hooks.  They add that little extra grip in my ears.  The second ear hook isn't a hood as much as just a rubber cover where the ear hook goes.  They just wrap around the bud and provide no actual "hookiness".  Even with those installed, the buds felt like they held solidly in my ears.
Music quality
I wasn't expecting much.  Given their small size and style, I expected a tinny sound.  I was pleasantly surprised.  Bass was unexpectedly low and solid, mids and highs were fairly crisp. Overall, I'd rate the sound quality better than average. These aren't high-dollar earbuds, but they sound pretty darn good.  I also paced off just over 100 feet before I started getting interruptions in Bluetooth connectivity, so their distance claim was spot-on.
A nice touch is that you can use either bud independently, or, use both together.  You don't have to do anything special – just pull the bud you want to use out of the case and it will work.
Phone call quality
This is the real meat of the test.  Given that TaoTronics promises that the SoundLiberty 79, "Sets the right conditions for important calls with AI noise reduction tech, blocking ambient noise by up to 90% & retaining up to 95% of your voice."
I turned on the dryer and called my lovely wife.  I figured a dryer would simulate the droning tones of a relatively quiet factory floor.  She reported crystal-clear sound quality and could not detect when I started or stopped the dryer.  So far, so good.
Next, I stepped into the garage.  I tested twice where I counted to 15 and on 3, I opened or closed the garage door.  When I said "four" in both instances, she reported that my voice quality decreased and she could hear some kind of tone or noise along with my voice.  We have a belt-drive garage door opener, and that is relatively quiet. This result surprised me.
Next, I tested by stepping outside.  I could hear her quite well and she could hear me well, that is until I stepped past the wall of our lanai.  I stepped out where the wind was blowing, perhaps 10 miles per hour. While I could still hear her well, she reported that I was breaking up.  She could understand me, but it was work.
Finally, I hopped in my trusty golf cart and took off down the street.  At just over 20MPH, she reported that I was unintelligible and she said she was hanging up as the noise hurt her ears.
What I like
Good music sound quality
Good call sound quality – for me
Good Bluetooth range
Great battery life
Relatively comfortable for earbuds
What I'd change
Horrible sound quality for your callers, if you are in windy conditions
Update the prompt so you know whether you turned on or off voice control
Final thoughts
I really wanted to like these.  I like the design. I like the audio features and sound quality. I like the idea of intelligent buds that improve sound quality. Having Bluetooth earbuds that would allow me to make calls while zipping around on my golf cart, the principal form of transportation where we live, would be awesome.  Unfortunately, the artificial intelligence in these needs to go back to school and get a little more education as their sound quality in windy conditions, quite frankly, blows.
Price: $59.99
Where to buy: Amazon
Source: The sample of this product was provided by TaoTronics.