We use affiliate links. If you buy something through the links on this page, we may earn a commission at no cost to you. Learn more.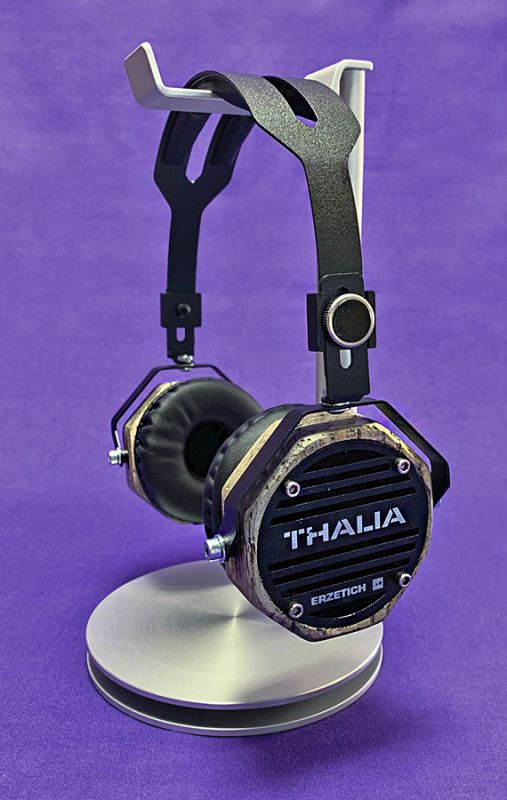 REVIEW – With rare exception, most headphones are made in China no matter where they might be designed. Erzetich is one of those rarities. It's a headphone and amplifier company from Slovenia. If you've never heard of Slovenia, it used to be a part of Yugoslavia, a former Eastern Bloc country controlled by Russia. Thankfully, that's in the past and Slovenia is a country now free to make cool stuff, like the Erzetich Thalia portable dynamic headphone. 

What is it?
The Erzetich Thalia is an on-ear portable headphone made in an old-fashioned way—as in hand-made. There is no mass production as with much larger headphone makers. Think of Erzetich as a European version of Grado—home-made and proud of it.
Specs
Impedance: 32 ohm
Driver: Dynamic 40 mm, titanium
Ear cups: Open-backed
Weight: 9.5 oz.

Design and features
Thalia is a smaller on-ear headphone made for portable use. While the term "portable" may be technically true, this is 2020 and like it or not, portable usually means wireless. Portable also should mean moisture resistance of some sort. Thalia is neither—it's wired only and cannot get wet. I understand that may be a deal-breaker for some. However, if you're okay with those restrictions, read on because there's plenty to like about Thalia headphones.
Thalia headphones have an industrial look. Not only are they hand-made, but they also look hand-made. Screws are found everywhere. The thick, powder-coated metal ear cup grills are hand-stamped. Hexagonal-shaped wooden ear cups are obviously hand-finished. They lack that polished look of mass production. You can just imagine the handiwork involved in shaping each ear cup. The wood used is either Spruce or Linden—which is a native tree from Slovenia.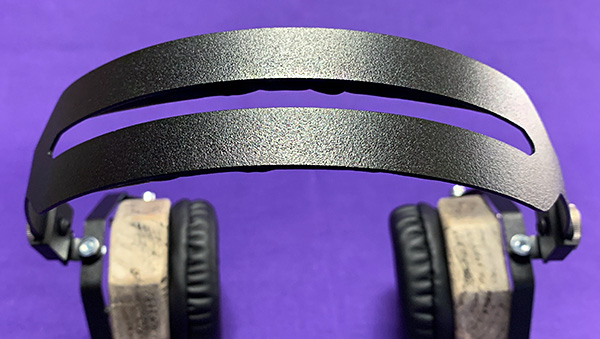 Like the grills, the headband is a hand-stamped and curved piece of powder-coated metal with the thinnest of cushion attached at the top.  Even so, Thalia headphones are light enough that they don't exhibit any undue pressure on the top of my head. Hand screws are used to adjust Thalia for fitting. The hand screws are shallow and aren't that easy to unscrew if too tight. Once fitted and tightened though, the headband shouldn't require additional re-sizing.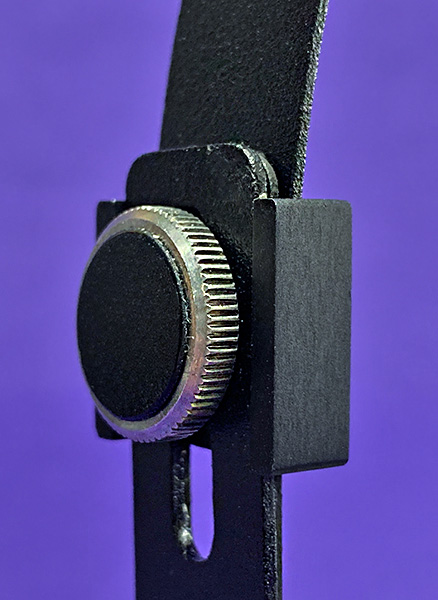 Don't mistake the local production for cheap, however. Thalia headphones are as tough as they look. They are solidly assembled and made of materials that should last for years. Attention to detail is evident throughout. Should any repairs become necessary, however, they look like they can be easily worked on.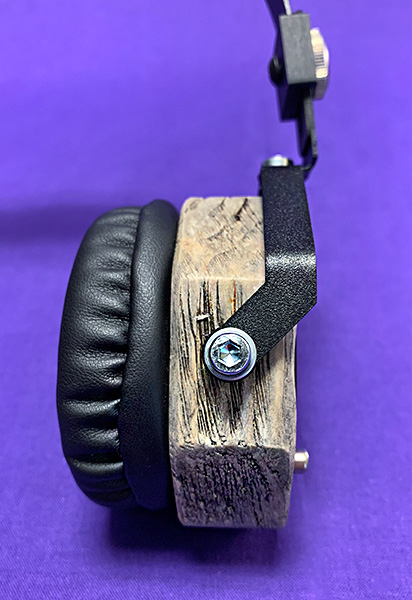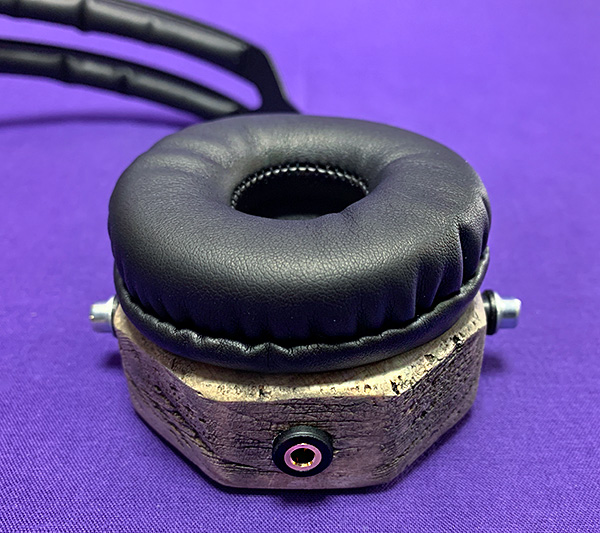 Comfort is good, but not the best I've encountered. Thalia headphones can be worn for a few hours, but wearing all day became a bit uncomfortable. The faux-leather ear pads are soft and cushiony which helps a bit. Erzetich proudly states that no animal products are used in production. An over-sized bag is included helping to keep them dust-free.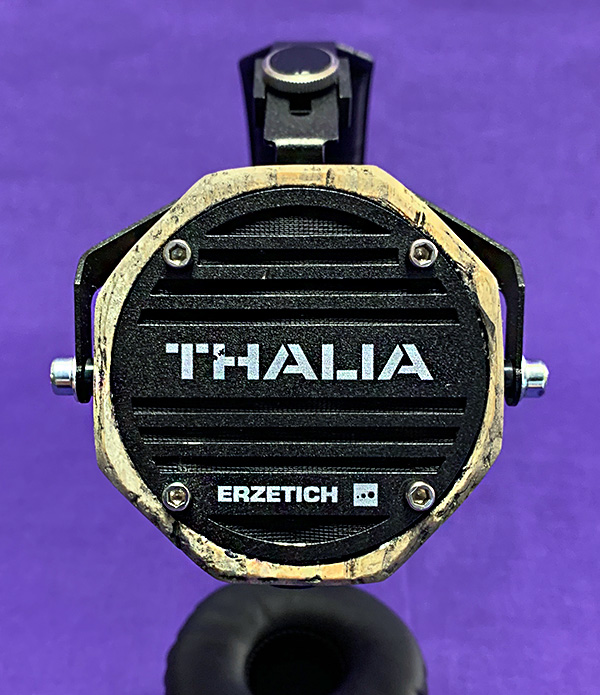 Thalia headphones are open-backed. This means that the back of each ear cup is open allowing audio to escape. The disadvantage of this design is that anyone next to you can hear what you hear. This makes them less than desirable for commuting. The good news is that open-backed ear cups make the speakers sound like they are out in front rather than in your head. It's a more spacious sound. Thalia's open-backed design also helps music sound more full and personal. For that one reason alone, I prefer open to closed-back headphones.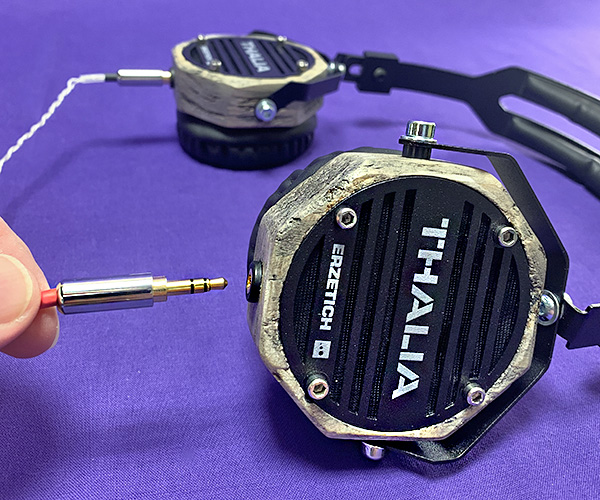 Each ear cup is independent, meaning that the left/right stereo signals are in the cables that plug into the bottom of each ear cup. It doesn't matter which ear cup is made left or right. Thalia headphones fit either way. Just make sure the right and left cables are used for the correct ear.
Thalia's supplied cables are oxygen-free silver-coated copper wiring. This may sound like a mouthful when said out loud, but the silver coating will help prevent discoloration and keep the analog audio signal as clean as possible. In other words, this is a premium cable.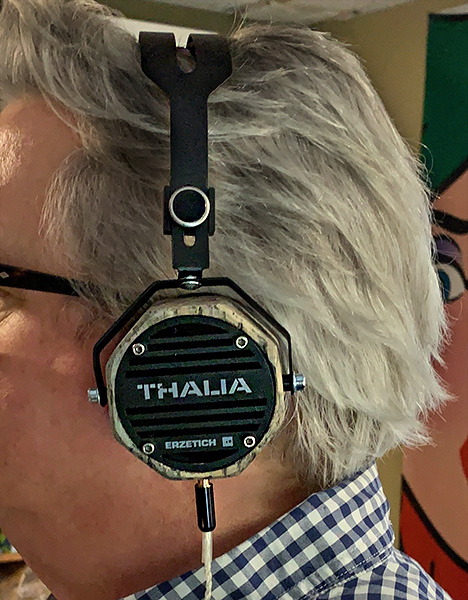 Erzetich states that Thalia headphones are tuned for portable, personal devices such as smartphones, digital audio players or tablets, so this is how I reviewed them. These portable devices have built-in amps that can easily drive Thalia without the need for additional power. This "portable" tuning also helps with Thalia's fuller sound when using such devices. Usually, higher-end headphones require more power—otherwise, they can sound anemic. Thalia headphones don't sound anemic.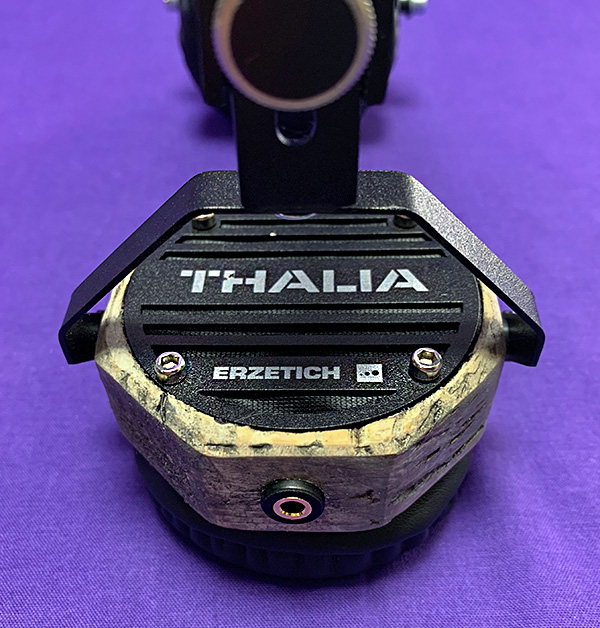 I'm a big fan of European extended remixes of album tracks. Case in point: Ultravox. The remix of "Lament" has a bass drum that underscores the whole song. Warren Cann's uncanny (pun intended) drumming is always spot-on in perfect time propelling the song along to a dirge-like cadence. Thalia headphones are able to exhibit the bottom end in conjunction with the vocals with no competition from either. "A Friend I Call Desire" is a riveting track with an incessant guitar line that counteracts the desperation in the lyrics. The headphones give the song a live feel that can be missing from some other headphones.
Thalia headphones also benefit from higher resolution music files. An SACD hi-res transfer to my iPhone (using Onkyo's hi-res music player) of Pink Floyd's "Dark Side of the Moon" has exceptional punch and wider dynamics compared to the straight digital file. DSOTM has always been a go-to album for headphone testing and Thalia headphones don't disappoint.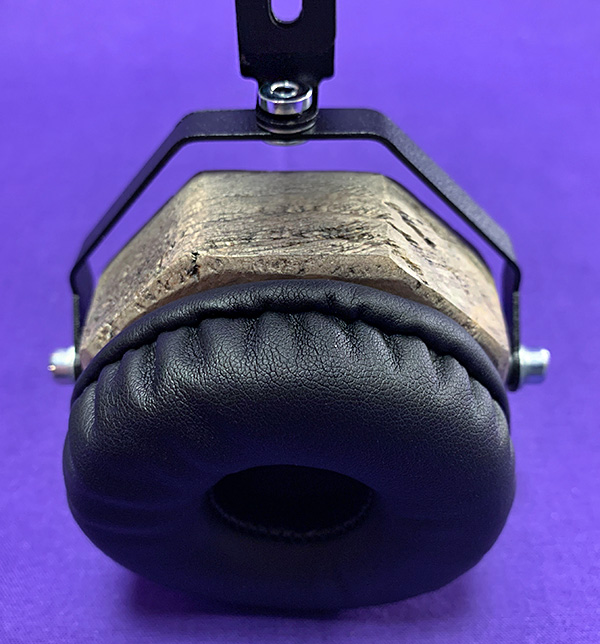 It doesn't seem to matter what genre of music you prefer because Thalia headphones can make it sound really good—even when only using a smartphone. Erzetich has done a good job of matching a headphone to its intended source.

What I like
Hand made
Tough construction
Industrial look
A relaxed musical sound signature
What I'd change
Expensive
Not Wireless
May be initially hard to find in US

Final Thoughts
If you can get past the necessity of being wired, having to stay away from inclement weather and not bothering fellow commuters with your musical taste, Thalia headphones can make you smile with its pleasing musical presentation. Thalia doesn't have to work hard to sound good. It handles whatever genre you like with ease. 
Price: €599 EUR (appx. $665 US)
Where to buy: Erzetich Audio
Source: The sample of this product was provided by Erzetich Audio.