We use affiliate links. If you buy something through the links on this page, we may earn a commission at no cost to you. Learn more.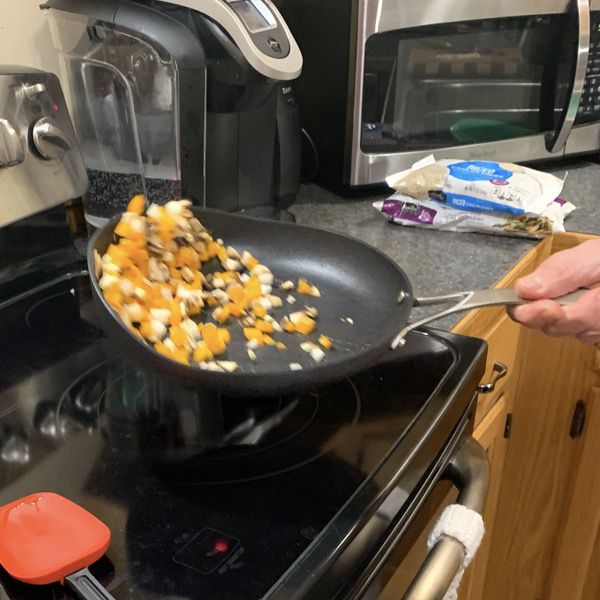 REVIEW – Dude… check out my new pan! RadUSA claims that the Radical Pan (or Rad Pan for short) is the perfect saute pan for amateur and professional cooks. It certainly looks cool, but does the design deliver when you bring the heat? Let's find out. To the review!
What is it?
It's a saute pan with a patented design that facilitates flipping your food while you cook.
Hardware specs
I'm testing the 10″ model, which sets up as follows:
10″ top diameter
1.5″ height, with a  3.5″ high-rise lip
8.5″ handle length
PFOA, PTFE, lead, and cadmium free
SGS, NSF and FDA certified nonstick surface for consumer health and safety
Dishwasher safe
Oven safe up to 500 degrees
2.2 pounds
Design and features
The Radical Pan is designed to be the "perfect saute pan" incorporating a number of patented features to optimize fast, high heat cooking. The first feature is the most obvious in that raised lip. This is designed specifically to make it easier to flip your food. It also makes for an impressive show if you're cooking for a crowd.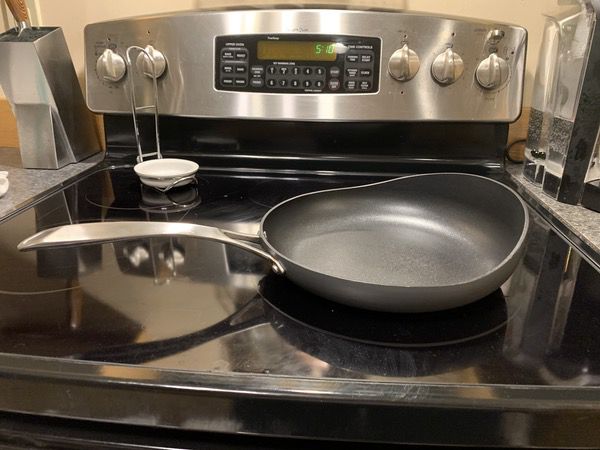 But there's some other interesting design work going on here as well. It's got a unique contoured handle that's made for comfort as well as left- or right-hand use. And that fork-split connection to the body of the pan is designed to dissipate heat so that it's comfortable to handle during long cooking sessions.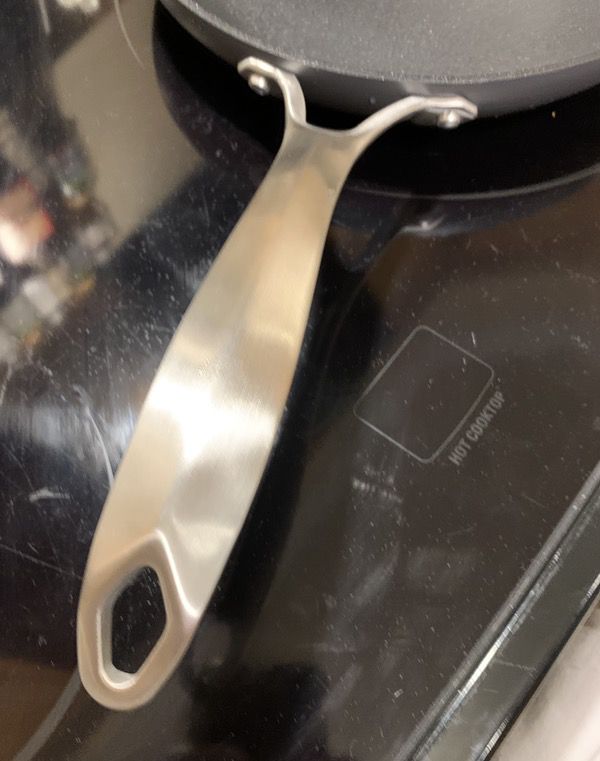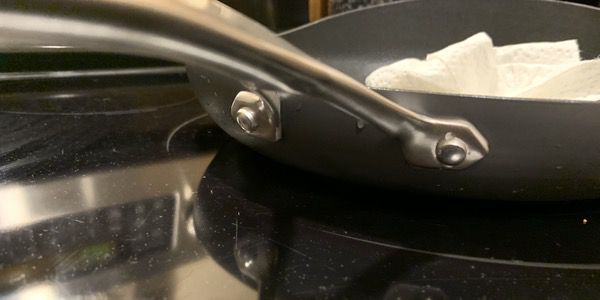 The body of the pan is made from a hard anodized aluminum, coated with a nonstick surface that's been certified for health and safety. It's PFOA, PTFE, lead, and cadmium free. RadUSA states that this is the first pan on the market to have a nonstick surface that is certified by the SGS, NSF and the FDA.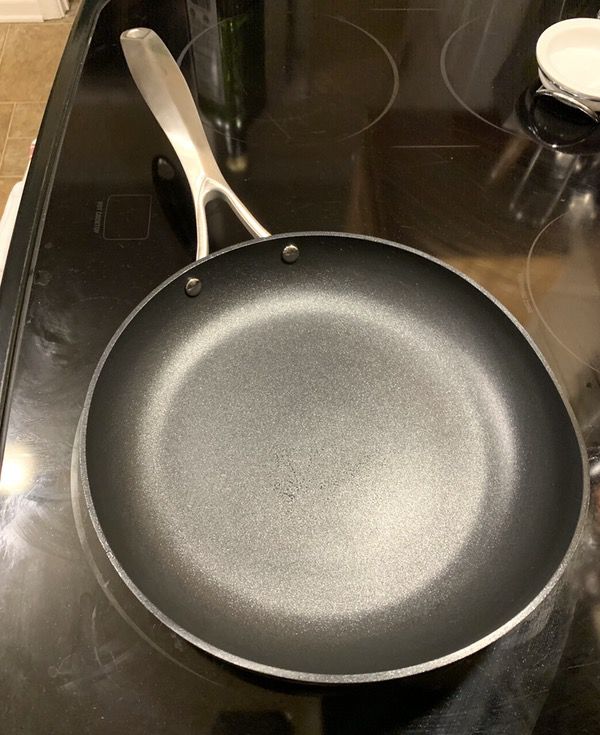 The base of the pan uses a metal conductive pattern to build heat that is approved for electric, gas, or induction cooktops. And yeah, I'm using it on a glass cooktop… we'll talk about that in a minute.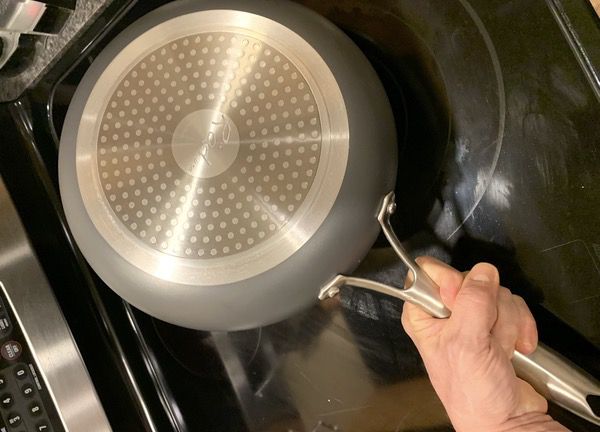 Overall, I really like the way this pan is assembled. It's a solid build, but not so heavy that it feels awkward to manage. Time to make dinner!
Setup
RadUSA recommends that you give the nonstick coating a quick seasoning before first use. You'll rub down the nonstick surfaces with a high-temp oil (I use avocado oil), then heat the pan to a medium heat. Let cool, and you're ready to do work.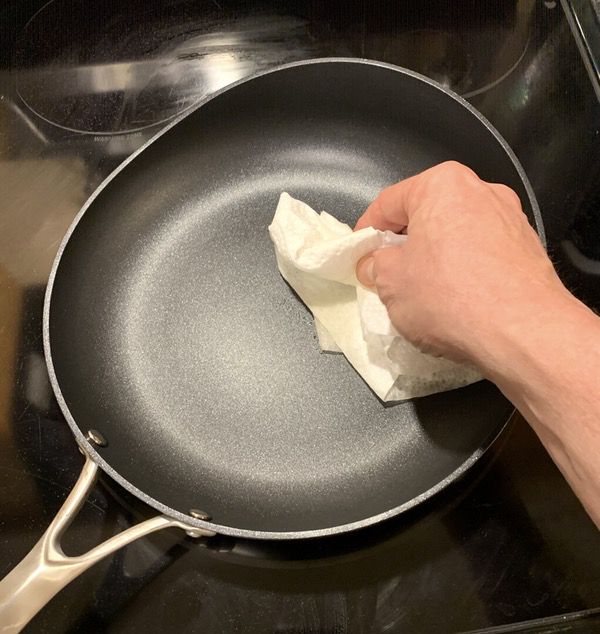 Performance
So my first test with this pan was a vegetable shrimp stir fry with cauliflower rice. I started with fresh diced vegetables and immediately put the flipping design to work.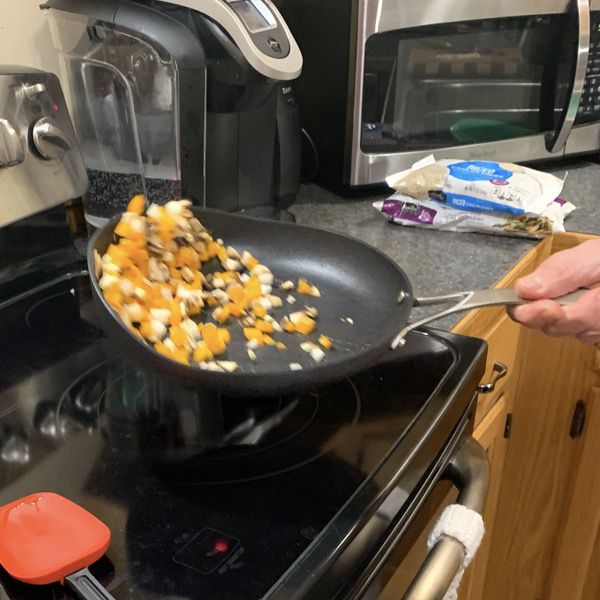 I very much like the control the pan offers for basic saute functions like this. The handle is extremely comfortable, with a bit of a diamond shape to the barrel that gives nice grip during aerial maneuvers. The 2.2 pound weight is just about right for giving the pan some durability and good heat retention while still making it easy to toss around.
The high wall on the back end of the pan is perfect for flipping small bits of product. In the shot below you'll see the landing after a flip. Check out how the veggies make a perfect drop at the midpoint of the pan. I do this with my current saute pans as well, but I can see where this design is beneficial if you're new to the flipping game. I also noticed that I have less bits of food escaping the pan compared to a regular saute pan, which is nice for cleanup.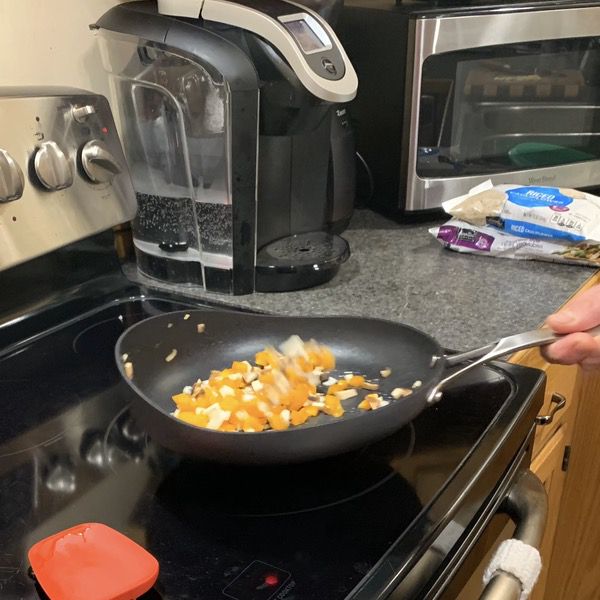 Given that this is a 10″ pan and I was cooking big portions, I sauteed in multiple batches. Here's a shot of me working the shrimp, which are a chunkier test for the flipping ability of the pan. Again, super smooth and easy to manage.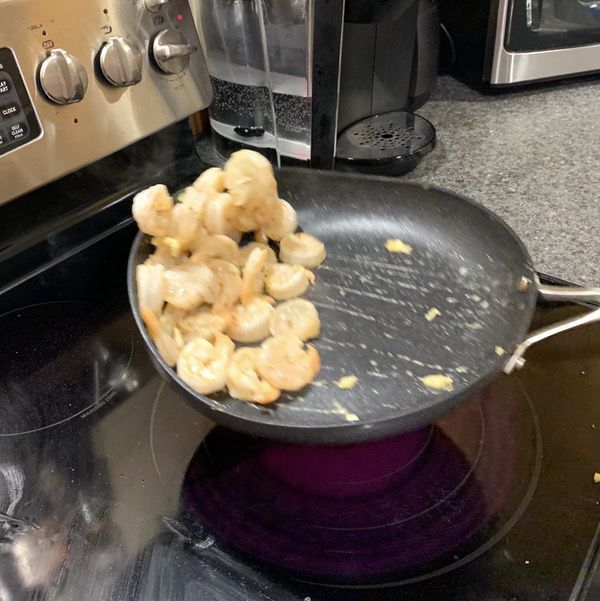 After that run I worked up a batch of frozen vegetables to see what we could do. It's important to note that this is a 10″ pan, so I was absolutely overstuffing it when I re-integrated my sauteed vegetables with the frozen ones. The instructions for the pan emphasize that you start on a low to medium heat to protect the nonstick surface, so I cranked it up a bit after I added the frozen vegetables. I ended up splitting the batch into two so that I didn't turn the veggies into soup, but it works just fine for smaller batches with the 10″ cooking surface.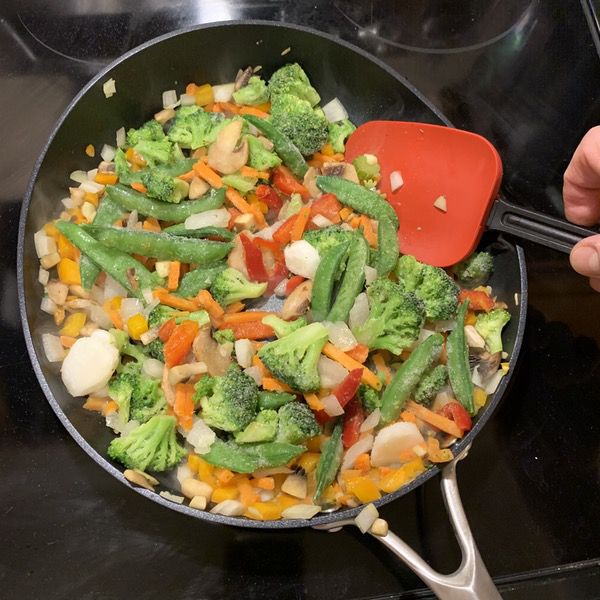 I really like the design of handle for dispersing heat. I made this dish in multiple batches over a 30 minute cooking period, and the handle never got hot. That's pretty impressive.
I will post a warning for those of you considering this pan about the cooktop you've got in your kitchen. Mine's a glass top cooking surface and the pan is designed for induction, gas, or electric. That means that the metal base will scuff up a glass cooktop as you see below. I kinda knew this going in. My cooktop is 10+ years old and ready for replacement, so I don't mind beating it up a bit. But you should keep this in mind before you buy.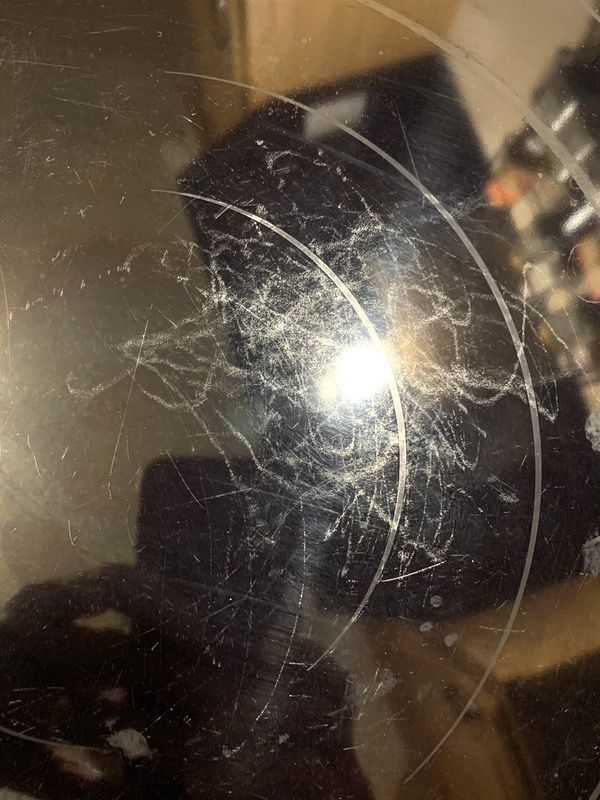 I should also note that the instruction manual is very particular about heat management, specifically mentioning that a medium heat is the max you should use for cooking with this pan. There's also a note about off-gasses from the nonstick surface & dangers to pet birds that may be kept in the vicinity of your kitchen. This is pretty common with nonstick pans, so I don't see anything particularly troublesome here. As always, read your manual before use!
What I like
Great design for flipping your food like a boss while cooking.
Ergonomic handle and light weight make it easy to manage.
Excellent build and construction.
What needs to be improved
Will scuff up glass top cooking surfaces.
Not recommended for super high heat applications, like searing steak.
Final thoughts
While the marketing may be a bit gimmicky (including some celebrity videos… check out the site), I really like working with the Radical Pan. It's a great design that's easy to handle, giving you a lot of control over your cooking. This pan will get some heavy duty testing in my kitchen in the coming months, so we'll see how the nonstick surface holds up to some serious day-to-day abuse. I'll post updates as I use it more!
Price: Starts at $89.99 for the 8-inch model, up to $109.99 for the 12-inch version.
Where to buy: Buy it at the RadUSA web site.
Source: The sample of this product was provided by RadUSA.