We use affiliate links. If you buy something through the links on this page, we may earn a commission at no cost to you. Learn more.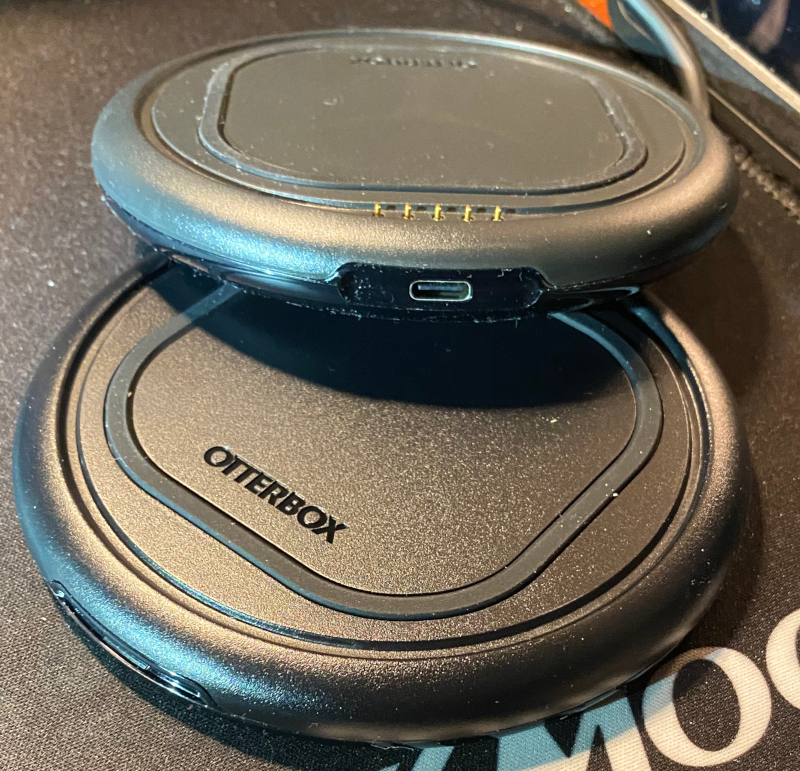 REVIEW – As I mentioned in a previous review, I recently upgraded to a phone that supports wireless charging, and I've also recently started using a wireless mouse that also supports Qi charging. This means that I now need a second wireless charger. I've been following the Otterbox OtterSpot Wireless Charging System since it was announced earlier this year, and I decided to try out this two-in-one product to see if it will work as my desk and travel charger.
What is it?
The Otterbox OtterSpot Wireless Charging System is a Qi-compatible wireless charging system that bears more than a passing resemblance to the coaster/buzzers you find at many restaurants. However, these devices top-up the charge on your phone rather than requesting a top-up from the bartender.  This Qi-compatible wireless system consists of a charging base and one or more OtterSpot batteries ("charging coasters") for your wireless devices. One base unit and one battery are included in the basic kit. Additional charger bases and batteries are available a la carte as are a phone-stand version of the charging base.
What's in the box?
The OtterSpot charging system that I purchased is a 10W-rated system (delivered power). The package contents differ slightly from the pre-release package description as the shipping systems do not contain a USB-A to USB-C cable. The OtterSpot system arrived in a brown shipping box with the retail package, a packing list, and a classic Otterbox yellow decal.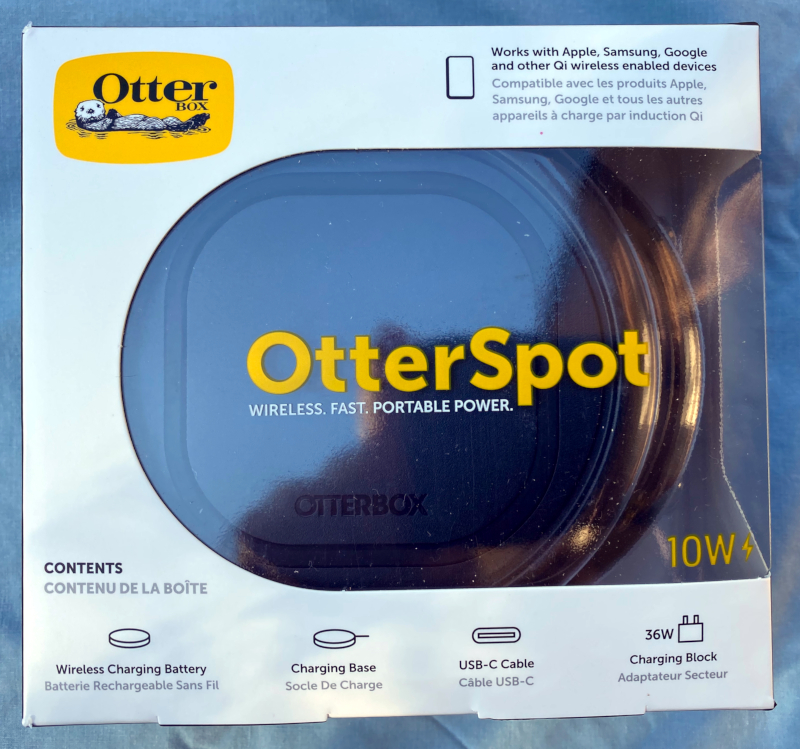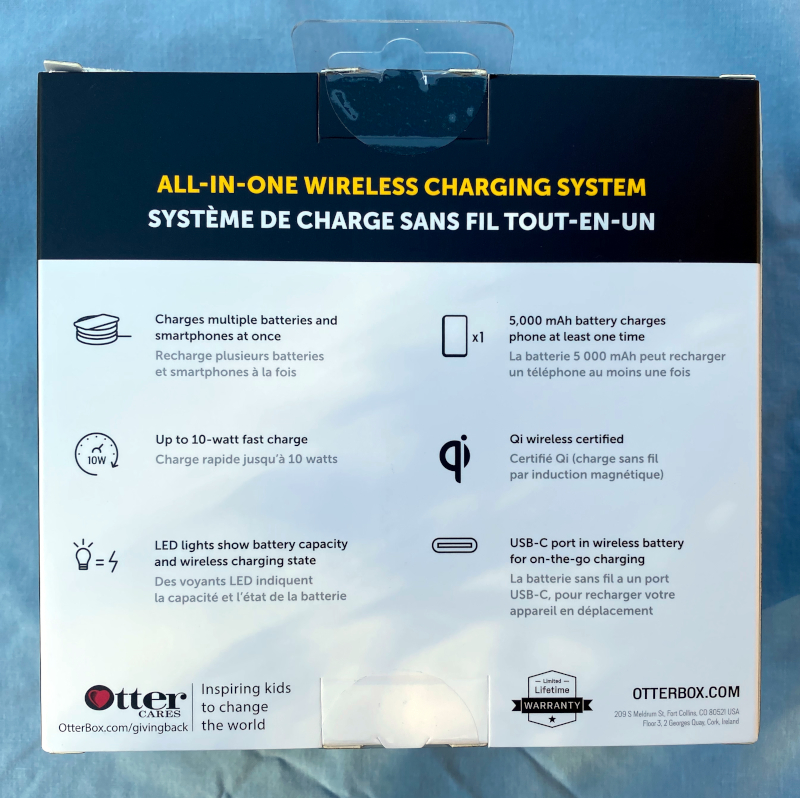 The retail package includes
Wireless charging base
Wireless charging battery
1.2 m USB-C to USB-C cable
36W charging block
Warranty description sheet
Quick start guide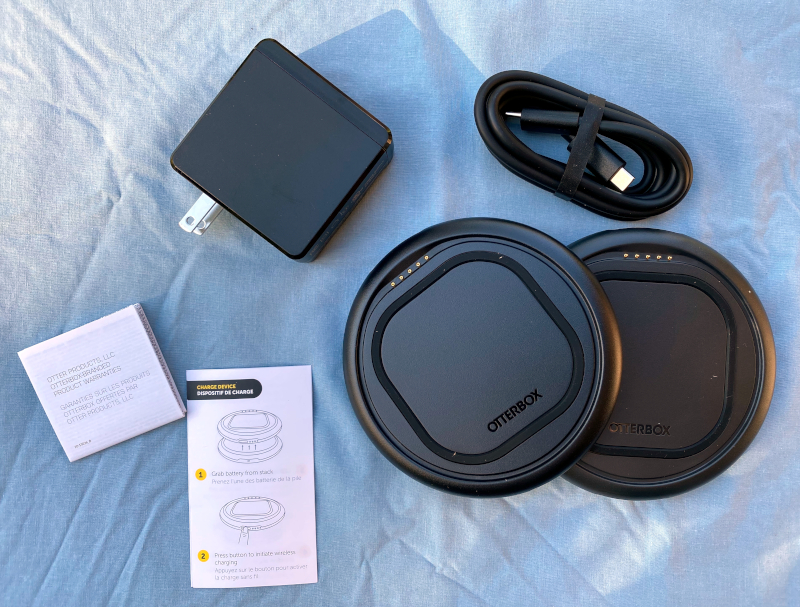 Hardware specs
Base
114 mm diameter
13 mm high
190 grams
1 USB-C port
4 pass through pins on top
12 V 5 A DC input
12 V 5 A DC output (pins)
10 W max output wireless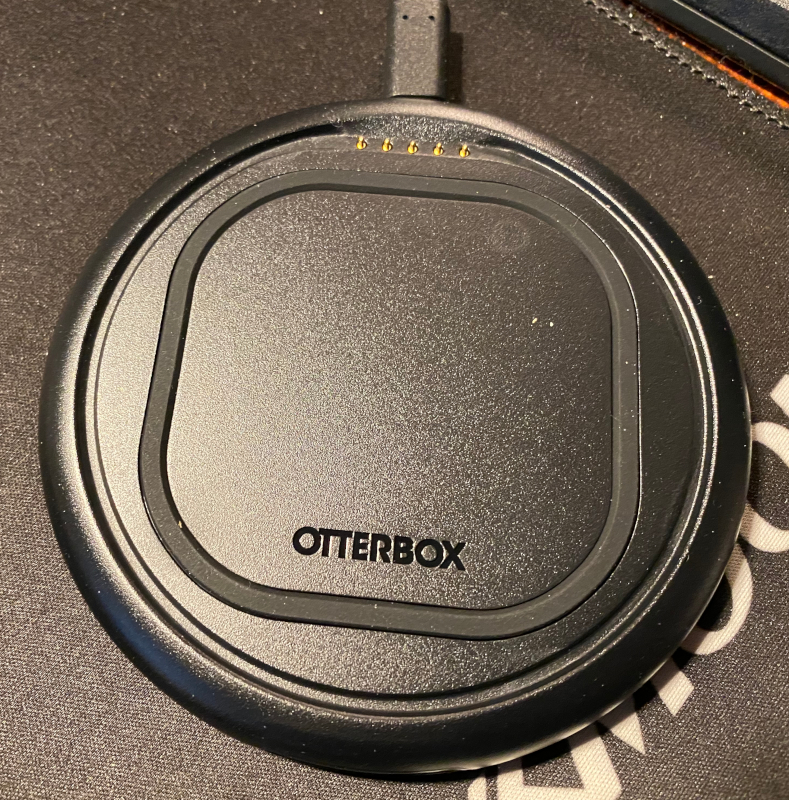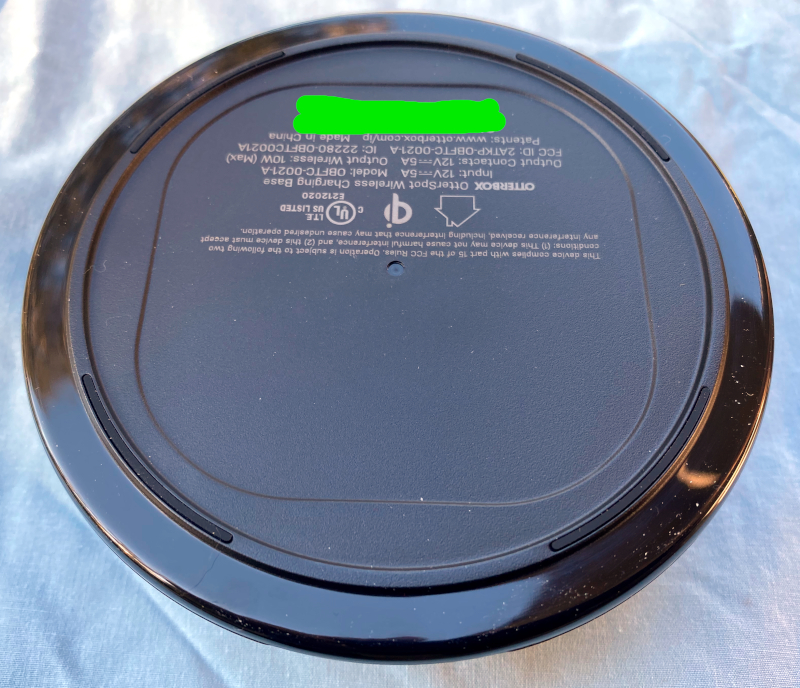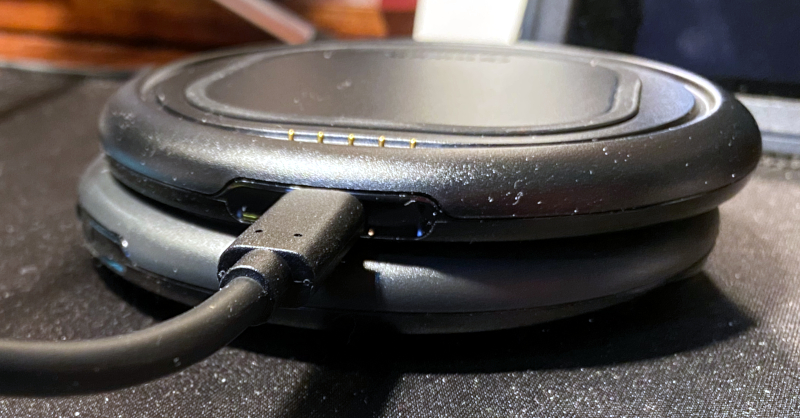 Battery
114 mm diameter
17 mm high
167.5 grams
1 USB-C port
1 charging activation button
4 status LEDs
4 pass through pins on top
4 charging pads on bottom
3.8 V 5000 mAh internal battery
12 V 5 A DC input (pins)
12 V 5 A DC pass through while charging (pins)
5 W / 10 W output wireless (1200 mAh rated capacity)
5 V 2.4 A / 9 V 1.33 A / 12 V / 1 A output through USB-C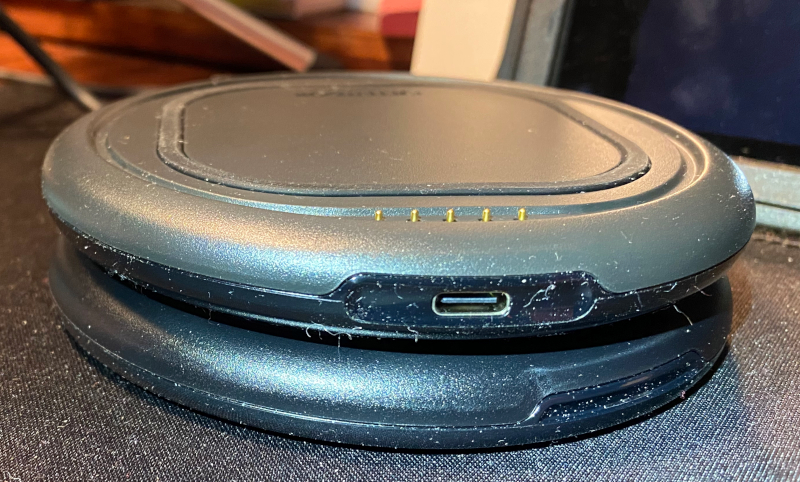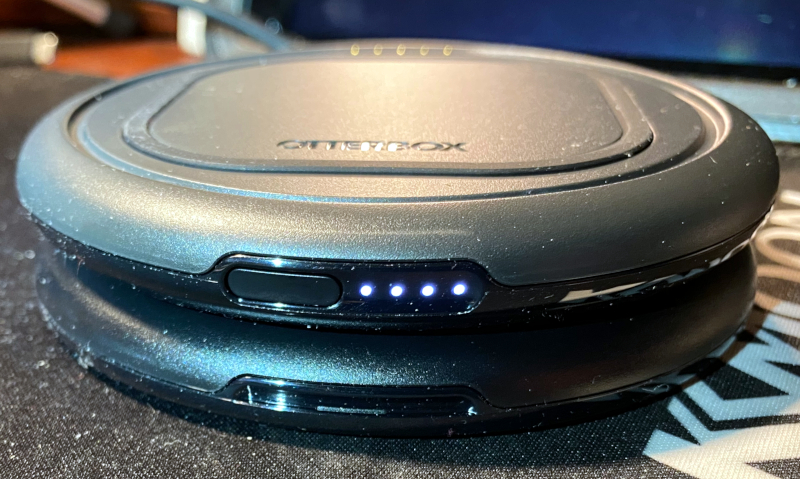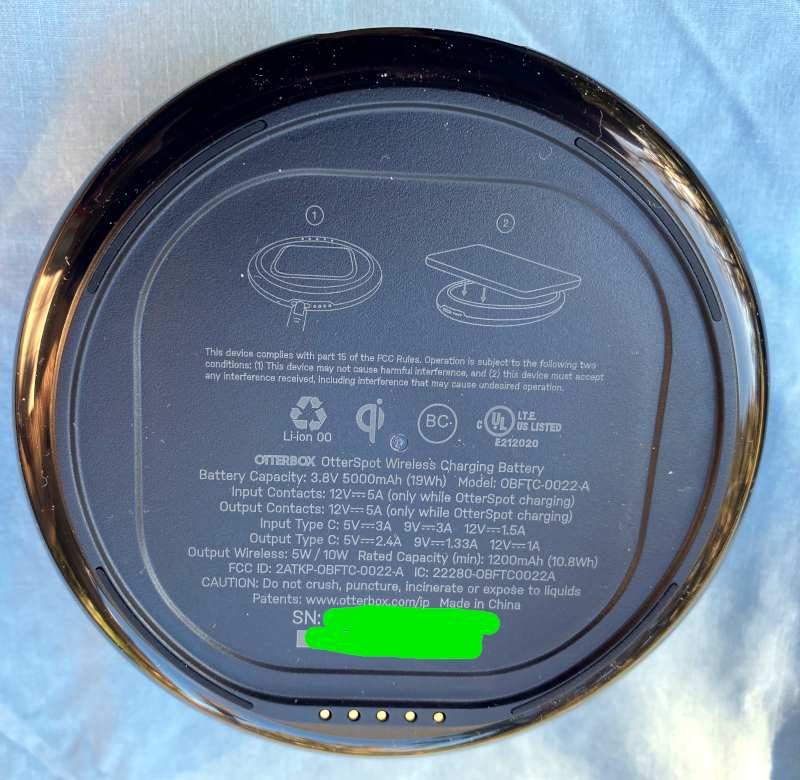 Charging Block
64 mm x 66 mm x 31 mm
121 grams
folding prongs
1 USB-C port
120 – 240 VAC 50/60 Hz 1.2 A input
5 V 2.4 A / 9 V 1.33 A / 12 V / 1 A output through USB-C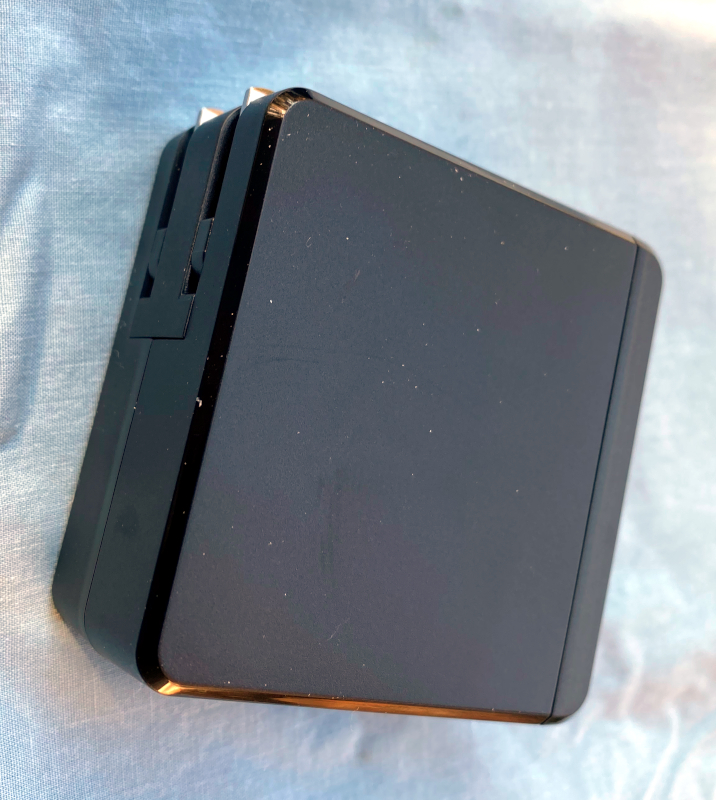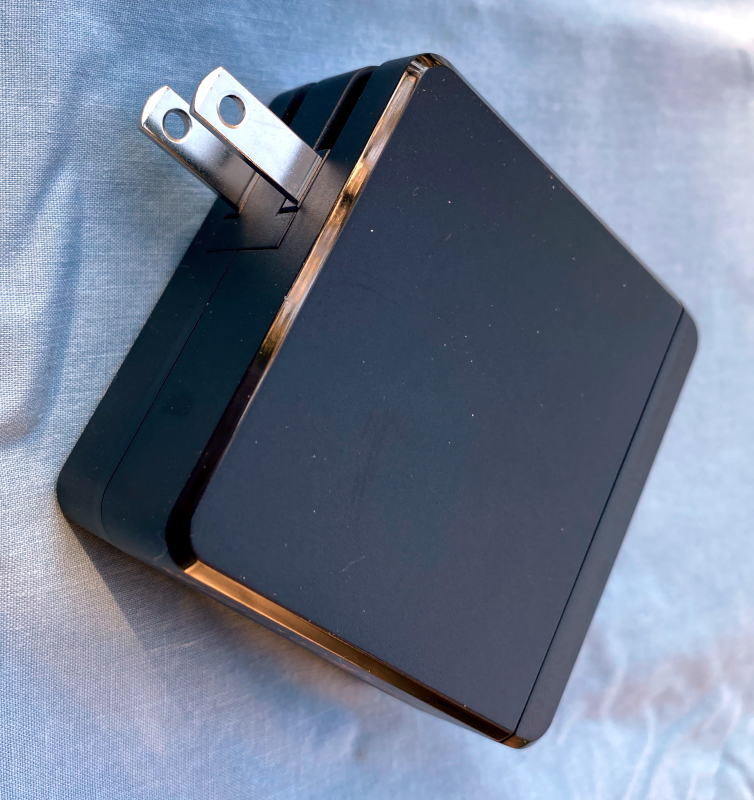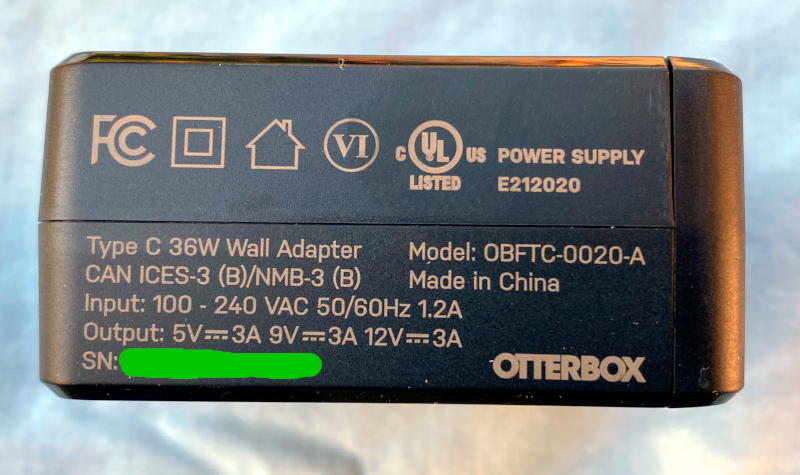 Design and features
Don't let the more-than-passing resemblance to a drink coaster fool you, the OtterSpot charger and batteries are a sophisticated charging system.  The charger base and batteries use a combination of molded-in shapes in the top and bottom of the housings and magnetic fields to help align the charging pins / pads. These features double as non-slip grips to keep the items you are charging in place.
The 36-watt charging base can simultaneously recharge 3 of the 5,000 mAh batteries (only one battery is included in the basic kit) and one device. The charging base may also be used as a wireless charger separate from the batteries.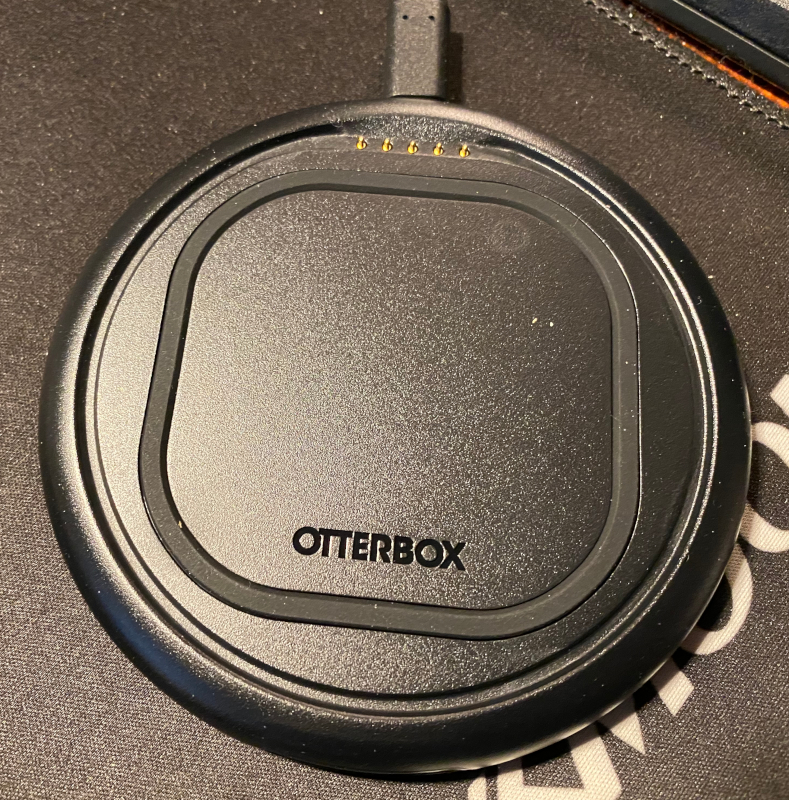 The batteries may be used separately from the charging base to charge devices either through inductive wireless charging or by plugging a USB-C cable into the back of the battery. A series of four LEDs around the circumference of the battery indicates the charge level (1 to 4 LEDs lit). The LEDs flash during charging to indicate the charge level. To initiate charging the button next to the LED indicator lights needs to be pressed.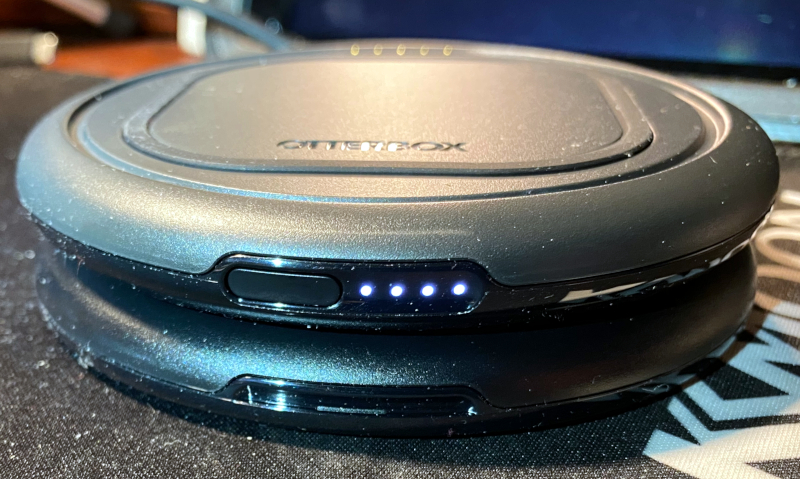 The basic system includes one charging base (along with power adapter and USB-C cable) and one battery. Additional batteries may be purchased separately. Batteries may be charged either on the base or via a USB-C cable.
OtterSpot Battery LED Indicators
The LED indicators on the OtterSpot Battery have different meanings depending on whether the battery is charging or discharging (charging another device).
In charging mode (i.e., battery is charging on a stack or from the wall charger)
0-25% charge – 1 LED pulsing
25-50% – 1 LED on, 1 LED pulsing
50-74% – 2 LEDs on, 1 LED pulsing
75-99% – 3 LEDs on, 1 LED pulsing
100% – 4 LEDs on
In discharging mode (i.e., battery is charging a device, wired or wirelessly)
<10% charge – 1 LED pulsing
10-25% charge – 1 LED on
26-50% – 2 LEDs on
50-75% – 3 LEDs on
76-100% – 4 LEDs on
When using just the charging base or a docked battery, charging is immediately initiated when a compatible device is placed on top of the OtterSpot's coils. When using a battery separately, the button next to the status LEDs must be pressed to wake up the battery for wired or wireless charging.
The OtterSpot system is backed by Otterbox's limited lifetime warranty.
Setup
Setting up the OtterSpot charging base is simply a matter of connecting the charging base to the power adapter using the included USB-C cable and then plugging the power adapter into an active outlet. The removable battery simply needs to be placed on the charging base with the charging pads on the bottom of the battery aligned with the corresponding pins on the charging base. The charging base takes about 4.5 hours to charge a battery from fully-discharged to fully charged.
Performance
I've used the OtterSpot as the primary charger for my iPhone 11Pro Max for the last several days and have even topped up my Corsair Core RGB SE mouse.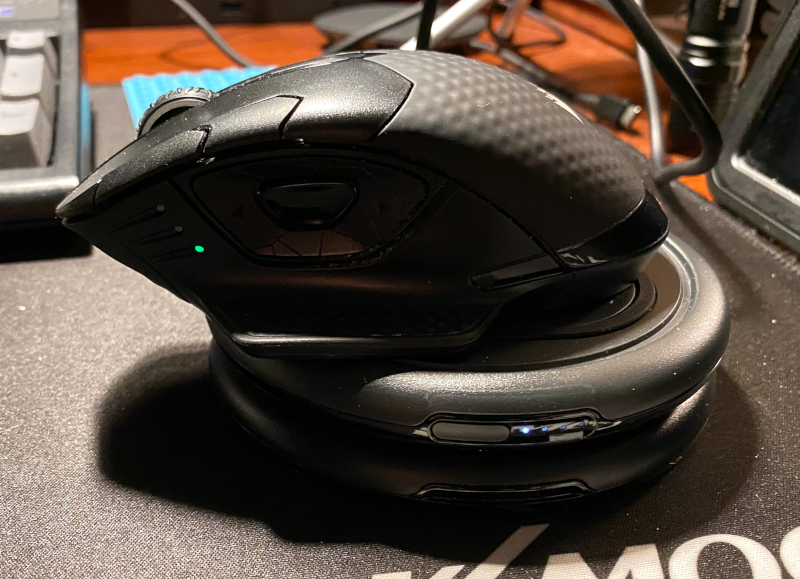 Charging my iPhone on the charging base or when the battery was sitting on the charger took about 45  minutes to go from 75% to 100% charge. Charging my iPhone using just the battery took about 2 hours to go from 25% to 75% charge, but I had to re-initiate charging multiple times. A reset of the battery following the manufacturer's instructions helped remedy this.
Aligning the charging coils in the OtterSpot battery / base with those in my iPhone didn't require much trial and error. This is most likely due to the large coils and overall surface area of the base and battery.
My only quibble is the choice of power adapter. I would like to have seen Otterbox use a more compact, GaN power adapter, similar to those sold under the Aukey, Anker, and RavPower brands and even some of the stand-alone Otterbox products.
What I like
Nice large charging surfaces
Ability to rapidly charge devices
Ability to take a battery with wireless charging capabilities "to go"
Versatile charging options when using battery pack (both wireless and USB-C port)
Ability to charge up to 4 batteries and a device at the same time.
What needs to be improved
Battery may power-off when charging if device being charged is trying to source too much power.
However, this beat the battery melting or otherwise being permanently damaged (I've had this happen during charging with some cheap batteries) or causing damage to the device being charged.
An upgraded power adapter using new technologies that is significantly smaller would a be nice.
(there are several available from other manufacturers)
I'd like to see the OtterSpot offered in-store at more retailers.
Final thoughts
The OtterSpot system is an ingenious way to support charging multiple devices.  I believe that the best use case for the OtterSpot system is the regular charging of one device and the intermittent charging of other devices. My personal use case is the regular charging of my phone and the overnight charging of my mouse on the battery and my phone on the charging pad. Otterbox also sells this system in a commercial package for use in conference rooms and other meeting spaces.
I really like the single stack of batteries that only occupy a small space, but they can be spread out to charge multiple devices as needed. I have some reservations about the price, as I can purchase multiple separate Qi battery packs of similar capacity for less money, but they would require either multiple adapters or a single large charging adapter and would also be less compact and tidy to store on my desk. The less expensive chargers would also not have the lifetime warranty that Otterbox offers with the OtterSpot.
Price:
Base system (as reviewed): $129.95
Additional batteries: $69.95
Where to buy: Otterbox's e-commerce site, CDW, Office Depot, Tiger Direct
Source: The sample of this product was purchased with personal funds.