We use affiliate links. If you buy something through the links on this page, we may earn a commission at no cost to you. Learn more.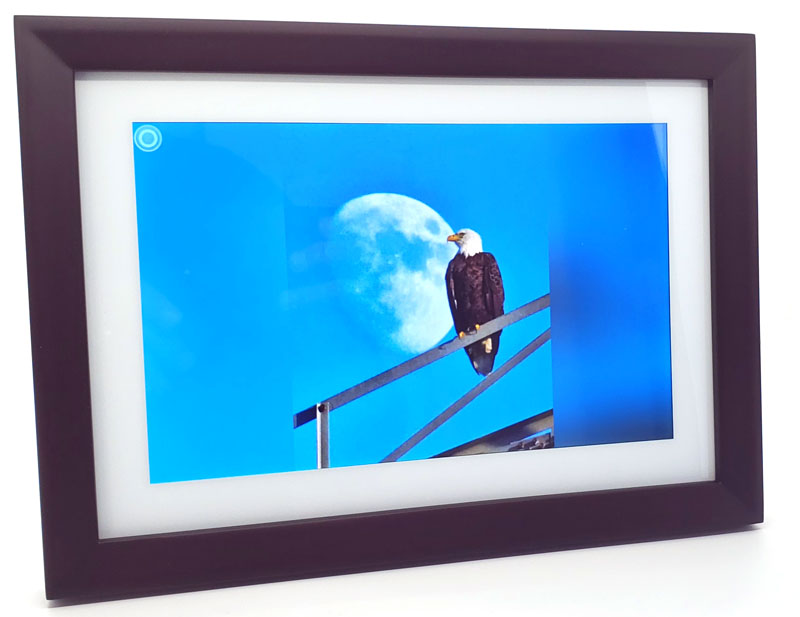 REVIEW – Back in the day, if you wanted to take photos, you had to lug around a camera.  Way back in the day, you had to take your film to the pharmacy or photomat, wait for a week or more, get back your prints, decide if any were worth enlarging, take in your negatives, wait another week or more for those to be processed, and finally after about a month from the time you took the photo, you got your snazzy 8×10, suitable for framing.
Nowadays, we're all into instant photo gratification, with our digital cameras, and even more so with our smartphones always in our hands. Digital photo frames have even made that process quicker by making it pretty quick to copy photos onto an SD card or upload by connecting the frame to your PC. What if it was even easier? What if you didn't need to hook up anything and could do it all over this new-fangled internet thing all the kids are talking about?  Dragon Touch wants to make your instant photo display dreams come true with their Dragon Touch Classic 10 WiFi photo frame.
What is it?
The Dragon Touch frame is a 10-inch digital photo frame with a touchscreen and WiFi connectivity.
What's in the box?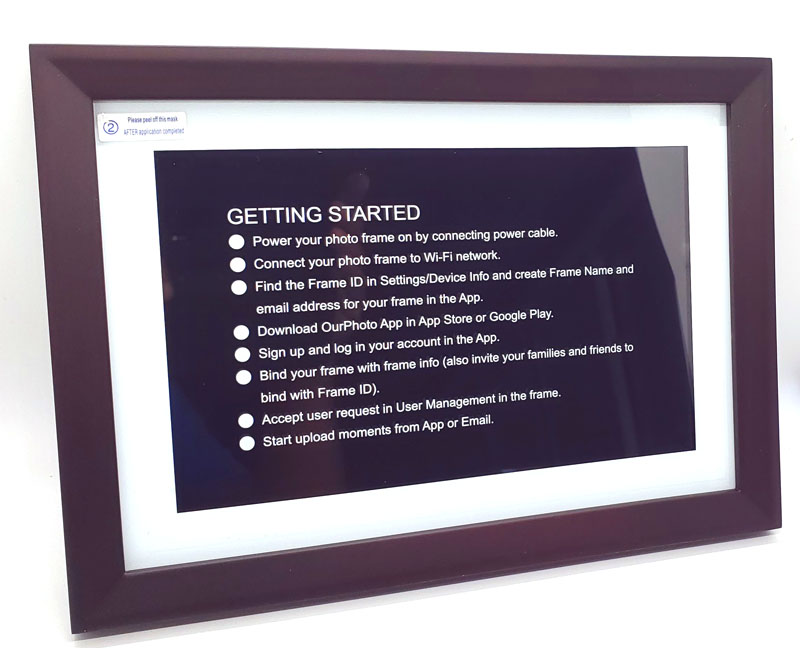 The Dragon Touch frame with a protective cover featuring Getting Started instructions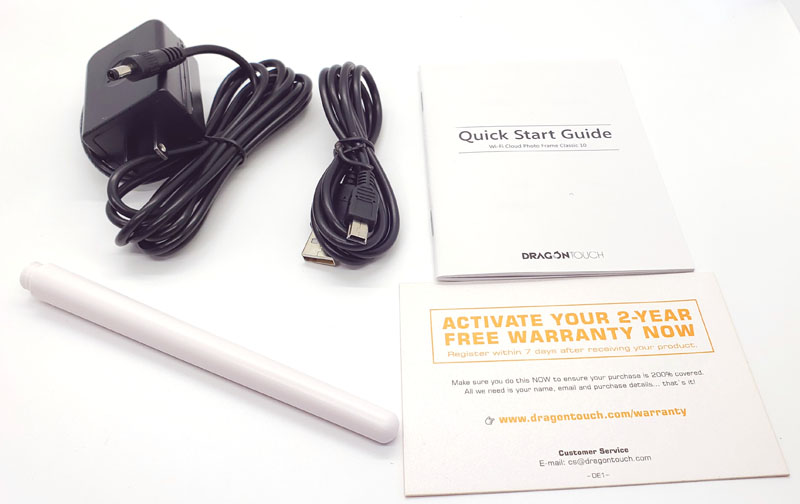 Power adapter
USB-A to micro-USB data cable
User manual
Warranty card
Screw-in table stand
Hardware specs
Dimensions: 10.7 x 7.4 x 0.9 inches
Weight: 1.5 pounds
Screen size: 10 inches diagonal, 16:9 format, 1280×800 IPS
Onboard storage: 8GB
Time required to receive photos: <60 seconds
Accepted digital photo file formats: JPEG, BMP, PNG, GIF

Videos are limited to 100MB and 30-seconds – no file types are specified

Removable storage options: SD/MMC, USB thumb drive
Additional connectivity: micro-USB, FTP, email
Design and features
The frame itself feels sturdy with a black plastic beveled frame and white matte surrounding the 10-inch, 1280×800 IPS touchscreen display.
The lower right on the back of the frame features a threaded hole for the stand.  This shows the stand attached.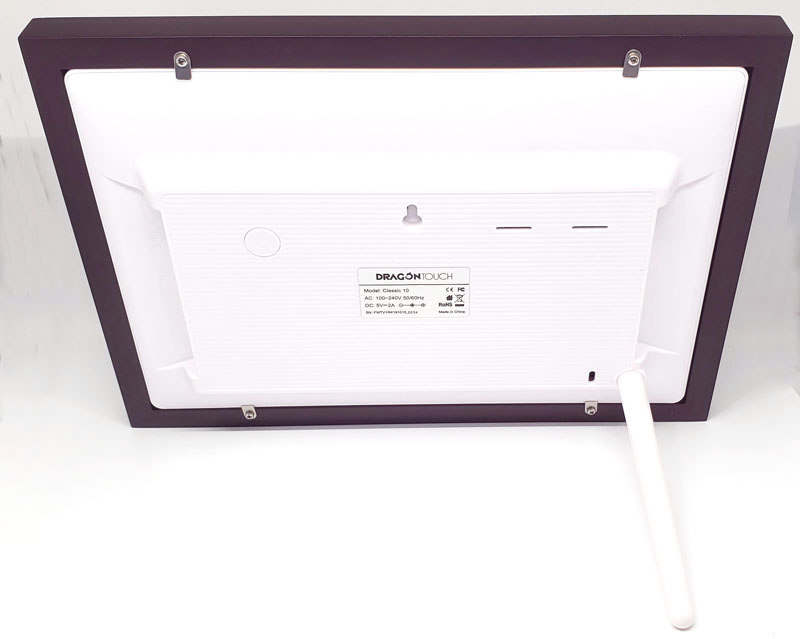 The circle on the upper left is the power button.  There is also a wall-hanger slot in the upper center of the back.
The side of the frame holds all the connection ports.

From left to right (top to bottom when the frame is standing up) are the SD/MMC slot, headphone jack, USB-A port (for thumb drives), micro-USB port (for data connection), and DC power port. The media slots are for uploading only, the frame will not play from SD card or USB drive.
Setup
Setting up the frame wasn't supposed to be difficult.  Unfortunately, the first frame that arrived didn't have an assigned frame ID and while it connected to my WiFi easily, it couldn't connect back to Classic 10 frame as it had no unique ID.  A quick call to support got another frame delivered in a couple of days and we were back in business.
The connection to WiFi is pretty standard for WiFi things.  You also need to install the IOS or Android OurPhoto app to help manage the frame.  By naming your frame, you get a unique email address that can be used for uploading photos.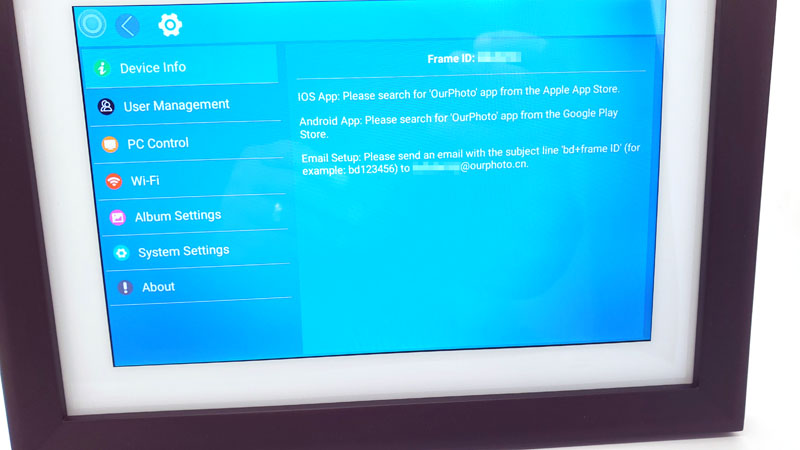 This screen provides instructions on how to share access to email photos to your frame.  You have your guests send email to <your frame name>@ourphoto.cn with "bd<your unique frame ID>" as the subject. You will see user requests in the user management section of the frame's settings. You can approve or deny requests.  Once approved, they can email <your frame name>@ourphoto.cn with photos attached and they will appear on your frame in a minute or less.  This is a great feature for folks that want to gift a frame to their tech-challenged family or friends.  Once set up, you can just email photos and they will appear on your recipient's screen.  What a great idea for grandparents to be able to get regular photo updates of the grandkids. I wish the frame provided a pop-up when a new user asks for access to email images, but it does not. This means you need to regularly check the user management section to see if there are new requests.
The continued setup involves location and timezone.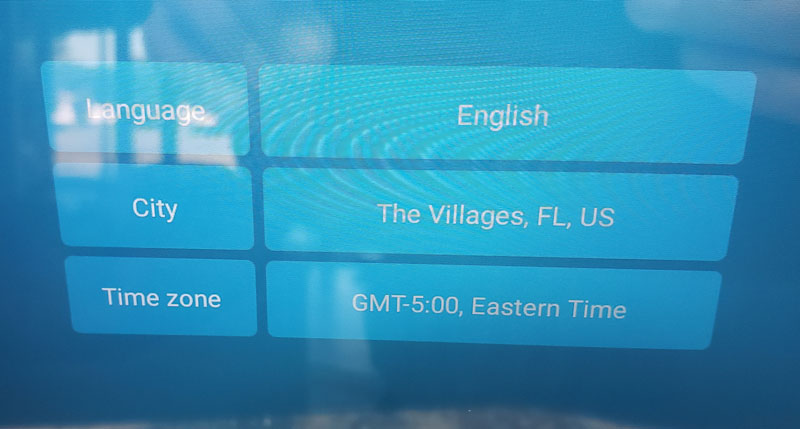 You can also enter auto-on and auto-off times so the frame sleeps when you do.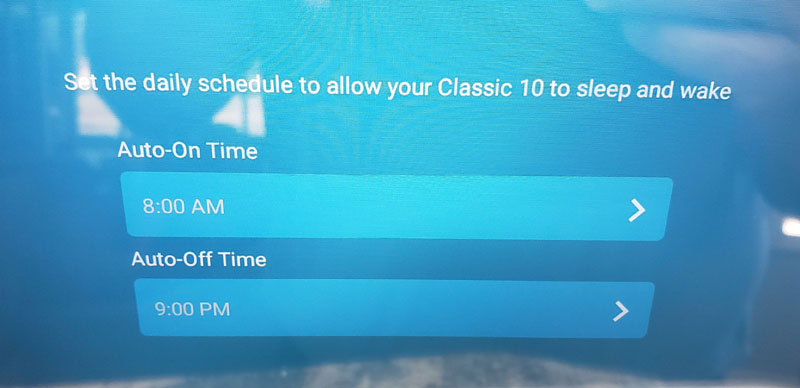 For the record, this was the default – I don't go to bed at 9 pm. 🙂
We are all set-up, so let's load some photos!
Performance
I took the following photo on my phone.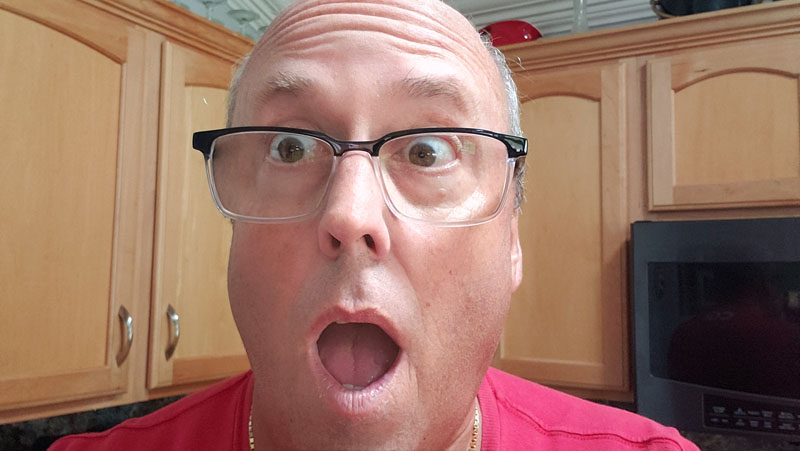 In the OurPhoto app, we find options for taking photos or videos to upload, information about our connected frame, messages about file uploads and user requests, and access to files on the phone to upload.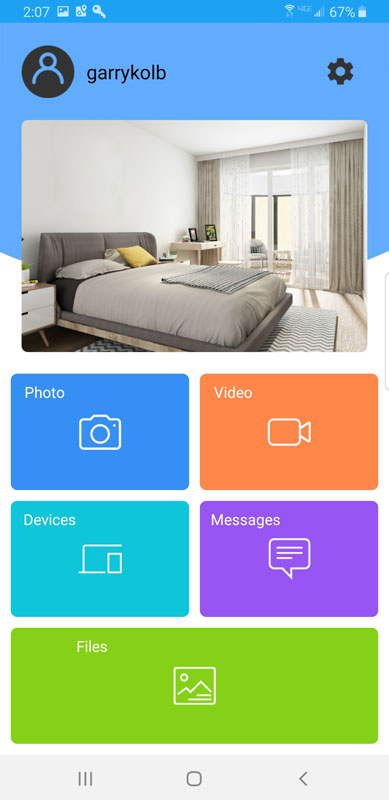 I have no idea why there is an image of a bedroom on the app page, and I can't find any options to change it.  Strange.
Using the app, I selected the photo and uploaded it to the frame.  It popped up in just a few seconds.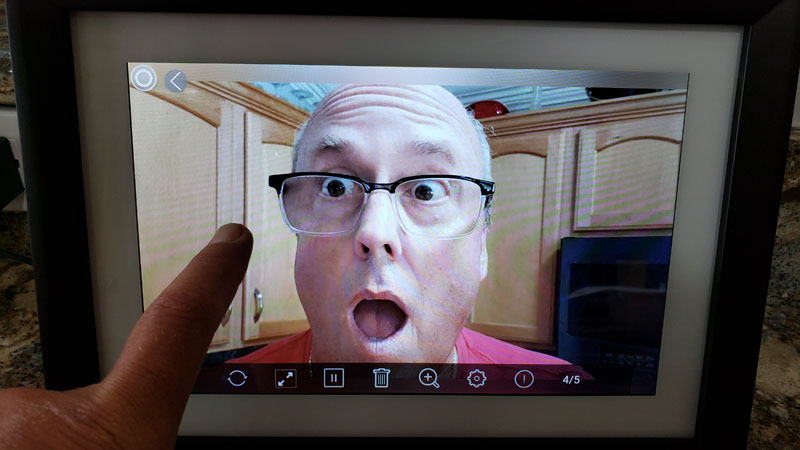 Seriously, nobody wants to see that!  By touching the screen, the menu pops up on the bottom. I touched the trash can icon.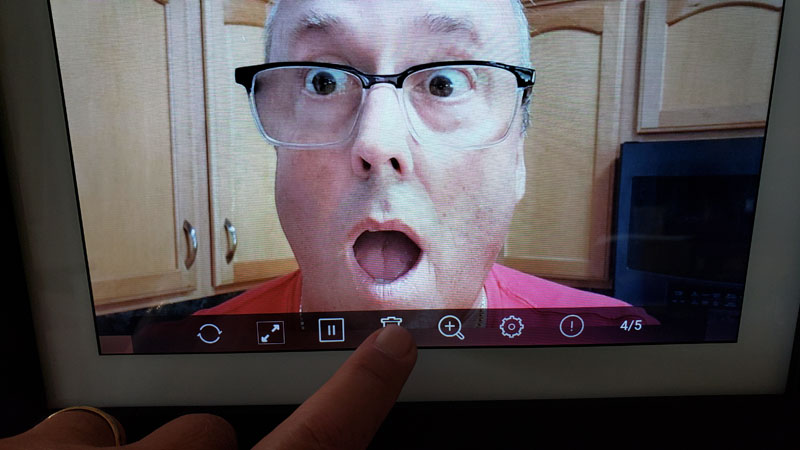 This brought up the delete submenu and I deleted this image.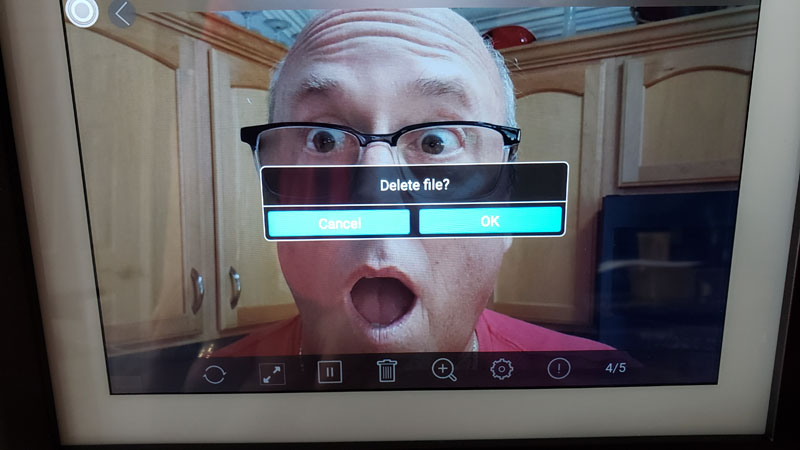 One usability note here: when the initial menu pops up, it does not stop the slideshow. If the next slide comes up, any action you take will affect the slide that is currently displayed. Since I was taking photos of the above scenario, I was slow on the trigger and deleted the next photo that was displayed. In my humble opinion, the slideshow should stop when a menu pops up and you take action on the photo that was displayed when you initiated the action.
I uploaded a much better-looking photo.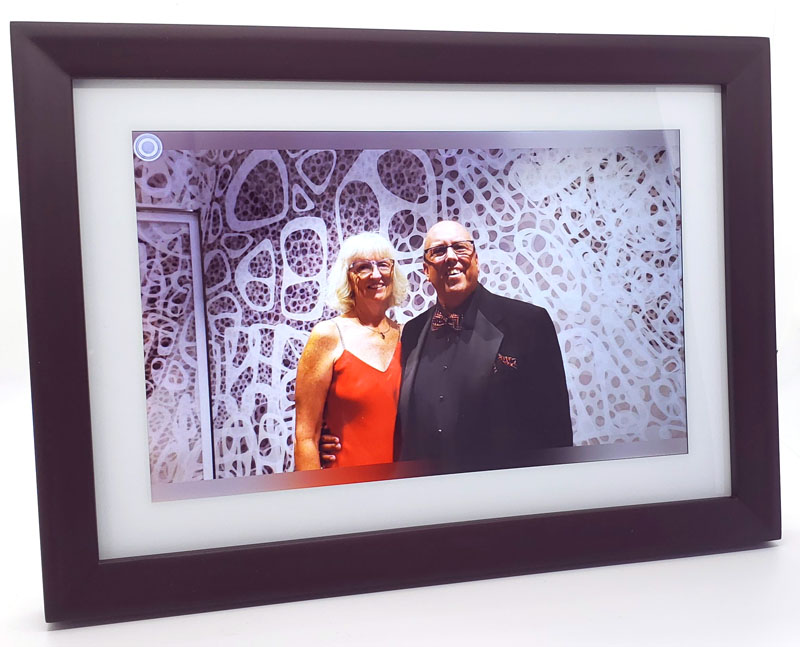 The harshness of the lighting in the image is due to the image itself, not the frame. Overall, the images look very good, but not amazingly good, like a great print.  The 1280×800 resolution pales in comparison to the 4032×2268 I get in 16:9 on my Samsung Galaxy S9+. Even if I use the front camera, I'm still taking photos at 2640×1488. A higher resolution screen would be nice.  But, in the frame's defense, you generally won't be standing inches from the frame, critically analyzing each photo. It is designed to hang on a wall or sit on a coffee table and be viewed across the room, so perhaps 1280×800 is good enough.
You might notice the small circle in the upper left.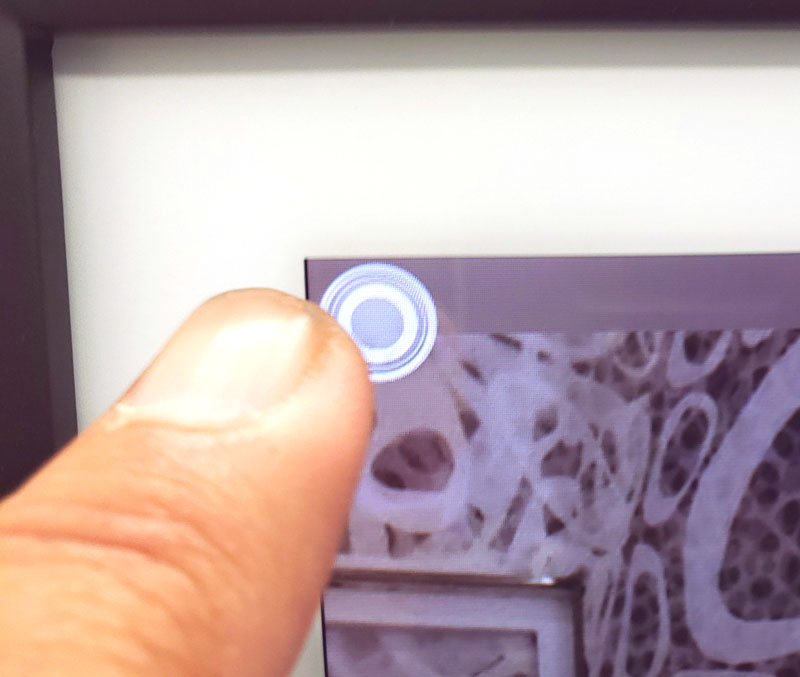 Touching the screen anywhere brings up the individual image menu I showed above.  Touching the circle brings up an icon menu.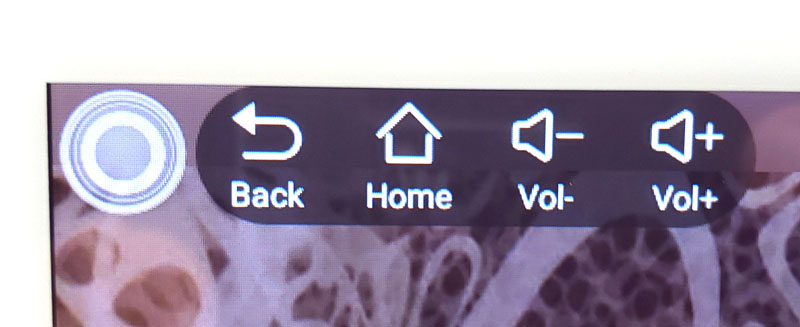 Touching Home brings you to the frame's home screen. You can also adjust media volume here.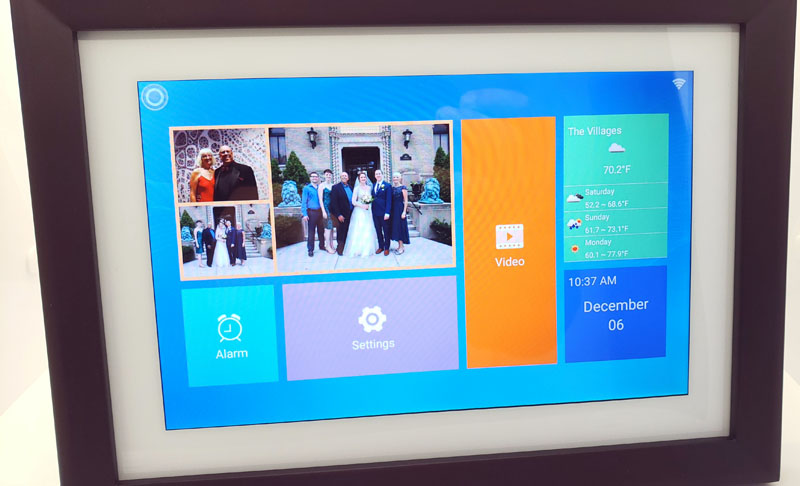 It shows a few thumbnails of your photos, alarm settings, overall settings, video thumbnails, your local weather and time/date.
In the options, you can control image duration, transition effects when the image changes, volume (for videos) and so on. You can also open an FTP window. It gives you an address to enter into your PC's file explorer (assuming you're on the same WiFi) so you can FTP a bunch of photos easily. In other options, you can elect to not display that circle at all. If you do that, touching the screen brings up a back arrow to take you to the home screen.
Emailing photos couldn't have been easier.  I emailed photos and in a few minutes, they popped up. If I look in the and I received an app notification.  To me, this is the sweet spot for this frame.  As I mentioned earlier, giving this to a grandparent and then emailing them regular grandkid photos would make their day.
The documentation states that when users email your frame a new photo, you can click on an icon on that photo when it is displayed to send an automatic thank-you to that user. That icon never showed up when either my wife or I emailed photos to the frame. There is no app notification either, so the only way you know that you have new photos is to notice them when they're displayed.
What I like
Multiple upload methods
Nice slideshow options for speed and transitions
Ability to delete individual images or all images
What I'd change
They need to update and correct their conflicting documentation
At 1280×800, the resolution is a bit low, especially when compared to today's smartphone cameras
No notification when new user requests or new images arrive
Final thoughts
I do like this frame. I placed it on our bar cabinet and it looks great.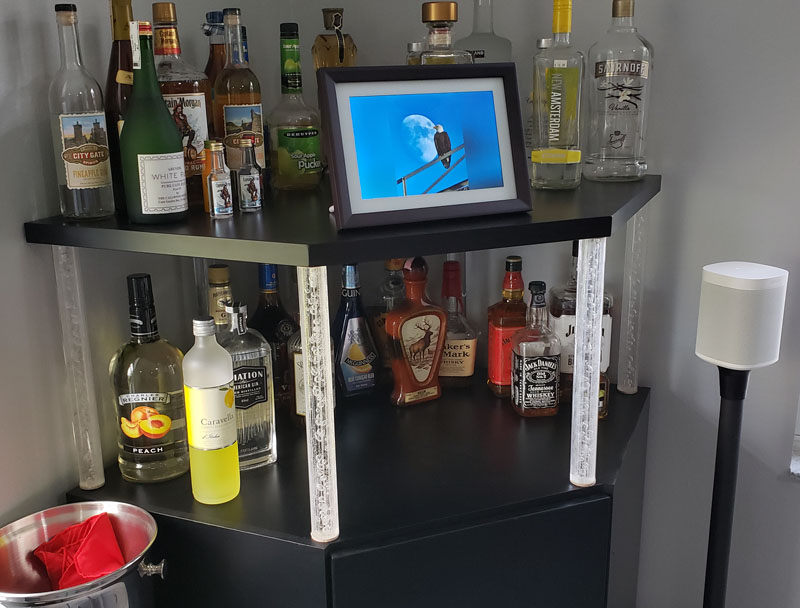 As long as you can live with those limitations, I have no problem recommending this frame, especially as a gift to a remote friend or relative that would enjoy seeing pictures of your adventures.
Price: $139.99
Where to buy: Direct from Dragon Touch and Amazon
Source: The sample of this product was provided by Dragon Touch.