We use affiliate links. If you buy something through the links on this page, we may earn a commission at no cost to you. Learn more.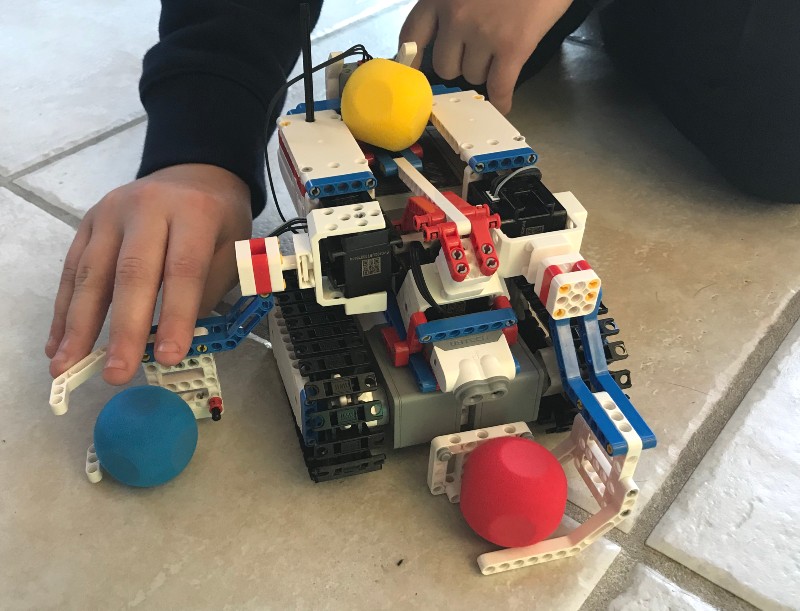 REVIEW – The UBTECH JIMU Champbot kit is a very fun, complex toy that's perfect for older kids who are interested in construction, robotics, coding or anything STEM-related.
What is it?
The Competitive Series Champbot is a building set that allows you to create the interactive ChampBot, BasketBot and ScoreBot. It requires a free app for the building instructions, controls and coding features. Once you've built your bot, you need the app to control it in real-time, use the preset options and/or create your own moves.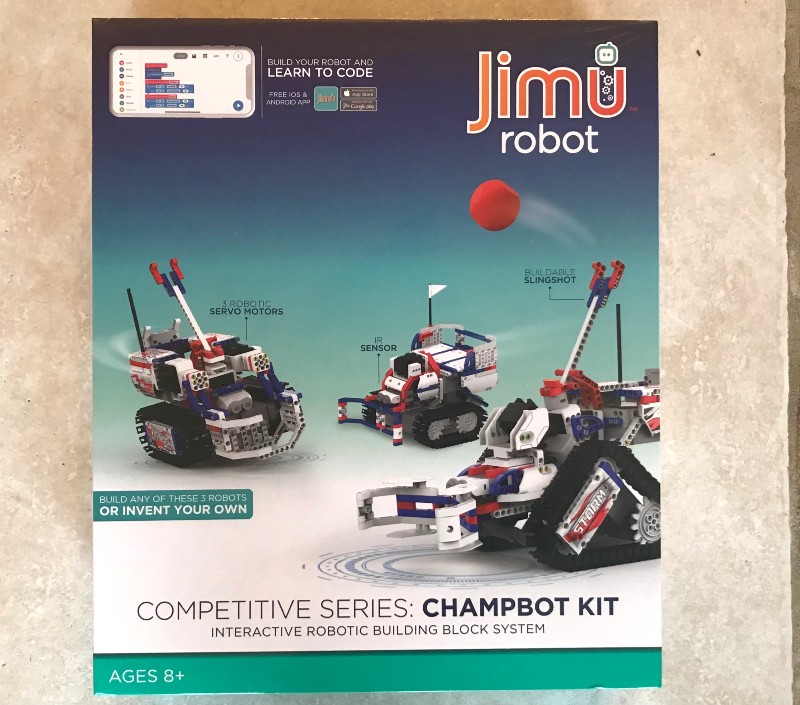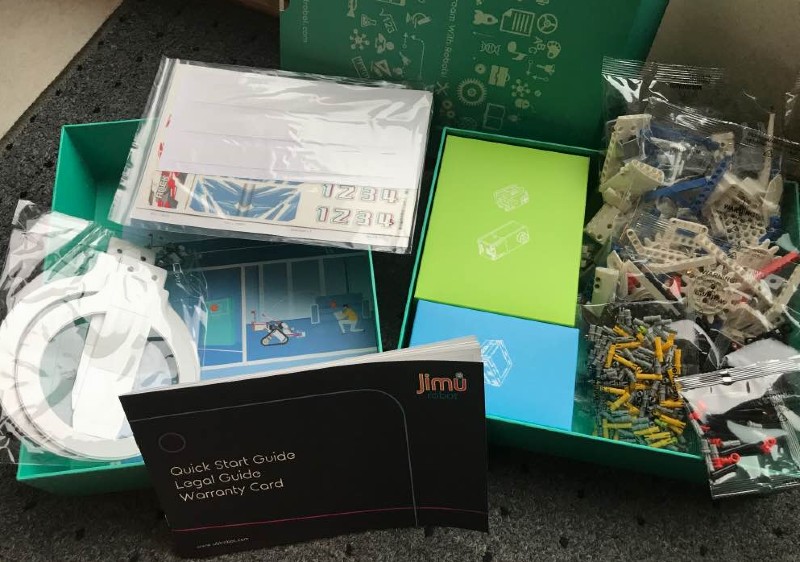 What's in the box?
3 smooth motion robotic servo motors

2 DC motors

Infrared sensor

Control box

USB cable

Power switch

8 wires

522 snap-together parts

3 balls

Cardboard basketball hoop

6 sports cards

Sticker sheet

Parts list

Brochure

Quick start guide
Hardware specs
Product dimensions: 13 x 5.5 x 8.5 inches

Item weight: 3 pounds

Shipping weight: 3.8 pounds

ASIN: B07NVG2YG7

Item model number: JRA0505

Manufacturer recommended age: 8 years and up

Batteries: 1 lithium polymer battery (included)
Design and features
Setup
Unlike other building kits, the JIMU robot instructions are only accessible via the free JIMU app (iOS and Android). We downloaded it on my son's Onn Tablet, and we were glad we chose a tablet instead of a phone for the construction phase because of the bigger screen size. 
Hesitant at first with the unusual instruction format, my son quickly declared that he "loved the format" and preferred it over any printed or online Lego instructions he's used before. Why? Because the instructions are 3D, 360 degrees and animated to show you exactly where and how to place the pieces and which direction to have them facing. It even allows you to zoom in, zoom out and pass through objects as you zoom in.
Plus, parts are stamped with a letter/number designation, so there's no doubt you're using the correct piece. This is especially helpful because several pieces have a similar size, shape and color.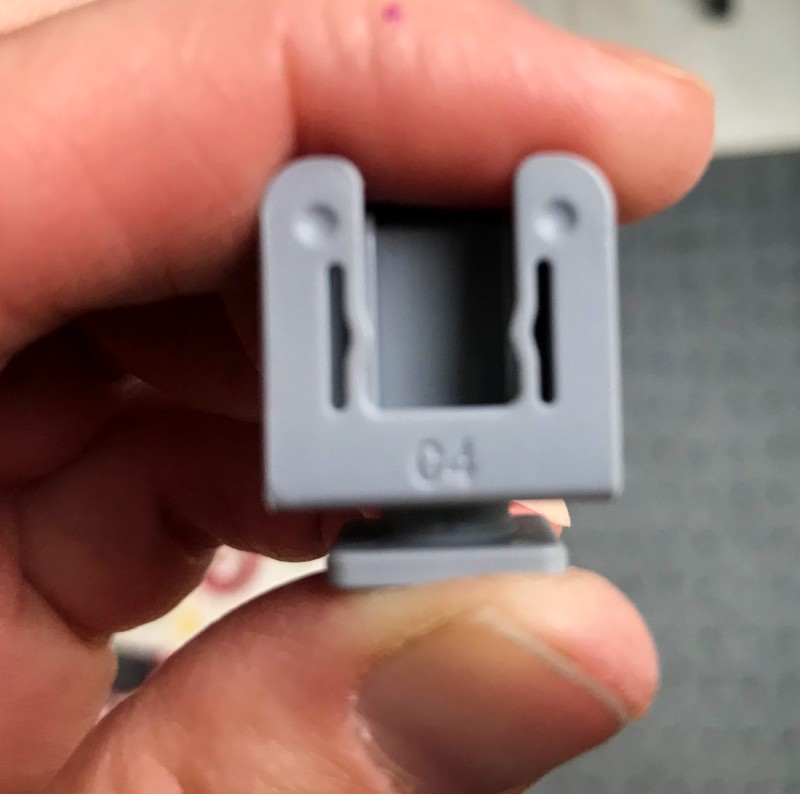 My son is 11 and has a lot of Lego experience, so I left him alone with his tablet to see what would happen. He decided to build the Basketbot, one of three bots you can build with this set using the manufacturer's instructions (of course, the possibilities are endless if you design your own). After several sittings, it took him more than 3 hours overall, which required a lot of patience and dedication for a sixth-grader. If I would have helped him, I expect it would have gone faster; if he were younger or had less Lego experience, I expect it would have taken longer. The manufacturer recommends this kit for children ages 8 and up, but I think an 8-year-old would have trouble putting this together without help.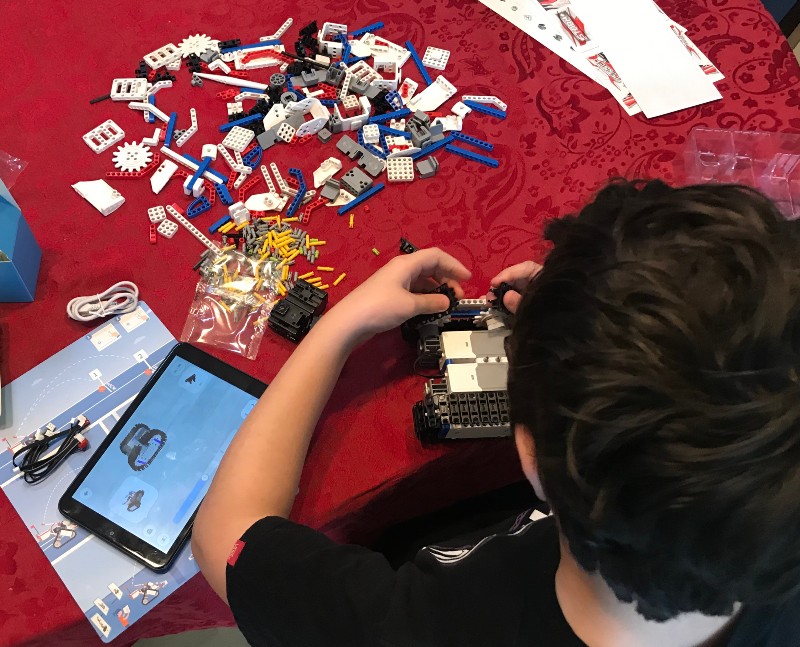 Once it was built and we began testing the robot, the app kept giving us a notification that one of the motors was overheating. It pinpointed the error and upon further inspection, my son had installed a piece incorrectly (so even with the detailed instructions, it's easy to make a mistake). Fortunately, the app found the error, and it was a quick fix. Actually, it was pretty cool how it showed us the mistake right away.
Another issue we noticed quickly was that our Bluetooth connection kept dropping between the tablet and robot, pausing our playtime over and over. However, when we downloaded the app onto a Samsung Galaxy, that issue stopped immediately, leading us to believe it was an issue with the tablet and not the robot.
We also noticed a slight lag in the robot's reaction time when using the remote control feature. One of my family members blamed this lag for sending the Basketbot flying down our carpeted staircase (I suspect it had more to do with user error)—thankfully, it only took a few minutes to reassemble with no lasting damage.
Performance
This little robot it a lot of fun! It's surprisingly fast and agile, and my entire family enjoys playing with it… well, minus the dog who's a bit leary of it. The ads promise hours of play, and we can definitely confirm that. 
The realtime controls are simple: Choose your speed, direction or activate the catapult. We had a funny moment where my husband was eager to test the controls and fired a blue foam ball into his own forehead before he could even react.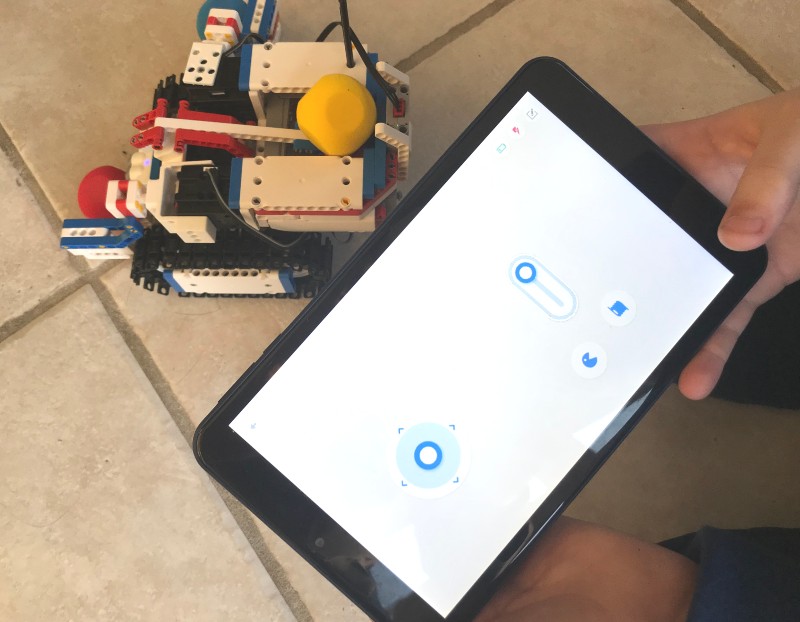 I help coach my son's Lego Robotics team, so I brought the Basketbot to one of our practices. The seven fifth-and six-graders agreed that it is very fun as a toy, they especially like the remote control functions and remarked on how it's different from the EV3 we use in competition; EV3s require you to code and then download the instructions right to your robot's "brain" and then run it. Our programmers said the options and abilities on the Champbot are similar to the EV3.
All of the kids wanted turns shooting the balls and driving the robot, and everyone found it hilarious to use the robot's so-called emotions, preset actions to convey "happy," "cheer" and "angry." One young lady announced that she would be updating her Christmas list immediately.
If your children have played with Scratch, they will find the programming language similar. If your kids have experience with Python or Raspberry Pi, they will find it very simple. We especially liked the option to incorporate music, so you can make your robot dance or have sound effects.
The boxes for the kit stack together with adhesive stickers to create the mini basketball hoop, and it's tricky to get the robot to make a basket, but not so hard that it's frustrating. But it's also fun to launch the foam balls willy nilly. I caught my son in his room yesterday playing catch with JIMU, having programed it to launch balls at exactly his distance away, then rolling them back and having the robot scoop up the ball and launch it back to him.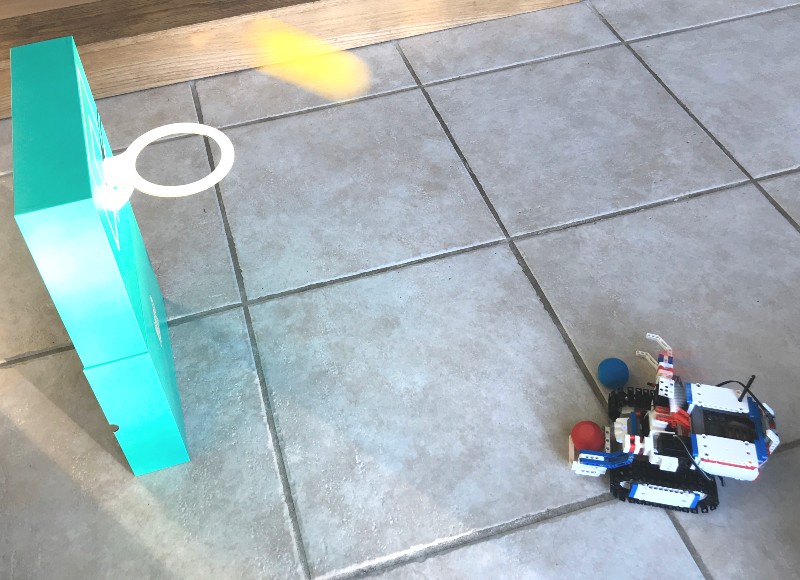 My son's been programming all sorts of moves for his JIMU, and he was discussing with his Lego Robotics teammates how they could code the JIMU to fetch small toys and snacks for them. He has found, however, that when he programs the arms to use their full range of motion, they often fall off, limiting him to smaller, focused arm motions. But that's really just a minor issue. Plus, he finds it a bit funny when the arms fall off, and they're easy to reattach.
JIMU Robots offers 11 robotic building sets: Champbot, Firebot, Meebot and Meebot 2.0, Unicornbot, Overdrive, Cosmos, Buzzbot, Tankbot, Explore and Inventor. They range in price from $99.99 to $399.99.
What I like
Animated instructions

Clearly labeled pieces

Option to program or use realtime controls
What I'd change
Less lag time in remote control operation

More effective arm joints
Final thoughts
The JIMU Champbot kit is a fun, educational toy that can be used individually or interactively. Building and playing with it will generate hours of playtime. The different kit options appeal to a broad range of interests.
Price: $129.99
Where to buy: UBTECH or Amazon
Source: The sample of this product was provided by JIMU Robot kits.