We use affiliate links. If you buy something through the links on this page, we may earn a commission at no cost to you. Learn more.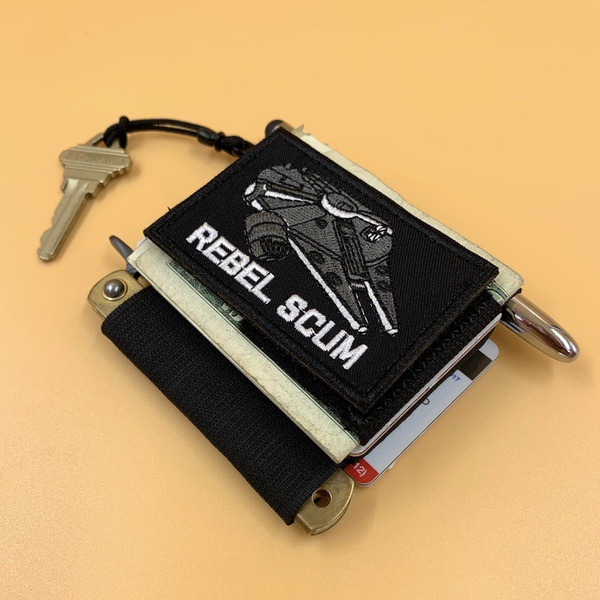 REVIEW – The Anti-Wallet from the Anti-Gear Co. is a study in simple, minimalist functionality for your EDC. You'll probably look at this review and wonder what you're missing… and that's entirely the point. It's so wonderfully simple that you may underestimate how clever it is. To the review!
What is it?
It's a minimalist wallet with accessories to attach your keys and other essential bits.
What's in the box?
I'm testing the full range of options available from the Anti-Gear Co. here, so my package included the wallet itself (the Anti-Wallet Solo) and the following add-ons:
The Key Hitches
The Holster
The Patch Panel
I'll explain how each component works in the review below.
Design and features
The Anti-Gear Co. Anti-Wallet is a modular set of minimalist accessories that you use to build out your EDC. It's delightfully simple and uncomplicated, but offers a whole ton of options for carrying the stuff you use on a daily basis in your wallet based on your needs for the day. We're going to walk through how you build up to the full-blown kit that I show in the feature pic for the article.
The base unit is the Anti-Wallet Solo. It's basically three bands of tough elastic material, two of which wrap around a center core.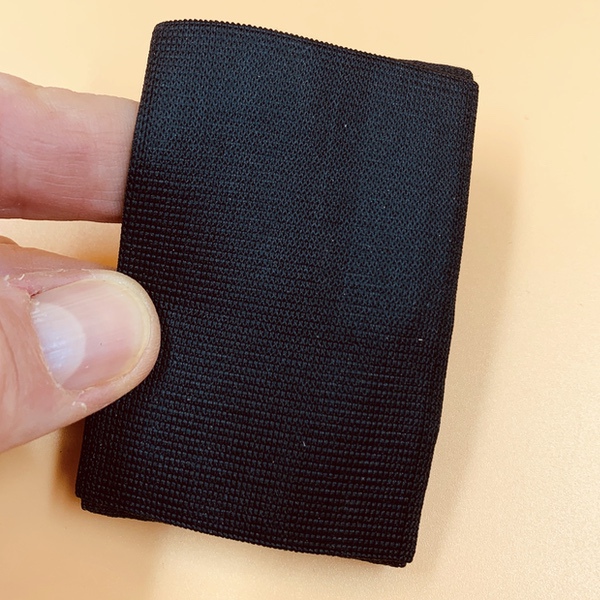 Never miss one of our posts again. Sent MON, WED, and FRI with the latest gadget reviews and news!
Each of those two outer bands are sized to fit credit cards that slide into the loops and stay snugly in place. You can easily fit 3-5 cards or more in each band, and stretch for more.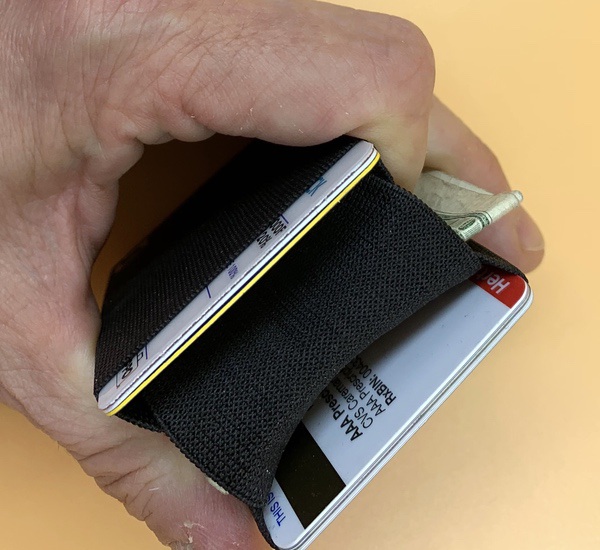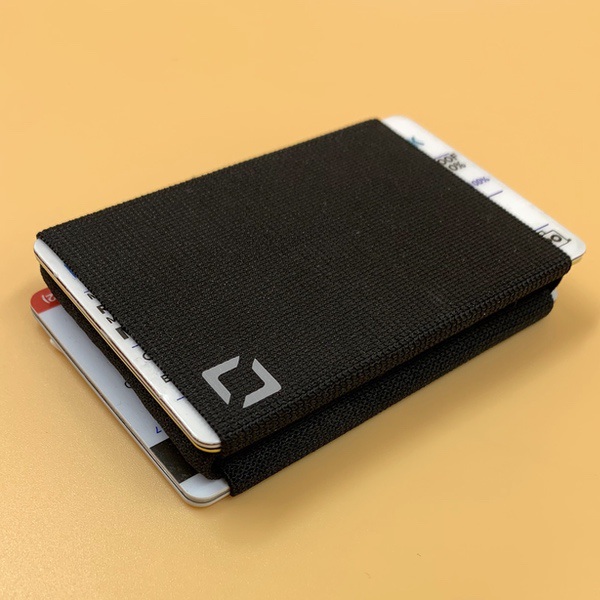 That center loop in the basic configuration serves as a slot for more cards, or a wad of cash like I show here. The elastic material is plenty stretchy to accommodate more stuff, but still keeps everything nice and tight so you don't have things falling out when you pull out the wallet.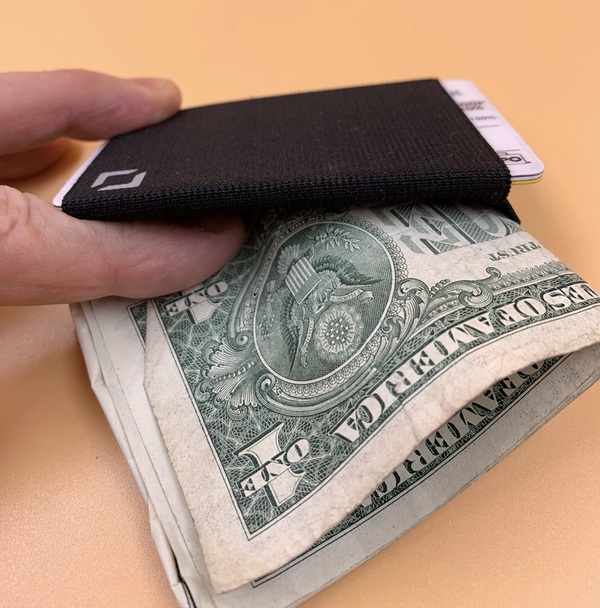 Don't let the simplicity fool you: this rig is super-durable. The material is elastic nylon with a tight weave and nicely finished edging, as well as heavy stitching at all connection points. This will not only take a beating, but it's easy to clean. You don't have to worry about stuff collecting in odd corners, or sweat-staining the wallet .
Once you have got the core wallet, you can start building out your kit with additional accessories. They Key Hitch pack comes with this simple metal bar that slides over one end of the center band…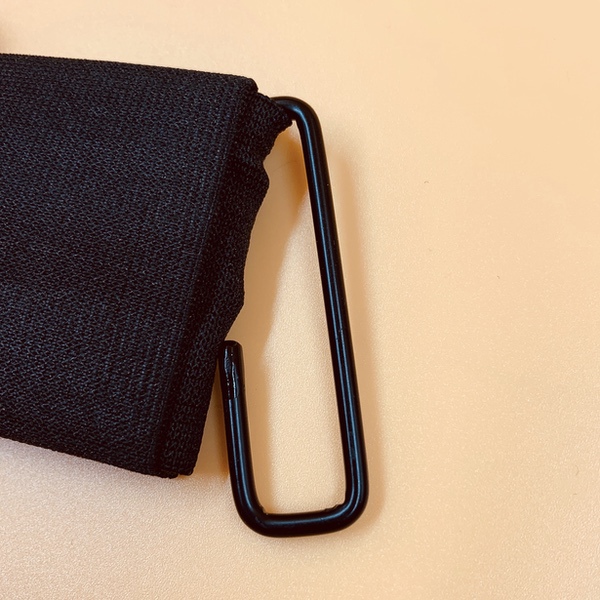 … and 2 key clips with loops for your keys. Loop the string end around your key, clip the hitch to the bar, and you're off and running. You could buy additional Key Hitches (in 2-packs) if you like.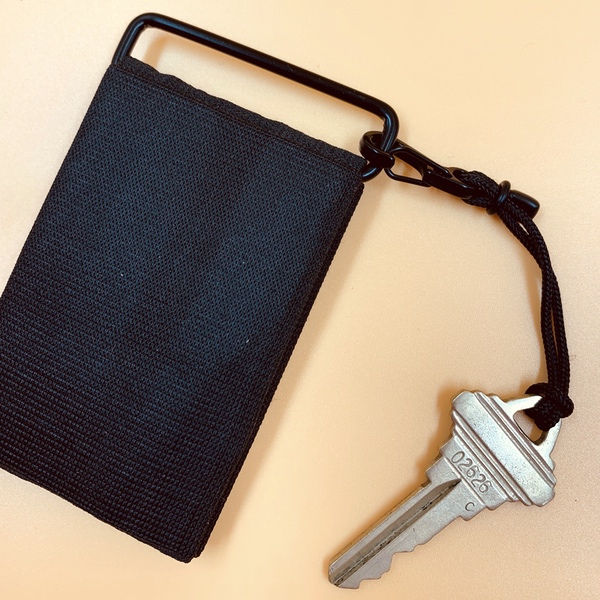 If you want more extensibility for small add-ons, you'll want the AG Co. Holster accessory. Made from the same material as the wallet, the holster features a pair of sleeves in addition to a center pocket that will accommodate more cards. The loops are 15 mm and 10 mm respectively, designed for carrying a pen in the small sleeve and a larger item (like a pocket flashlight) in the other. I have an iPad stylus and one of my favorite pocket knives for this example.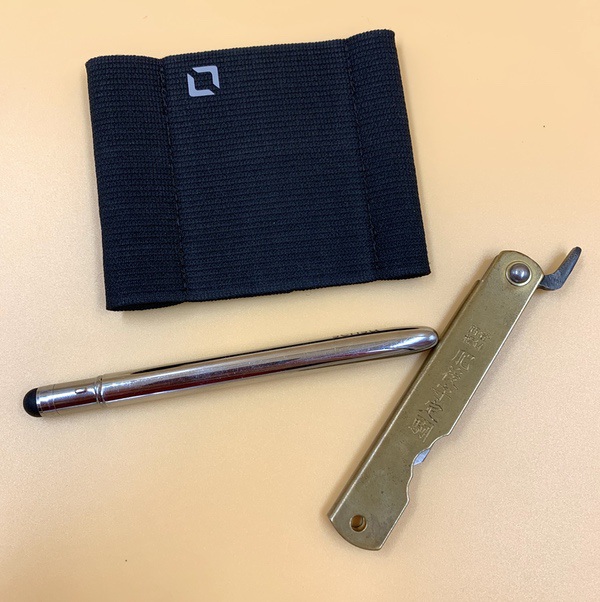 The Holster can be used on its own as a stand-alone wallet, or slid into the center compartment of the basic wallet to collect all of your things in one spot.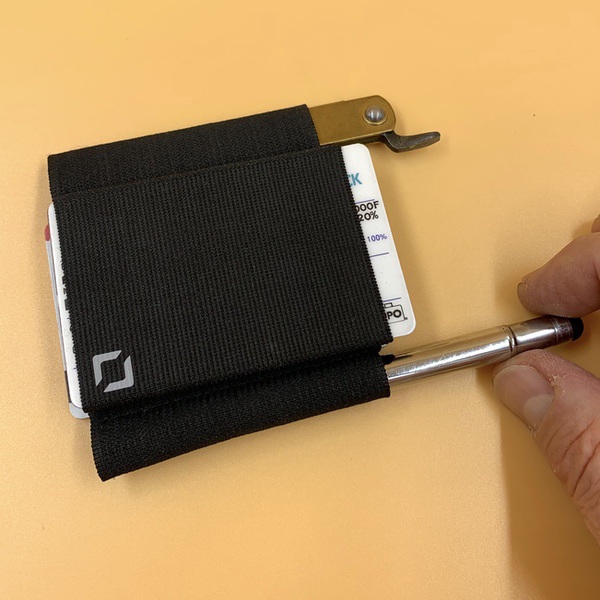 Here's the finished assembly with my cards, stylus and knife ready to rock.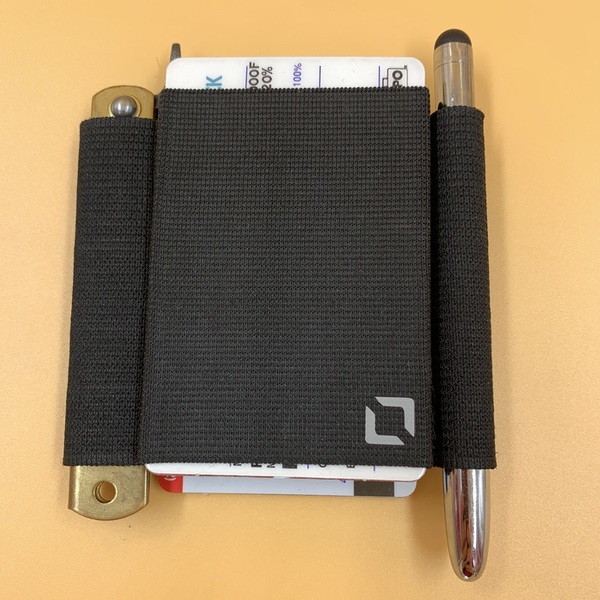 But where does my cash go? Well, one of the cool things about the Anti-Gear Co. is that they are always listening to their customers… so they made an additional accessory that allows you to both wrangle your cash and do a little personalization. This is the Velcro Patch Panel. It's basically another strip made from the same elastic, but with a pair of velcro tabs. You knew I was going to buy a Star Wars patch for this demo, right? Of course you did.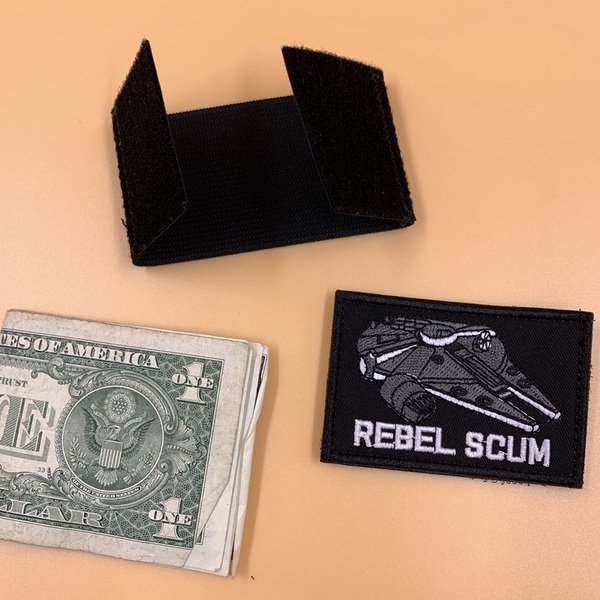 So the patch in question has hook-and-loop backing to marry up to those tabs (you can buy some adhesive-backed velcro at any craft store if your patch doesn't come this way). Peel it loose on one side to open the money clip…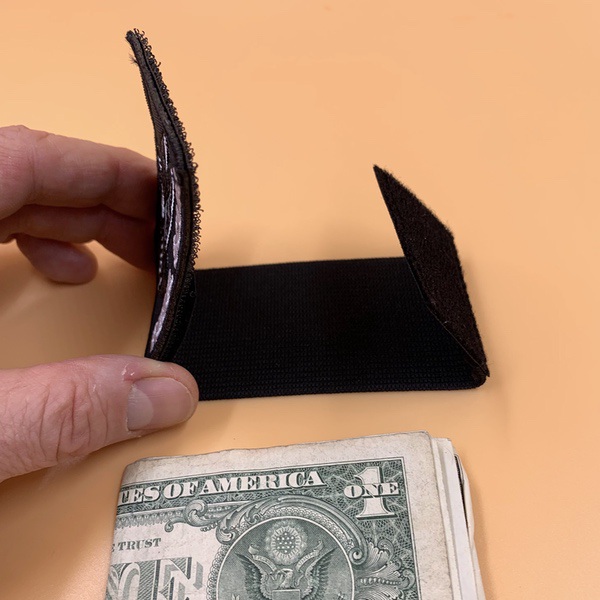 … and it will serve as a stand-alone cash wallet.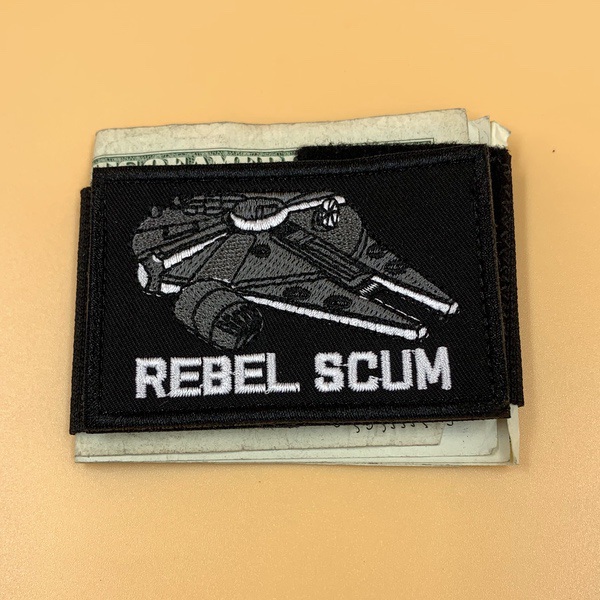 But here's the cool bit: it's made to fit with the basic wallet. Slide it through one of the outer bands, and you now have a cash clip integrated with you EDC.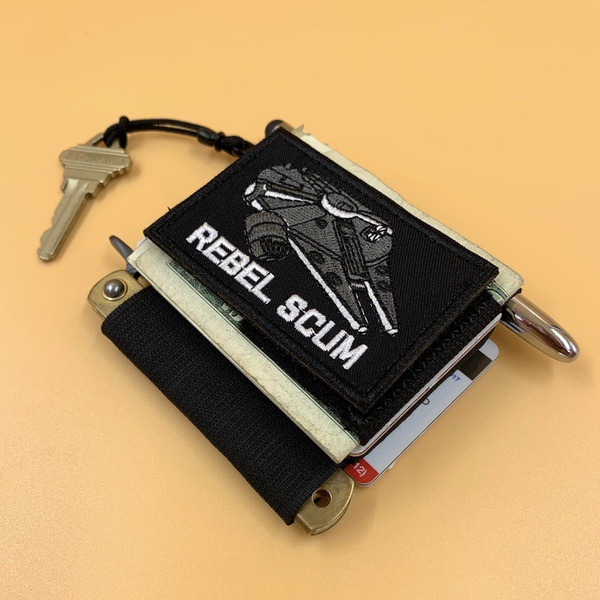 Performance
Can I tell you how much I am loving the simple ingenuity of the Anti-Gear Co. Anti-Wallet? Just to reset the stage, I started with all the stuff shown here.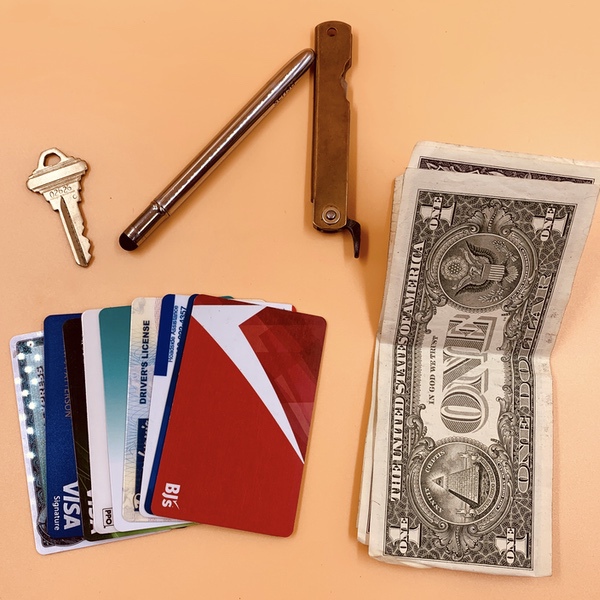 And here's the final kit with all the accessories, perfectly organized with a few simple bits of elastic and some extra parts. I took this pic to give you a size reference next to my Field Notes notebook.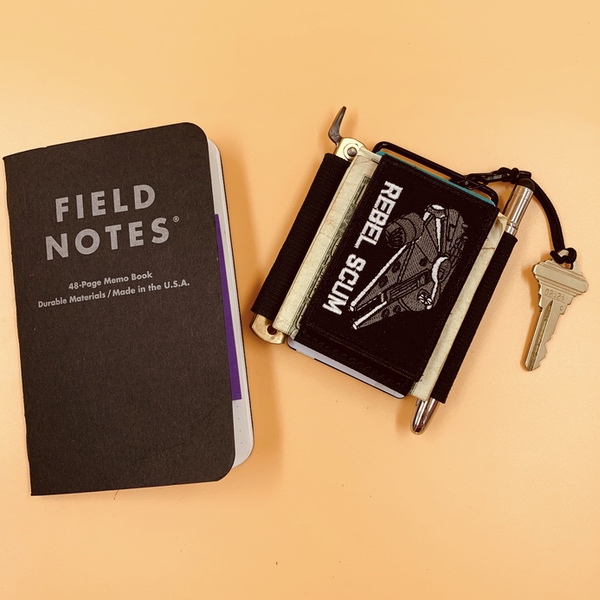 It doesn't get much more simple than this.
I do love minimalist wallets, and I'm digging the pure ingenuity in the design. It gives you exactly what you need to keep your essentials organized, with a component system to customize as you need it. And that elastic build is tight enough that everything stays where it's supposed to as you toss it around.
One note on the sizing: you can fit a lot of stuff in this wallet, and the elastic bands will just keep stretching. The Anti-Gear Co. states that it will hold up to 10 cards and 20 bills, and I believe it. That will get a bit chunky, of course, but the minimal design prevents all the extra bulk of a typical wallet.
What I like
Simple design & usability
Well made for long-lasting use
The ability to customize to fit your carry needs
What needs to be improved
Those that want a more elaborate wallet may find it to be overly simple.
Final thoughts
I got a great note from the Anti-Gear Co. folks that came with my review kit that made me a bigger fan of the product. The designer set out to make a wallet that he felt met an unmet need, and continually looks for feedback from his customers to improve the overall package. It's also 100% made in the USA. You've got to love that level of dedication.
And the price is fantastic. The basic wallet retails for $21.95, but is currently on sale for $16.95. Accessories are also inexpensive; you can get everything in the kit I reviewed here for just over $40. It's a great price that supports a small business. I'm looking forward to seeing what these guys come up with next!
Price: Starting at $16.95 for the basic wallet, available with different colored logos. Accessories range from $6.00 to $14.99. You'll need to bring your own patches.
Where to buy: Go to the Anti-Gear Co. web site or Amazon
Source: The sample of this product was provided by the Anti-Gear Co.