The Gadgeteer is supported by readers like you! If you buy something through links on our site, we may earn an affiliate commission at no cost to you. Thank you! Learn more.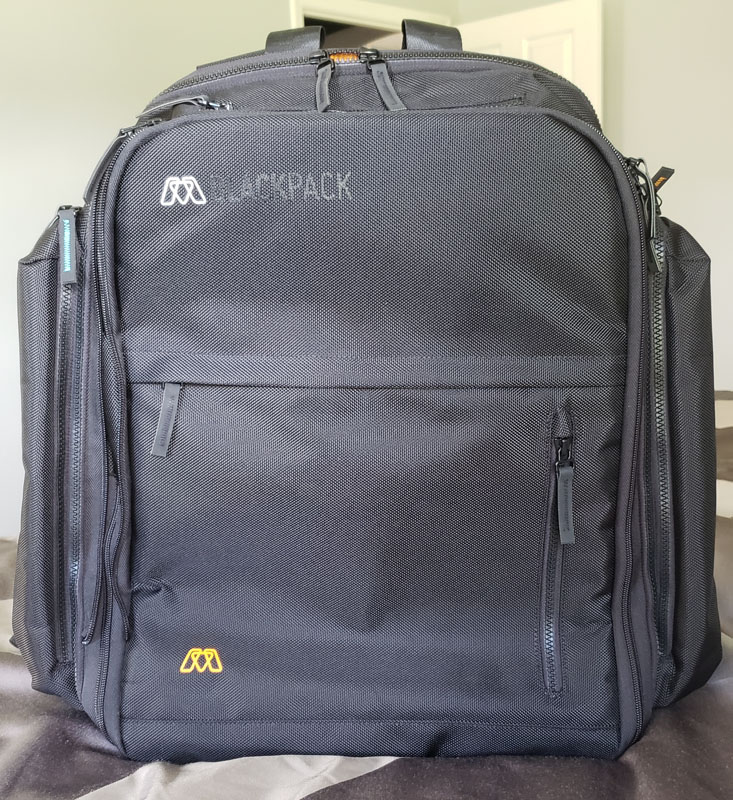 CROWDFUNDING REVIEW – Gadgeteers love their backpacks. MOS makes some terrific ones and we've reviewed them before – most recently in September 2018. MOS keeps evolving, learning what works and what can be improved, making each new iteration of their products better and better. Let's take a look and see if your tech and other packable gear belong in their newest offering, Blackpack Grande.
What is it?
MOS's latest offering is the Blackpack Grande, combining the best features of their Blackpack tech backpack and their Pack Grande.
What's in the box?
Generally, the box will just contain the backpack. In this case, MOS included several other items that I will mention, but aren't included in this review.
MOS Blackpack Grande Backpack
MOS Spring 6-foot USB-C to USB-C cable
MOS Strike 3-foot USB-A to Lightning cable
MOS Strike 6-foot USB-C to Lightning cable
MOS Reach C 60W USB-C and USB-A charging station
MOS GO 20,000 mAh battery pack
MOS Blackpack backpack (yes, another backpack)
Hardware specs
MOS Blackpack Grande
Weight: 4.1 pounds unloaded, 6 pounds with all sample cables and power options
Height: 22 inches
Width: 19 inches
Depth: 6 to 7.5 inches (unexpanded/expanded)
All dimensions are approximate and with the backpack unloaded
Construction: 1680D ballistic nylon shell, ripstop nylon interior, bonded nylon thread
MOS Reach power station
USB-C Output: 5/9/12/15/20V, 3A
USB-C Power Delivery: PD 2.0
USB-A Output: 5V 2.4A
110V power cable length: 4 feet
MOS Go power bank
USB PD 3.0 on the USB-C port supports up to 100W input and output
Supports full-speed charging on the Apple MacBook Pro, iPad Pro, and most USB-C Laptops
Supports fast charging in the Apple iPhone 8 or later with a USB-C to lightning cable
Supports fast charging on most USB-C Android phones
20,000 mAH capacity (74 Watt-hours) fits the guidelines of all major airlines for carry-on power banks
MOS Blackpack backpack
Weight: 2.5 pounds empty
Height: 20 inches
Width: 13.5 inches
Depth: 4 inches
Construction: 1680D ballistic nylon shell, ripstop nylon interior, bonded nylon thread
Design and features
Let's get this out of the way right away – this is a very large backpack!
Here is a comparison of the Blackpack Grande and the original Blackpack.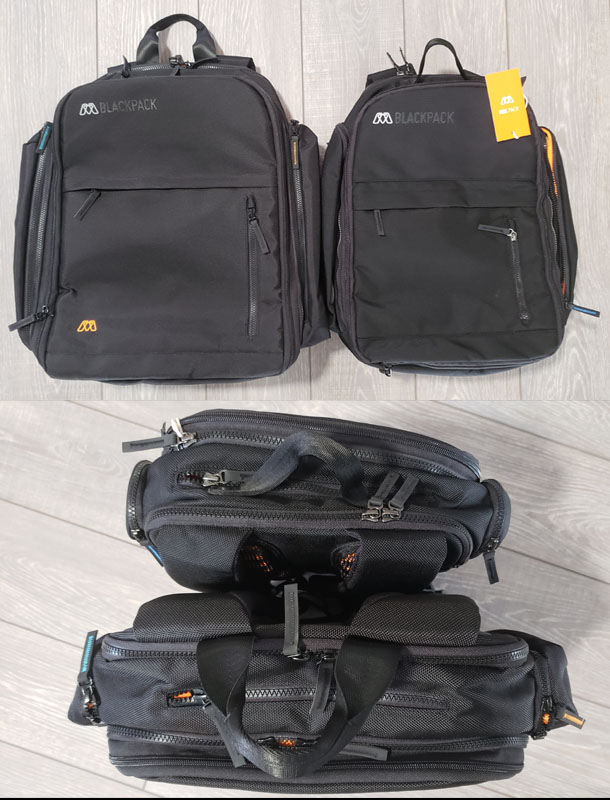 It is designed to hold up to a 17-inch laptop. Seriously, who wants to lug around a 17-incher? Somebody must, and this backpack will tote it safely and in style. For reference, here is my Microsoft Surface Book, absolutely swallowed up by the Blackpack Grande.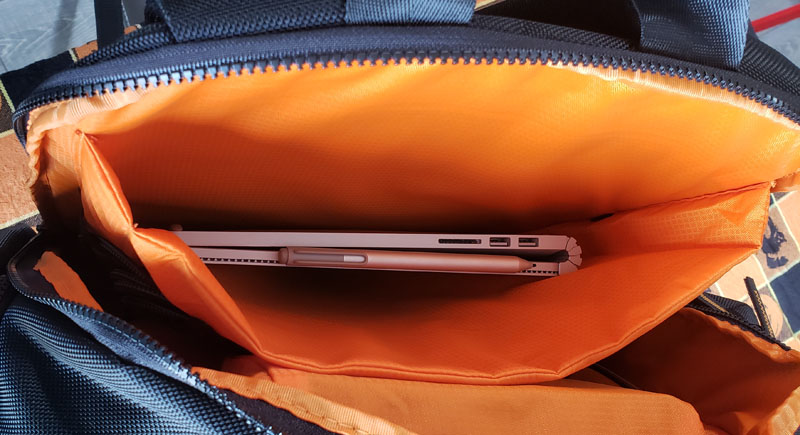 Whatever laptop you put in the sleeve will be nicely protected. The sleeve is padded on both sides and on the bottom. What pads it on the bottom will be revealed a little later on.
There are a lot of compartments in this backpack and no instructions or suggestions as to what MOS's thoughts were on their use. Luckily for me, the original Blackpack had an instruction card in it as a reference.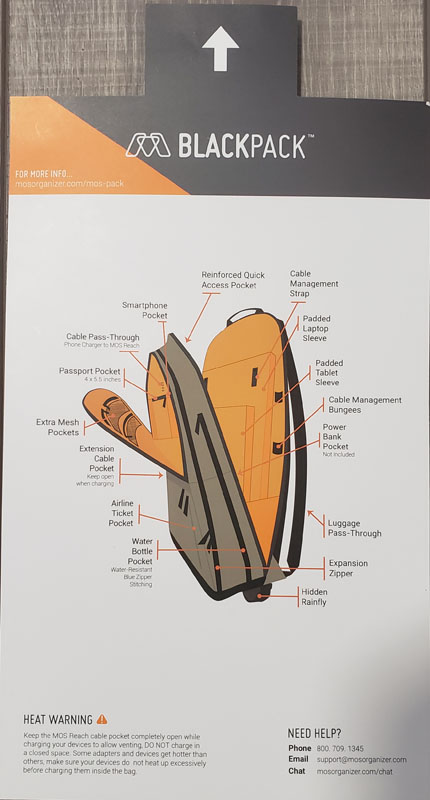 The card points out that if you use the bag's charging infrastructure, you need to be aware of the heat it might generate and plan accordingly for proper ventilation.
There are two main compartments in the Blackpack Grande. Let's start with the back main compartment.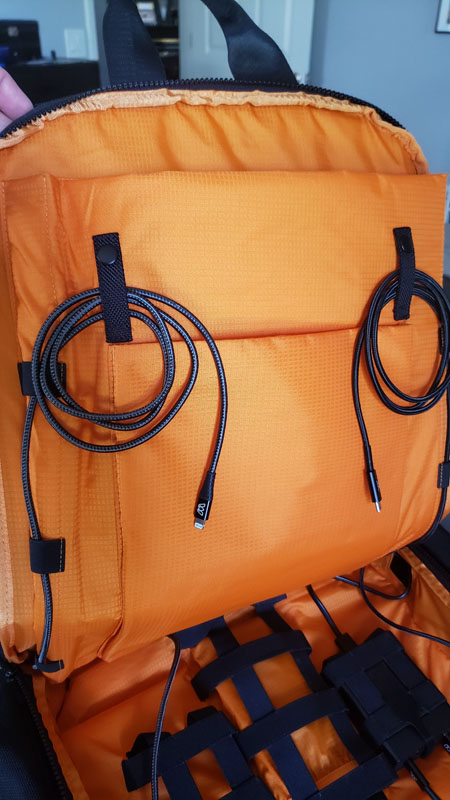 The two horizontal lines are the entry points for the two protective sleeves. The top one is the laptop sleeve – the same one I showed earlier that can accommodate a 17-inch laptop. The lower one is the tablet sleeve that can hold up to a 12-inch Macbook. You can also see two of the three cables that were included. To be clear, these are extra-cost items but were included with the Blackpack Grande for this review. There are thoughtful cable-management loops and openings throughout to make routing your charging cables easy and mess-free.
The Blackpack series of backpacks is all about connectivity and power. As I mentioned above, MOS included some extras for this review. Here are most of them – all setup and ready to spread the power among your voltage-thirsty gadgets.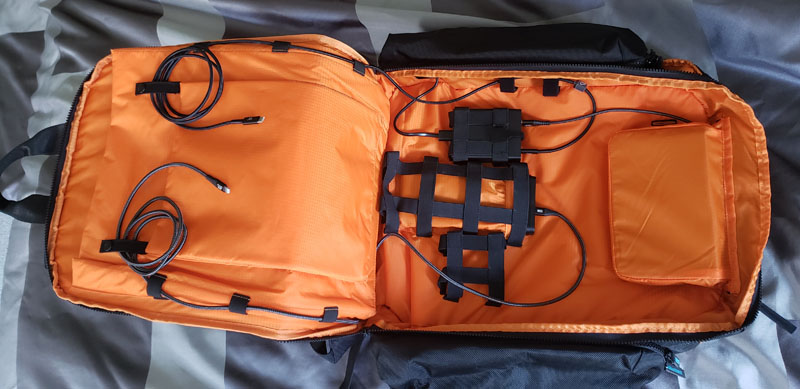 Here you can see the power management areas. On the right are the MOS Go power bank ($69.95 from MOS or Amazon) and the MOS Reach C power center ($39.95 from MOS or Amazon). The power bank has a MOS Strike USB-C to Lightning 6-foot cable attached ($21.95 from MOS). The power center is set up with a MOS Spring 6-foot USB-C to USB-C cable ($14.95 from MOS) and MOS Strike 3-foot USB-A to Lightning cable ($14.95 from MOS).
The power bank and Reach C power distribution unit are held nicely in place.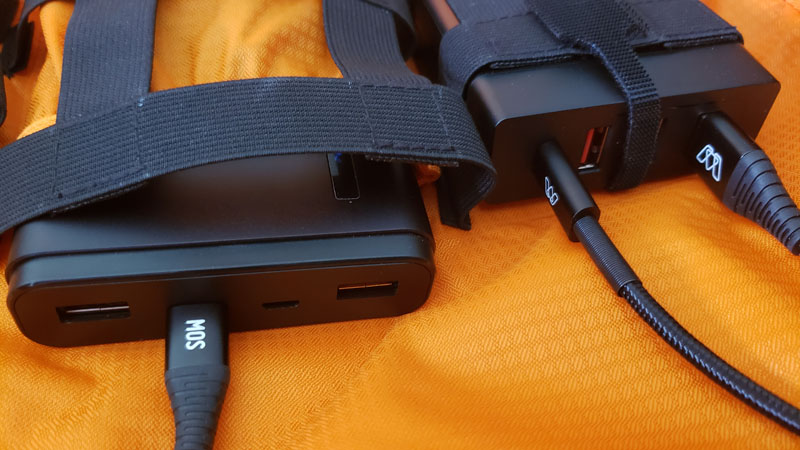 There are thoughtful cable pass-throughs. The one in the upper left of this next photo, next to the power bank holder, lets you run the Reach C power cord to the side pocket.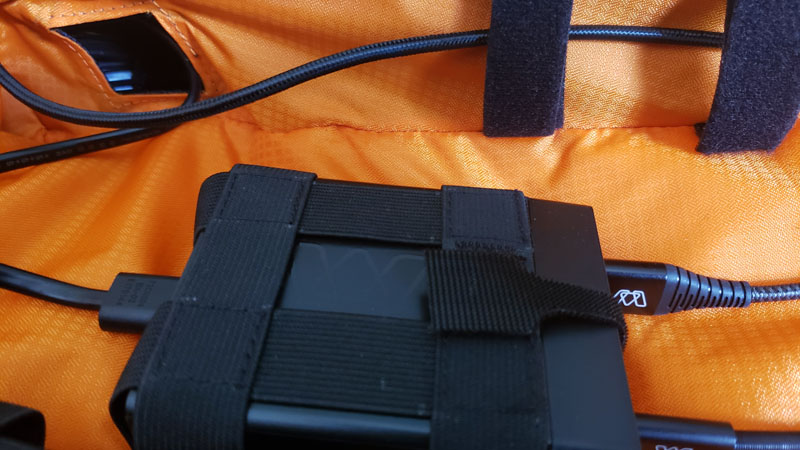 Here is the power cord – a standard 110V two-prong plug, enclosed in one of the two side pockets.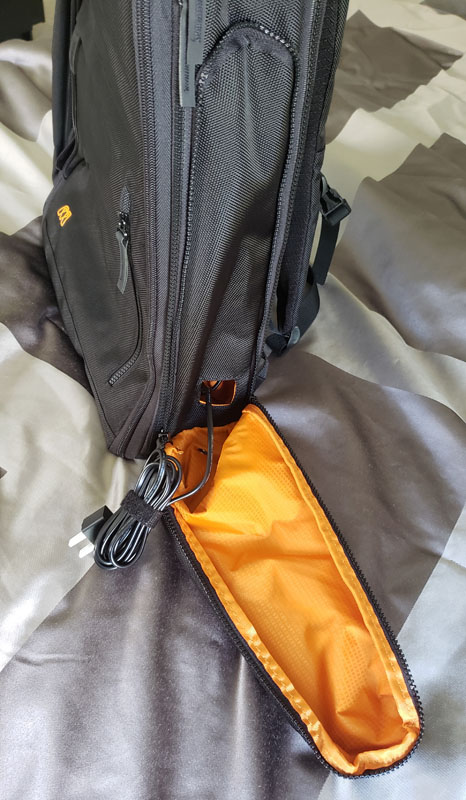 On the opposite side is an identical pocket designed to hold up to a 32-ounce water bottle. A collapsible travel umbrella also fits very nicely in this pocket.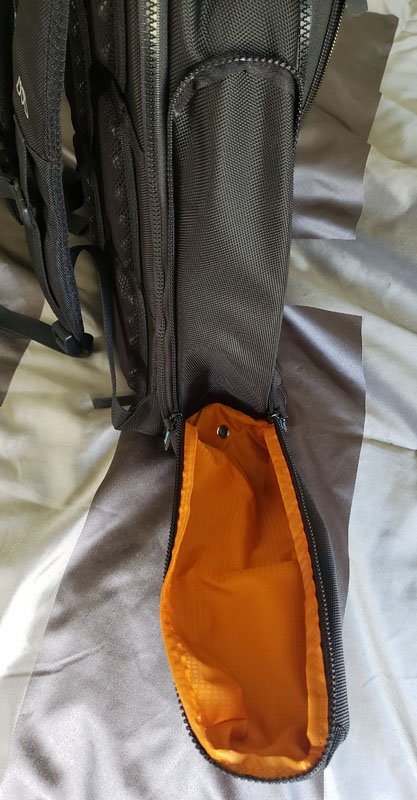 The zippers for those pockets are stitched in orange (power) or blue (water bottle) to easily identify each pocket.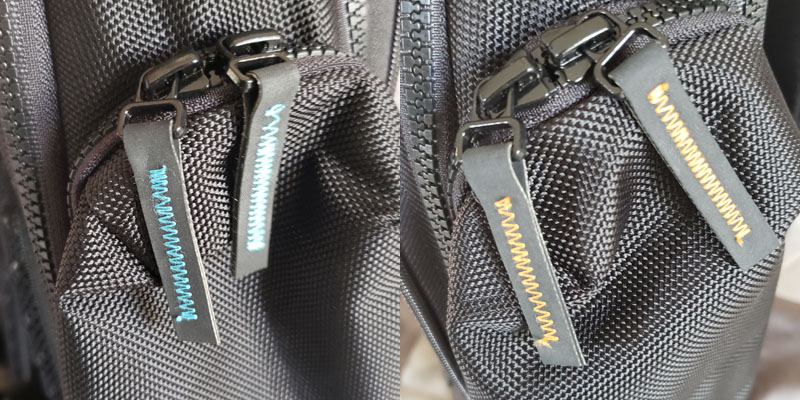 Opening the second main compartment, we find a bevy of pockets and tuck areas.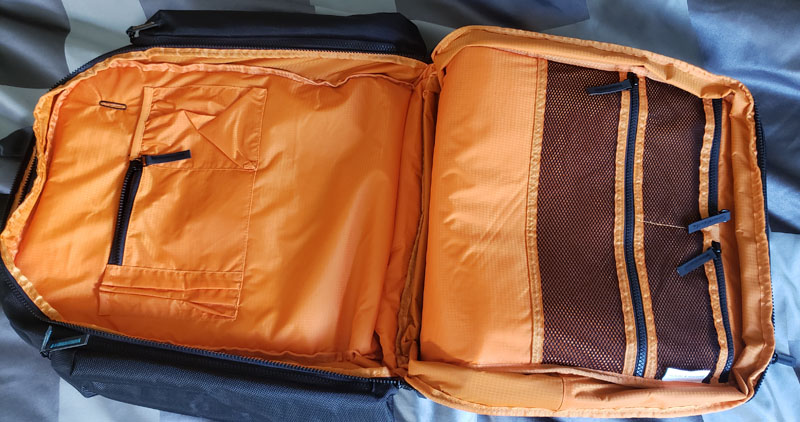 On the left, there is another cable pass-through from the power management side to route power to additional items. There are pen slots, a tuck pocket and a black-zippered pocket on the left sized to hold a passport book.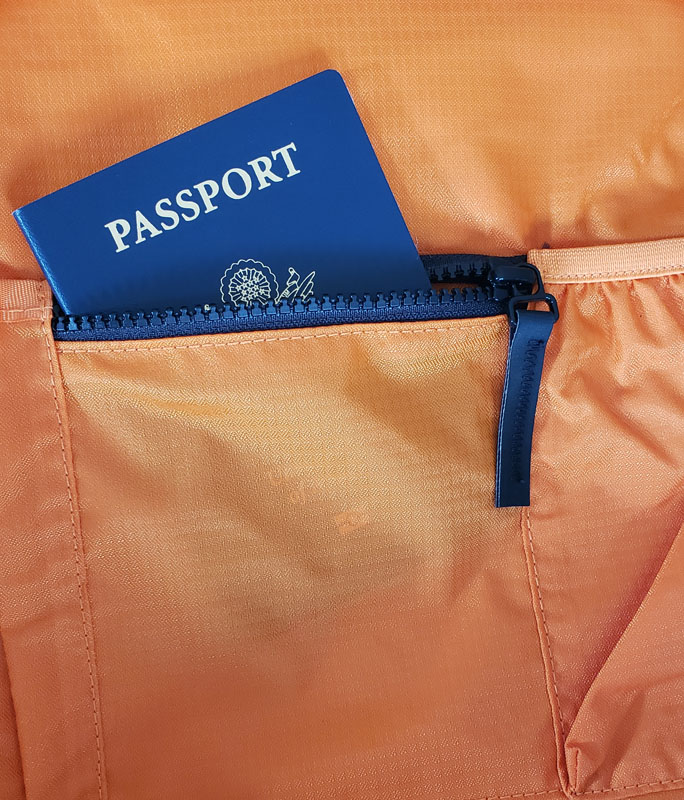 Mesh pockets on the right can hold chargers additional cables.
The Blackpack Grande is designed to hold a ton of stuff, yet remain slim when not fully loaded. This is accomplished with an expansion zipper that adds roughly two inches of depth to the bag when needed.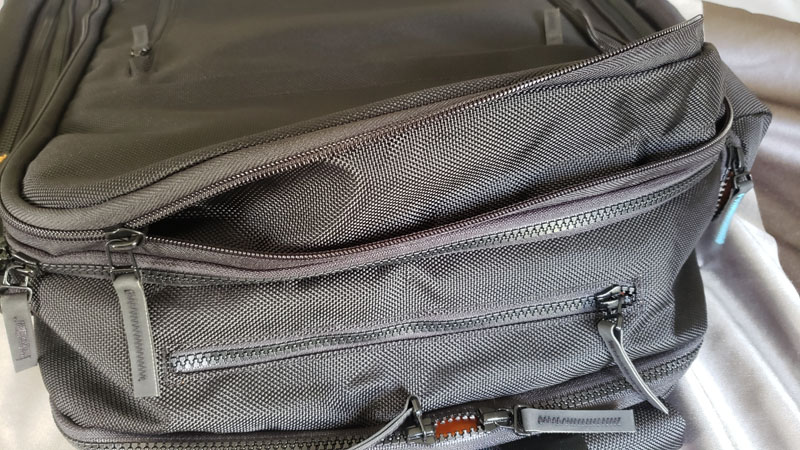 The extra space is in the front area of the back and expands the entire bag to a 42-liter capacity.
The back of the bag features EVA foam airflow pads that provide padding on your bag and improve airflow to keep you cool. They are nicely padded and feel very comfortable on my back.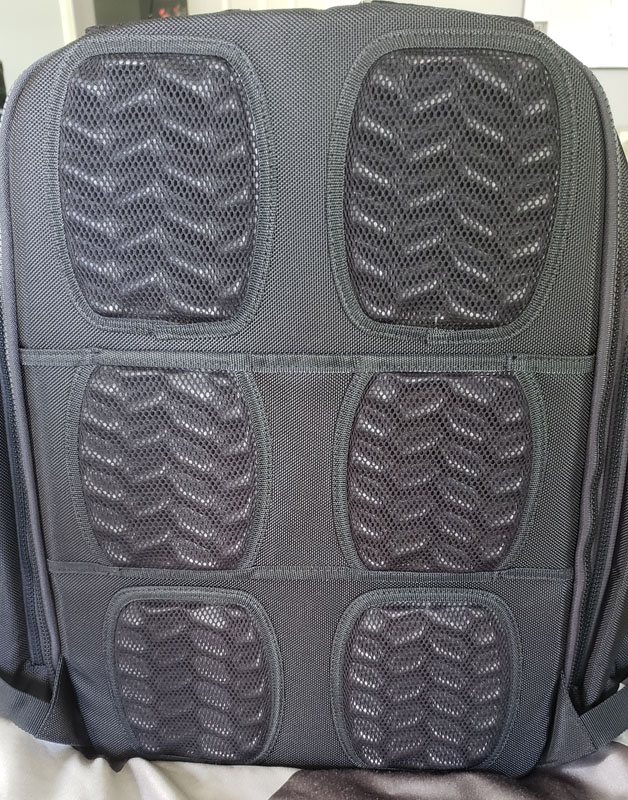 The center section is a luggage handle pass-through so you can attach the backpack to your luggage handle to easy carrying everything through the airport. There will be a little more on that later.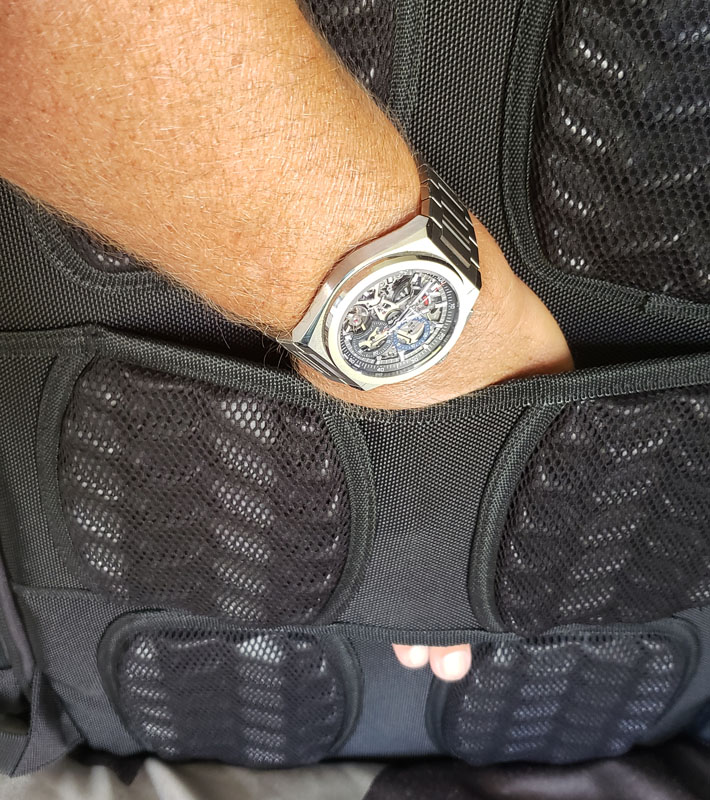 The shoulder straps are wide and comfortable. An included (and removable) sternum strap helps spread the load across your chest for additional comfort. You can also see the simple carry handle at the top of the bag.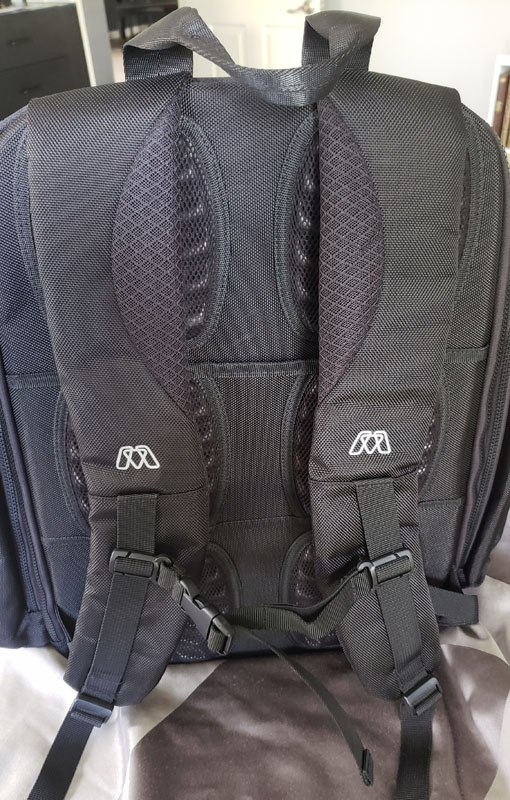 There is an additional compartment on top of the pack.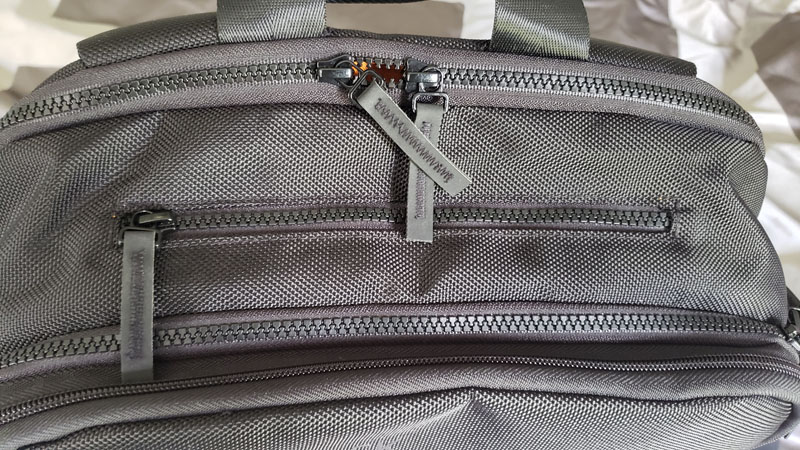 This compartment features a crush-proof shell to protect glasses and electronics. It also includes a cable pass-through so you can charge and protect your iPod or phone.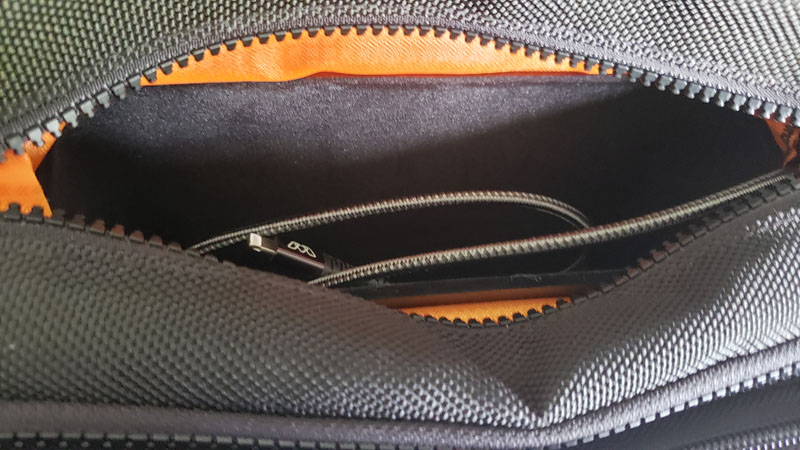 The front of the pack has two pockets as shown in the cover photo of this review. The lower pocket is sized to fit airline boarding passes. The upper pocket has built-in organizer pockets for pens and other small items.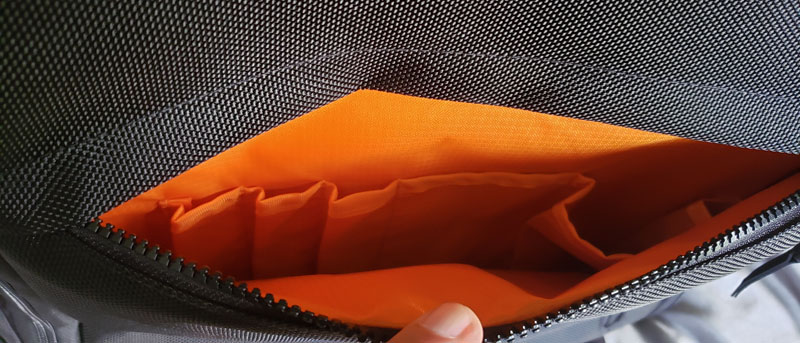 Earlier, I mentioned additional padding under the laptop sleeve. At the very bottom of the pack, we find one more zippered compartment.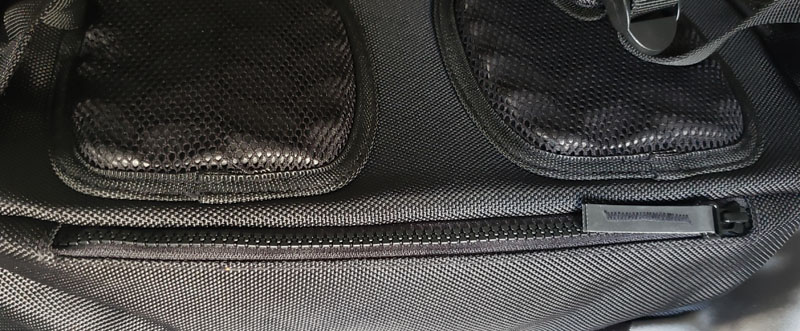 This contains a sewn-in rain fly with an elastic band around the outside. When stuffed in the pocket, it provides padding on the bottom of the pack that helps protect your laptop. When pulled out, it can be stretched out over the entire backpack, providing waterproof protection.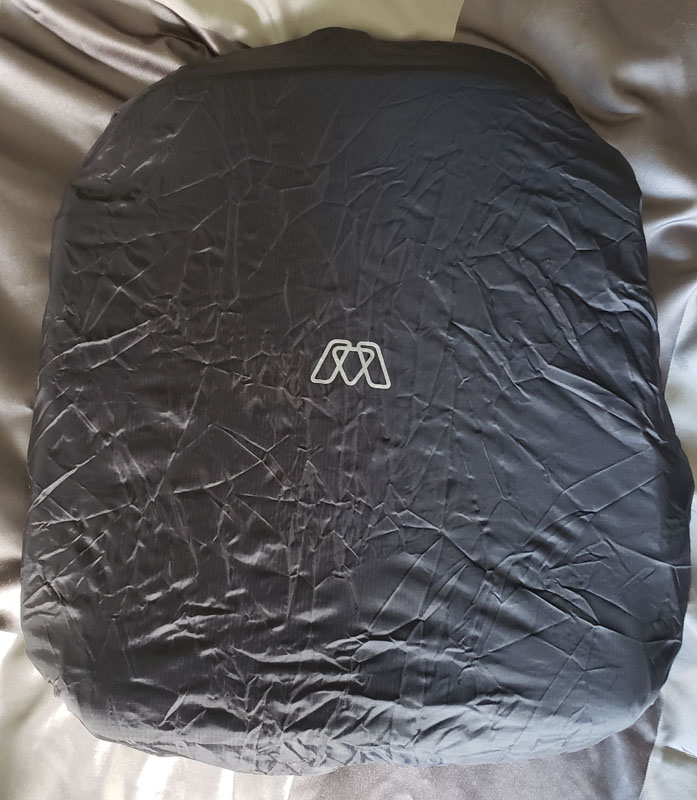 Performance
Lucky for me, I had a trip planned right after the Blackpack Grande arrived. I transferred all my stuff from my Swiss Gear backpack into the Blackpack Grande. There was a place for everything and the two main large compartments remained essentially empty. This means there is plenty of room for a packing cube to fit in each main compartment, making this backpack a great option for weekend travel. My trip does not involve air travel. Air travel concerns me with this backpack as I have a hard time imagining this backpack fitting under an airline seat and leaving any room at all for my feet.
One thing that put me off was the super-bright orange in the interior. I thought it was a little garish. The more I use the backpack, however, the more I have grown to appreciate it. I have always had all-black backpacks, and wow, as I approach 60 years old, it gets harder and harder to find things in the bottom of a deep, all-black pocket. The bright orange interior of this backpack actually improves internal visibility, and I now count it as a major positive.
I will digress for a moment. The included battery pack isn't really part of this review, but since I just reviewed the ZMI Aura 20K battery pack, it seemed natural to compare the MOS Go that MOS sent along to the ZMI. I was surprised at the differences, given that the specs and charging and power delivery ports. Both have a 20,000 mAh (74 Wh) capacity. The MOS Go does offer 100 Watt output, so that probably explains the size and weight difference.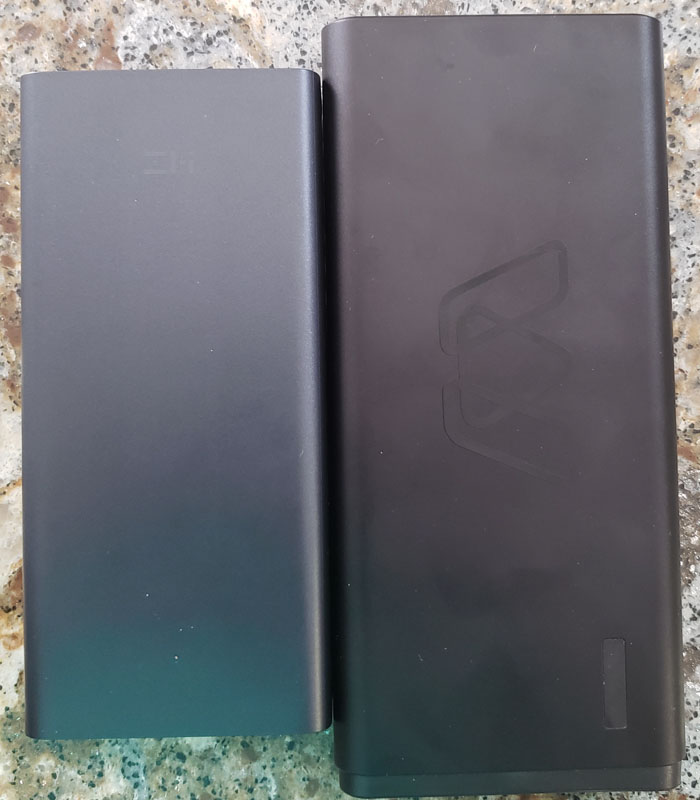 As you can see from the photo above, the MOS Go (right) is significantly larger than the ZMI Aura 20K (left). That size comes with weight. The ZMI pack weighed in at 12.8 ounces. The MOS Go tipped the scale at 22.8 ounces. That's a pretty big difference in terms of lugging it around – more than a half-pound of additional weight. I have not run side-by-side discharge tests, but based on the specs, these packs are very close in function. If you need to charge a USB-C laptop, the extra size and weight of the MOS Go is certainly worth it. Again, the battery pack isn't included with the purchase of the backpack, but since it was included, I thought it was worth mentioning. This ends the digression and I will return you to your regularly scheduled review.
Since I had a trip to go on, I packed up all my additional travel tech.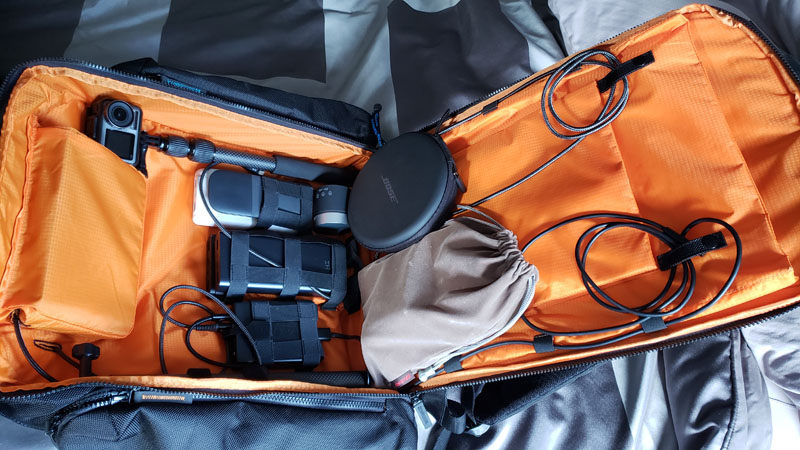 I reserved the back main pocket for tech items like extra battery packs (including the MyCharge and ZMI Aura packs), my DJI Osmo action camera, the Lectrofan sleep sound machine, a BESTEK travel power adapter (watch for that review soon!), headphones and more. I also removed one of the supplied MOS cables and replaced it with a Spigen 3-in-1 cable.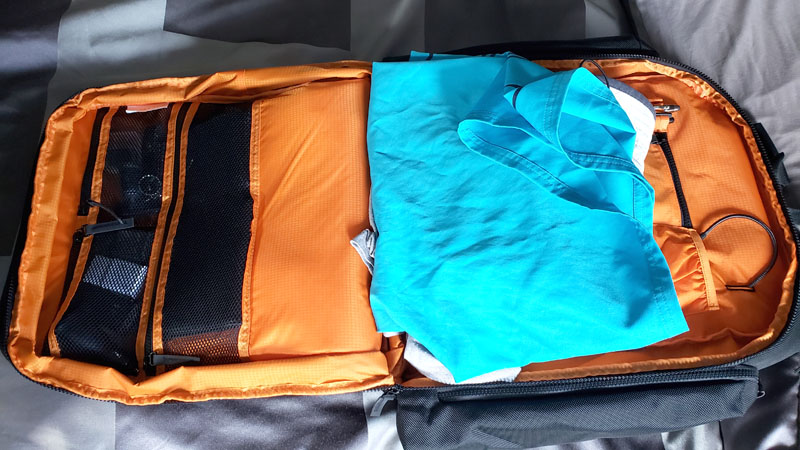 The front pocket easily held first-day cruise necessities like a t-shirt, swim trunks, and sun hat. I could easily fit a loaded packing cube in here with a couple of days worth of clothes. If needed, I could expand this section for even more stuff.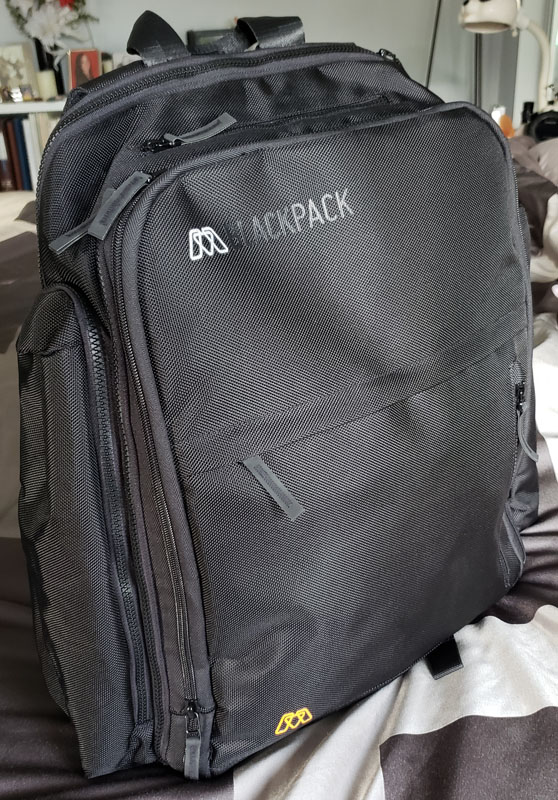 Loaded up, the backpack still looked pretty compact for a large backpack.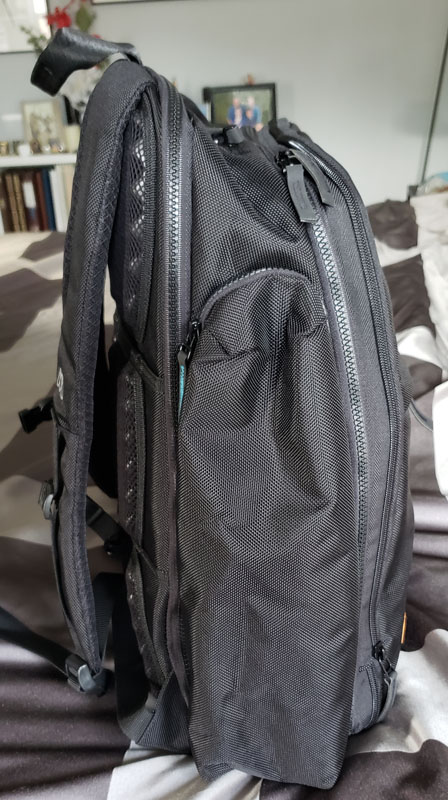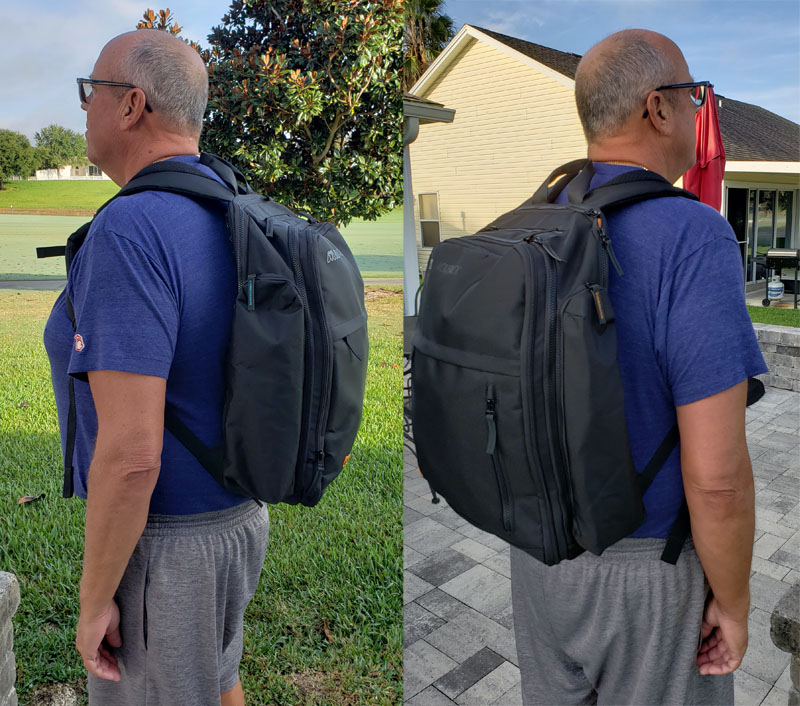 The backpack sits very nicely on my back. WIth the sternum strap clipped, weight is nicely distributed. The ventilated padding along my back felt very comfortable.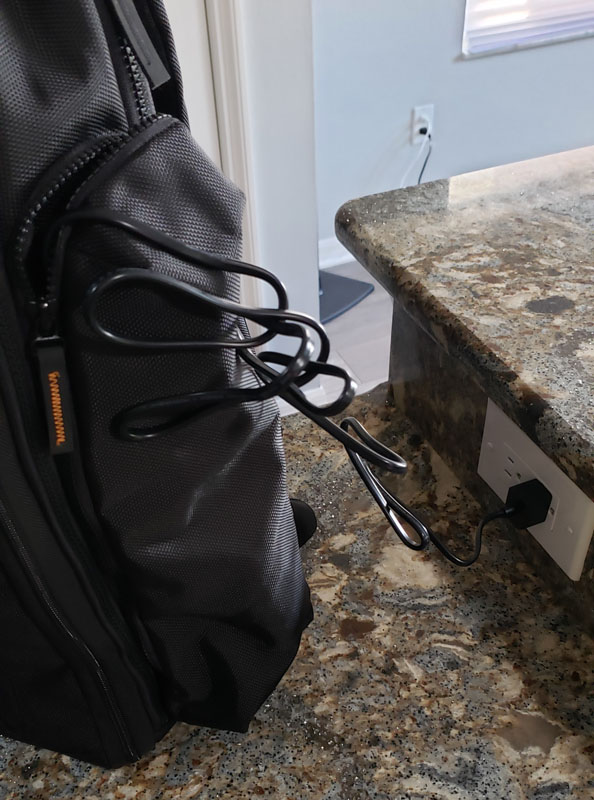 Before leaving, with the important tech goodies inside plugged into the MOC Reach C power distribution center, plugging in the 110V plug from the power pocket charged everything, easy peasy.
Now, on to a complaint.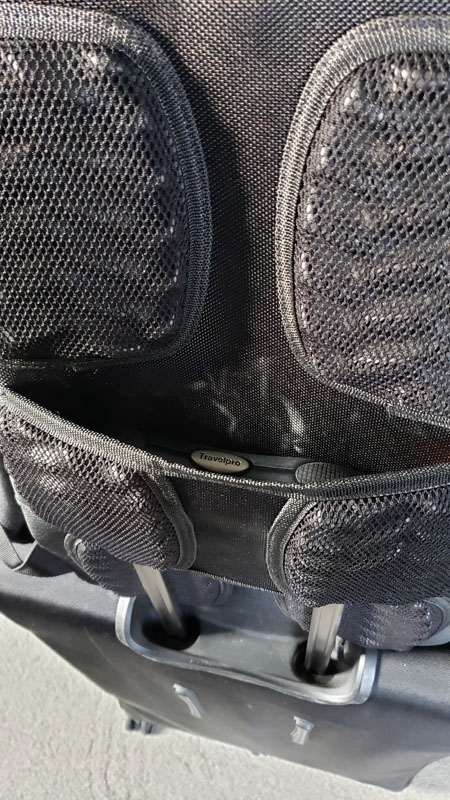 On my large check-in suitcase, the luggage pass-through barely fits over the relatively short handle. I can't really get my hand on the handle to pull the suitcase. Perhaps moving the luggage pass-through to the lowest set of pads might make sense. This wouldn't be an issue for a roll-on bag, with its taller handle.
What I like
Room for everything, and then some
Very comfortable to wear
Orange interior improves visibility inside the bag
What I'd change
Change the luggage pass-through design for short-handled luggage
Final thoughts
This is a super-useful backpack. It becomes even more useful if you spring for the optional MOS power options, making this a portable power center. With so much available room, you could certainly take a multi-day trip with just this backpack. If you were going to be away from power, having the onboard battery can keep you powered-up for a couple of days. Adding in the Reach C makes charging everything super simple when you do find power.
The Blackpack Grande has found a permanent home in my travel plans.
Price: $129 (with rewards due to ship in June 2020)
Where to buy: Kickstarter
Source: The sample of this product was provided by MOS.