We use affiliate links. If you buy something through the links on this page, we may earn a commission at no cost to you. Learn more.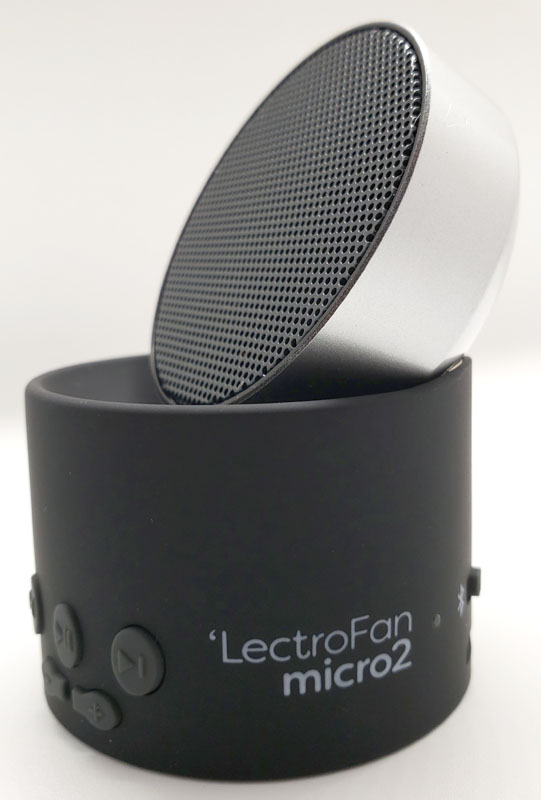 REVIEW – Sleep.  We all need it, but for many of us, we don't get enough.  Sleeping in hotel rooms is especially problematic. Loud climate control systems, aircraft or traffic noise certainly contribute to the issue.  My favorite are these two: the ever-present "I don't care that this isn't my house and I'll talk as loud as I want to in the hall at whatever time of day I please" idiot down the hall from you and the person in the room next to you that believes that "100" is the proper television volume setting, only because it doesn't go to "101".  How can anyone get a reasonable night's sleep under these conditions?  Many people rely on sleep sound machines.  These machines use digital or recorded sounds to mask other ambient noise, providing a sound environment more conducive to sleep.  This means yet one more bulky thing to pack, usually with its power cord and massive wall-wart power supply.  What if there was another, more portable and flexible solution?
What is it?
The LectroFan Micro2 is a tiny (check the specs!) sleep sound machine that also doubles as a Bluetooth speaker with a microphone for calls from your smartphone. It is battery powered, so you can charge it during the day, and use it at night on the battery while you charge your phone, reducing the number of chargers you have to carry.
What's in the box?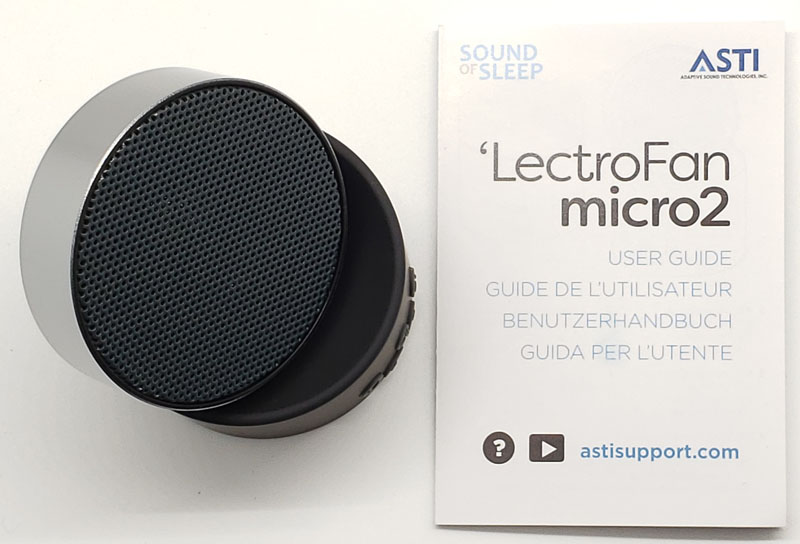 LectroFan Mirco2
User guide
Note that no power adapter is included – you just use one of yours
Hardware specs
Dimensions: 2″W x 2.1″H (3.4″H when speaker extended)
Weight: 3.2 oz
Recharging port: Micro USB, 5V/1A
Sounds: 11, non-looping digital sounds
Battery life: Up to 40 hours in sleep sound mode, up to 20 hours in Bluetooth speaker mode
Design and features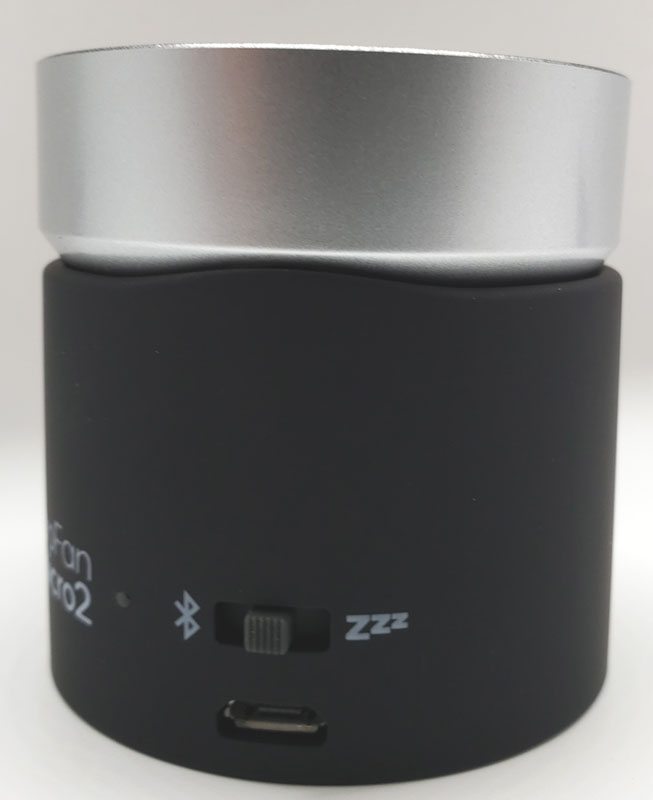 The Micro2 is diminutive. At about 2″ x 2″, there simply isn't much to it. It is available in three colors. The metallic red, soft-touch white and soft-touch black. I was sent the soft-touch black model. The body is covered in a soft-touch rubberized coating that feels quite nice. The speaker has a brushed silver rim and a black speaker grill.
If you grab the speaker and twist it either clockwise or counterclockwise, the speaker rotates and angles up.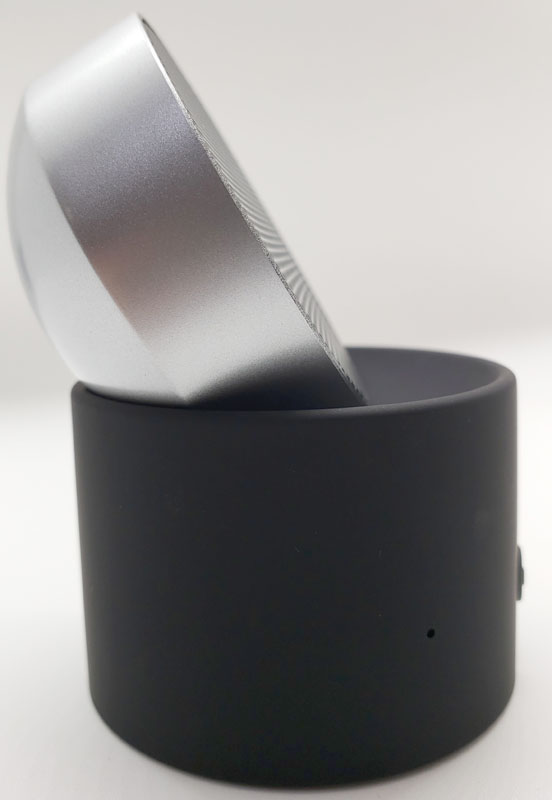 When it hits completely upright, it clicks into place.  This allows you to provide some degree of aim so you can direct the sound in your general direction.
The bottom of the Micro2 is rubber and provides a non-slip grip to keep it where you put it.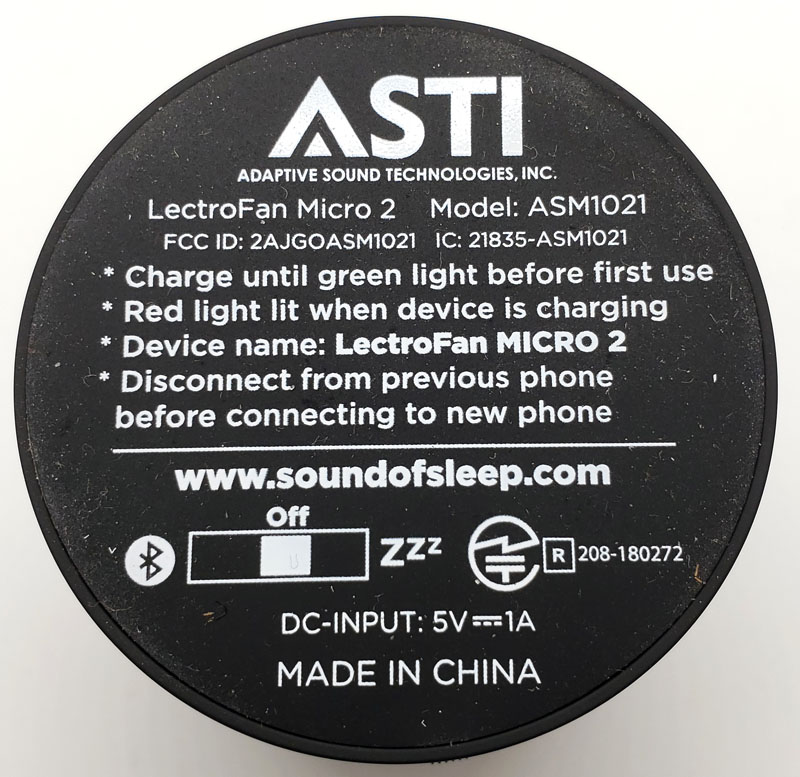 It also provides very basic instructions as well as their website address.
The control buttons are along the lower portion of the Micro2.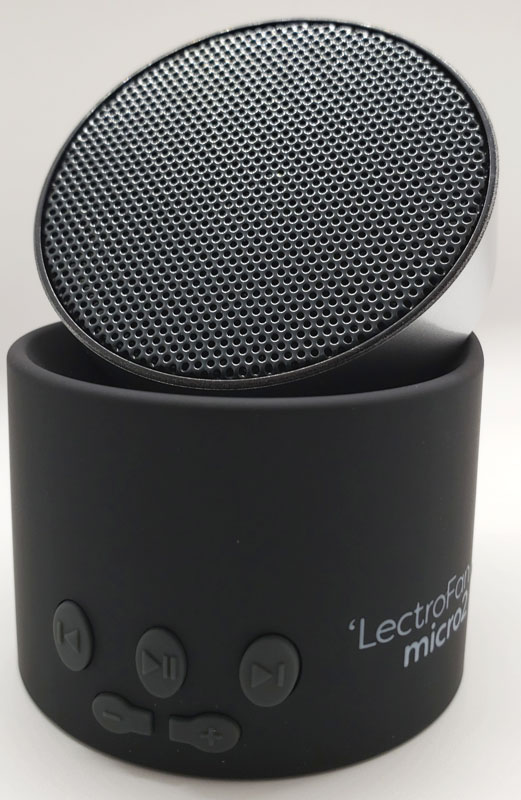 Taking a closer look, we find rubberized buttons to skip to the next or previous sound, a play/pause button, and volume buttons.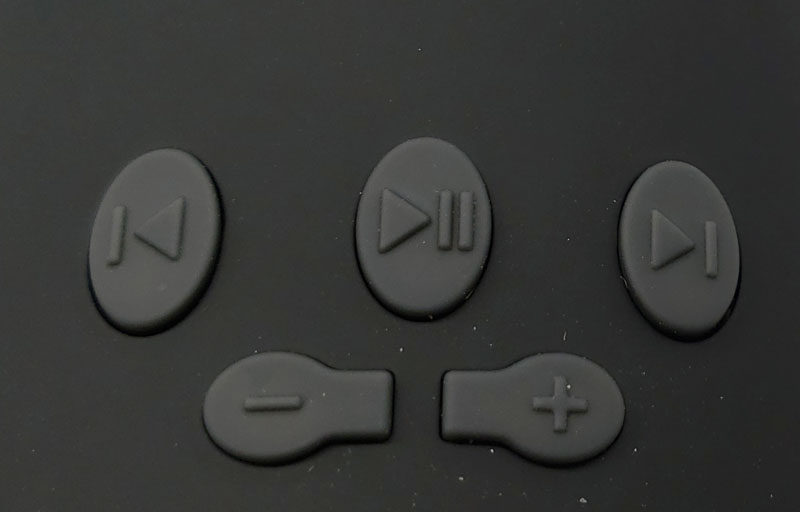 On the other side, near the logo, we find the power switch and USB port.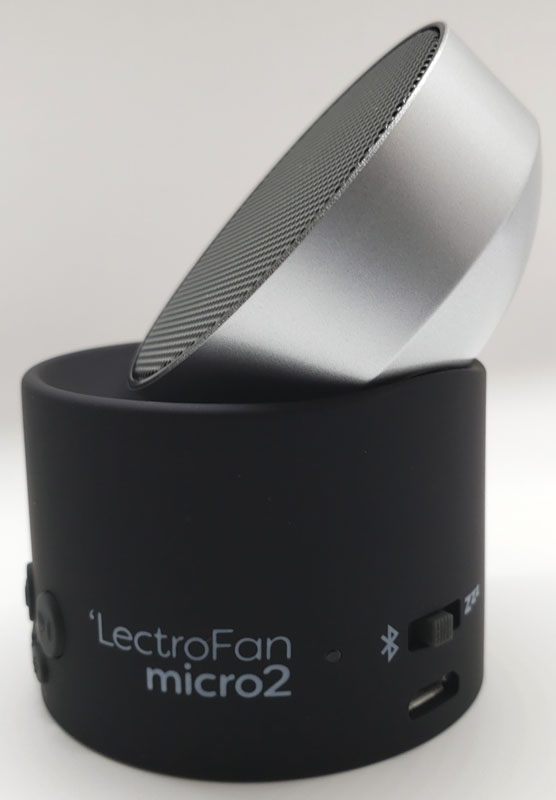 Again, taking a closer look, we see the two available modes, Bluetooth to the left and sleep sound mode to the right.  The center position is the off position. The USB port is directly below the poser selector.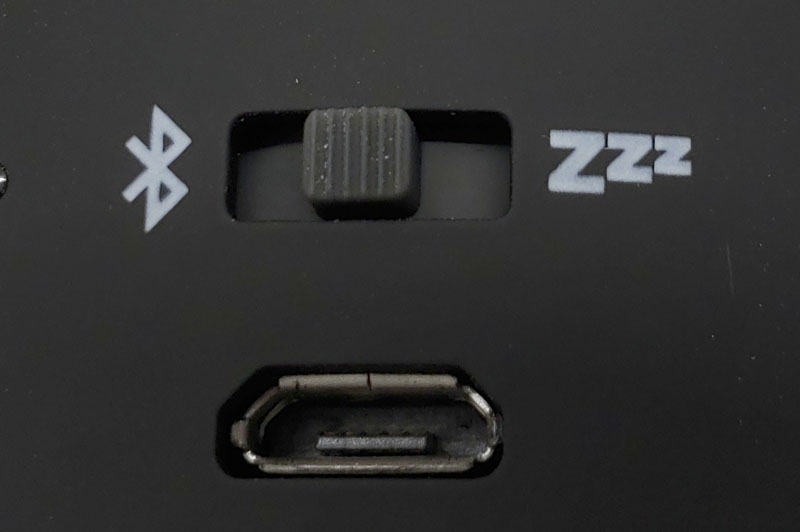 Setup
The only setup is charging the Micro2. The indicator glows red when charging.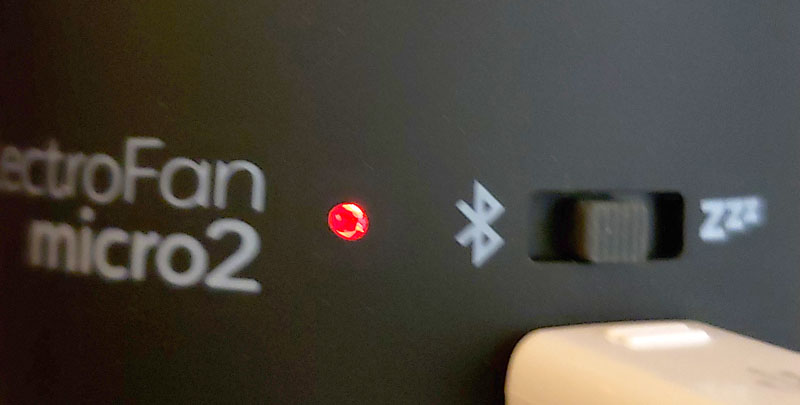 Once charged, the indicator turns green.

Performance
First, I gave the Micro2 a test run as a Bluetooth speaker. When it is connected to a Bluetooth source, the LED indicator turns a familiar blue.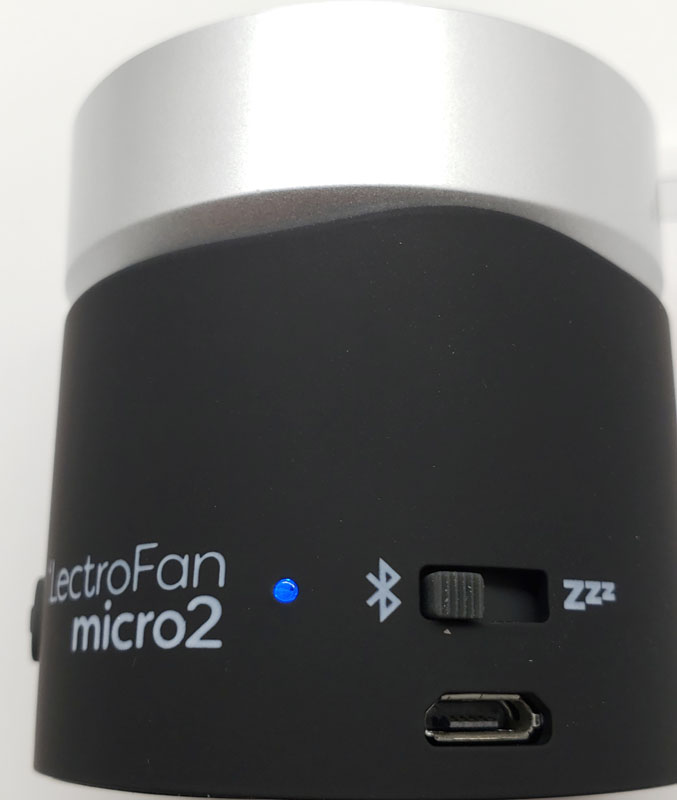 As a Bluetooth speaker, the Micro2 is about what you'd expect from something this small.  The sound is good, not great, and bass is all but absent. When you are playing music, the skip buttons on either side of the play/pause button will skip ahead/back one track.
As a Bluetooth speaker for phone calls, I'd recommend using something else.  While I could hear my caller very clearly over the speaker, they couldn't hear me well at all.  If I wasn't yelling, they could barely tell I was talking. I tried it again, but I put my wife on the speaker end of the call and I was on another cell phone.  Like my previous caller reported, I could not make out anything my wife said.  I could tell someone was speaking, but the sound quality was simply terrible. It was essentially unusable for phone calls.
These features are really add-ons for the Micro2.  It is primarily a sound machine, and that's where it gets more impressive.
The Micro2 can produce eleven unique, non-looping digital sounds. There are five different fan sounds, four brown and pink noises and two synthesized ocean wave sounds.  Most of us have heard the term "white noise".  But brown and pink?  From their soundofsleep.com website:
White noise, probably the most familiar of these, sounds like a radio tuned to an unused frequency. Similar to the way white light contains all the wavelengths of the visible spectrum at equal intensity, white noise has equal power across all frequencies audible to the human ear.
Pink noise is white noise, but with reduced higher frequencies. It resembles the sounds of steady rainfall or wind and is often considered to be more soothing than white noise, which some people find unpleasant. Several studies on pink noise have shown that sleeping with it can improve our memories the following day, and potentially even long-term.
Brown noise lowers the higher frequencies even more. It's a bit "rougher" than pink noise and resembles the roar of a river current or strong wind. Common benefits associated with brown noise are relaxation, improved focus, and of course, sleep improvement.
They provide a variety of sounds because there is no one "right" sleep sound – different sounds work for different people.  For me, the ocean sound is my favorite.  I typically use Alexa's ocean wave sleep sound and home.  The Micro2's versions are rhythmic and soothing.  For a hotel, however, a more constant sound like pink or brown noise is probably a better choice.
Still, how loud can a little thing like the Micro2 really be?  I turned on the sound meter on my phone and recorded the ambient sound level in my house.  Then, I turned on one of the louder brown noise sounds at full volume and put my phone about 18 inches away.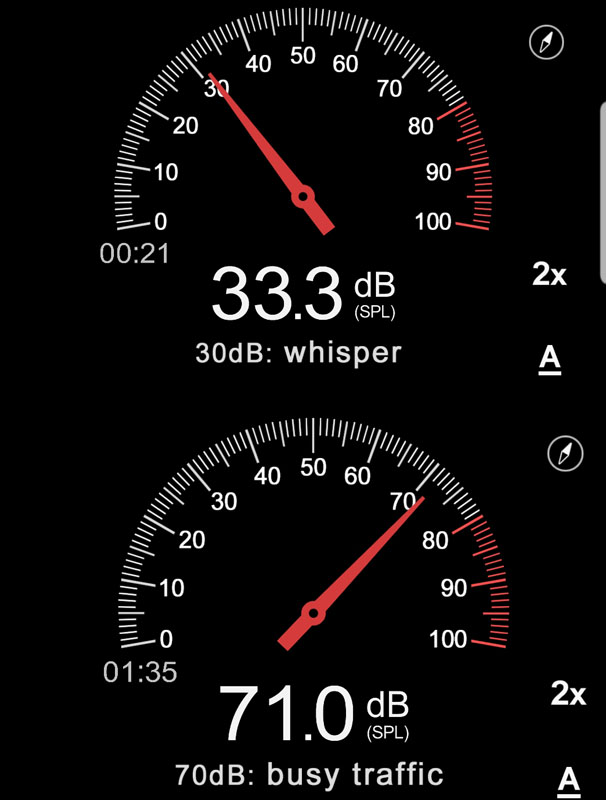 As you can see, the sound level jumped from whisper quiet to really, really loud.  Suffice it to say that the Micro2 should pack enough punch to effectively mask any annoying sounds.  And, if you don't need all that volume, turn it down, or choose one of the quieter sound effects.
This weekend, we are in the Detroit area for our son's wedding.  Since we are staying in a hotel for the weekend, it was the perfect opportunity to put the Micro2 through its paces.  Here it is sitting on top of the coffee box in our room.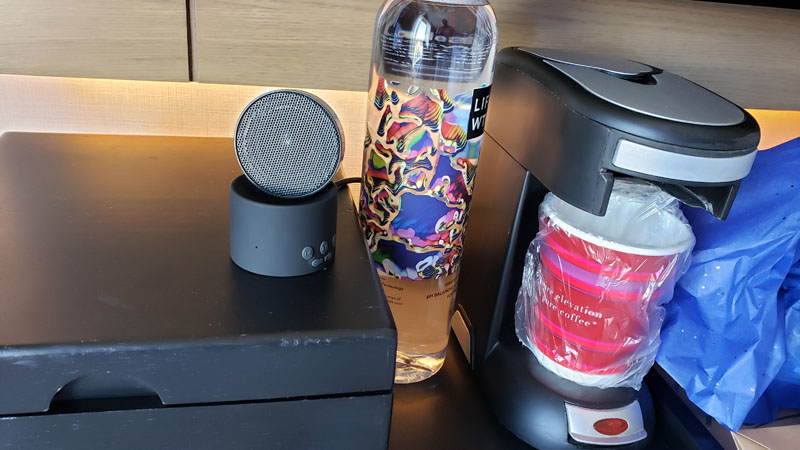 In the afternoon, I had Amazon Music streaming from my phone. While it certainly isn't top-quality sound, it was more than adequate. Like I mentioned earlier, some bass would really improve the overall sound quality.
When we went to bed in the hotel, I cranked up the Micro2 on one of its synthesized ocean sounds.  It was way too loud for the room, so we turned it down to a level we both liked and drifted off to sleep.  The volume that this little speaker can produce in sleep mode is pretty darned impressive and should be great, no matter how large your sleep space or volume of ambient sounds are. It worked all night and did a great job masking the various sounds that seem to be in all hotel rooms – doors, climate control, voices in the hallway, etcetera. The only thing that interrupted my sleep was the canceled flight home because of that unwanted visitor named Dorian…
What I like
Tiny size
Surprising volume
Good variety of sounds
Good battery life
Also runs off USB power
What I'd change
A microphone that works for phone calls is really needed
A little more bass would be nice when listening to music
Final thoughts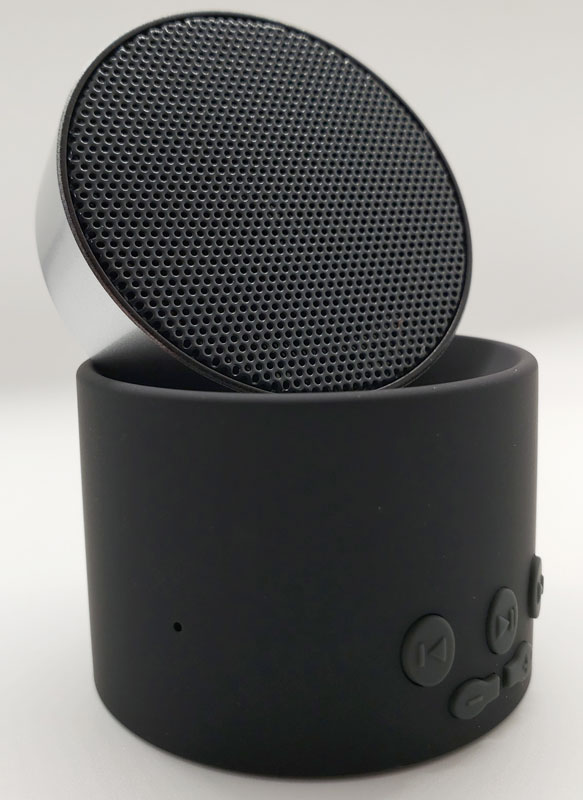 I really like this little speaker and sound machine.  It's so small, packing it is a no-brainer.  With its wide variety of sound effects and great volume, nearly everyone should be able to find a sound or two that works to help drown out whatever ambient sounds are disturbing sleep. The fact that it also doubles as a basic Bluetooth speaker is a great bonus. Since it can run off power, or on battery, it offers great location flexibility. If the microphone actually worked for phone calls, it would be nearly perfect.
Price: $33.95 – $34.95 based on color
Where to buy: Amazon
Also available (and on sale as of this writing) for $29.95 direct from ASTI at soundofsleep.com.
Source: The sample of this product was provided by Adaptive Sound Technologies Inc (ASTI).