We use affiliate links. If you buy something through the links on this page, we may earn a commission at no cost to you. Learn more.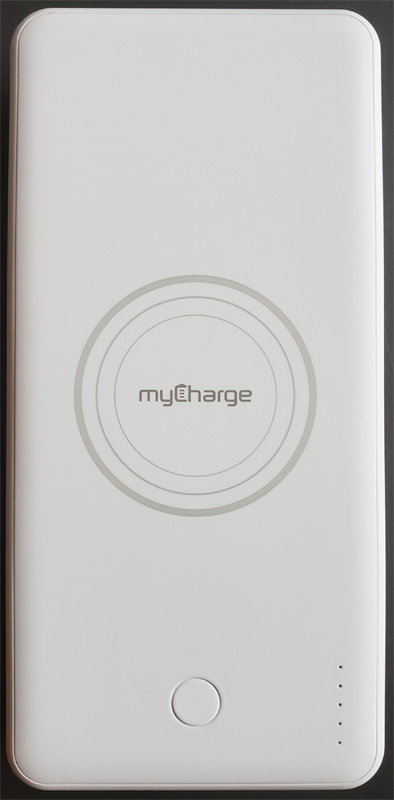 REVIEW – We all count on our phones.  We count on them for different reasons, calls, texts, social media, calendars, cat videos, games, and so on. No matter what your particular reason is, the underlying common denominator is that all those activities drain your battery. The MyCharge Unplugged10K can help alleviate dead-battery anxiety by giving you 10,000mAh of portable wired or wireless charging goodness.
What is it?
The MyCharge Unplugged10K is a portable battery pack. It is Qi-certified, meaning it can wirelessly charge any Qi-certified device.  In addition, you get two USB-A ports to attach your micro-USB, USB-C, lightning or other charging cable. This will allow you to charge just about any mobile device.
What's in the box?
MyCharge identifies themselves as a hip, funky bunch, as evidenced by their fun shipping box.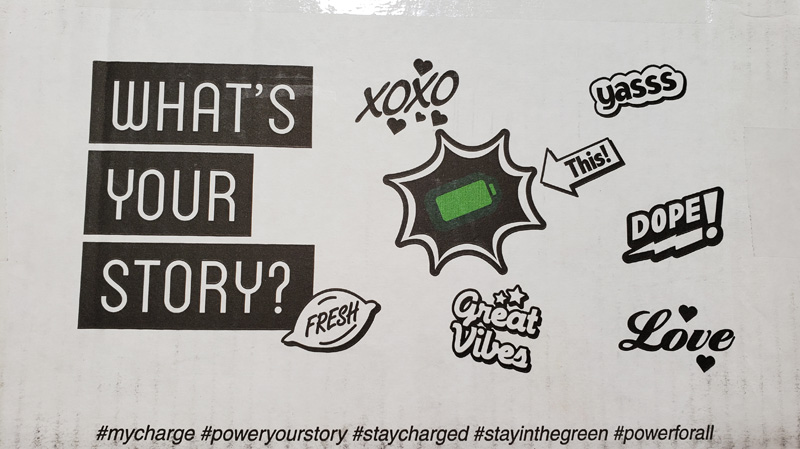 The actual box is a little more standard. The box comes with a lift cover.  Lifting it uncovered the unit in a plastic carrier.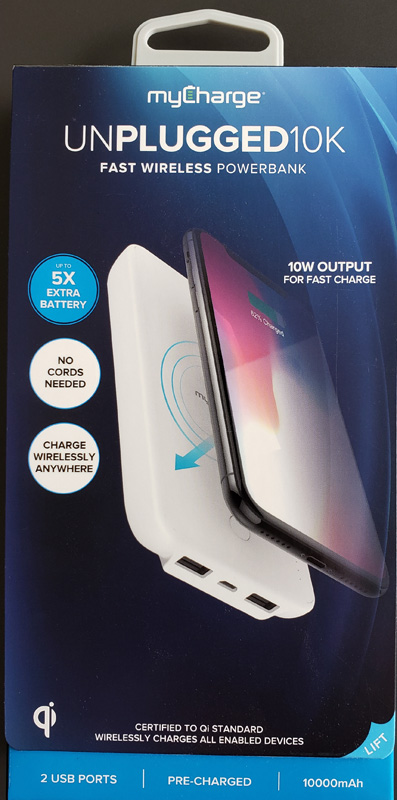 Inside, we find: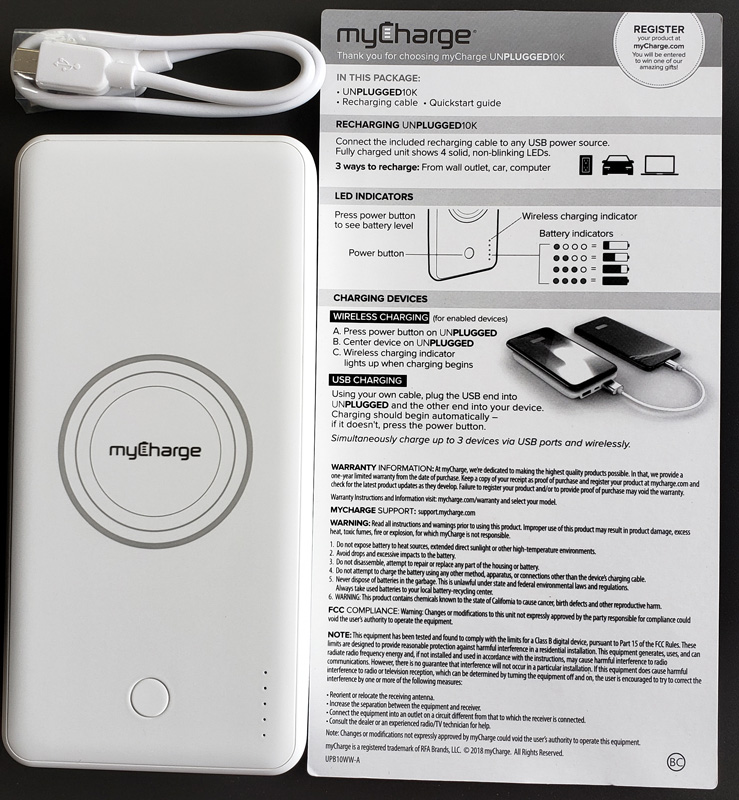 MyCharge Unplugged10K battery pack
USB-A to micro-USB charging cable
Quick start card
Hardware specs
Dimensions: 5-7/8″ l x 2-3/4″ w x  3/4″ h
Weight: 8.9 ounces
Capacity: 10,000 mAh
Input: 2.4A micro-USB
Output: Wireless 10W; 2 x USB-A 2.4A
Soft touch finish
Design and features
Setup
I expected no setup since the box says that it shipped pre-charged. When I hit the power button, the battery indicator only showed two dots out of four (the top one is a power light).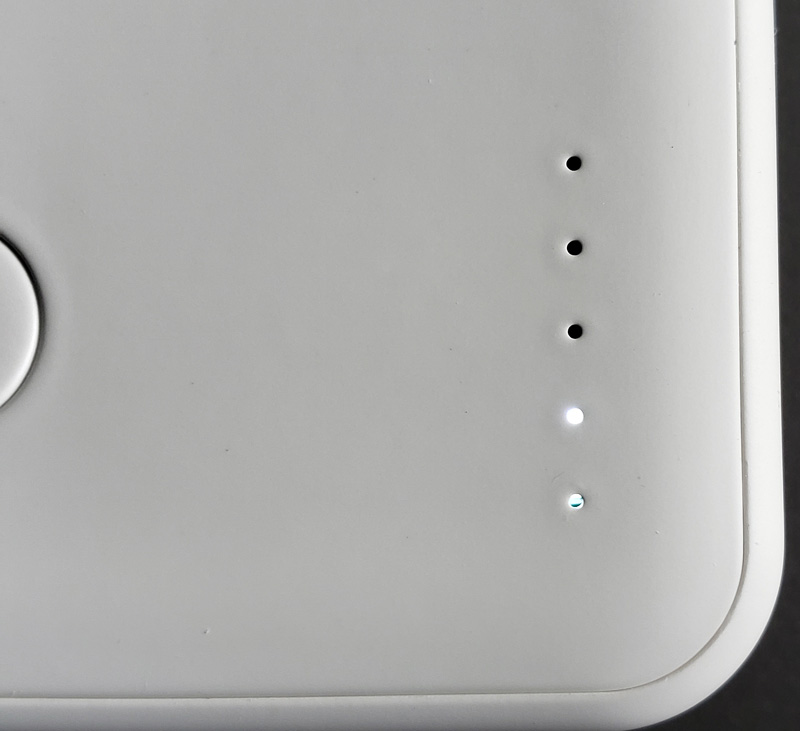 So, I plugged in the charging cable and let it charge.
Each light flashes during charging and then goes solid as it hits 25/50/75/100% charge levels. At full charge, all four lights glow solid.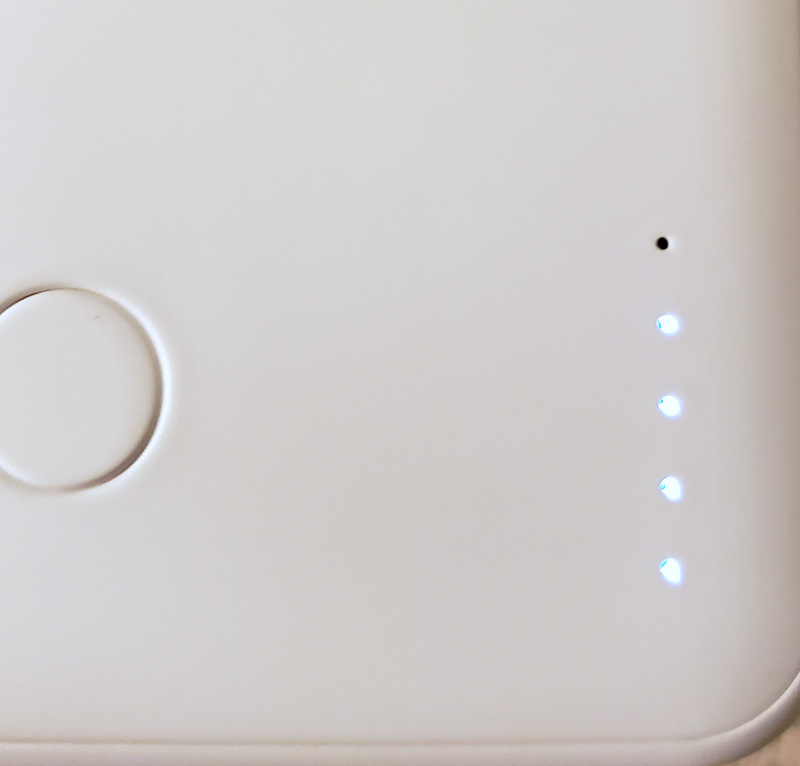 Hitting the power button turns the top light blue, indicating that the unit is on and ready to deliver power to your device(s).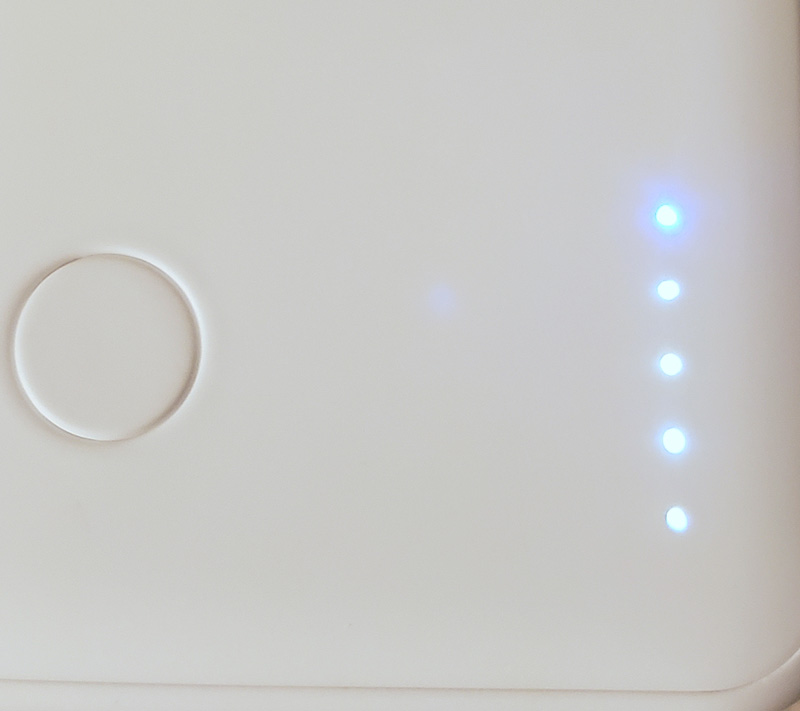 Performance
Once we were charged and ready, it was time to try charging something.
I dropped my Galaxy S9+ still in Samsung's LED flip case onto the Qi pad.  Much to my delight, it immediately started charging.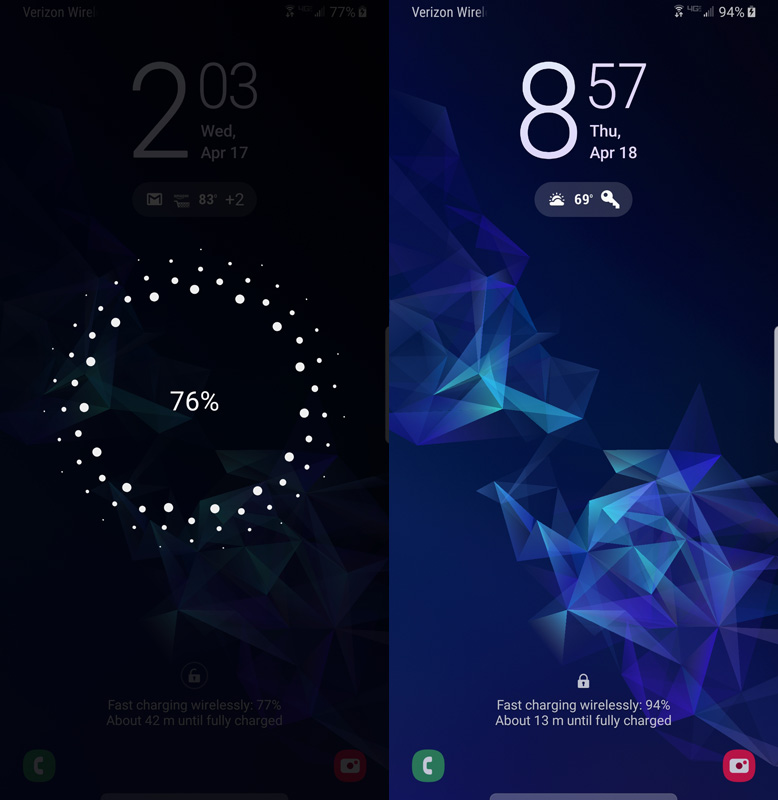 As you can see, if your device can handle fast wireless charging, this pad will do the trick. Also, these photos were taken at different times.  It didn't take a day and a half to charge from 78% to 94%. 🙂
This is a side-by-side of my wife's Galaxy S9+ in Samsung's LED flip case.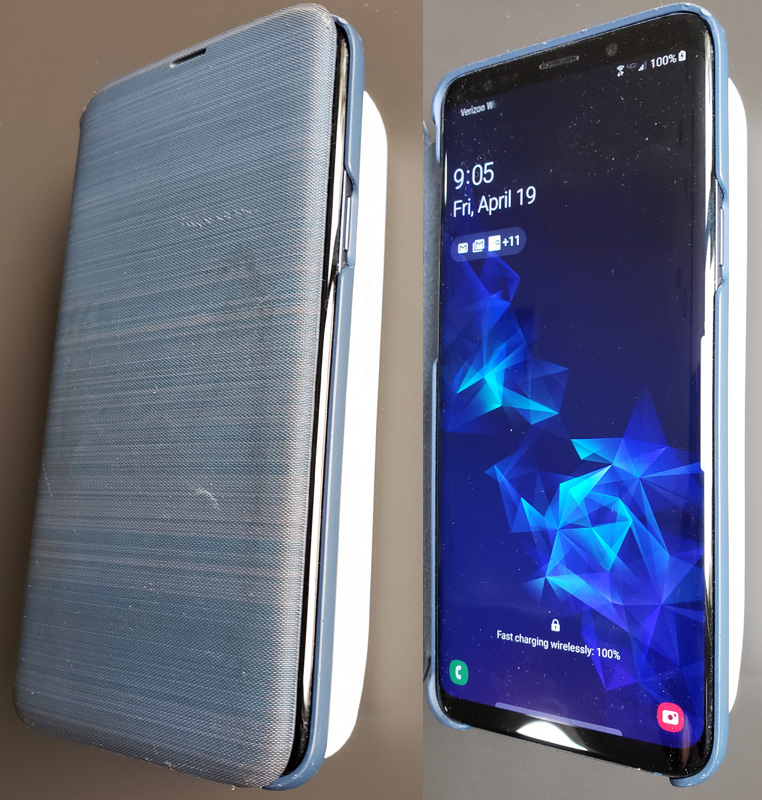 The pad is just about a half-inch shorter than the S9+ and just about the same width and thickness. The S9+ with the LED case weighs in at 9.5 ounces.  Bottom line is that if you carry a new iPhone, Galaxy, Pixel or another large phone, this pad will essentially double your carry weight and size.  Not too bad considering that it will be able to recharge your phone at least twice without needing a wall plug.
About that…at 10,000 mAh, and my S9+ with a 3,500 mAh battery, simple math says I should be able to get nearly three charges from dead.  In the real world, however, there are losses during charging, so it will be more like two full charges and a little more wiggle room. How many charges you get will depend on how big your battery is.
A big attraction with this device is flexibility. Along with the Qi charging pad, you get two, count 'em, two USB ports.

You can actually use all three methods at the same time – two wired USB connections plus a Qi charge. That's a pretty cool thing. The wired charging is 2.4A but doesn't trigger wired fast charging as a dedicated fast charger does. Still, at 2.4A, the charge will be pretty quick.
What I like
Big battery capacity
Fast Qi wireless charging
Can charge three devices simultaneously
Soft touch feel
What needs to be improved
The package said "pre-charged" but it was only 50% – OK, perhaps I'm just whining
Final thoughts
The MyCharge Unplugged10K is a great portable charging solution.  You can be the cell phone battery hero among your group of friends and provide most of a full charge for three phones all at the same time.
Price: $69.99
Where to buy: MyCharge and Amazon
Source: The sample of this product was provided by MyCharge.