We use affiliate links. If you buy something through the links on this page, we may earn a commission at no cost to you. Learn more.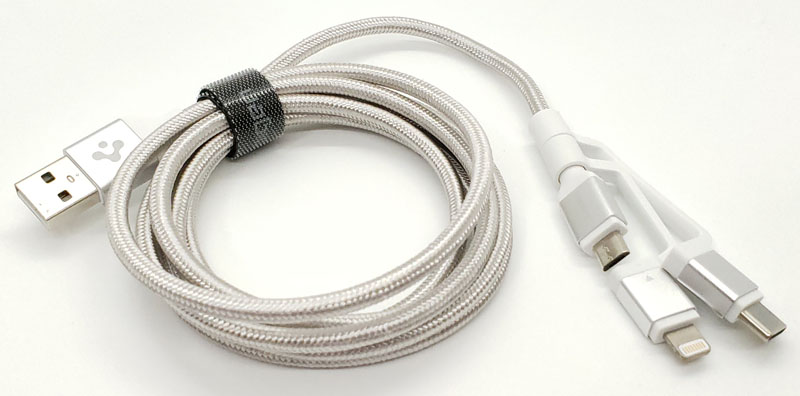 REVIEW – I hate searching for charging/sync cables.  This device uses USB-C, that one – micro-USB, the iPod – Lightning. I always grab the wrong one since they are all intertwined in my backpack or desk drawer. I do have snap-on micro-USB to USB-C adapters, but those are tiny and I lose them.  What's a gadget-heavy Gadgeteer to do? If only there was one cable to rule them all…
What is it?
The Spigen DuraSync 3-in-1 charger cable is a USB-A to micro-USB cable with integrated USB-C and Lightning adapters. It is tangle-free and designed for rugged use.
What's in the box?
This is easy – the cable is in the box – that's it. Well, it does have a velcro tie on it, so there's that as well. But, much to my surprise, Spigen sent a cornucopia of charging goodies, so there were a lot of boxes.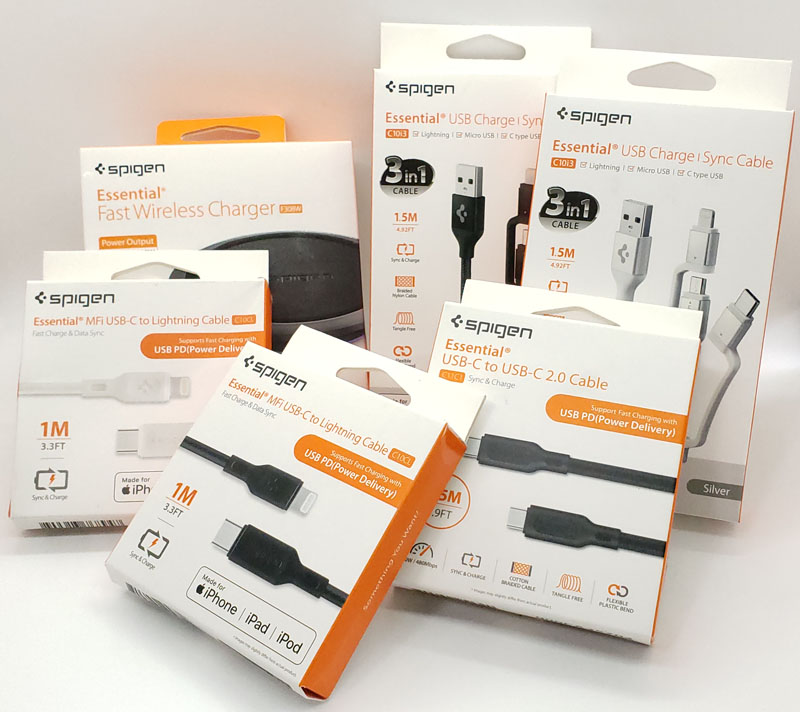 I received:
1 – C10i3 1.5M 3-in-1 charge/sync cable in white/silver
1 – C10i3 1.5M 3-in-1 charge/sync cable in black
1 – C10CL 1M MFi USB-C to Lightning charge/sync cable in white
1 – C10CL 1M MFi USB-C to Lightning charge/sync cable in black
1 – C11C1 1.5M USB-C to USB-C USB-PD charge/sync cable in black
1 – F3008W 5W/7.5W/10W fast wireless charger with QC2.0/QC3.0 in black
This review will only focus on the C10i3 1.5M charge/sync cables.
Hardware specs
Length: 1.5M
Cable ends: USB-A  and micro-USB

Included micro-USB adapters: USB-C and Lightning

Cable construction: braided nylon
QC3.0 compatible
Apple MFi certified
Available colors: Black, white/silver, gold, rose gold
Design and features
The cables themselves feel substantial.  This is in part due to the braided nylon covering that spans the entire cable.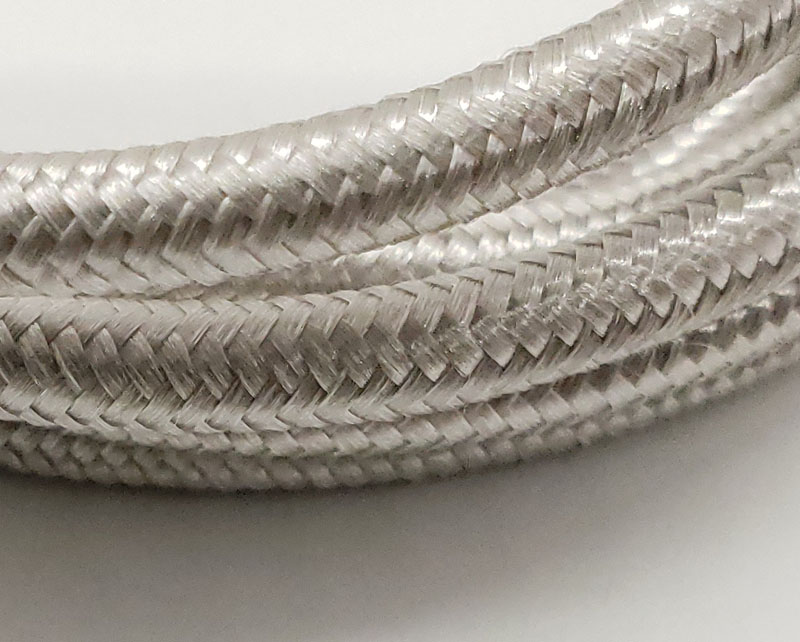 It would be very difficult to kink this cable due to that heavyweight braided covering. That should add a nice level of durability to cables that tend to get stuffed into bags on a regular basis.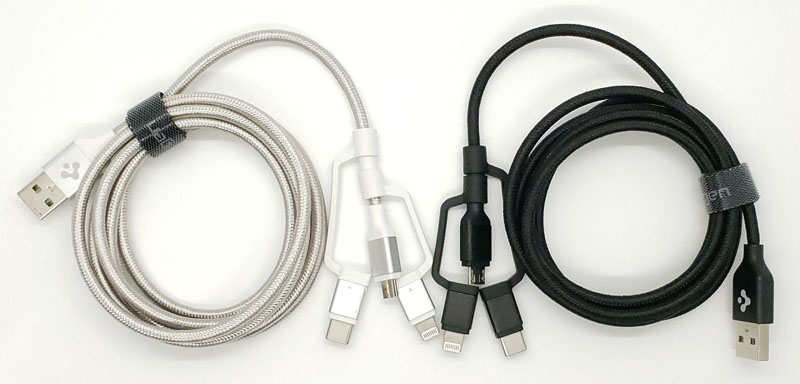 The cables came with a velcro tie to keep them nice and tidy – an important touch for a 1.5M cable.
Here is a closer look at the business end of the cable with the included adapters.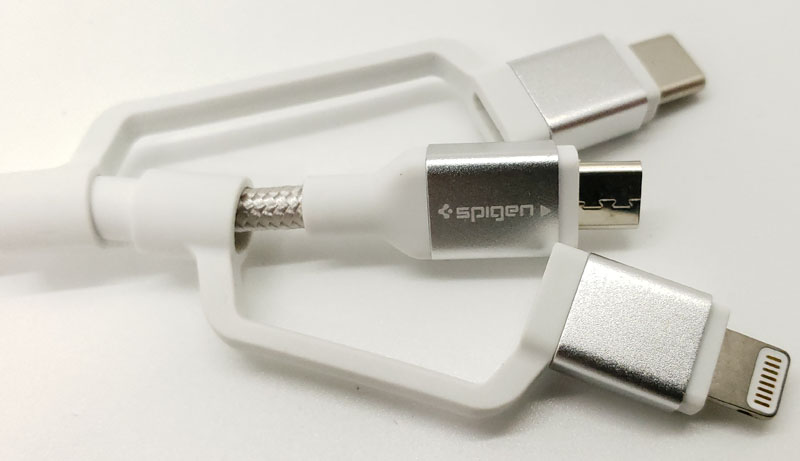 The native end is micro-USB. The two adapters are attached via rotating and sliding plastic holders.  Each adapter has a micro-USB port on one end and either a USB-C or Lightning connector on the other end.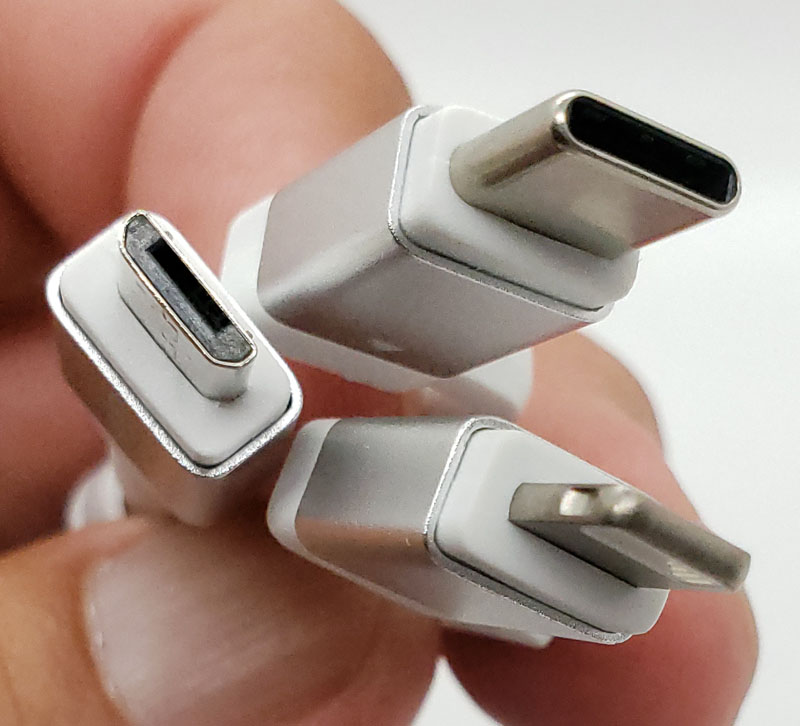 Sliding the adapter over the micro-USB end converts the cable to USB-C or Lightning. It is important to note that this is not set up for multiple simultaneous connections.  Cables that allow multiple devices all to be connected at the same time are charging-only cables.  This is a single connection cable and supports both charging and data synchronization.
Setup
The only setup is to slide the appropriate adapter onto the micro-USB end of the cable if required.
Performance
What can I say – the cable just works. I connected my Galaxy S9+ via USB-C, my iPod via Lightning and a couple of battery backs via micro-USB.  Everything than needed charging, charged.  DEvices that can transfer data transferred data. I twisted, pulled and crimped the cable and it just worked. I have has issues with cheaper cables when fast charging wouldn't work.  I am happy to report that no such issue arose with this cable.
At nearly five feet long, the cable provided nice reach when needed, but, was nicely compact when coiled and secured with the velcro tie. About the only thing I'd change would be to perhaps add a USB mini-b connector for legacy devices – yes, I still have a few mini-b things kicking around.
What I like
Durable
Flexible with three connectors
Simply works
What I'd change
Add a USB mini-b connector for legacy devices
Final thoughts
The Spigen DuraSync 3-in-1 cable is a very nice charge/sync cable. The cable provides reliable charging and data syncing and should last a long time.
I see these displacing several cables from my backpack, simplifying travel. I definitely recommend them.
Price: $17.99
Where to buy: Amazon
Also available for $29.99 direct from Spigen.
Source: The sample of this product was provided by Spigen.