The Gadgeteer is supported by readers like you! If you buy something through links on our site, we may earn an affiliate commission. Thank you! Learn more.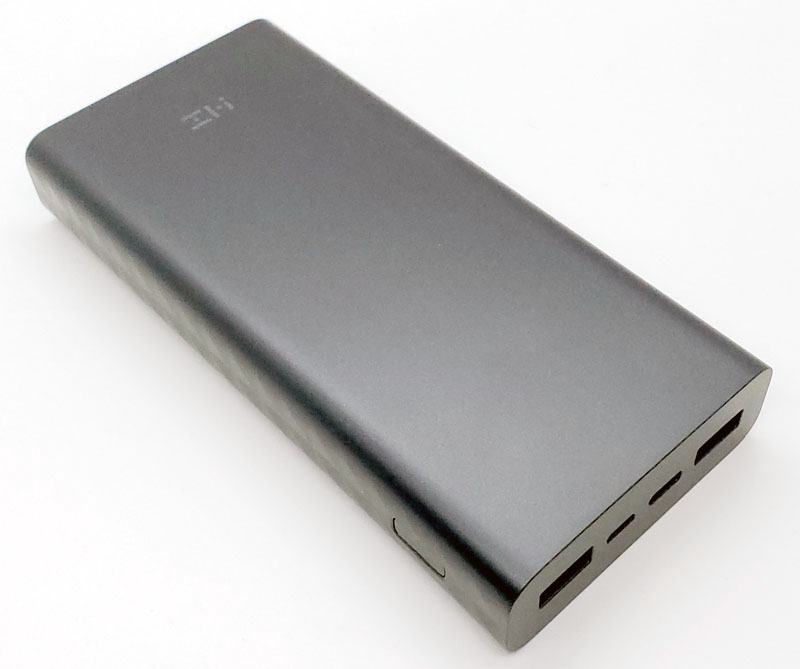 REVIEW – Power.  Our portable devices can't get enough of it.  Phones, cameras, drones, laptops, tablets, MP3 players, earbuds – you name it, they all need power.  If you're going to be out and about all day using your devices, how can you keep them all happily charged and ready for use?  The answer is typically some form of a battery pack.  Older battery packs were really heavy and typically, really slow. They would charge your device, but it would take a long time.  Nowadays, there are bunches of fast-charging portable battery packs that can quick-charge compatible devices. ZMI sent me their new Aura 20K as their answer to keeping everything running all day.
What is it?
The ZMI PowerPack Aura 20K USB-C PD Power Bank is a 20,000 milliamp-hour (mAh) battery pack with a nice selection of inputs and outputs for your charging needs.
What's in the box?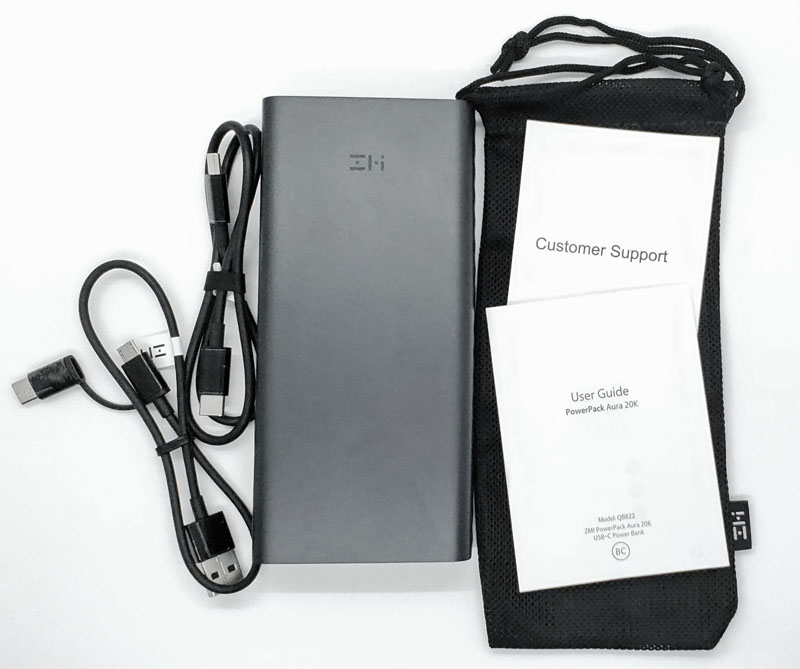 Power bank
20″ USB-C to USB-C cable
12″ 2-in-1 Micro-USB and USB-C to USB-A combination cable
Travel pouch
User guide
Customer support contact info card
The port end of the battery pack was covered with the following warning sticker to, I'm sure, satisfy the lawyers.

Hardware specs
Dimensions: 5.88 × 2.76 × 0.98 in (149.3 × 70 × 25 mm)
Weight: 12.8 oz (363 g)
Cell Type: Lithium polymer
Cell Capacity: 20,000mAh 3.7V 74Wh
Nominal Capacity: 12,600mAh/5V/63Wh (5V𝌂4.5A), 4,100mAh/15V/61.5Wh (15V𝌂1.5A)
Input Ports:

1× USB-C

USB-C Input: USB PD, Quick Charge 2.0
5V/2.4A, 9V/2.5A, 12V/1.8A, 15V/1.5A

1× Micro-USB

Micro-USB Input: Quick Charge 2.0
5V/2A, 9V/2A, 12V/1.5A

Output Ports:

1× USB-C

USB-C Output (used alone)
Charging protocols supported: Apple 2.4A, QC 2.0/3.0, FCP, AFC, USB PD
5V/3A, 9V/3A, 12V/2.25A, 15V/1.5A (27W max)

2× USB-A

Either USB-A Output (used alone)
Charging protocols supported: Apple 2.4A, QC 2.0/3.0, FCP, AFC
5V/2.4A, 9V/2A, 12V/1.5A (18W max)
USB-C & USB-A Output (multiple devices)
5V/4.5A (22.5W total)

Recharge Time

6 hours if charged with 9V𝌂2A power adapter
10 hours if charged with 5V𝌂2A power adapter

Warranty: 18-

month warranty
Support location: USA
Design and features
The Aura 20K is enclosed in a smooth, matte-finished, very dark gray plastic case. The back of the unit is etched with all the pertinent charging, capacity, and recycling information.  That writing is really small, so I had to photograph it to be able to read it all.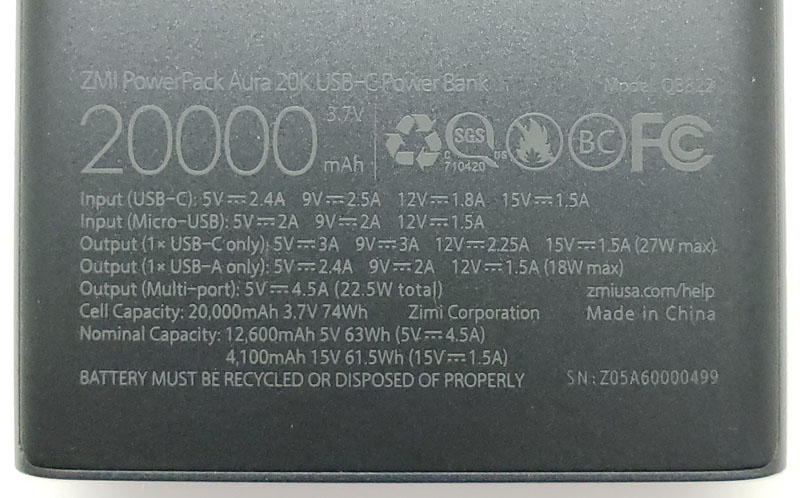 Both sides have a subtle diamond-texture pattern.  On the left side, we find a button that wakes up the pack if it has powered-down and also displays the current charge percentage.

On the bottom of the pack, we find all the ports.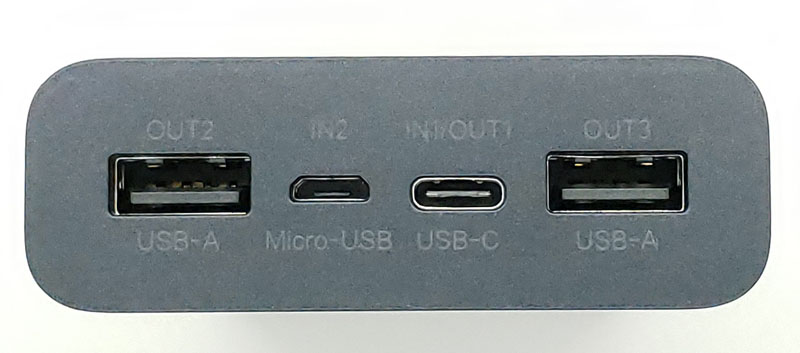 Each is labeled with the style of port and whether it can be used as an input port, output port or both.
An important thing to note that at 74 watt-hours, this pack falls below the FAA & TSA guideline of 100 watt-hours or less for air travel. This means you can carry the Aura 20K with you in a carry-on when flying on a commercial aircraft. The watt-hour capacity is noted on the back of the pack so help satisfy any over-zealous TSA agent.
Setup
Setup involves charging the unit.  I plugged a USB-C cable that was attached to my Samsung 5V/2.4A charger.
Plugging in the unit wakes it up. It shows the current charge percentage: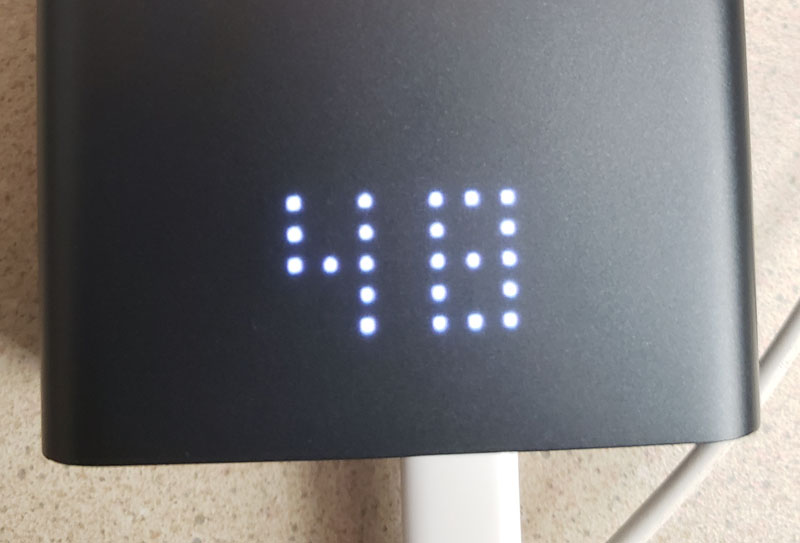 It then displays an up-arrow, indicating that the charge is flowing into the pack.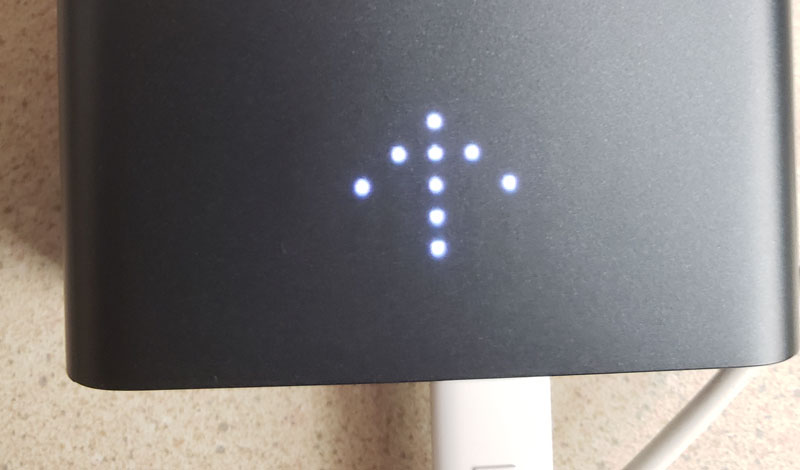 That display remains on for 20 seconds and then turns off to conserve power.  Pressing the button on the side powers up the display for another 20 seconds. Once charged, the pack is ready for use.
You have options for charging the Aura 20K.  Both the USB-C and micro-USB ports can be used to charge the Aura 20K. Both are enabled for quick charging (QC) and the USC-C power is enabled for USB PD (power delivery via USB), provided you are using a PD-enabled charger and a USB-C to USB-C cable.
Performance
I started with a quick test, plugging the USB-C to USB-C cable into the pack and my Samsung Galaxy S9+.  The pack immediately powered-up and displayed its charge percentage.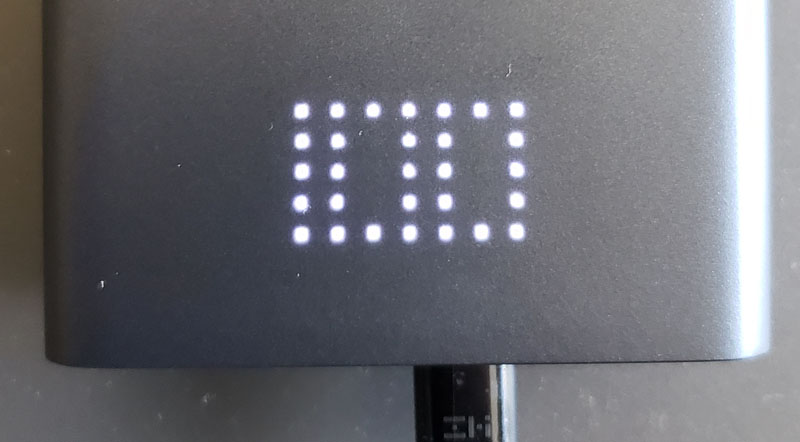 It then displayed a down-arrow, indicating that it is supplying power.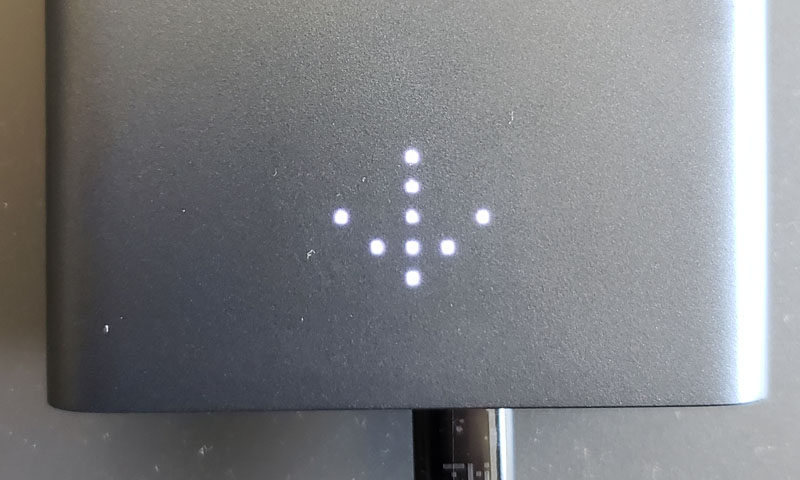 My phone started fast-charging as expected.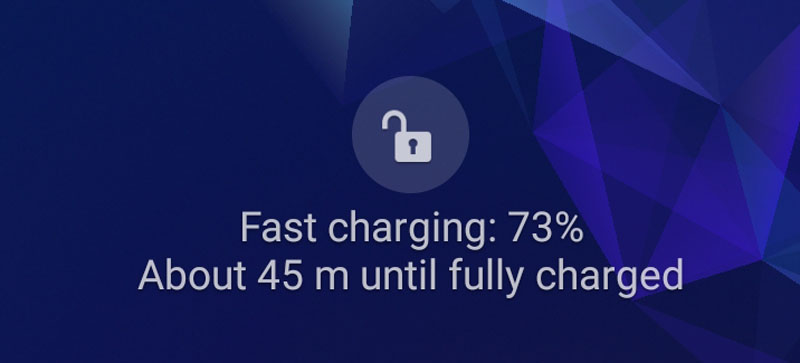 A couple of days later, I tried charging two devices at the same time.  My wife's Samsung Galaxy S9+ was at 74% charged and my S9+ was at 54% charged.  I plugged mine into the USB-C power on the battery pack and my wife's into a USB-A port using the 2-in-one cord.  Both phones fast-charged as expected.  After both hit 100%, the battery pack was at 83%. So, a combined 72% charge between the two devices took 17% of the battery pack.  A little math suggests that the Aura 20K should be able to fully recharge a dead S9+ about four times. I generally get a full day out of my S9+. To put that all in perspective, if I was traveling with the Aura 20K in my backpack, I theoretically could be away from a wall plug for up to five days and have full use of my phone the entire time.  That's pretty impressive. The other thing I noted was the complete absence of heat after the two phones were charged.  The Aura 20K was cool as a cucumber. I'm used to battery packs that get warm, or even hot when delivering high power.  That was another nice surprise.
In addition to all the high power output that the Aura 20K can do, pressing the side button twice in rapid succession puts the power pack into low power mode, indicated by "LP" on the display.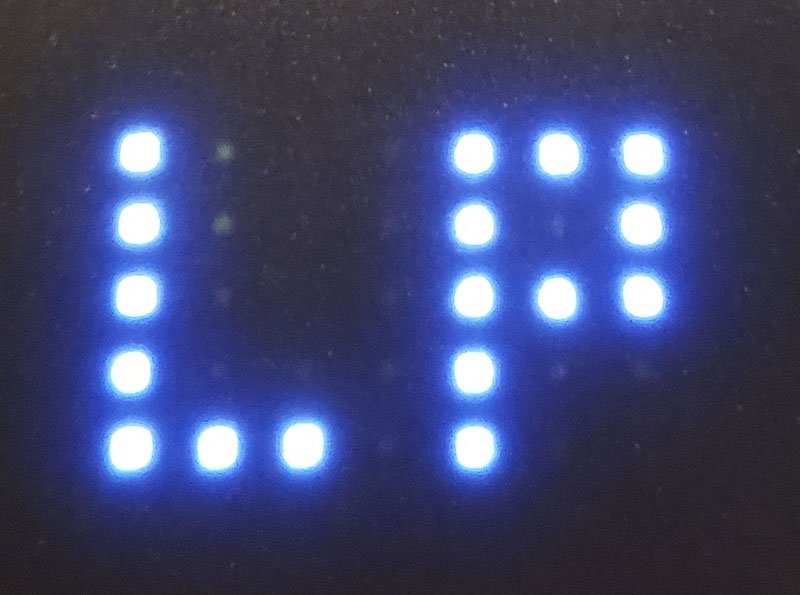 The manual suggests that wearables like earbuds, smartwatches, and fitness trackers are better suited to lower power charging. The pack display alternates between LP and its charge percentage while in this mode. It will remain in LP mode for two hours, or until being disengaged by pressing the side button once.
Single-pressing the side button while using the pack to charge a device turns on the display for 20 seconds, alternating between the current battery pack charge percentage and the down-arrow indicating that power is being delivered.  Interestingly, when you do that, the briefly charging is interrupted.
I tested it out charging or powering a variety of items, and every time, it worked flawlessly.  Here is it running the lights on the lightbox I use for product photography.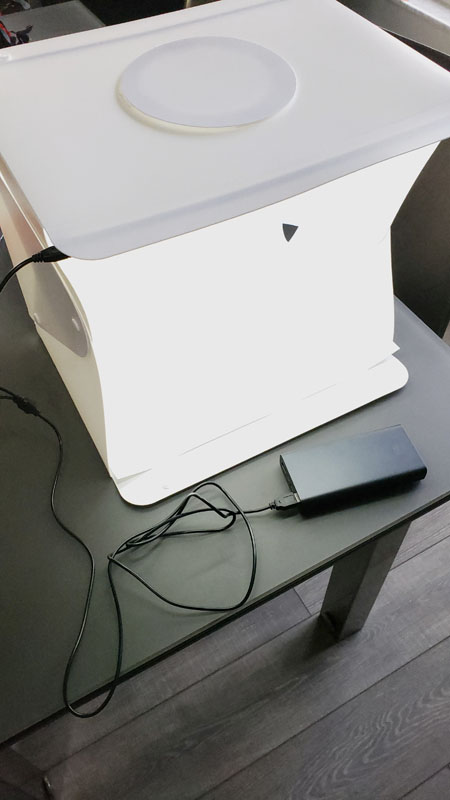 It also handled simultaneously charging my iPod Touch and the MyCharge Unplugged10K battery pack.  Of course, using one battery pack to charge another battery pack is kind of silly, but when you're looking for items to test, you grab what you have.
A final test involved charging the battery pack while also delivering power.  Unlike the MyCharge Unplugged10K battery pack that I recently reviewed, which can handle pass-through power and charge while recharging, the Aura 20K cannot handle that combined task. As soon as I plugged charging power into the Aura 20K, it stopped charging other devices. As someone who cruises a fair amount, being able to recharge your battery pack while also using it to charge a couple of devices is important since cruise cabins don't come with many power outlets.
What I like
Solid build quality
Flexible charging and power delivery options
Great capacity for its size and weight
What I'd change
Don't interrupt power delivery when checking battery charge percentage
Support simultaneous charging and power delivery
Final thoughts
I like this battery pack a lot.  With its flexible options for recharging as well as its flexible power delivery options, it offers a lot of options in one small package. If it offered pass-through power, it would be perfect. It's light enough to toss in a backpack and bring all-day power for several devices.  This now has a permanent home in the travel kit.
Price: $35.99
Where to buy: Amazon
Also available for $39.95 direct from ZMI.
Source: The sample of this product was provided by ZMI USA.
Support The Gadgeteer
:
The Gadgeteer is supported by readers like you! If you buy something through the links on our site, we may earn a small affiliate commission. Thank you! Learn more.