We use affiliate links. If you buy something through the links on this page, we may earn a commission at no cost to you. Learn more.

ARTICLE – It's October everyone! Along with pumpkin spiced everything and Halloween preparations, October means that once again I attended the New York Comic Con held at the Jacob K. Javits Convention Center in New York City.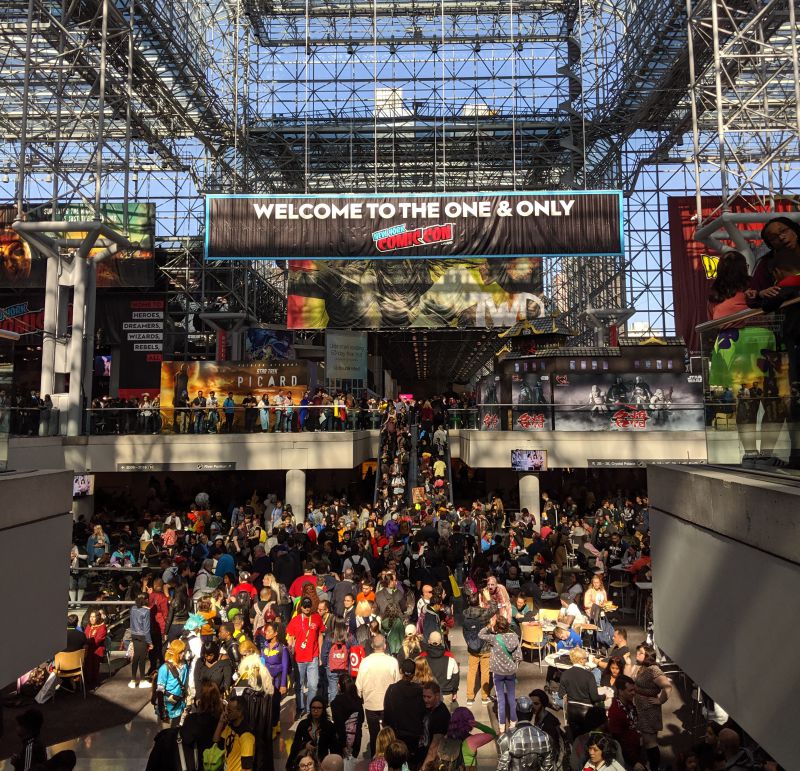 NYCC is one of the biggest pop culture conventions in the world and my absolute favorite place to be. The sights, sounds, and yes even the smells of NYCC are a feast for the senses of any pop culture enthusiast and 2019 definitely did not disappoint. This year I checked in with a few new gadget related vendors, visited some NYCC mainstays, and captured video of some of my favorite areas of NYCC. Check out my photos and interviews along with the cool video snippets from the show floor each day of NYCC.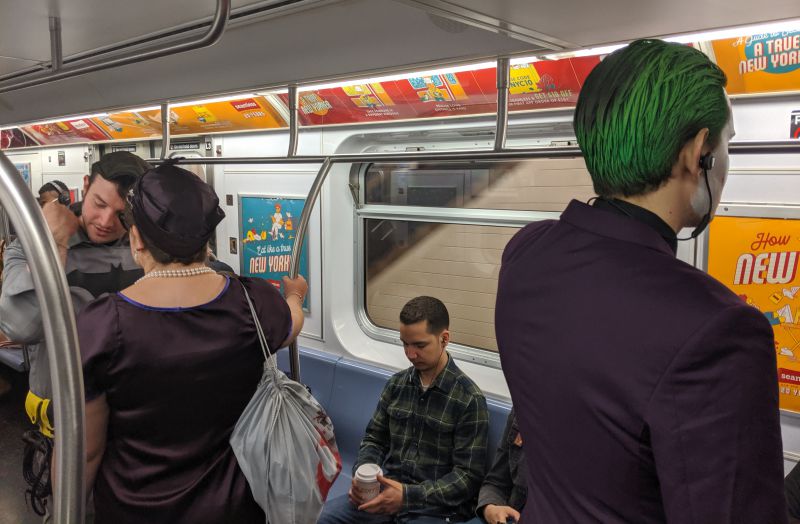 I've been attending NYCC for more than a decade now and one of my favorite things to do is to observe how NYCC attendees blend into the background of everyday New York City life for a few days every year. As you approach the Javits Center, whether on foot, by bus, or on the subway, the commuters around you suddenly start seeming …different. Maybe you notice a few extra people wearing comic themed t-shirts. Then maybe someone gets on the train with an odd hat or weird makeup on. Then, by the time you're only a few stops away from NYCC, the Joker saunters on to the train calmly listening to his music while a few feet away, his archenemy Batman gets help donning his Batsuit from a 50's themed Batgirl. It's such a treat to be witness to these special little scenes each year when NYCC comes to town.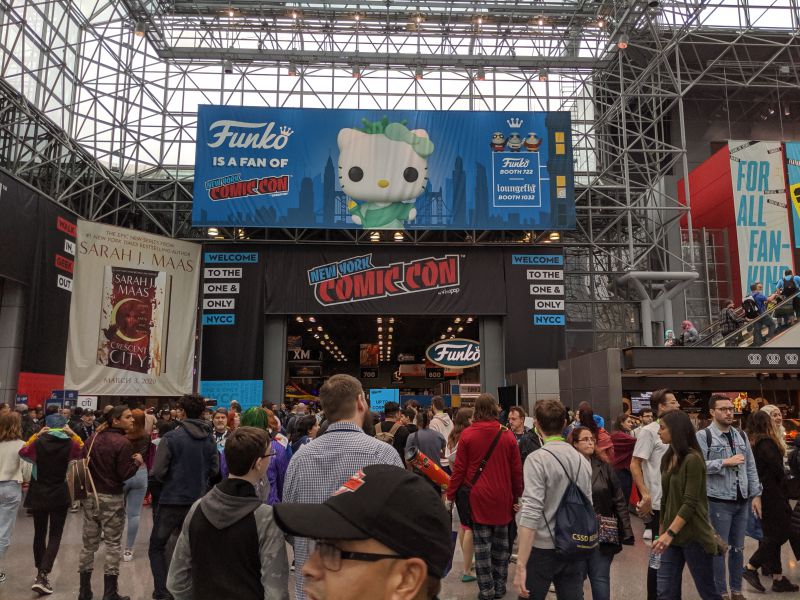 The first day of NYCC is always the most exciting for me, so much energy in the air, people rushing about hoping to be the first to see the various vendors, artists, and experiential displays.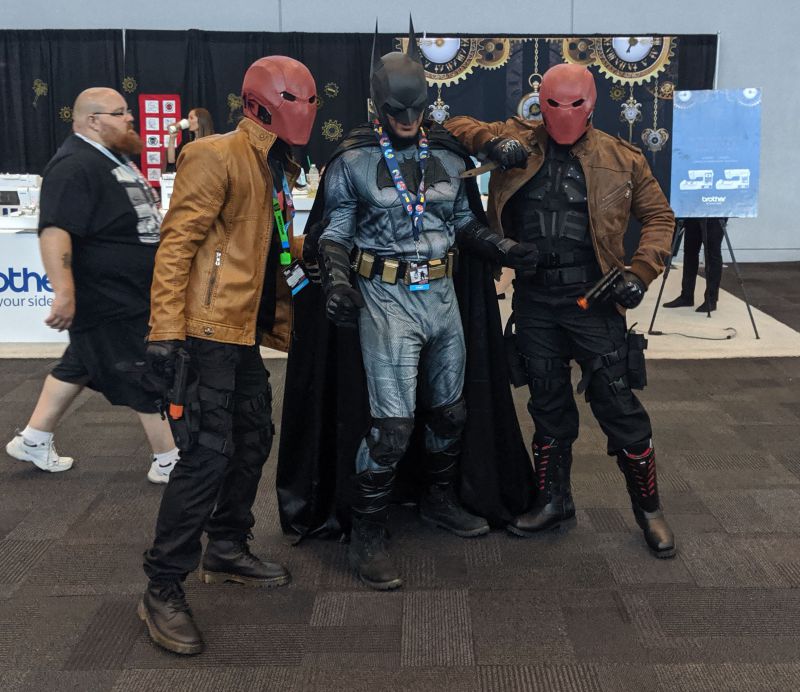 And of course the cosplayers, so many cosplayers. I've covered them a lot in past years so this year I focused on some other aspects of NYCC, but they're always there and a huge part of the fun of NYCC.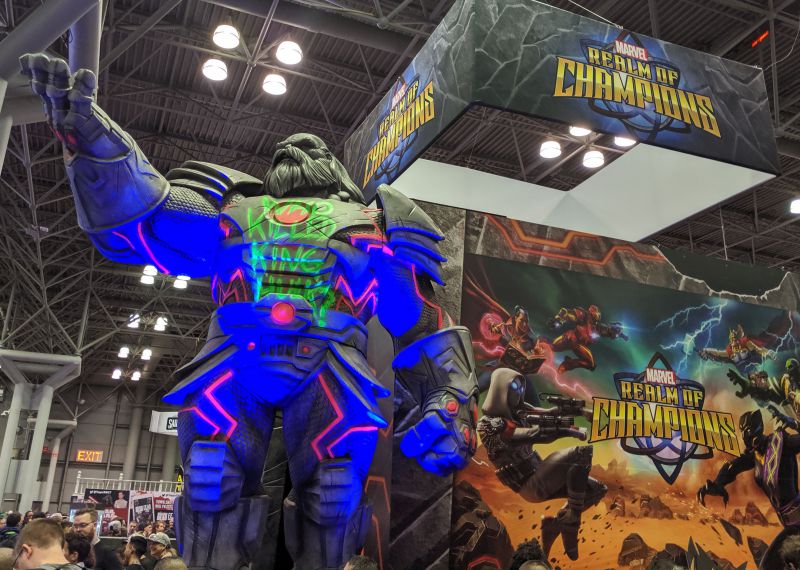 Video games always feature heavily into NYCC's culture and lots of game publishers use this time to debut new games or upcoming sequels. This year seemed pretty light though and not a lot of big name publishers had major releases planned for promotion. But, that doesn't mean there still weren't some jaw dropping displays and demos to be enjoyed.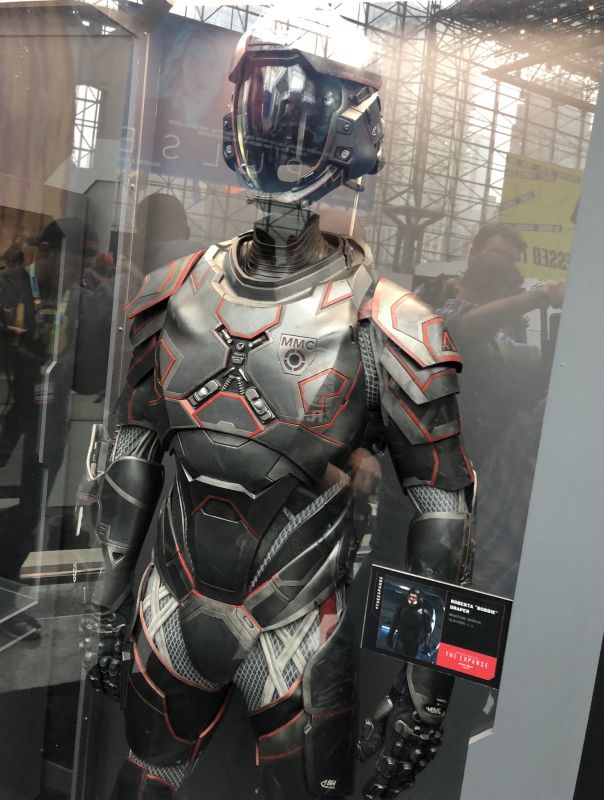 Some of the coolest displays at NYCC are the movie prop exhibits.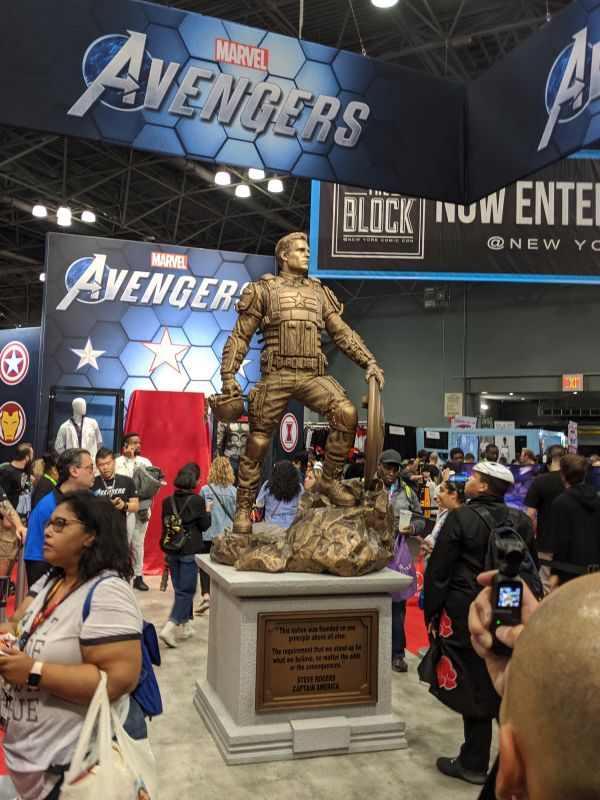 Most times the exhibits feature actual props or costumes from movies or popular TV shows, but occasionally they highlight costumes for possible future iterations of favorite heroes.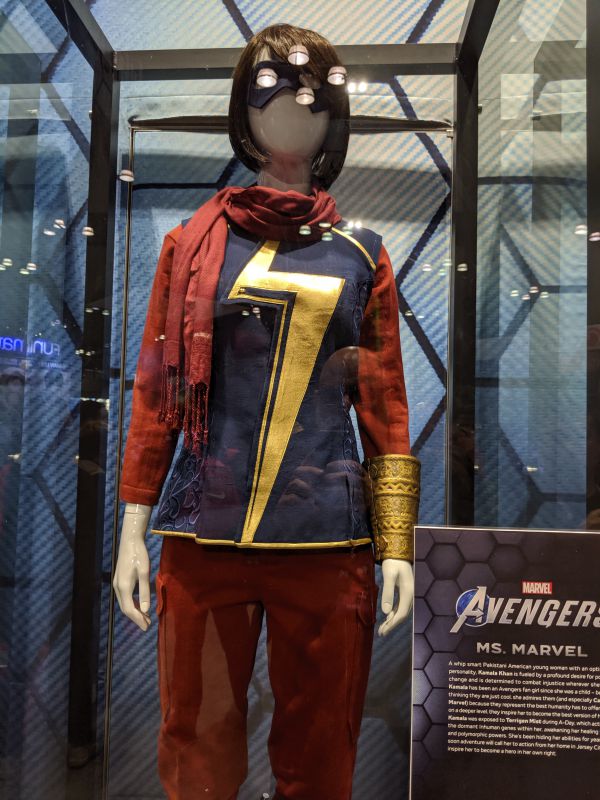 The Avengers are always a popular feature for prop displays, but my favorite this year was the Picard exhibition.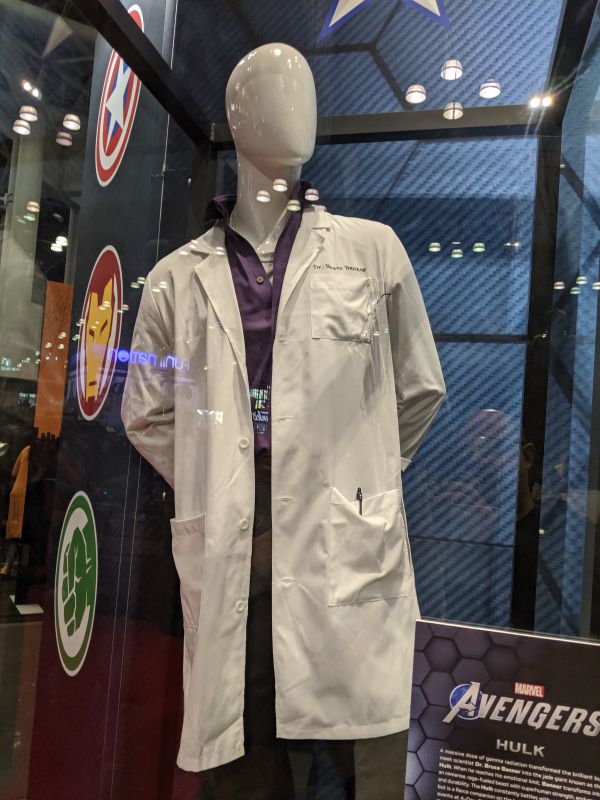 Props old and new from all of the various Star Trek properties were on display.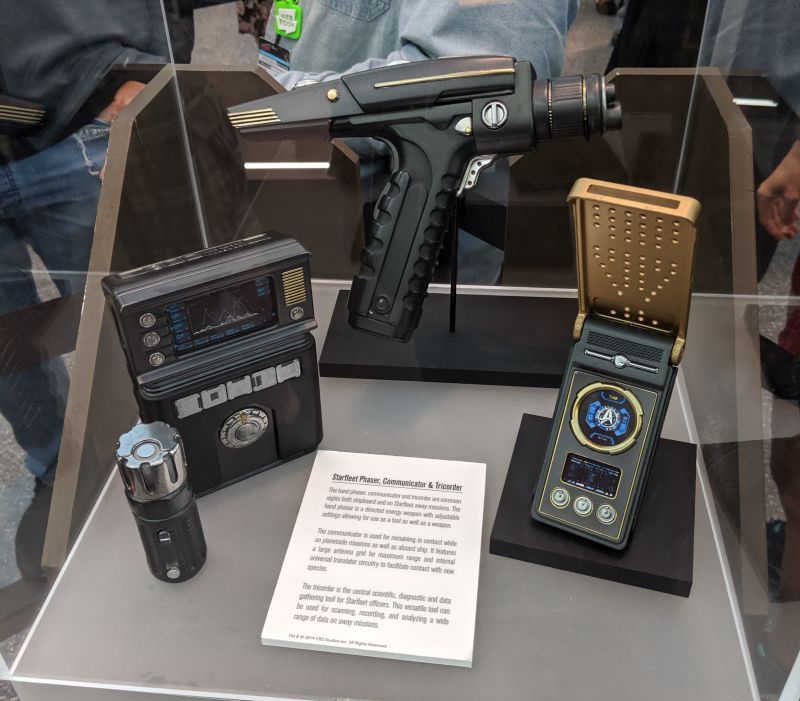 As well as the badge Picard is given when he returns to Starfleet briefly in the new series and his trusty dog, Number One's dog collar.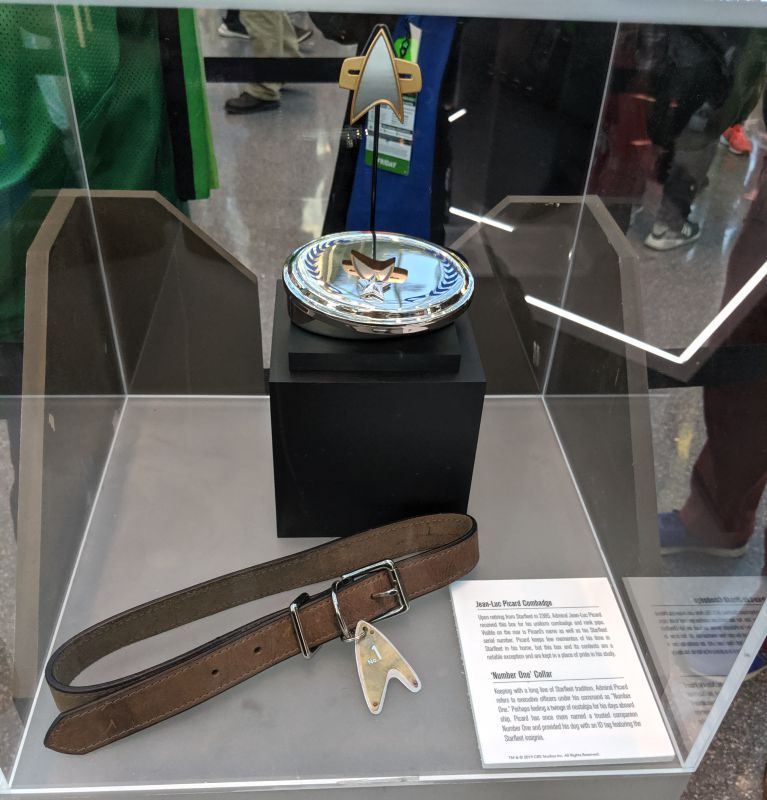 Another exhibit of props for a returning franchise was for Netflix's El Camino: A Breaking Bad movie.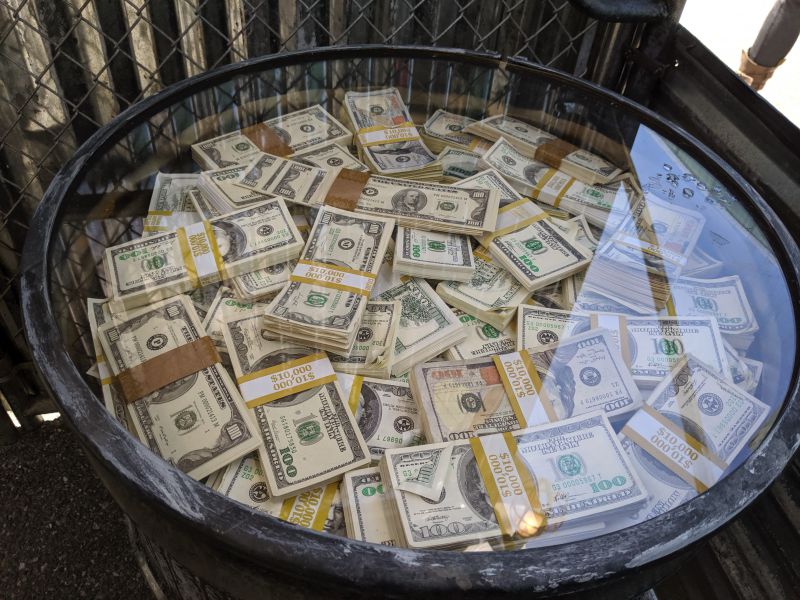 A bucket of cash and the namesake vehicle along with some bullet spattered walls painted a cool scene that seemed to spring directly from the world of Breaking Bad.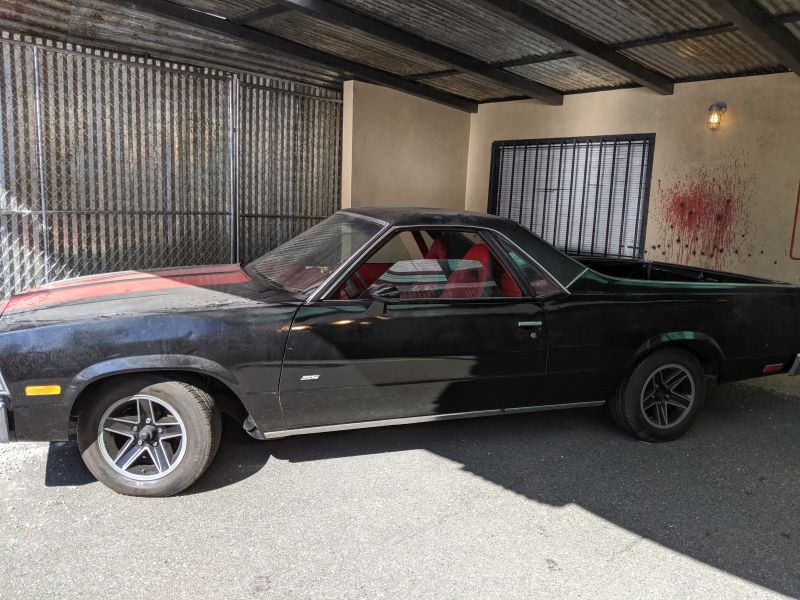 As would be expected at New York Comic Con, cool toys prevailed as well.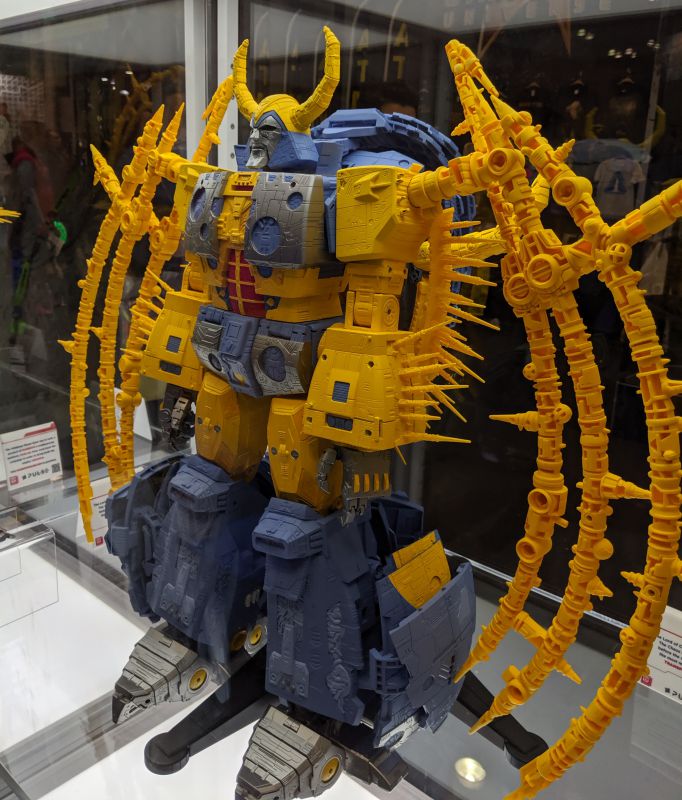 This planet sized Transformers Unicron figure was pretty impressive. The figure is part of Hasbro's HasLab crowd-funding program and needs 8,000 backers total to enter into full production.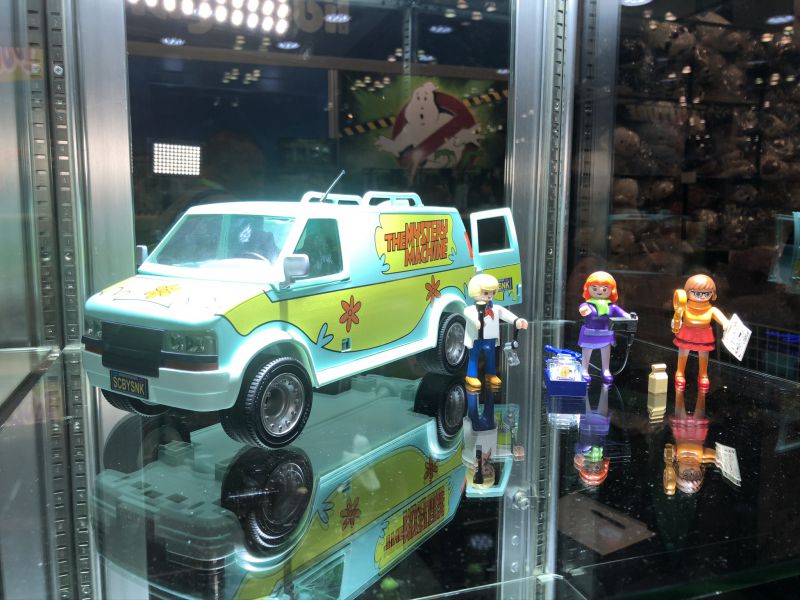 Playmobil debuted a few of its upcoming playsets that will be released for 2020. The Scooby-Doo Gang along with their gallery of rogues was really cool to see.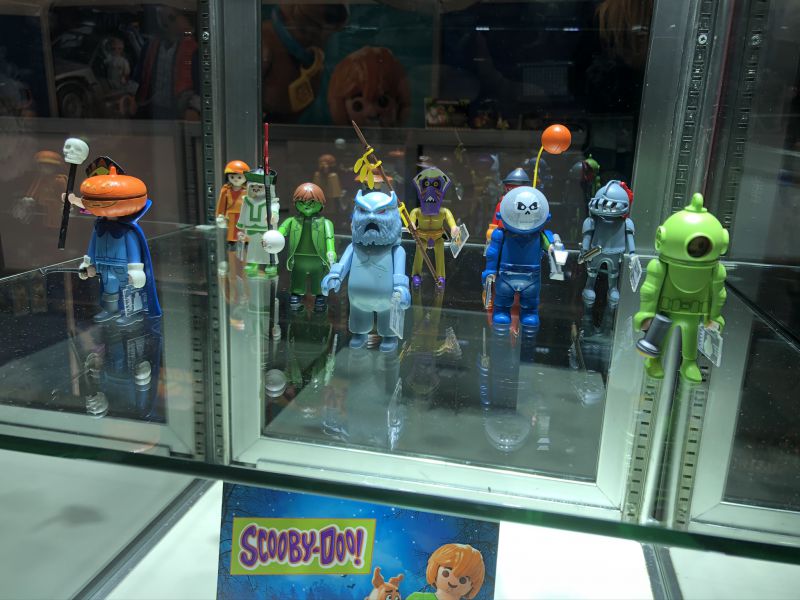 But, nothing was as cool as the Back to the Future playset that even included Doc Brown's dog Einstein.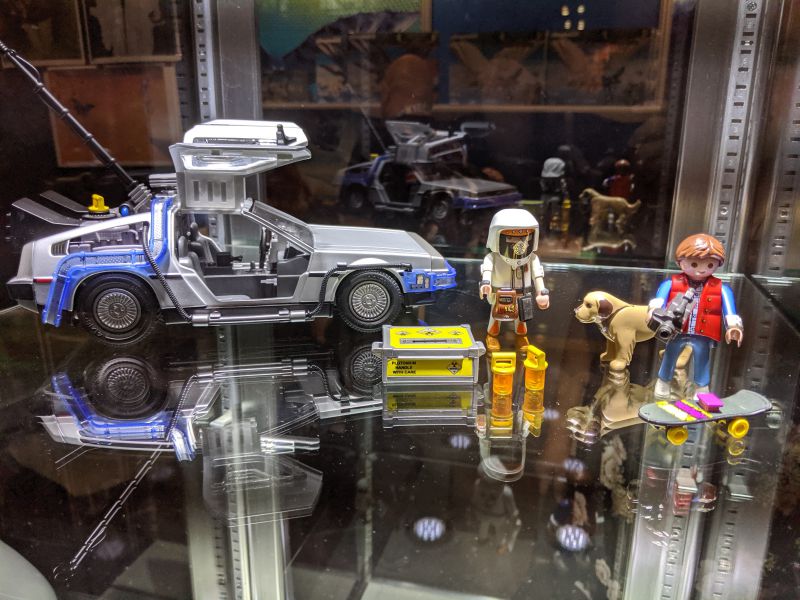 A separate set of larger figures, possibly designed to compete with the popularity of Funko Pops, featured more detailed Doc Brown and Marty McFly figures.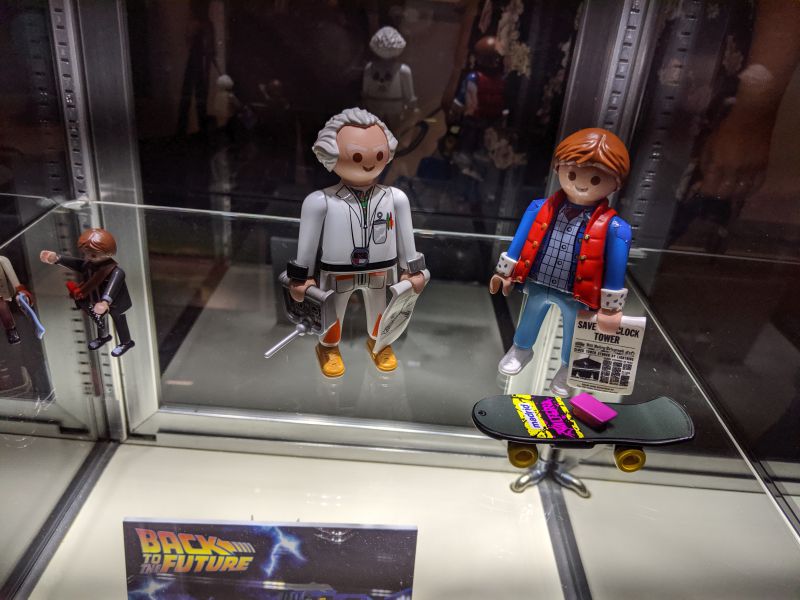 Of course, at NYCC Lego prevails and there are a number of vendors selling every type of minifig available.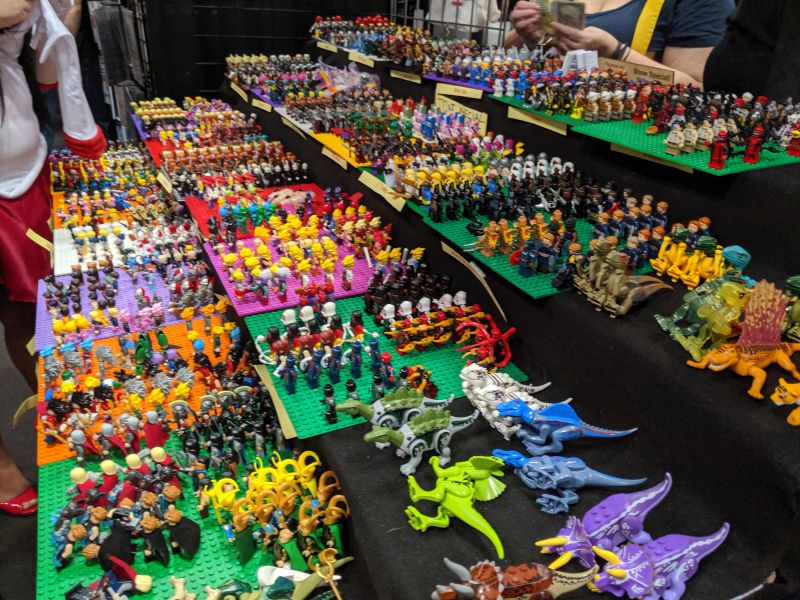 The Gundam booth at NYCC this year had an area where fans could assemble their recently purchased Gundams.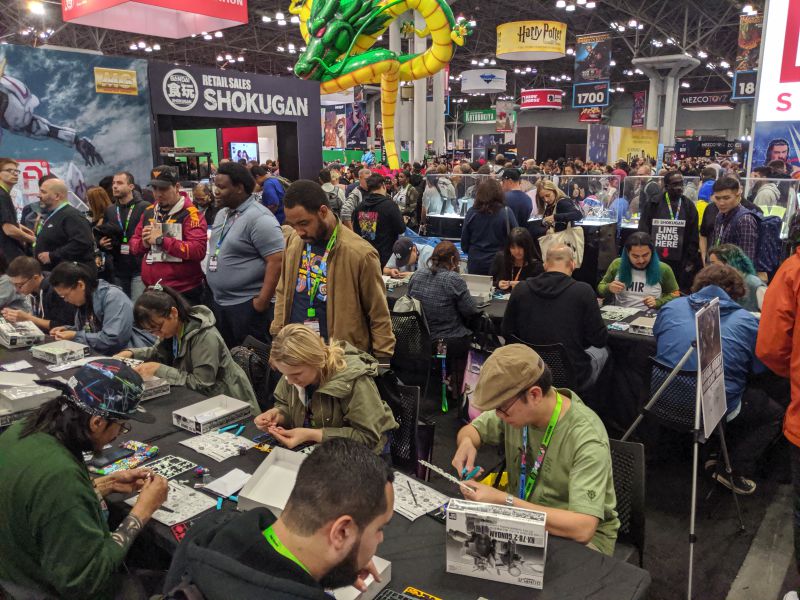 Figurines that recreate characters from beloved comics and graphic novels are highly sought after and some are priced well into the thousands.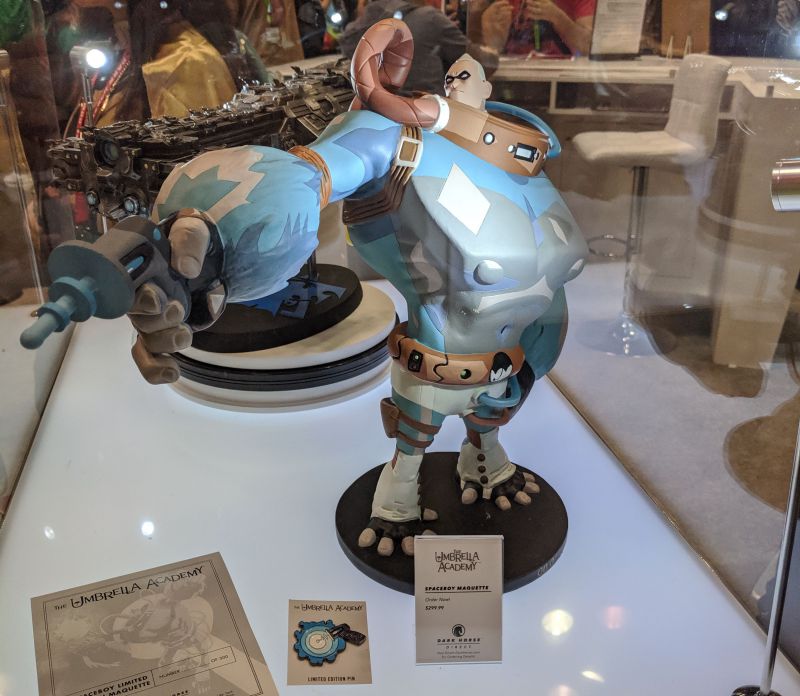 The level of detail on some of the figurines is amazing as well as the presentation and translation from the print comic medium.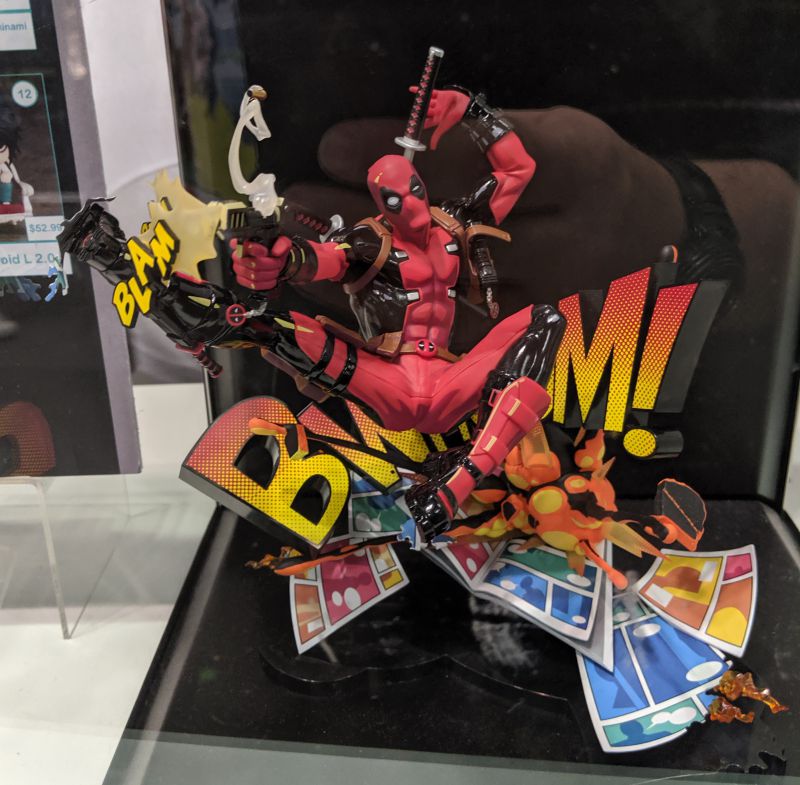 Part of the reason NYCC is so enjoyable for a gadget addict like myself is that there are a number of vendors who sell pop-culture inspired products ranging from simply fun to incredibly innovative. I interviewed a few of these vendors as part of my coverage this year.
Ukoala Bags
Yan Ma, also known as Mayan, has been making her Ukoala bags for about seven years now. The idea for the unique bags came to her on an overnight flight when she felt anxious about leaving her purse unattended while she slept. So with her shoelace she fastened her purse to her thigh and the idea for Ukoala bags was born.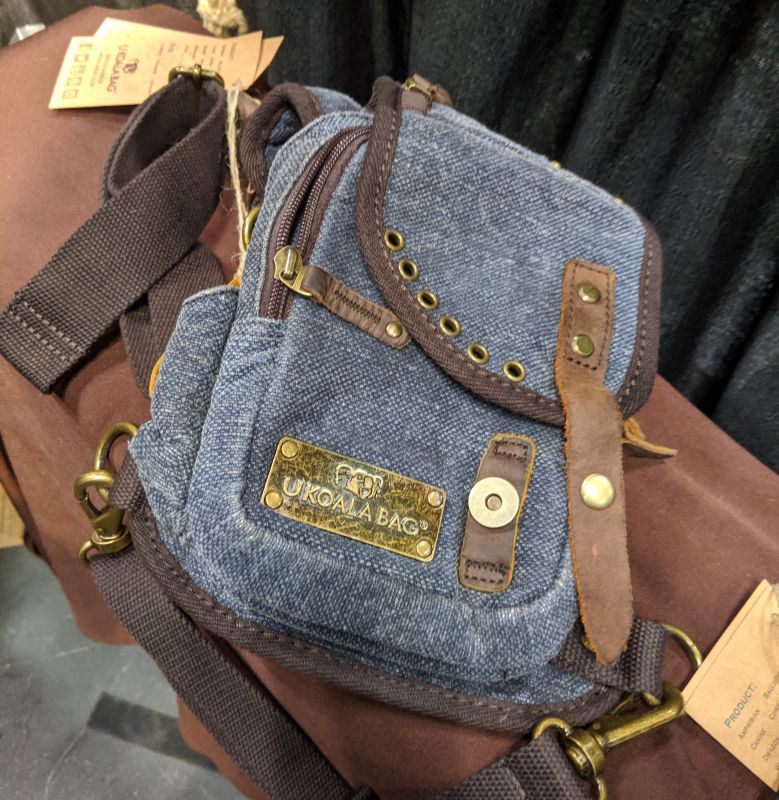 Mayan found further inspiration for the bags' unique shape after encountering some koalas in Australia and marveling at how they kept their heavy bodies so securely attached to trees high above the ground. Putting her background in design to good use, she worked out a way to flatten a koala's anatomical shape to make the bag's base, and used some simple math to tweak the angles of the bag to help better distribute the weight of the bag's contents while worn.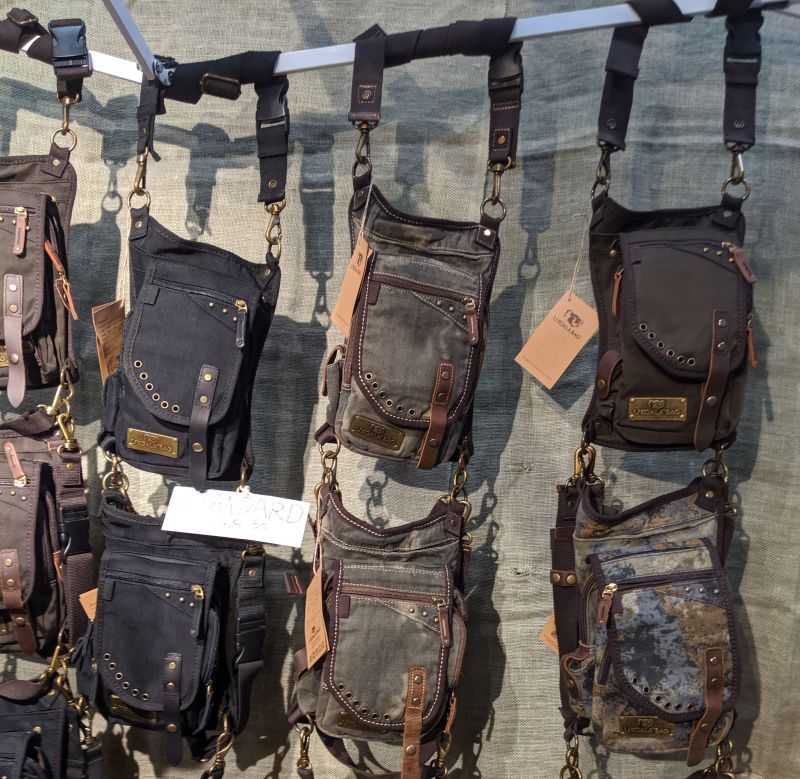 The stylish bags are great for motorcycle riders, concealed carriers, concert-goers, and all types of people who need quick, secure access to their bag without worrying about it flopping around on their person.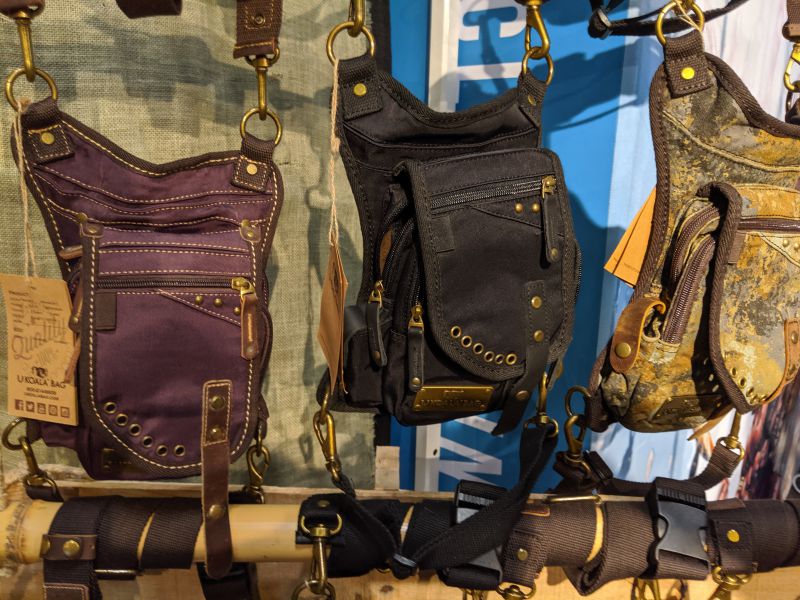 Check out Ukoala Bags at their website or for more information email [email protected].
Han Cholo
Han Cholo, aka designer Brandon Schoolhouse, makes hands down, the coolest sci-fi, rock n' roll, and fantasy inspired jewelry I've ever seen. His booth has been a must-see stop on my NYCC visits for years and it's always difficult picking just one piece as my favorite. But, if I had to absolutely make one choice for my fave, the Voltron Legendary Defender Ring would most likely be it.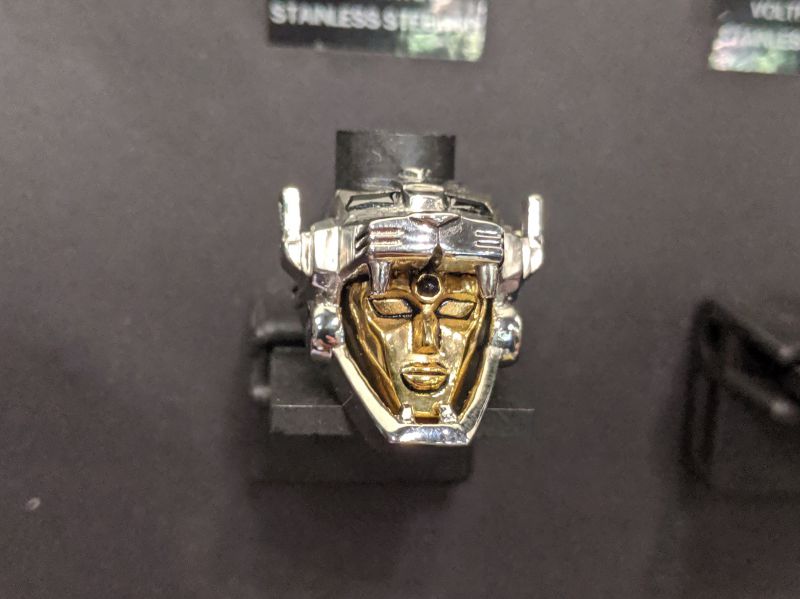 Han Cholo's pieces reach deep into sci-fi, fantasy, and horror lore and that's one of the reasons I love them so much. It's clear that the artist is as much a fan of the properties he's honoring as I am and I'm always excited to find connections to new pieces he's released.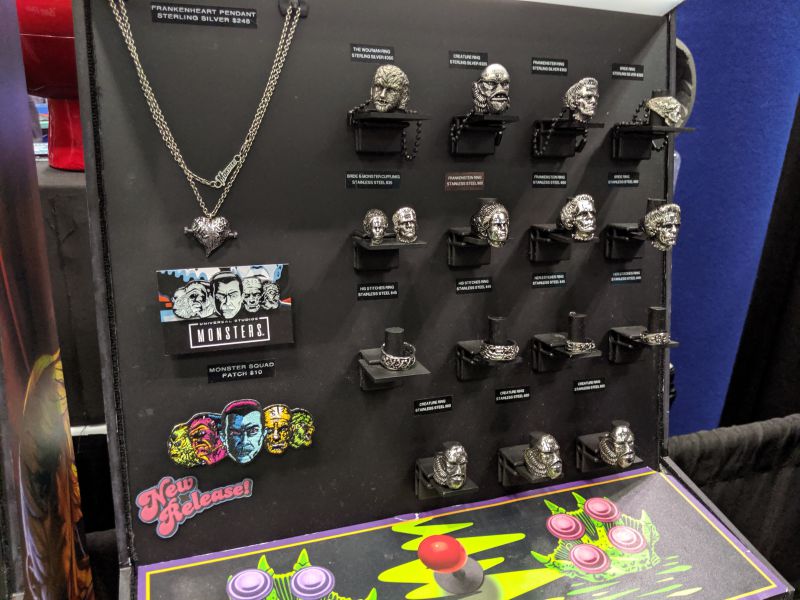 Born and raised in Los Angeles, Han Cholo had a knack for designing jewelry for himself and friends. His Han Cholo persona was born in the 90s while DJing and working for the Beastie Boys' Grand Royal record label. After his time with the Beastie Boys, he worked as a wardrobe stylist and utilized his drawing and design abilities to create unique jewelry for his rock star clients.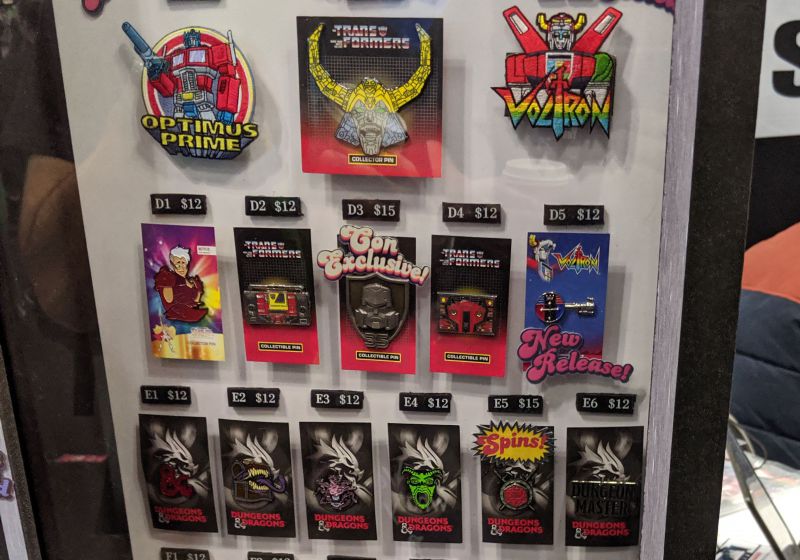 Fans of Han Cholo include rock stars, A-List actors and actresses, rappers and internet personalities. Han Cholo has licenses with and has done custom work for companies such as Disney, Hasbro, Nintendo, Hot Wheels, Doritos, and Puma to name a few. You can check out more of Han Cholo's pieces as well as purchase them at his website www.hancholo.com.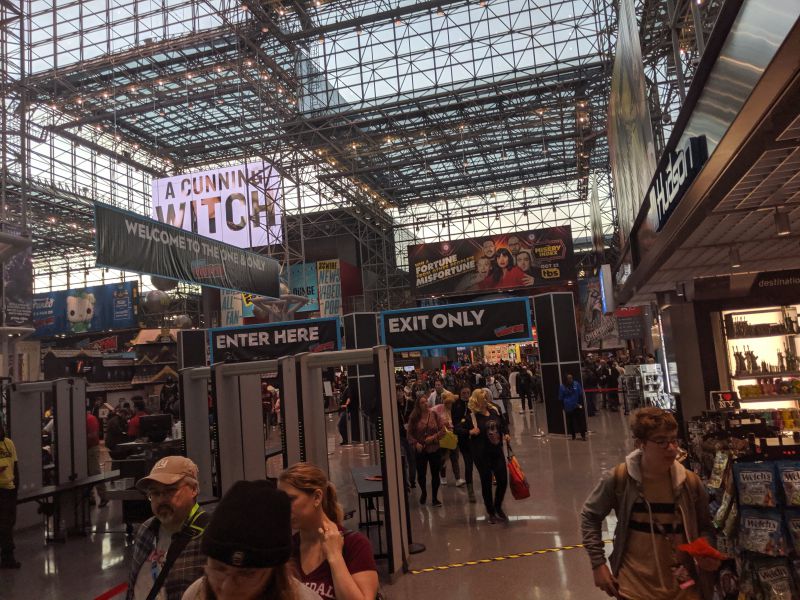 The close of NYCC is a sad time for me every year, but I know it'll be back soon enough. Be sure to check out my video snippets with some more vendor interviews and coverage from the show floor.
Video Snippets
Enjoy video coverage of my three days at NYCC 2019 as I interview cool vendors and explore some favorite mainstays of New York Comic Con.
Welcome to New York Comic Con Day 1!
The Expanse Season 4 Experience
Free Chevrolet T-shirts!
RSVLTS Have the Coolest Shirts at NYCC
Give in to the NYCC Pin Trading Tradition
Gundam Building at NYCC
Check out the New Cosplay Geared Singer Sewing Machine
Lady Luck at NYCC
Tips for Curbing Your Hunger at NYCC
Waiting on the Lines at NYCC
Gearing up at NYCC Cosplay Central
Videos Games and NYCC
NYCC Artist Alley
Wrapping it up from New York Comic Con 2019