We use affiliate links. If you buy something through the links on this page, we may earn a commission at no cost to you. Learn more.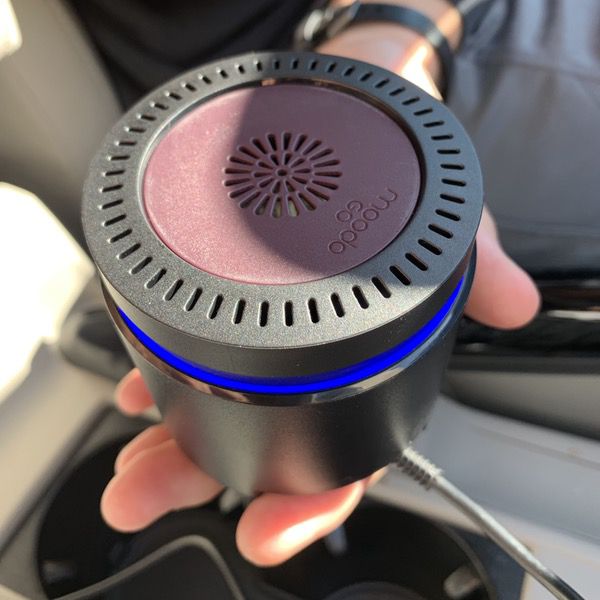 REVIEW – Make your car smell good! I had the opportunity to test the Moodo home diffuser a while back, and we still use it in the house. Now I've got the MoodoGo to check out. It's a portable version of the home kit for your car (or other remote locations). How does it work? To the review!
What is it?
It's a portable powered scent diffuser that you can plug into your car (or just about anywhere else) with a USB port.
What's in the box?
My test kit came with the MoodoGo base unit, a 12 volt adaptor, a 36″ power cable, and a scent capsule.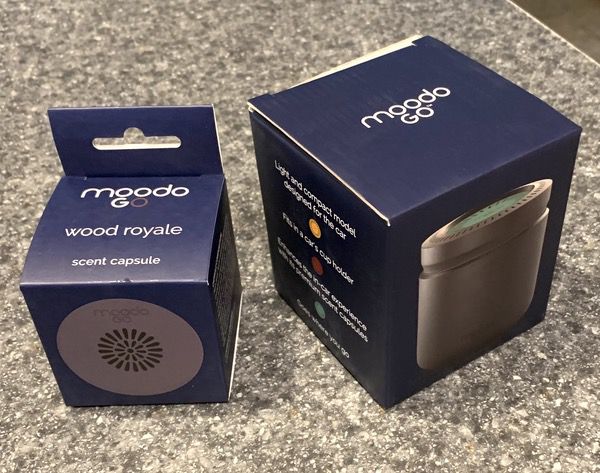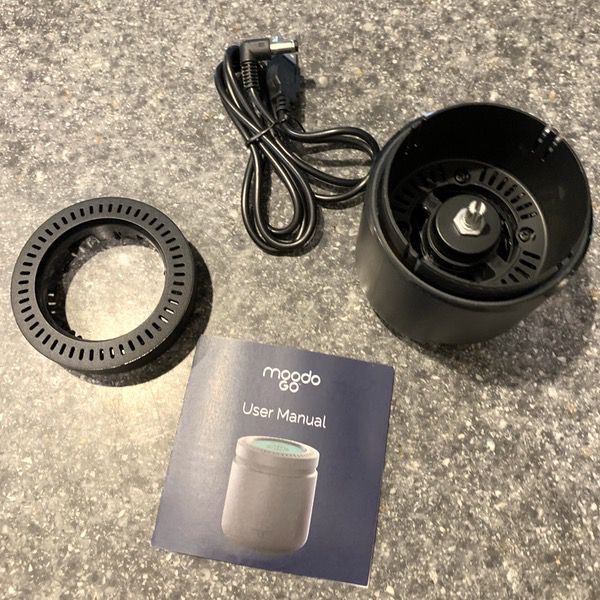 Design and features
So the first thing to note about the MoodoGo is that it uses a scent pod that is slightly different from the home kit. Where the home unit's pods are designed to mix and match to combine up to 4 scents, this is a single pod. It's bigger and incorporates a set of clips for insertion into the mobile diffuser.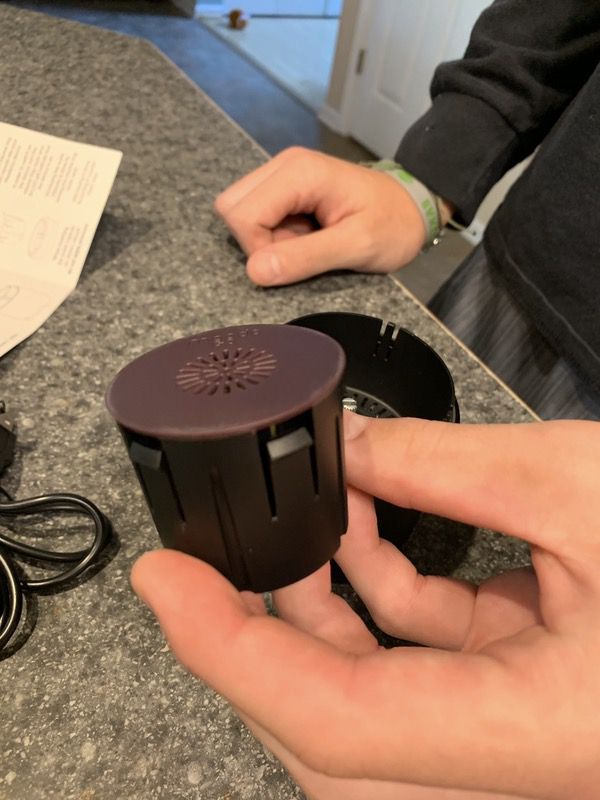 The pod plugs into the MoodoGo ring and snaps into place.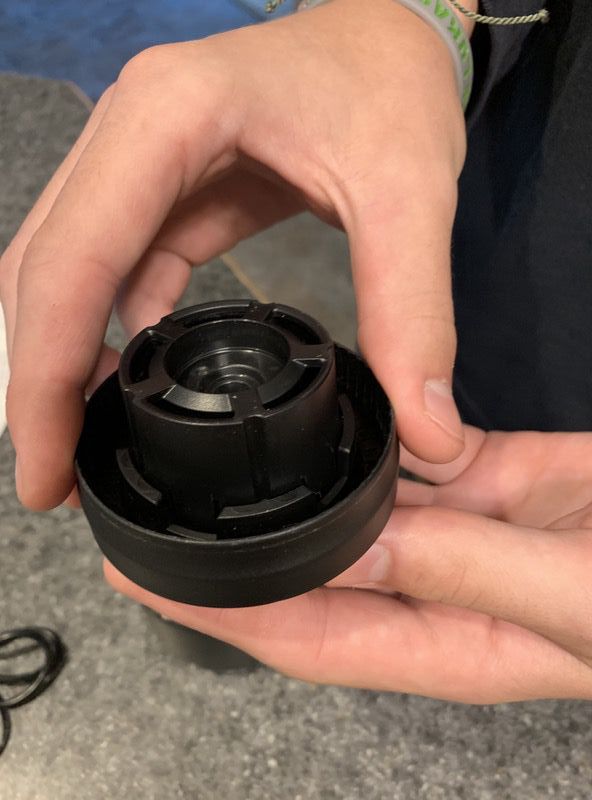 You'll then insert the ring into the cup, and you're ready to go.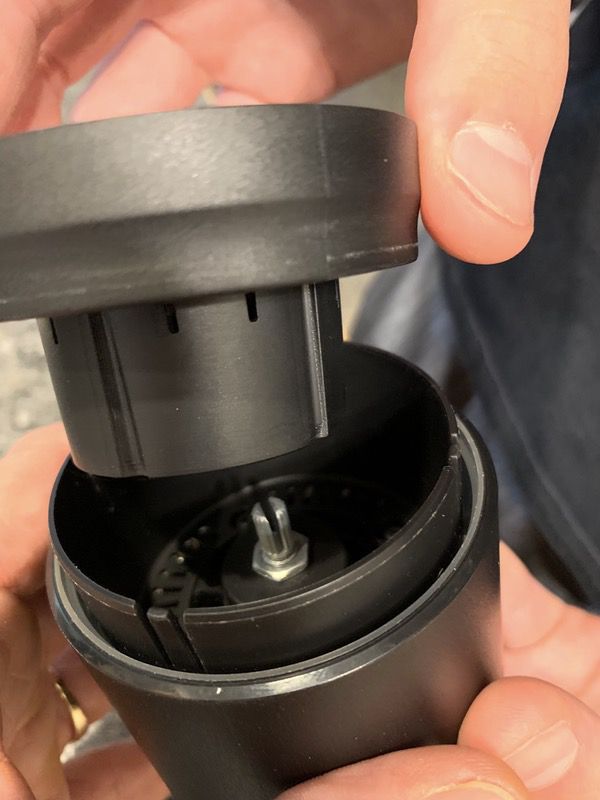 The cup itself is sized so that it will fit into any one of your car cup holders, or it will stand on its own if you want to use it elsewhere. It has no integrated battery, however, so you'll need to plug it in to activate the fan.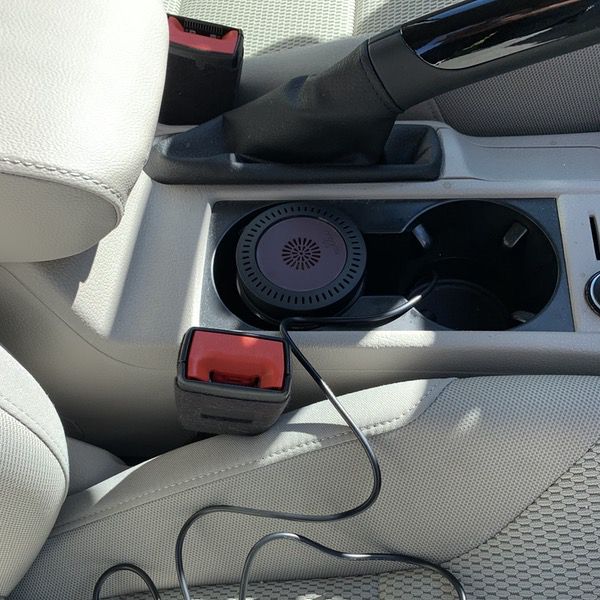 Plug the MoodoGo's 36″ power cable into the cup, and you'll find a USB plug on the opposite end. You could pop this into a USB port on your car or use the included adaptor for your 12-volt port.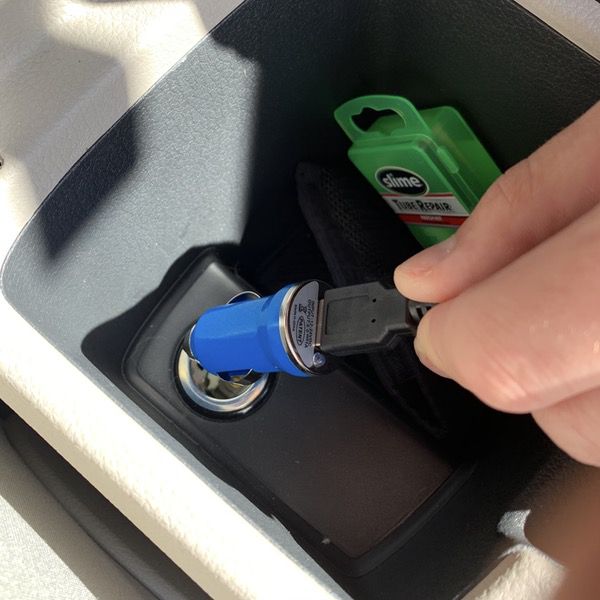 Rotate the ring to start up the fan, and it diffuses the scent throughout the car (or room, depending on where you're using it). A blue ring around the cup lights up to indicate that the unit is on.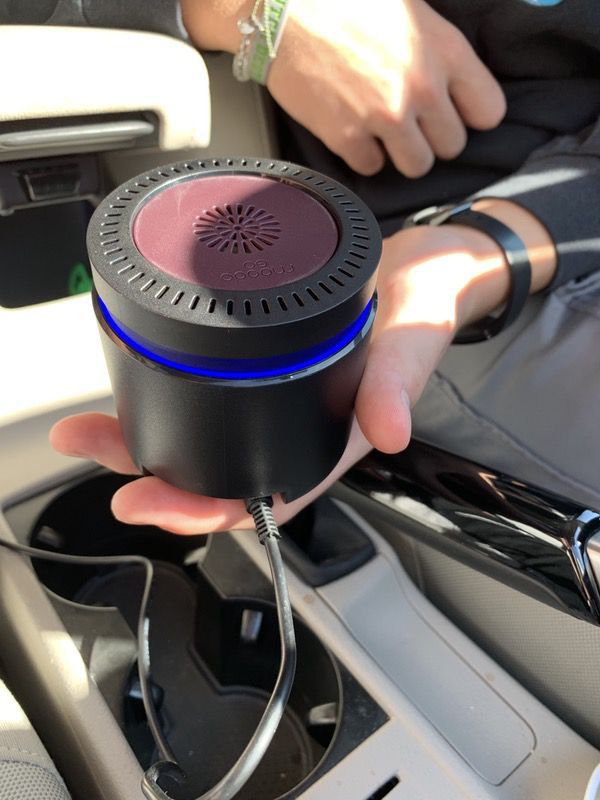 It fits perfectly in a standard cupholder, but that chord needs a place to go to be connected. How well this works for you will depend entirely on your car configuration. My son drives a Golf hatchback, for example, and needed to place the unit in one of his two cup holders in the center console. He also has two power ports (one USB and one 12-volt) under the center control stack. In cars with cup holders and ports to spare I would expect you would have plenty of options for setup (especially with that generous 36″ cable), but it would be nice to see another way to mount it somewhere on the dash to free up that space in smaller cars.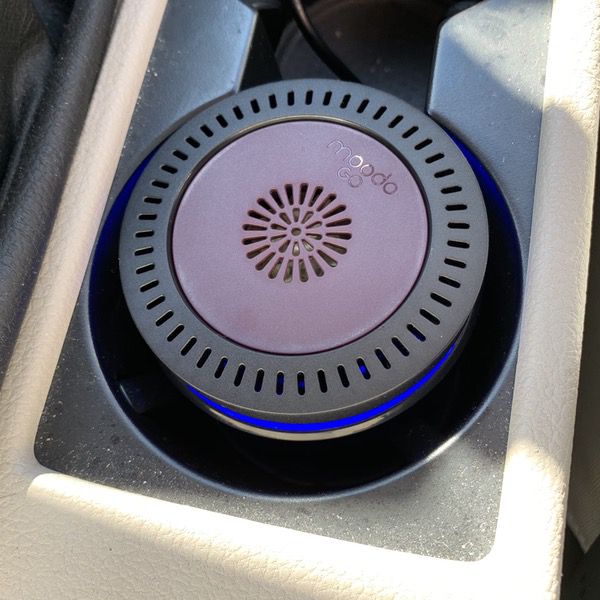 The blue light is really bright at night in a dark car. Here's a nighttime shot… notice that the blue light is brighter than any of the dash gauges and the touch screen. This was particularly distracting during night driving until we got used to it.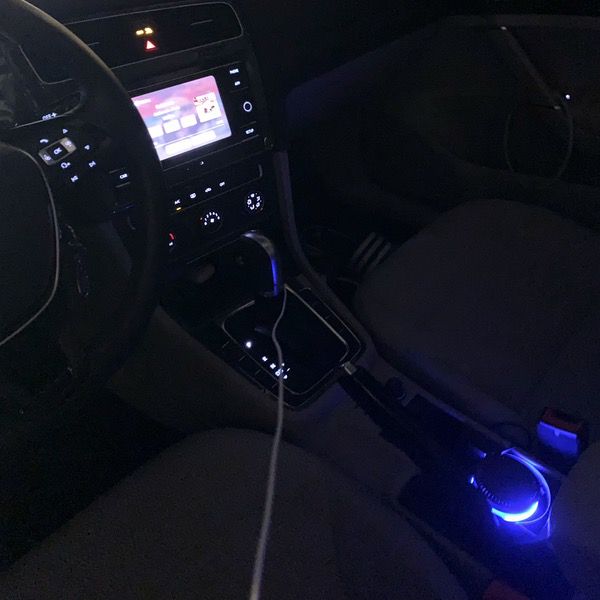 It's all pretty simple to operate from the dial, and the fan is powerful enough to diffuse the scent throughout the cabin. Moodo makes some great scent pods that provide unique and well-balanced aromas; the sample provided for testing (called "Wood Royale") is a marvelous scent with a classy luxury vibe. Given the potency of the scent, I would expect that it would work just as well in larger SUV as well.
What I like
Unique & well-balanced aromas.
Simple to operate.
Works in a USB or 12-volt car outlet with a generous 36″ cable.
What needs to be improved
Does take up cupholder space, which could be an issue in smaller cars.
Would like to see an alternative mounting option.
The "on" light is very bright, and might be distracting during night driving.
Final thoughts
I'm a fan of the Moodo products and the quality of their scent pods. The MoodoGo is a natural extension of the product line and it works very well. I think the design could use a bit of refinement, however, for smaller cars where cupholder and adaptor real estate are at a premium.
Price: $39.90 for the MoodoGo unit and one scent capsule, or $49.90 for the unit and four scent capsules.
Where to buy: Buy it at the MoodoGo product page and Amazon
Source: The sample of this product was provided by Moodo.