We use affiliate links. If you buy something through the links on this page, we may earn a commission at no cost to you. Learn more.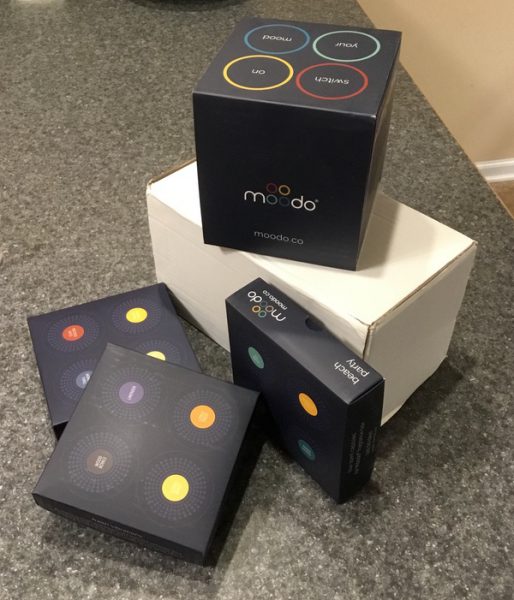 REVIEW – The Moodo Smart Home Fragrance Diffuser is a enables you to customize scents to your style and preference
What is it?
It's a smart home aroma diffuser that enables you to customize your scentscapes to match your mood. And yes, "scentscapes" are a thing.
Hardware specs
Connects through 2.4 Ghz WiFi networks
IOS and Android compatible apps
Amazon Alexa, Google Assistant, and IFTTT compatible
Fans with adjustable speeds designed for up to 600 square foot rooms
Available with EU or US adaptor
Built-in battery optional
What's in the box?
I'm testing the Moodo Starter Pack which comes with the base unit, adaptor, and three packs of scent "families." The kit also includes a printed user guide.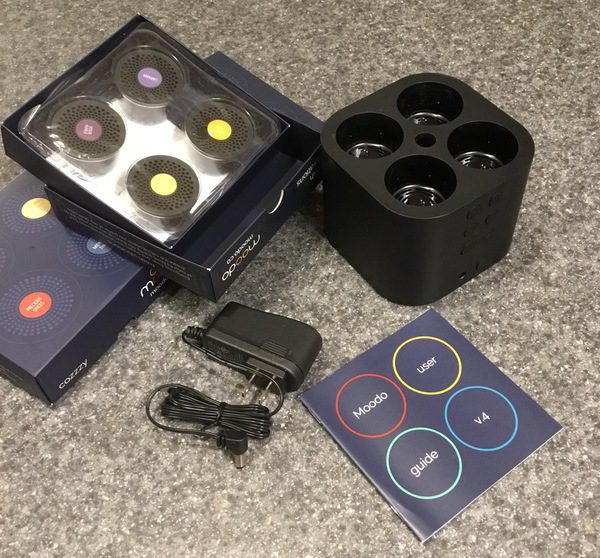 Design and features
The Moodo is designed to allow you to customize your scents through a programmable aroma diffuser. Four aroma pods are loaded into the device, which has an individual fan for each pod that controls the strength and intensity of the scent. This enables you to customize thousands of different aroma combinations to match your desired ambiance.
The unit is a black cube that measures 3.75″ by 4.5″ by 4.5″. The matt black finish is elegant and subdued, so you can park it anywhere in your house and it won't clash with your decor.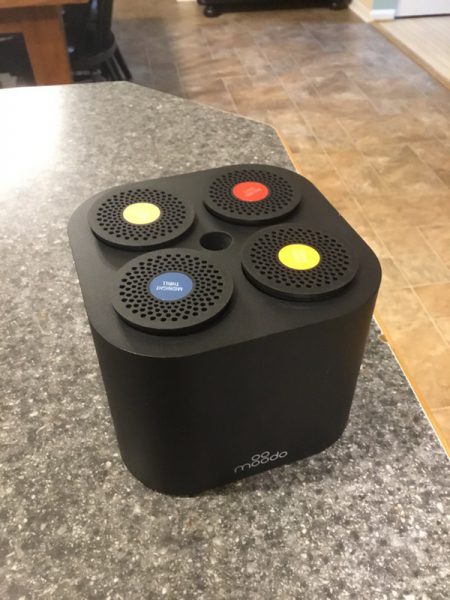 Manual controls are all on the front face of the unit, including individual fan controls and a "volume" button to increase the intensity of the diffusion. The black rubberized buttons on the face allow for manual operation. You can order this unit with a battery if you like for full portability, or plug it in with the included adaptor. Options for a US or EU adaptor are included in the ordering process.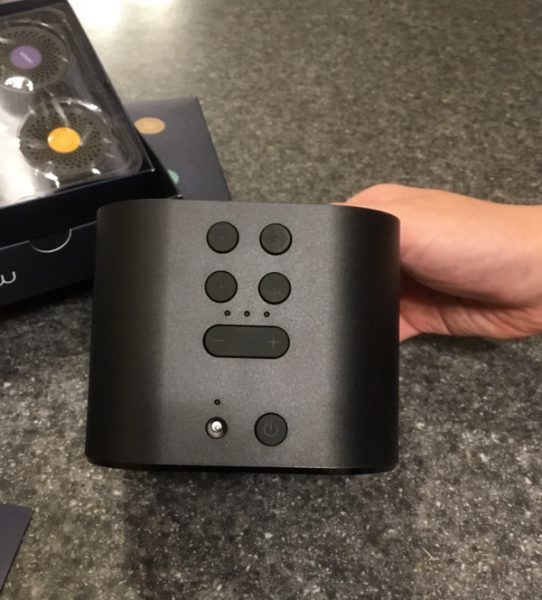 Setup
While the manual controls are a nice backup, we're focusing on the excellent app in this review. It's a well-designed, intuitive piece of software that enables full customization of the Moodo's capabilities. You'll start by downloading the app to your Android or iOS compatible device and creating an account with Moodo. Signing up with your Facebook or Google account saves the step of remembering another email/password combo: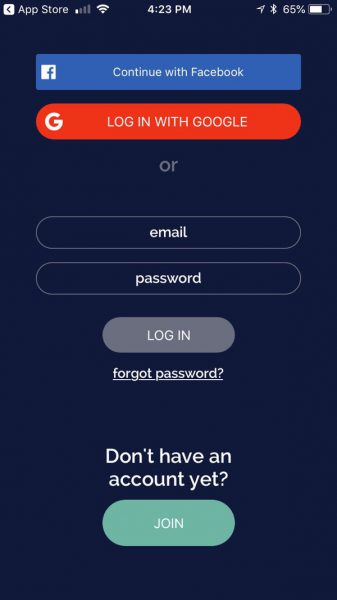 With the iOS app, I was given the option to pair with Siri right out of the gate. I did not test full smarthome compatibility in this review, but it should be noted that Moodo can also be set up with Alexa, Google Home, or IFTTT for full customization if that's your preference.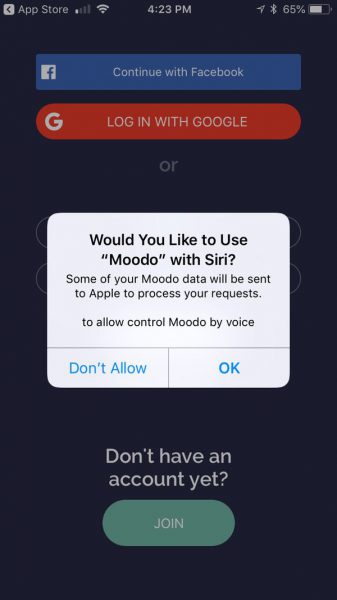 I appreciate when apps like this provide straightforward setup instructions. No manual required… follow the onscreen prompts to get connected.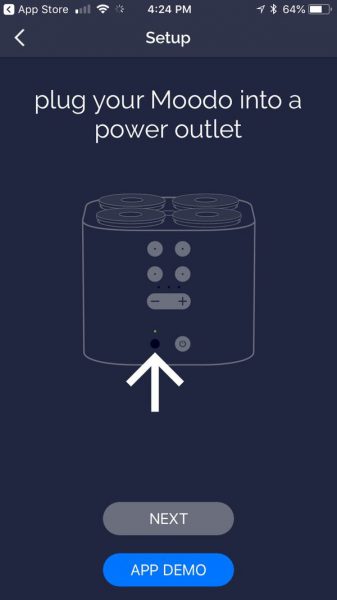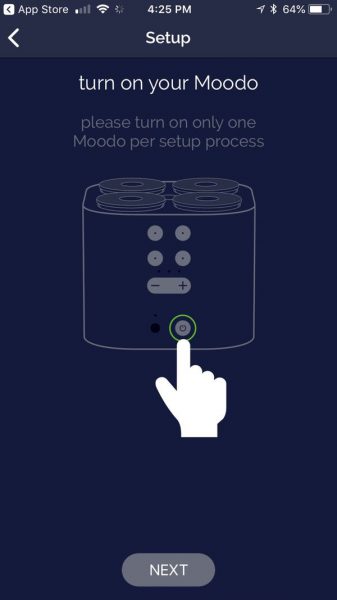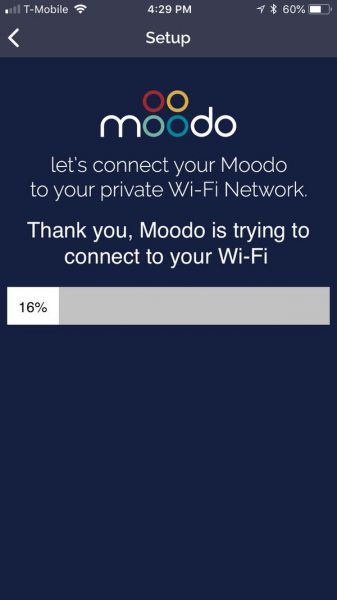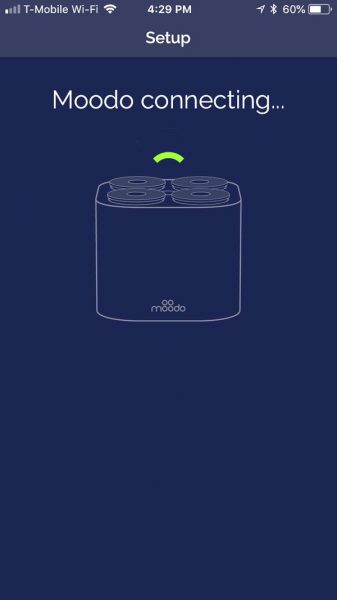 I did experience some issues with getting the WiFi pairing working properly, but that may be my network. I run a mesh network over my Verizon Fios-provided router, so some devices have trouble pairing. I don't think this was an issue specific to the unit, however. I have seen that some Amazon reviewers have reported similar issues, however, so it's something I'll have to keep an eye on for future updates.
Once you have loaded & paired the app, you'll crack the seal on the desired fragrance family and drop the pods in the 4 slots on the unit. The 4 pods in each family are designed to compliment each other as you create fragrance combinations. I've got the "Cozzzy" family loaded here, with fancy scent names like Orange Sunrise, Precious Spices, Granola Vanilla, and Midnight Thrill. The starter kit also contains the "Beach Party" and "Fresh Vibrations" families, for a total of 12 different pods in all.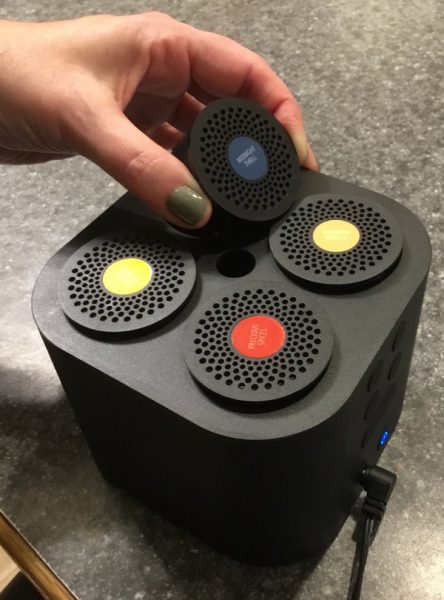 Using the App
Here's where the fun begins. When you load the pods and fire up the app, the app automatically recognizes which pod is in each slot. You can even switch slots or swap out pods from different fragrance families, and the app adjusts to the new configuration. No manual programming required.
Once loaded, you'll be presented with a series of preset scent themes based on the pods in the unit at the time. These presets adjust the intensity of the scent from each pod. When I choose "Chai Sunset", for example, Precious Spice becomes the dominant scent with a hint of Orange Sunrise and Golden Vanilla. The interface shows me the balance and intensity produced for each scent pod. A "volume" slider on the side enables me to increase the fan strength as desired for greater scent disbursement.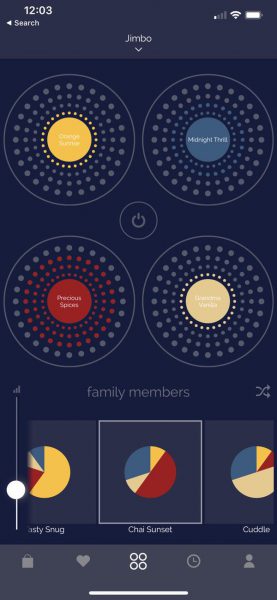 You can also determine pre-selected schedules for activating the Moodo that include day, time, and duration of operation. These can be saved so that you can diffuse different scent combinations at different times of the day: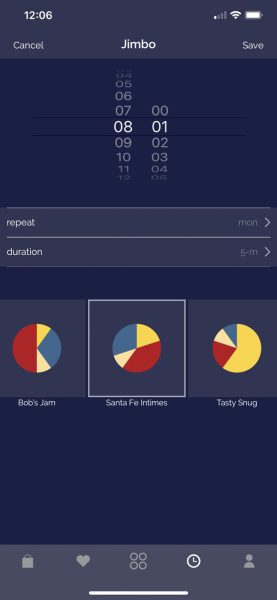 If you want to be an aroma alchemist, you have the ability to create completely new scent combinations. In the example below, I chose to emphasize the Orange Sunrise and Precious spices scents. Simple color-coordinated sliders allow me to choose the intensity of each scent pod in the mix: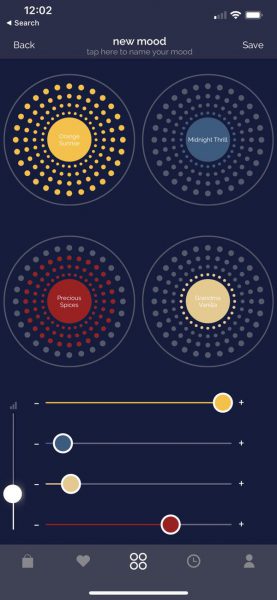 Settling on a combination I liked, I had the option to give it a name and save it for future use: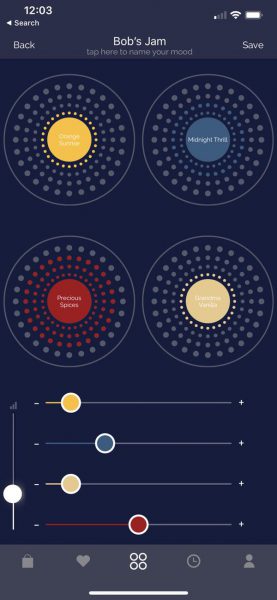 Once it's saved, it can be found in the favorites tab. A reference screen is also saved there so that I can make sure I load up the right combination of pods if I am mixing and matching between families. This saved scent combo is now available for on-demand use or scheduled events: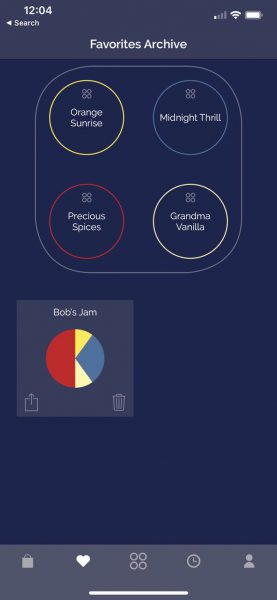 Beyond the basics, there are additional features in the Moodo app that round out the capabilities nicely. You can run a "shuffle" mode like your music playlists that changes the scent combination every few minutes. There's also an interval feature that turns the unit off periodically to extend the life of your scent pods, and sharing feature so that you can send customized scent combinations to friends.
All in all, the app is truly excellent. I love how Moodo has adopted conventions from music apps here for a familiar-feeling interface. It's clean, simple, and easy to learn. The simplicity of the app encourages experimentation, which adds to the fun factor.
Performance
So the app is great… but how does it smell? Pretty great, actually.
Agan Aroma, the maker of the Moodo, has been in the fragrance business for over 35 years. They know a thing or two about fragrance design, and it shows (or smells) in the finished product. There's a subtle sophistication to the aromas and combinations the Moodo produces that's unique and interesting, without overpowering you with cheap or kitschy smells. If you're looking to add some high-end class and style to your home ambiance, you'll be very happy with the Moodo. The company is also continuing to produce new scent families, so you'll never run out of interesting combinations to play with based on the season or mood.
While the kit states that the Moodo is capable of diffusing a 600 square foot room, we found that placement of the unit is important to maximize coverage. We have an open floorplan on the first floor of our house, with a vaulted ceiling in the family room. I originally placed the Moodo in a corner, and found that the vaulted ceiling worked against us as the scents kinda lifted up beyond our noses. Moving it to more central location solved that problem pretty quickly. If you're in a smaller room or have lower ceilings, you'll get great range out of this unit. For bigger areas, you may have to play with location. No matter how you set it up, keep in mind that the fans are not super strong. This does contribute to quiet operation, however, and you barely hear it when it is running.
The individual pods are rated for approximately 60 hours of diffusion at maximum "volume" (intensity) before tapping out. The scents are pretty potent, so we haven't found the need to run the Moodo all day to keep a consistent aroma. Assuming you're not running the unit full-blast and make use of the timer and interval features, I believe you could get a couple of months out of a set of pods before having to replace them. It will depend on your own use, of course. We'll have to see how this holds up over long term testing.
With that in mind, let's talk about pricing. The starter kit begins at $139 (the Moodo and one scent family), while the starter kit I tested retails for $189 (same base unit, three scent families). You can add the built-in battery for about $20. Pods are sold in 4-packs that retail for $29.95 each, and can be purchased in either a single scent or the pre-selected families. It's a bit more pricey than you're mall-store aromatics, so price shopping isn't really what you're here for. If you're looking for unique scents and the ability to play DJ with your aromas, however, it's a pretty neat alternative.
What I like
Excellent, intuitive interface
Unique fragrances
Endless opportunity for customization
What needs to be improved
Not as effective in large spaces
Pricey compared to some alternatives
Some reported Wifi connectivity issues
Final thoughts
I really like the concept of the Moodo. The ability to customize your home aromas as a "scent DJ" is a brilliant & fun idea. The quality of the fragrances is excellent, and the app interface is extremely well executed. It is a bit more expensive than your typical aroma options. While I think the value is there relative to the quality of the product, you'll just have to decide if it's worth it.
Price: Starter kits begin at $139.00. Scent packs are $29.95 each for refills.
Where to buy: Check out Moodo's web site or their Amazon store.
Source: The sample of this product was provided by Moodo.