The Gadgeteer is supported by readers like you! If you buy something through links on our site, we may earn an affiliate commission at no cost to you. Thank you! Learn more.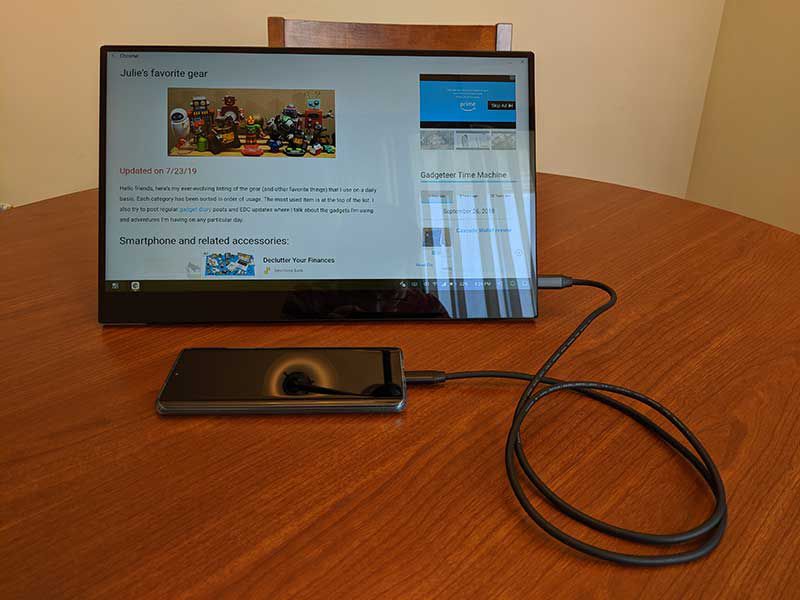 REVIEW – Did you know that you can add a touchscreen monitor to your laptop or turn your Samsung Galaxy or Huawei phones into a desktop computer? Yes, it's possible and easy with the Viotek LinQ touchscreen monitor. Let's take a closer look.
What is it?
The Viotek LinQ is a portable touchscreen monitor that connects to MacBooks, Windows laptops, and even some smartphones with a USB-C cable.
Hardware specs
15.6-inch IPS panel @ 60hz
1920 x 1080 resolution
10-point capacitive touchscreen
Multiple Connections: Two USB-C, HDMI, headphone (use and power it from almost any device)
Magnetic folding leather cover/stand for multiple configurations
178-degree viewing angle
Metal body with mirror finish and glass back shell
Ultra-Thin: 0.36 inches
Ultra-Light: 1.7 pounds
250 NIT brightness
Built-in speakers
AMD FreeSync™
What's in the box?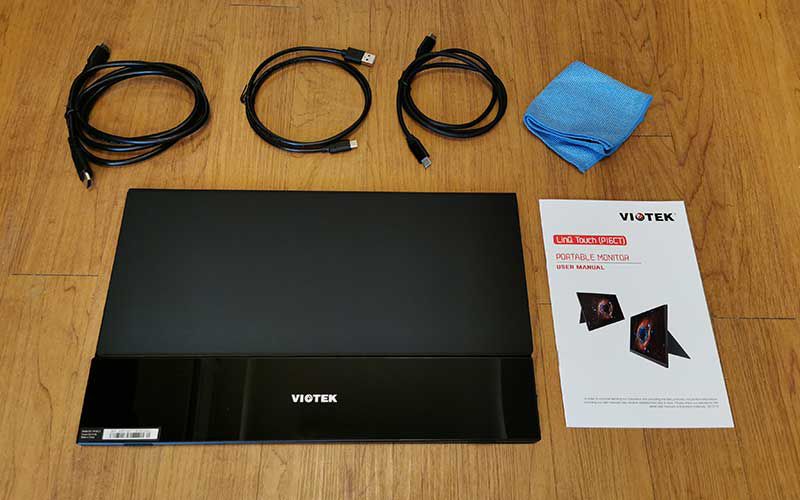 Viotek LinQ
USB-C to USB-C cable
USB-A to USB-C cable
mini HDMI to HDMI cable
Cleaning cloth
User manual
Design and features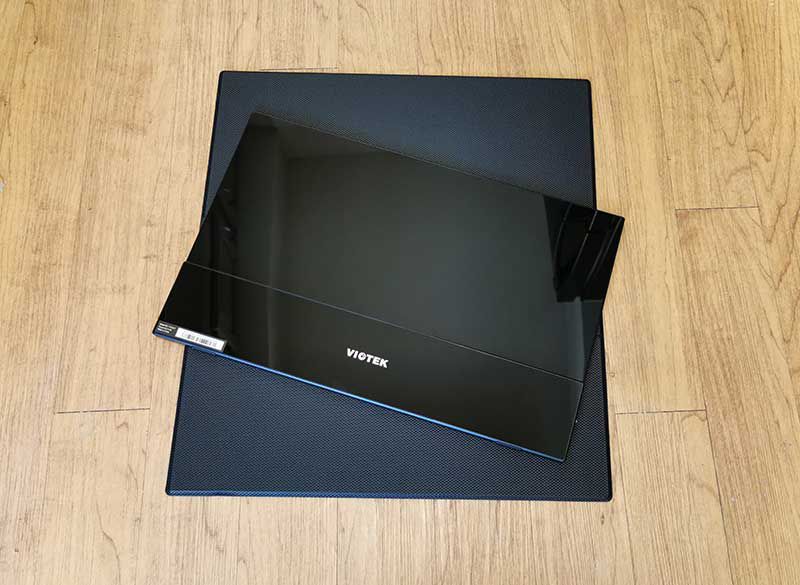 The Viotek LinQ Touch looks like a slab of black glass but it's really a polished metal case with a raised section on the back that has the Viotek logo at the bottom.
It comes with a magnetic case/stand that gives it a Microsoft Surface kind of vibe.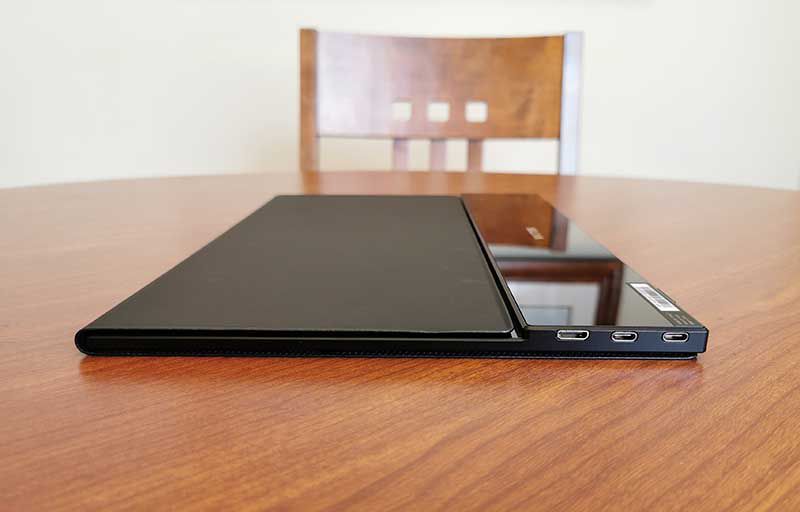 All of the monitor's ports are located on the sides. On the right side, there is a mini HDMI port and two USB-C ports. The top USB-C data port that is used for video and audio. The bottom USB-C port is for power.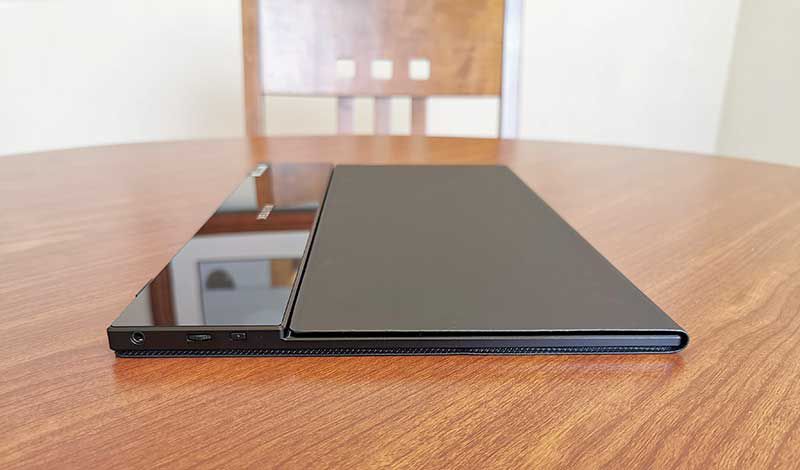 The left side has a small power button at the top, a brightness/volume adjustment/on screen display menu switch in the middle, and a 3.5mm headphone jack on the bottom.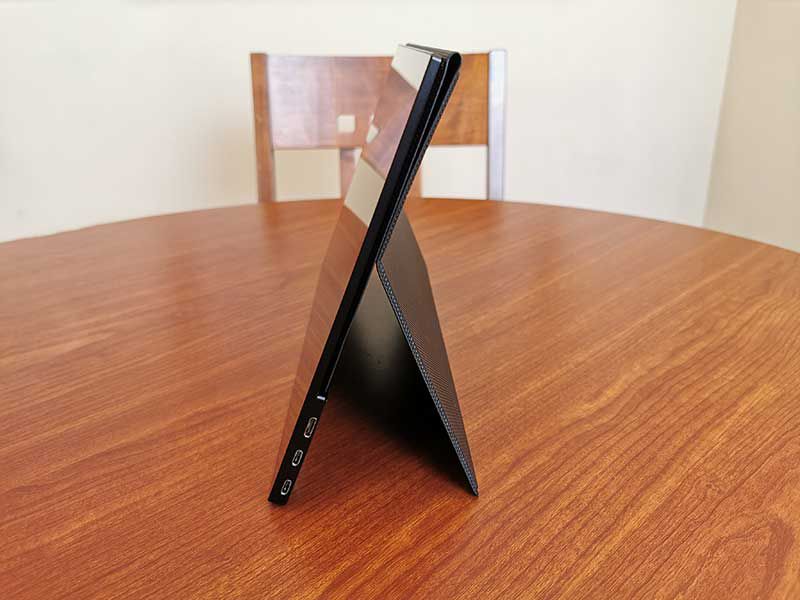 The cover attaches to the back of the monitor with magnets and flips around to the back to turn into a kickstand that you can use to adjust the viewing angle.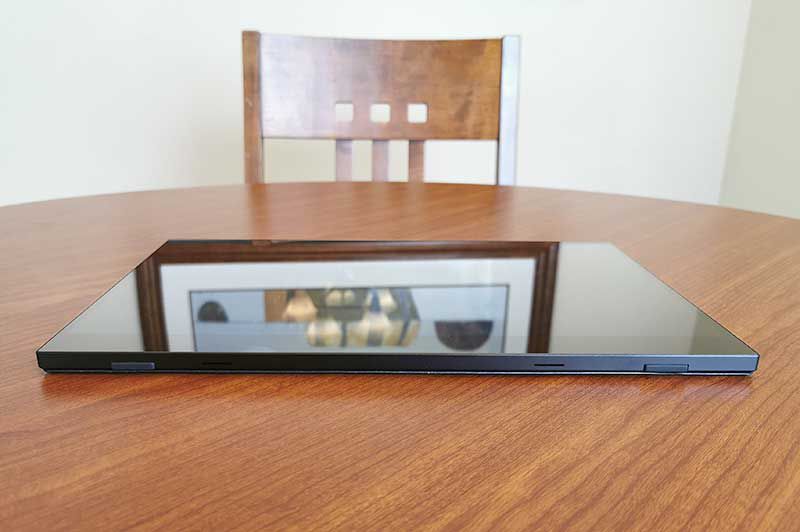 The bottom edge of the LinQ has narrow rubber feet to keep the monitor from sliding around on your desk.
Let's get connected
I tested the Viotek LinQ Touch (P16CT) 16-inch portable touchscreen monitor with three devices: an early 2016 12″ MacBook, a Dell Latitude 7490, and a Huawei P30 Pro.
The first device I tested with the LinQ was my MacBook and things got off to a rocky start. I connected the LinQ to the MacBook with the included USB-C to USB-C cable plugged into the LinQ's middle USB-C port and the MacBook's only port which is also a USB-C port. The LinQ's display woke up and showed the Viotek splash screen and for the first few seconds of connection, I could move the MacBook's cursor on the screen by moving my finger around on the LinQ's blank display until it stopped moving.
I then tried the included mini HDMI to HDMI cable plugged into the LinQ's mini HDMI port and the other end plugged into an HDMI to USB-C adapter plugged into the MacBook. Still no luck.
I then tried both connections again but included power to the bottom USB-C port on the LinQ monitor. Still no joy. I think it has something to do with power, but I don't have my MacBook's original power adapter. I use a 3rd party adapter with it. I'll have to do more testing when I have access to that charger again -> My house is currently being remodeled and my office has been closed off and is not accessible.
On to other tests…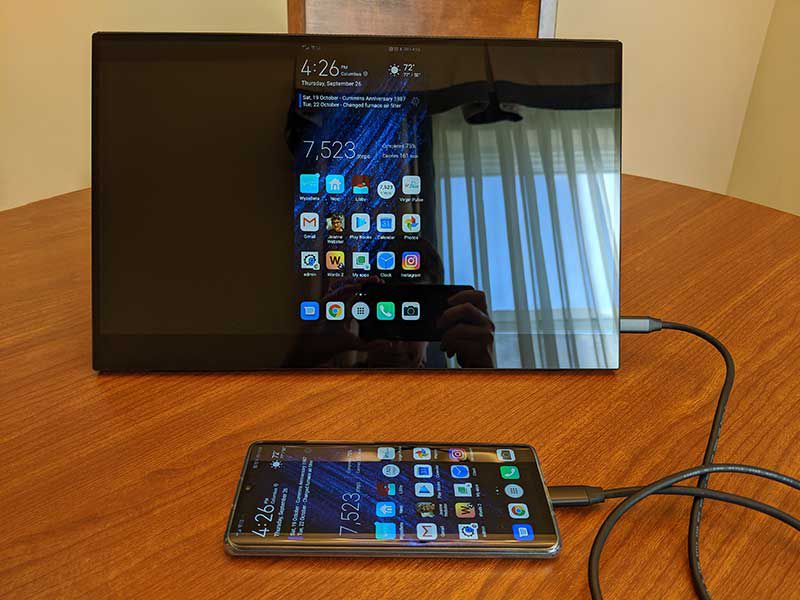 For the next test, I connected the LinQ to my Huawei P30 Pro and it worked great. The Huawei allows you to either mirror the screen as you see above, or you can put it in Huawei's EMUI desktop mode as you can see below.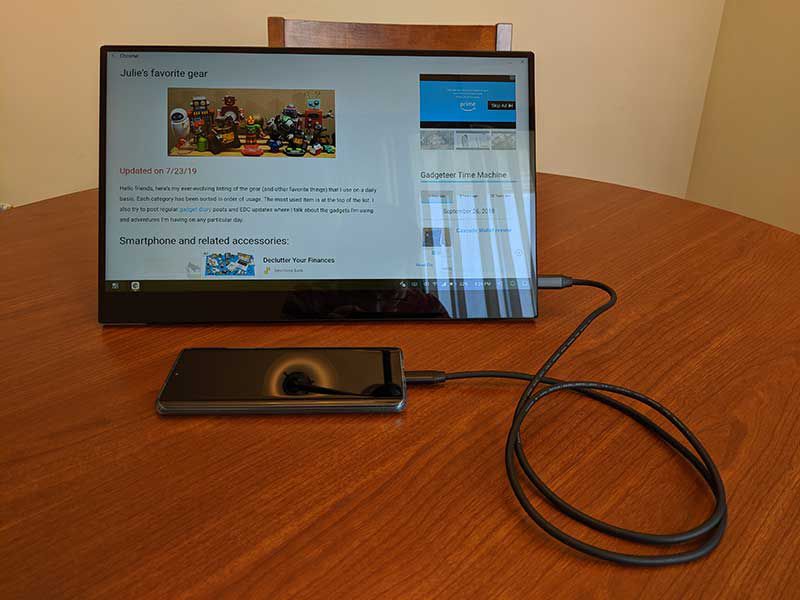 In desktop mode, it's like you've turned your phone into a giant touchscreen tablet that you can scroll, tap, etc. You can also turn the phone into a touchpad which is cool.
Be aware that not all Android phones will allow this level of awesomeness. Samsung Galaxy phones will also allow this full-screen goodness since they have the built-in DeX feature. But other phones like iPhone and my Pixel 2 XL do nothing when you connect them to the LinQ.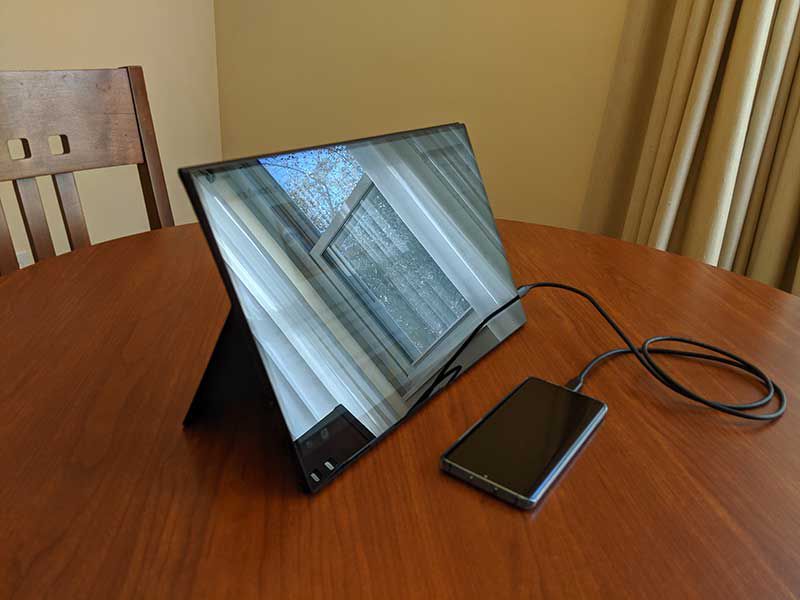 Pair a Bluetooth keyboard and a mouse to your phone and you can have an almost full-fledged laptop-like experience.
Watching video through YouTube and the Hulu apps was smooth with no lag. Trying to get Netflix to work was a little wonky though. But that's the fault of the EMUI interface and not this monitor.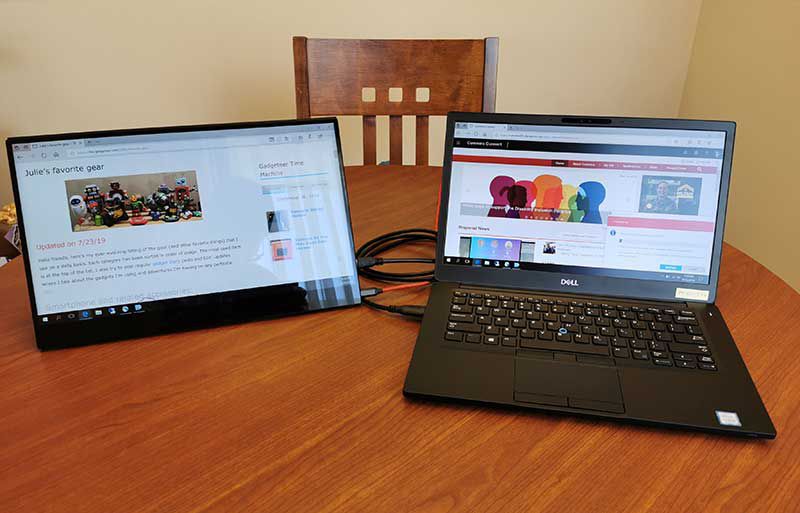 For my final test, I connected the LinQ to a Dell Latitude laptop. It worked great as long as I assigned the LinQ to be the primary monitor. Until I made that change, scrolling the LinQ display caused the Dell's display to scroll instead of the former. Once set up correctly, it worked great.
Audio through the monitor is decent and the picture quality is very good with bright colors and crisp text (once you bump up the brightness). The thin bezels (except for the "chin") make this monitor super sleek. However, viewing angles aren't the greatest.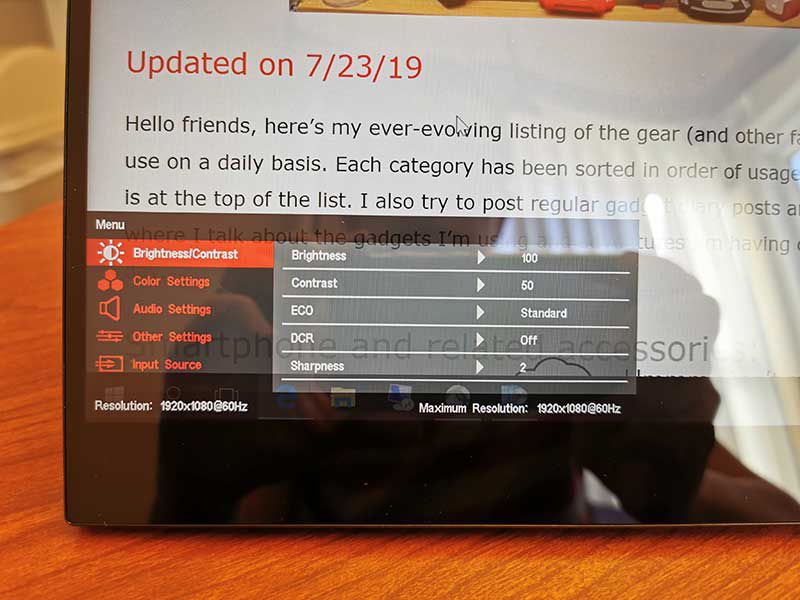 The OSD menu allows you to change various features like brightness, color, volume, etc. Note that all settings that you change will be lost when the device goes into standby or you disconnect from the device and reconnect. That includes brightness levels that go to a default dim setting which is a little annoying because increasing the brightness is the first thing you do when you start using the monitor.
What I like
Metal case
Portable
Touchscreen
Only need one cable connection for some devices
What I'd change
Final thoughts
Even though I could not get the LinQ to work with my MacBook, I still enjoyed testing this portable touchscreen monitor. Monitors like this one are handy as external monitors for your laptop or even your phone when you don't have a lot of space and when you like to take an external monitor with you when you travel without adding too much bulk to your carry-on luggage.
Price: $229
Where to buy: Amazon
Source: The sample for this review was provided by Viotek.