We use affiliate links. If you buy something through the links on this page, we may earn a commission at no cost to you. Learn more.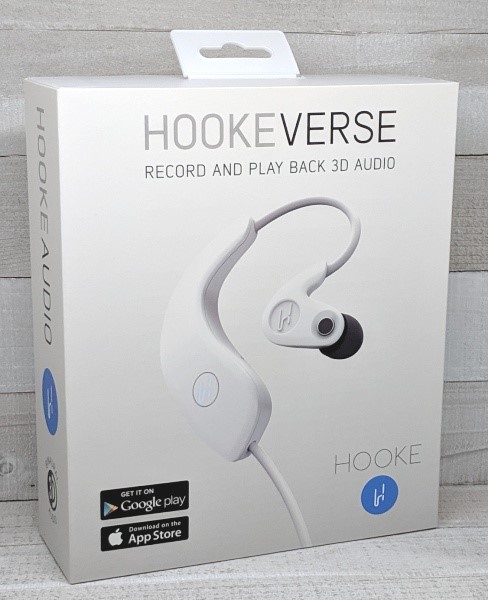 REVIEW – Recording my kids' performances has always been important to me. However, those recordings were always lackluster because the sound captured by my phone was always a fraction of what my real-life experience had been. Hooke Verse by Hooke Audio aims to rectify the issue. The Hooke Verse headset records binaural (2-channel) audio giving the user a 3D sound experience. When testing them, they were WORLDS better than my phone's video/audio recordings using mono (1-channel) audio. The drawback for me is that they, like other hook-type in-ear headphones, are uncomfortable, don't fit my ears well, and fall out when moving around.
What is it?
The Hooke Verse is a wireless (Bluetooth) in-ear headset that contains binaural microphones, one on the left and one on the right side of the headset. The Hooke Verse allows the user to capture 3D sound (binaural audio) either as an audio recording or as a video + audio recording using the Hooke Audio app.
Binaural audio must be recorded with a binaural microphone.

A binaural microphone consists of two omni directional microphones wherein one mic is positioned very precisely within each ear. When a microphone is placed within the pinnae of each ear, a recordist is capable of recording audio identically to the way they hear it.

Binaural sound is not to be confused with conventional stereo sound. Stereo audio allows for localization to the left and right upon playback. With binaural, a listener can localize sound sources in front of them, behind them, above and below. Stereo does not factor in the natural ear spacing or "head shadow" of the head and ears. These things happen naturally as a person listens, generating their own ITDs (Interaural Time Differences) and ILDs (Interaural Level Differences). Stereo recording is not capable of capturing these ITDs and ILDs.
What's in the box?
Jim Head Binaural Dummy Head (The outer cardboard box has perforations to create a "dummy head" to use with the Hooke Verse when you don't want to wear the headset) + Instructions to create "dummy head"
An inner box contains the Hooke Verse
3x pairs of memory foam eartips
3x pairs of silicone eartips
2x microphone windscreens (black foam covers)
Carrying case
3D audio recording cable
USB charging cable
User Guide
Note from Hooke Audio founder
Warning card (do not charge Hooke Verse using a portable charger, do not wash with water, etc.)
Hardware specs
MICROPHONES
Frequency Response: 20Hz – 20kHz
Type: Electret Condenser
Sensitivity: -32 dB+/-2 dB
Direction: Omnidirectional
Max SPL: 125 DB SPLE (THD=105%)
HEADPHONES (SPEAKER DRIVERS)
Frequency Response: 20 Hz – 16 kHz
Type: Dynamic
IMP Impedance: 16 Ohm
BLUETOOTH
Record

Proprietary Hooke Audio 16 bit 48 kHz stereo Bluetooth recording codec
.0043ms latency
Android/iOS compatible

Playback

A2DP
Frequency: 120MHz
Sample Rate: 48kHZ
Bit Rate: 16 bit
Bluetooth: 5.0 (according to the Hooke Audio website) or 4.1 (according to the printed Hooke Verse User Guide)
WIRED
Hooke Recording Cable (included)
Lossless wired binaural 3D audio recording to GoPro 4,5,6,7 and Session, DSLRs with external mic inputs, field recorders, computers, mixers, Pro Tools and more.
Connectors:

1. 10-pin mini USB (GoPro);

2. Stereo, line-level 3.5mm male connector
BATTERY
Continuous 3D Audio Record: 8 – 9 Hours
Continuous Playback: 9-10 Hours
COMPATIBLE WITH
Android Lollipop (Android 5.0) or higher using Bluetooth connection and Hooke Audio app
iPhone 6 or higher (iOS 10.2 or higher) using Bluetooth connection and Hooke Audio app
DSLR cameras, mixing consoles, pro video/audio, computers, field recorders using the provided Hooke Recording cable
GoPro cameras (Hero 3 and higher) using provided Hooke Recording cable
Design and features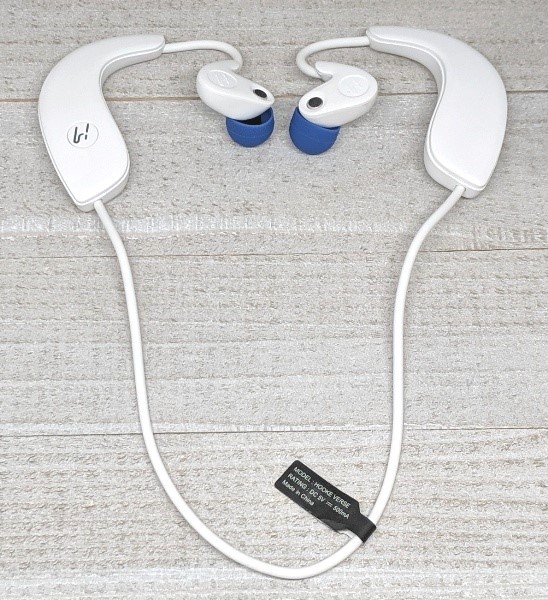 Hooke Verse headphones look like other ear-hook style in-ear headphones. They are made of white plastic and come with three sizes of silicone eartips and three sizes of memory foam eartips (small, medium, and large). They are very lightweight. There are microphones located on both the left and right sides of the headphones opposite the eartips.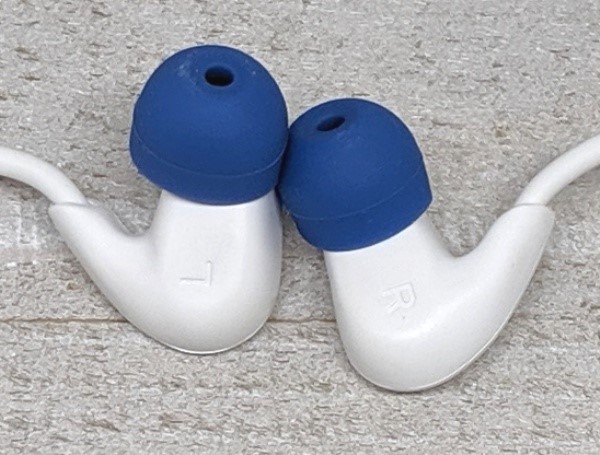 Each earphone is labeled "L" for the left earphone and "R" for the right.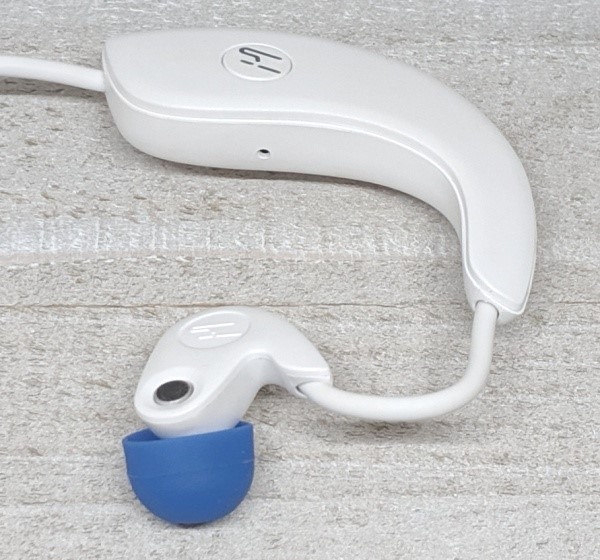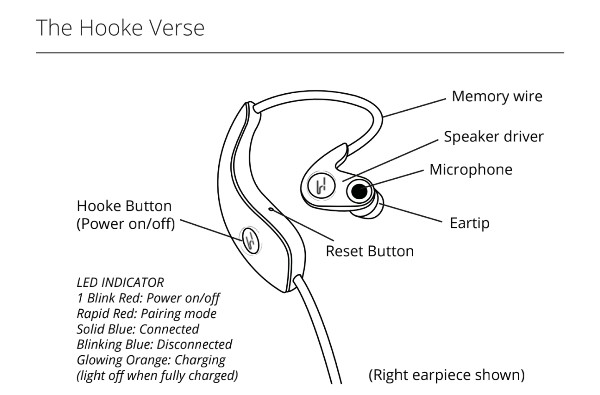 The right side of the headset contains the Hooke Button (Power On/Off and is also the LED Indicator), Reset Button (small hole), and the Microphone on the opposite side of the silicone eartip.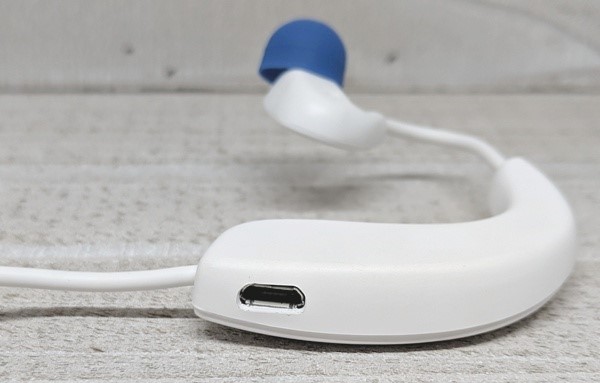 The right side of the headset also contains the micro USB charging port.
Never miss one of our posts again. Sent MON, WED, and FRI with the latest gadget reviews and news!
Setup
Bluetooth pairing
I downloaded the Hooke Audio App onto my Pixel 2 XL phone and entered my email address and tapped on the Subscribe button. I then held the Hooke Button for about five seconds…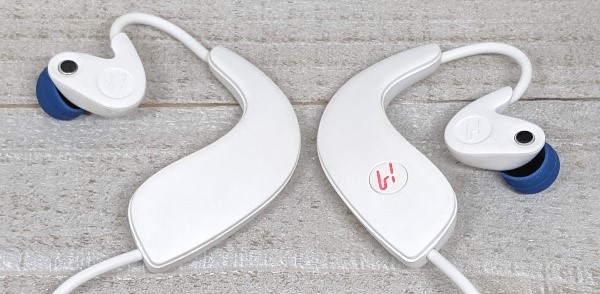 …until it started to rapidly flash red as shown in the photo above. I then went into my Bluetooth settings and tapped on "Hooke Verse" under the list of available devices found. When the headphones were paired with my phone, the LED indicator glowed a solid blue.
Once the Hooke Verse is paired to your phone, you can use them to record binaural audio using the Hooke Audio app or use them to listen to any music or recordings on your phone.
Powering On/Off, Auto-off, Reset: To turn the Hooke Verse on, you need to push the Hooke Button for about one second until you hear the power-on ascending tones. To turn them off, you need to long-press the Hooke Button for about three seconds until you hear the power-off descending tones. If you don't use the Hooke Verse for a period of time while they are powered on (about 15 minutes), they will automatically power off. And if you have Bluetooth connectivity problems, you can reset the Hooke Verse by inserting a straightened paper clip into the Reset Button.
I was now ready to start recording using the Hooke Audio app.
Performance

Fit: The Hooke Verse headphones were not comfortable to wear and did not fit me very well especially with my glasses on, but this tends to be the case for how well all ear hook in-ear headphones fit me.
I found that when walking around for a few minutes, each earpiece would easily fall out, and when I am recording, I'm afraid of trying to push them back into my ears because the recording microphones are located on the outer side of the eartips (the microphones would record me pushing the eartips back into my ears). This to me is a huge design issue.
I also have long hair and wearing the headphones with the wire hanging behind my head makes putting the headphones on a tedious task and seems to exacerbate the "falling-out" issue. When I wear them with the wire hanging around my neck and under my chin, it feels like it's choking me. It would be nice to have a longer wire so that it can drape in front of me more comfortably.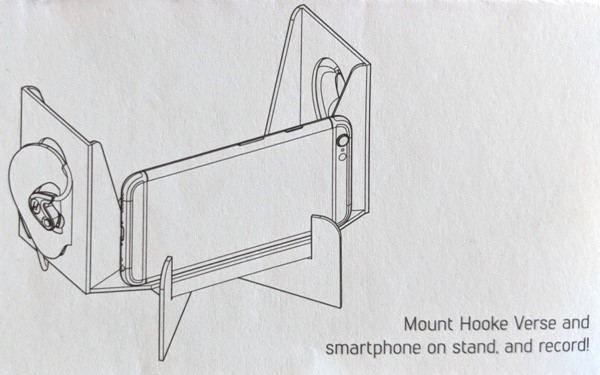 It is possible to record without having to wear the Hooke Verse by using the Jim Head Binaural Dummy Head that you can make out of the cardboard shipping box (Hooke Audio provides a perforated box and instructions on how to make the stand to use it with the Hooke Verse and your phone). I never used this.
Playing time/Charging time: The Hooke Verse can continuously record about eight to nine hours of 3D audio or playback about nine to ten hours of recordings. It charges in about three hours and the LED indicator will flash orange while charging and will turn off when charging is complete (NOTE: the User Guide warns users NOT to use an iPhone or iPad charging block to charge the Hooke Verse). I used the Hooke Verse to record short video or audio files and did not test the duration of recording, playback, or charging times.
Hooke Button controls: You can use the Hooke Button for basic control of your music and phone calls. To control your music playback, a short press of the button will play/pause the music that you are listening to. Double pressing the button will skip forward a track. For phone calls on Android devices (not on other phones), a short press of the button will answer or end the phone call. All of these controls worked well for me. However, it is important to know that this button does not control recording functions. You must use the Hooke Audio app 3D/2D recording button to start and stop recording.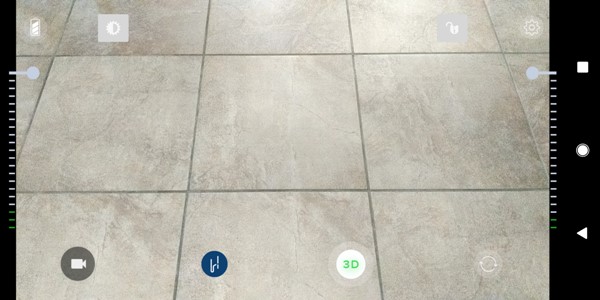 Recording: (I only tested the Hooke Verse on my Pixel 2 XL phone.) Recording using the Hooke Verse and Hooke Audio app was really easy. With the Hooke Verse powered on, I opened the app and could see several icons across the top and bottom of the app screen.
Across the top, I could see the battery level of the headphones, alter the exposure of the video, lock the exposure of the video, or alter some settings in the app.
Across the bottom, I could tap on the video camera icon to turn off the video recording in order to record audio only, I could tap on the Hooke Audio icon to view the audio and video gallery, I could tap on the 3D icon to record 3D audio or video + audio (this button changes to a red 2D audio recording button when the Hooke Verse is powered off), or I could tap on the last icon to change from the back-facing camera to the front-facing camera.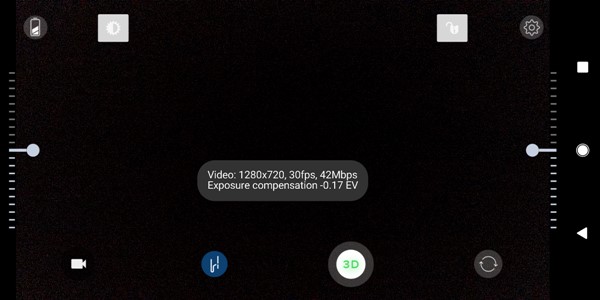 The default video + audio recordings in the Hooke Audio app record at 1280 x 720, 30 fps, 42 Mbps, with exposure compensation -0.17 EV (as shown in the screenshot above). There doesn't appear to be any way to change the resolution or number of frames per second in the app. I checked my phone's camera settings to see if that would allow me to change anything but it doesn't (my phone's camera is set up to record 4K video at 30 fps).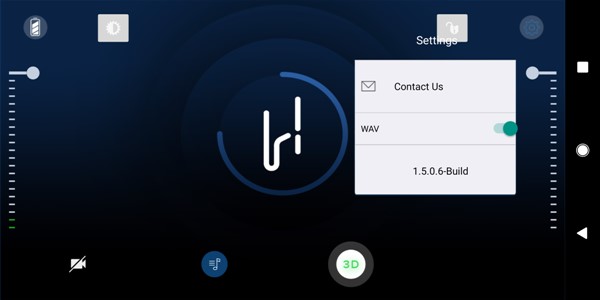 When the video recording is turned off, you can record just the audio as shown in the screenshot above. The screenshot also shows that the app settings only allow you to toggle on or off the WAV setting or contact Hooke Audio.
Along the sides of the app screen are the sound levels detected by each of the microphones on the Hooke Verse. I could boost the gain of the audio (if the sounds being recorded are quieter sounds) by holding the uppermost bar on either side of the app and sliding it down.
NOTE: It is important to know that if you have a phone with a 3.5 mm headphone jack, you cannot use the 3D Hooke Audio Recording cable to record 3D audio because your phone's headphone jack is a single channel input. You could purchase an adapter or just use the Hooke Verse Bluetooth connection to your phone and the Hooke Audio app to record 3D audio.
The following are a few recordings to listen to to get a feel about how the Hooke Verse recordings sound. Grab any set of headphones to listen to them for the full binaural audio experience.
The above audio file is a one-channel (mono) audio recording created using a voice recorder.
And for contrast, the second audio file shown above is a two-channel (binaural or 3D) audio recording using the Hooke Verse with the Hooke Audio app.
For both of the above recordings, I was sitting about four feet away from the pianist (who also wrote the song). I really enjoy listening to the 3D audio recording much more than the single-channel recording.
Here's another recording of my husband heating up some food in our microwave and adding the last of some croutons from a bag to a salad, throwing away the empty bag, opening a new one, and adding more croutons to a salad. At the end of the audio recording, he approaches the table where I am sitting and places some things on the table. (I was about 15 feet away from where he was working in the kitchen). Each time I listen to this recording, it's like hearing my husband in the kitchen again.
Shown above is a video recording using the Hooke Verse and Hooke Audio app. At the beginning of the video, the gain was set too low (the sliding bar was located at the top level) so that during much of the first portion of it, you cannot hear the cars driving by very well. I then increased the gain to capture the sounds better (I slid the bar down on the app screen). You'll also notice that as I moved the camera around, the exposure kept fluctuating until I tapped on the Exposure Lock icon on the app screen to prevent that from happening. With the gain increased, you can really get a sense of the cars driving by.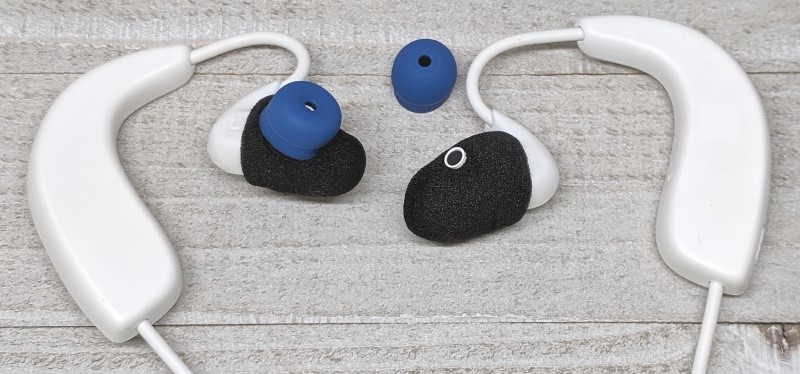 In some other videos that I created that day, it was windy and thus much of the audio captured was that of the wind hitting the microphones. Hooke Audio provides you with microphone windscreens but unfortunately, I didn't bring them with me. But, just in case you need to use them, the above photo shows how you apply the windscreens to the Hooke Verse earpieces. First, you must take off each eartip, and then fit the earpiece through the small hole in the side of the windscreen in order to fully slide on the entire windscreen covering.
In addition to creating awesome 3D audio recordings of the world around you using the Hooke Verse and Hooke Audio app, you can also apply filters to the recordings for an even better result. However, you will have to purchase the filters for $4.99 (in-app purchase).
The Hooke Verse is compatible with GoPros, DSLRs, field recorders, computers, and 360 cameras by using the provided 3D Hooke Audio Recording cable. I only tested the Hooke Verse with my Pixel 2 XL phone since I don't own most of the other devices (I have a computer but did not test the Hooke Verse with it). For instructions on how to record 3D audio with any of these other devices, please visit the Hooke Verse website.
While using the Hooke Verse to make my 3D audio recordings, I discovered that they are a tad bit cumbersome and take some time to insert into my ears, turn them on, open the app, and then start recording. If a moment is unfolding before you, you may lose the first part of it going through this process.
What I like
Bluetooth 3D audio and video + audio recordings are impressive.
Hooke Verse and Hooke Audio app are easy to use.
What I'd change
The process to start recording can be a tad bit time consuming (when you want to be quick to capture a moment): it takes time to put them on around your ears so they don't fall out, turn them on, open the app, adjust the gain, and start recording.
They are uncomfortable to wear and kept falling out of my ears with any kind of movement because of the ear hook design (I wear glasses and have long hair which seems to exacerbate the "falling out" issue).
The cord between the earphones was too short (I have long hair and would prefer a longer cable that hangs in front instead of behind my head).
Final thoughts
I am no audio expert, but listening to audio or video + audio recordings created by the Hooke Verse and Hooke Audio app is a much more rewarding experience than listening to all of my previous one-channel (mono) recordings. The sound is impressive. It truly makes my recordings come to life.
However, my difficulty with the Hooke Verse is that they are a tad bit cumbersome and take a small amount of time to insert into my ears so they don't fall out, turn them on, open the app, and then start recording (don't expect to catch a fleeting moment). They are also not very comfortable to wear and fall out way too easily while I am moving (even small movements will cause them to fall out and I made sure that I was wearing them properly and had on the correct type of eartips for my ears). Wearing glasses and having long hair seems to exacerbate this problem. Falling out is a big concern especially while recording since the recording microphones are on the earpieces – you know – right where you need to push the headphones back into your ears to keep them from falling out, thus recording the sound of your fingers moving on or around the microphones.
I intend on using the Hooke Verse to record mainly performances (audio recordings that don't require me to move much). I thoroughly enjoy the 3D audio recordings over those that are one-channel recordings. However, if I were to try and capture my experiences as I walk around (e.g. sightseeing), I know that I would find them frustrating because they kept falling out of my ears as I moved around in my tests. Perhaps hook-type earbuds work well for you, in which case, the Hooke Verse may too.
Price: $159.99
Where to buy: Hooke Verse or Amazon
Source: The sample of this product was provided by Hooke Audio.