We use affiliate links. If you buy something through the links on this page, we may earn a commission at no cost to you. Learn more.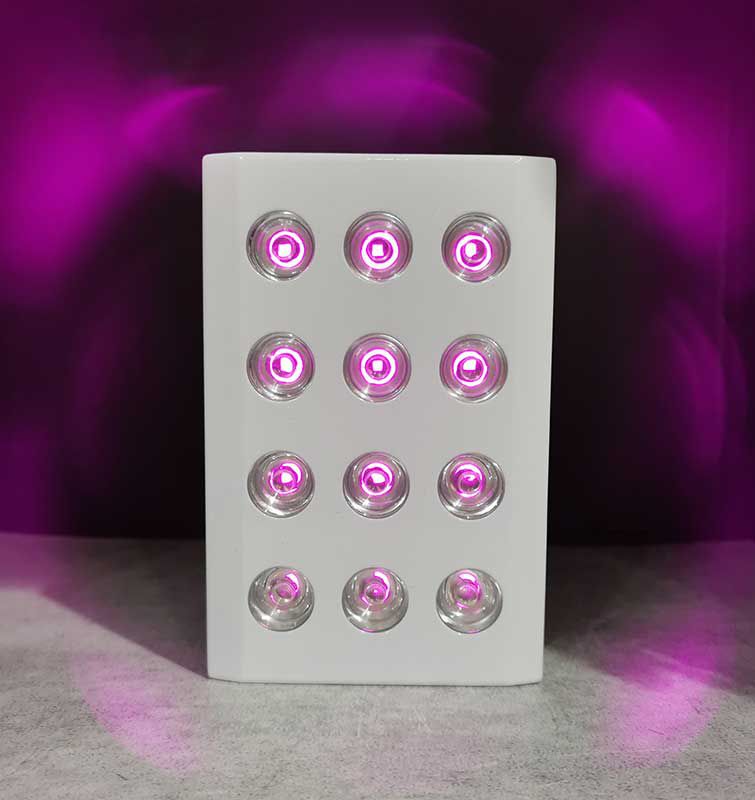 REVIEW – Can light therapy that our eyes can't see help heal wounds, reduce inflammation, and provide other health benefits? The Joovv Go is a portable Infrared device that claims to do these things. Let's take a look.
What is it?
The Joovv Go is a handheld device that is available in 2 versions. The red light has a light wavelength of 660 nm and the near infrared light is at 850 nm. I was sent the NIR (near infrared version) to review. What's the difference?
Both red light at 660 nm and near infrared light at 850 nm have been proven across hundreds of clinical studies to enhance cellular function. The main difference is that red light at 660 nm is readily absorbed by skin tissue, leading to improved skin health and collagen production. Near infrared light at 850 nm is invisible to the human eye and penetrates deeper into tissue, leading to benefits like increased muscle recovery and reduced joint pain.
Note: Joovv Go has been given class II clearance by the FDA.
Hardware specs
Approximate Size: 5.75″ x 3.78″
Power Input: 100 to 240V
Charger Power Output: 3A, 5V
Wavelengths: 650nm red or 850nm near infrared (there are two versions of the Go)
What's in the box?
Joovv Go light therapy device
USB-C cable
AC adapter
Carrying case
Design and features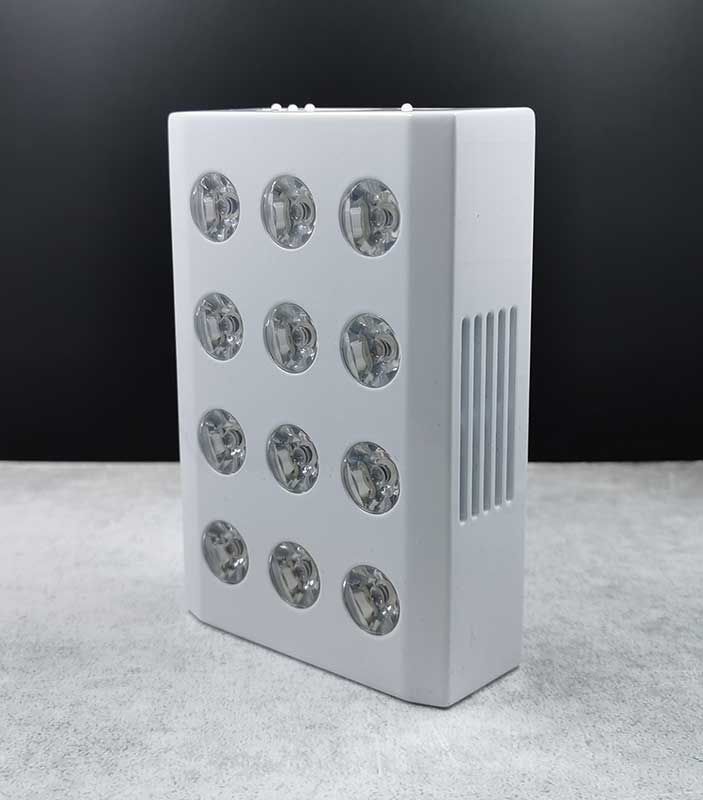 The Joovv Go is surprisingly well made. There's no plastic here; it has a painted white metal case with 12 LEDs on the front.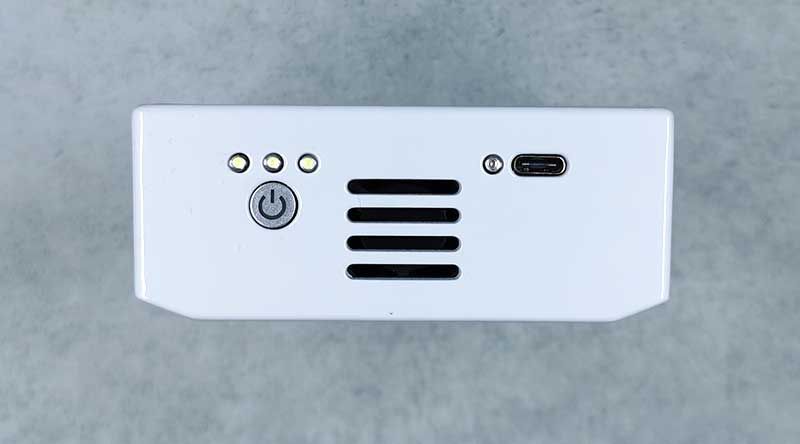 On the top are a row of air vents, the power button, and a USB-C charging port. Above the power button are three white charging status LEDs.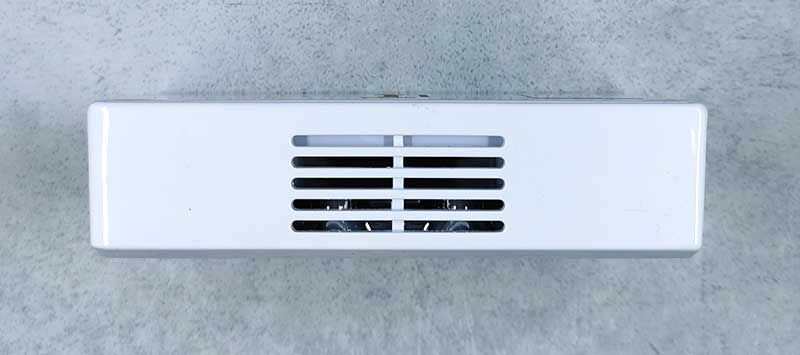 The sides also have slots for ventilation.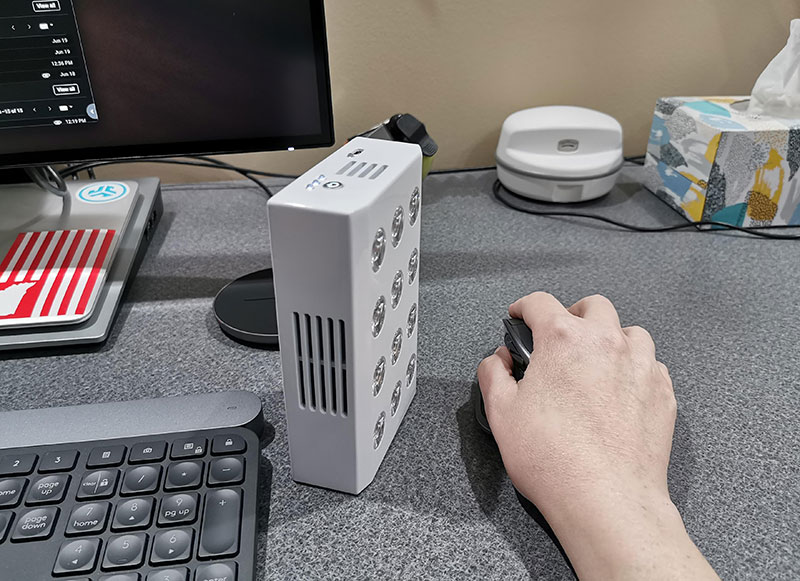 Using the device is simple. You just hold down the power button to turn it on and hold it 2-6 inches away from the body part that you want to treat with red light therapy. The default treatment time is 10 minutes at which time the Joovv Go will automatically power down. When fully charged, the Joovv Go should provide 5-6 treatment sessions before it needs to be recharged. Recharge time is about 2.5hrs.
While in operation, you will hear the internal fan, but you can't see the light shining on your skin. However, if you look directly at the LEDs (which isn't harmful), you can see a faint red glow.
Note that it's a good idea to do a test on your skin for photosensitivity BEFORE your first treatment. To do this test, you can just hold the Joovv Go over a body part for a couple of minutes and then hold down the power button on the unit to manually stop the session. Then you can check for redness or irritation.
I did most of my testing like you see above with the left side of my right hand which has some beginning stages of arthritis or inflammation. I have done a 10-minute session every day for the last couple of weeks and so far I think I am noticing some improvement with flexibility and lessening of the slight swelling that I've noticed. I say that I think I am noticing an improvement because I'm not 100% sure. It could just be in my head as a placebo.
I also did a treatment on my left triceps to see if it would alleviate muscle soreness after a workout. I didn't notice any improvements in the soreness.
It's also worth mentioning that it's awkward to hold the device over the body part that you want to treat because the Joovv Go is a little heavy. It would be great if there was some sort of holder/stand that you could use to position the device for hands-free treatments.
What I like
Easy to use
Very well made device
Wireless
2yr warranty
60 day trial
What needs to be improved
Only treats a small area at a time
Hard to test if it is actually working
Final thoughts
It's difficult to review health products because there isn't an easy way to figure out if it works or works for everyone. Although I can't be 100% sure that RLT from this device has helped me, if you are already familiar with red light and near infrared light therapy and know that it works for you, the Joovv Go devices are very well made and are easy to use. The company offers a 60-day return policy, so that should be enough time to decide if one does work for you.
Price: $295.00
Where to buy: Joovv
Source: The sample for this review was provided by Joovv.