We use affiliate links. If you buy something through the links on this page, we may earn a commission at no cost to you. Learn more.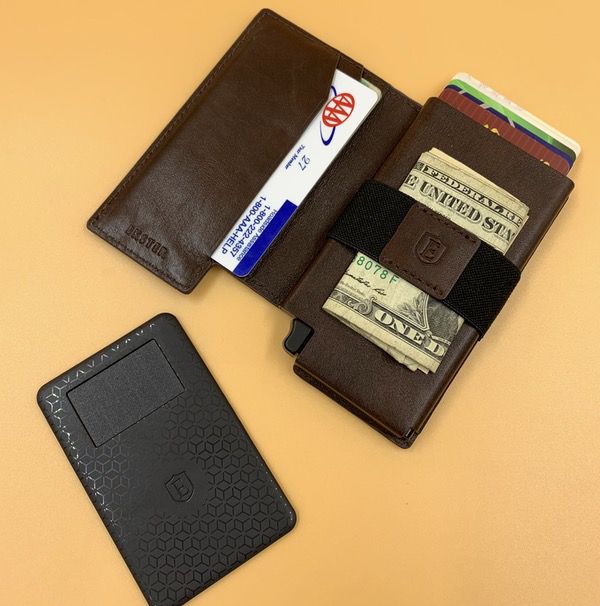 REVIEW – Losing your wallet is guaranteed to wreck your day, especially if you're absent-minded like me. Fortunately, the folks at Ekster have us covered! Not only is the Parliament Wallet a fine transporter of your cash & cards, but it has a tracking device that makes lost wallets a thing of the past. To the review!
What is it?
It's a bifold style wallet with RFID protection and a tracking device that you can use with a mobile app, Alexa, or Google Assistant.
What's in the box?
You'll get the wallet and the tracking card (if you add the card to the package).
Hardware specs
The Wallet:
0.4″ by 4.1″ by 0.25″
Stores 10+ cards
Integrated RFID-blocking card case which will hold up to 6 cards
European top-grain leather
The Tracking Card:
Powered by Chipolo technology
IOS9 or Android 4.4 (and greater) compatible
Worldwide Lost & Found Platform, QR Safety Net
200 foot range with Bluetooth
Solar powered, with 2-3 month life between charges (3 hour charge time)
Voice activation compatible with Google Assistant, Alexa & Siri
Design and features
I reviewed a previous iteration of the Ekster wallet, and the newest version is identical in form factor. It's a bifold design that's built around and RFID-blocking case to hold your sensitive cards. Construction is excellent with top-notch fit and finish. It looks like Ekster is using a more refined leather and tighter stitching in the new model. It's a solid build that's available in multiple leather finishes, all of which look upscale and classy as all get-out: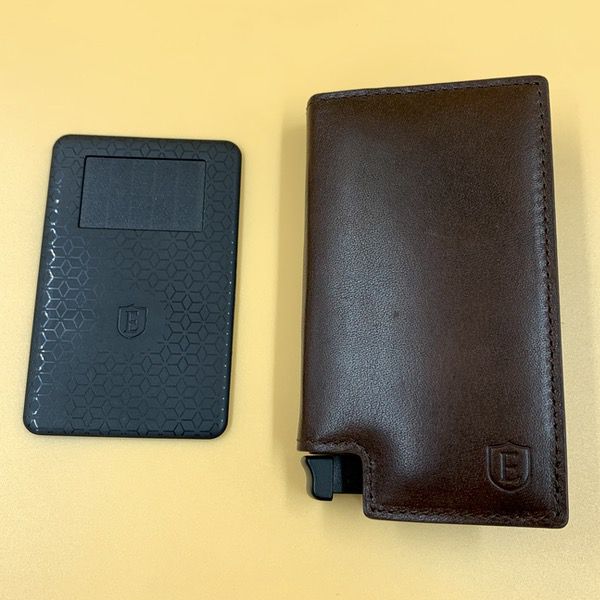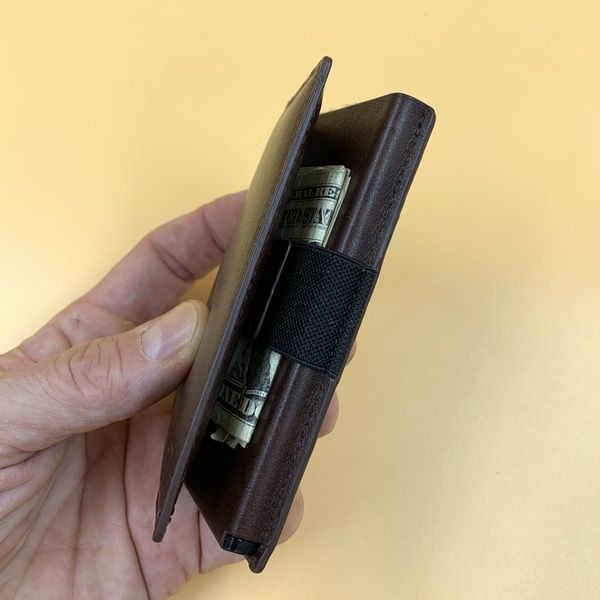 The exterior pocket on the rear panel will hold the tracking card, or 2-3 regular cards if you choose not to use the tracker.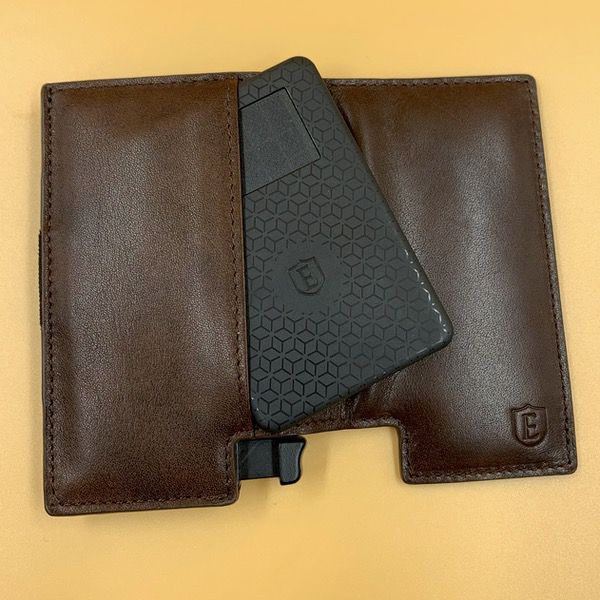 The inside of the front flap has 2 card slots. You could stretch them to hold 4 cards in all, but I think the 2-card configuration is nice and tight: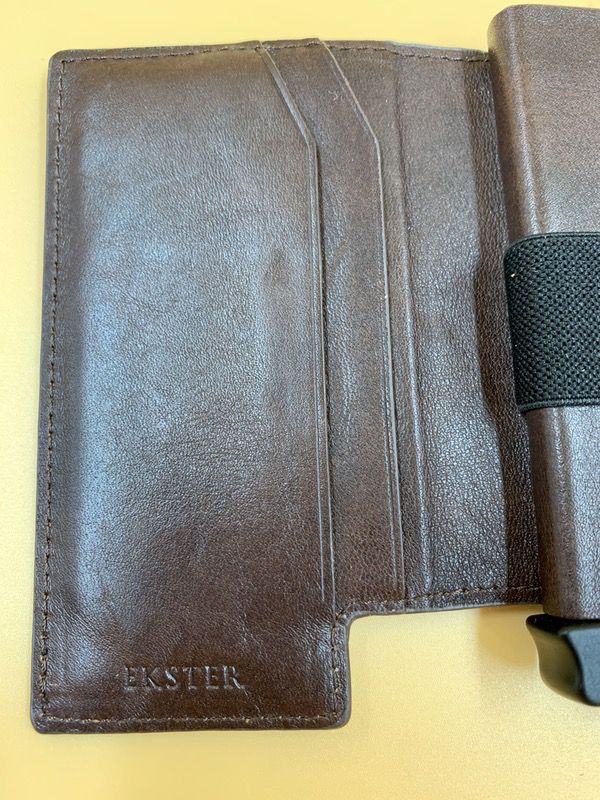 An elastic band on the body holds some cash, receipts, or a couple of extra cards: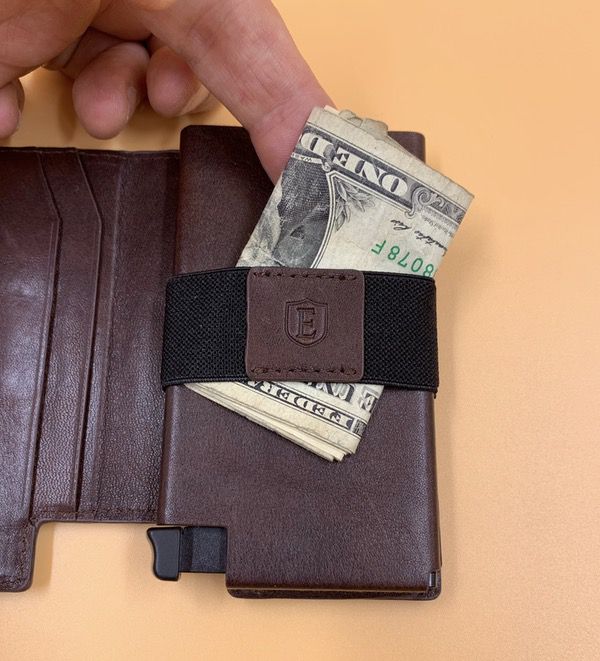 The big design element that is unique to the Ekster, however, is the RFID-blocking case that's built into the body of the wallet. See this little thumb button on the base?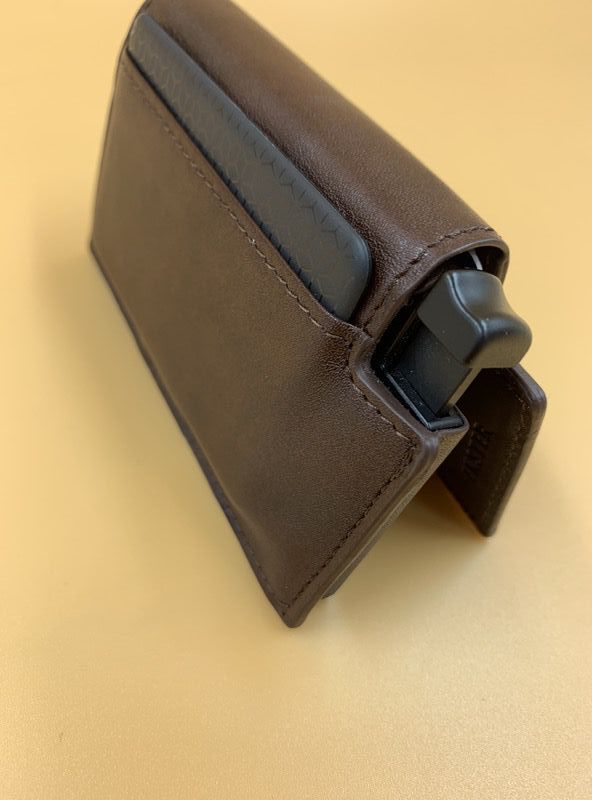 You'll insert your cards into the RFID-blocking case. This case will hold 4-6 cards depending on their depth (embossed cards take up more room). You slide them all into the case, as seen here: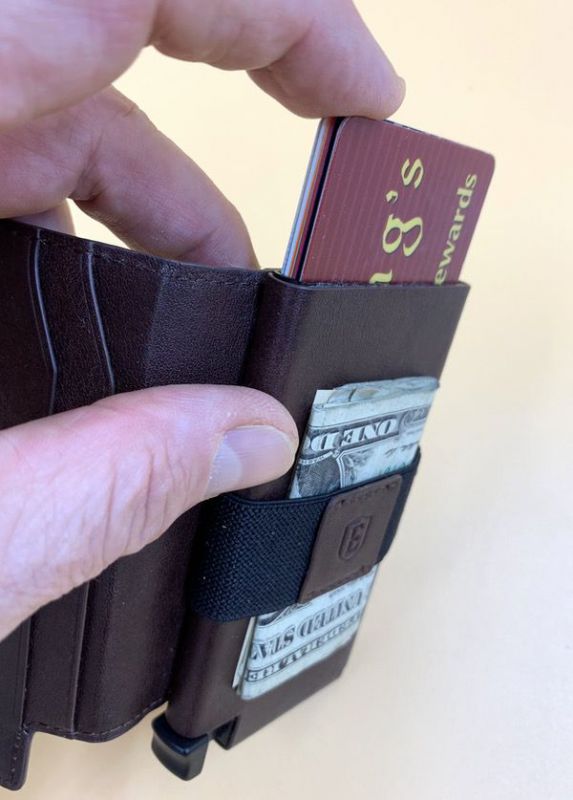 When you push that thumb button the cards pop out of the case, fanned so that you can access the desired card: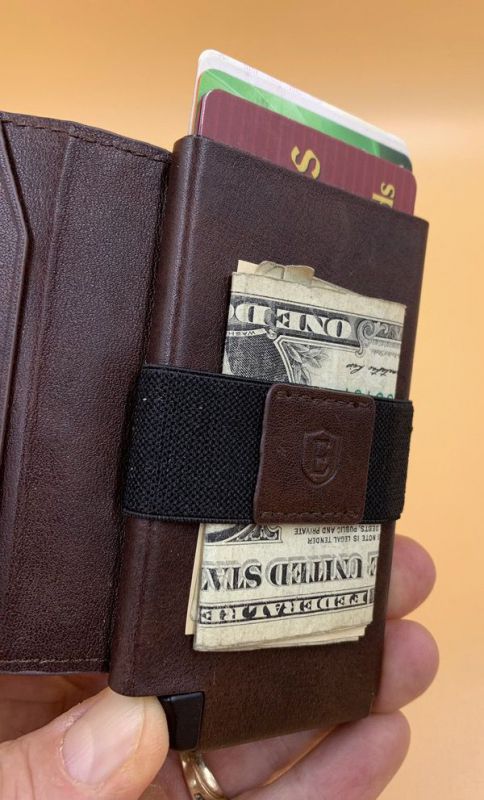 The Tracking Card
The key to locating your wallet is the tracking card. This particular card is solar powered. Leave it in direct sunlight for a couple of hours, and you'll have enough charge to last 2-3 months.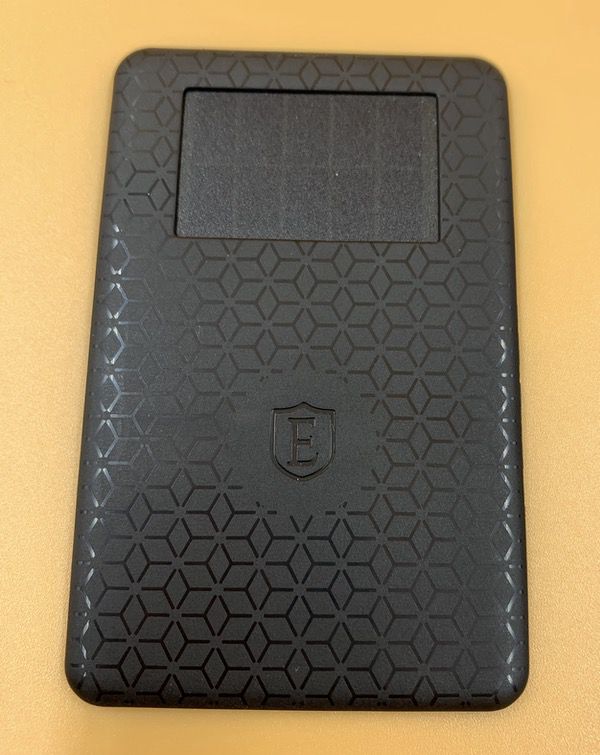 You'll download the TrackR app to your mobile device, and pair the card to the app. Once you're set up, you can use the app to find your wallet when it goes astray. Tap the "start searching" button on the app's home page: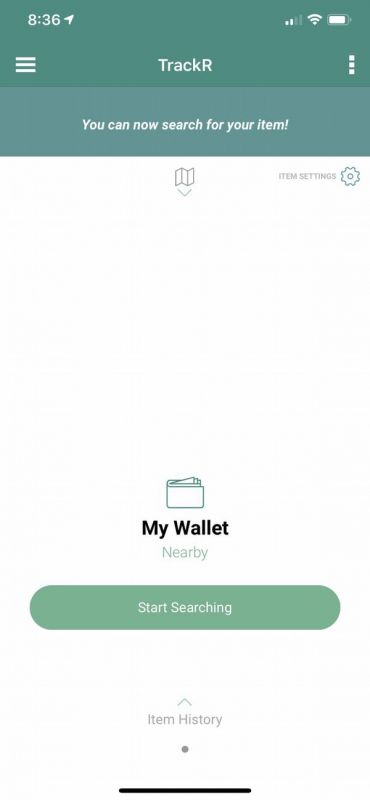 The card will now emit a tone that you can follow to track it down. The tone itself is nice and loud, and continues to ring until you stop it on the app or push the Ekster logo on the card: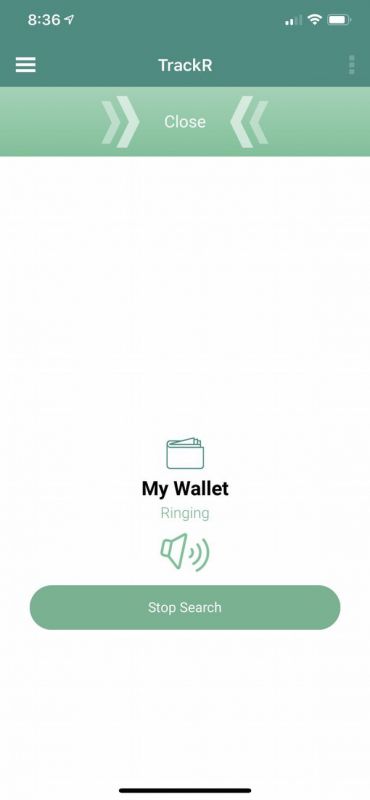 The app now shows the location of your phone on a map. If the card is within Bluetooth range it will pick right up.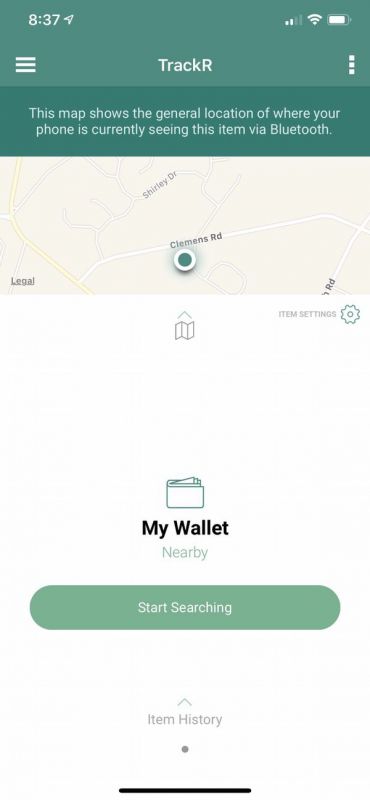 If it's outside of the range, the app is connected to a crowdsourced GPS system through the Worldwide Chipolo Network. As long as another app is active within the range, the location will be picked up. The card also has a QR code printed on it that can be scanned by someone that finds your wallet, sending you a notification that it has been found.
Your tracking card can also be set up to work with Alexa, Google Assistant, or Siri for voice-activated location to trigger the tone. It's easy to set up and use, but I prefer to use the app since my phone is always within arm's reach.
Performance
The design for the Ekster Parliament is excellent as a day-to-day wallet. The form factor is a bit on the chunky side, but that's the trade off you get for the RFID-blocking case. I like the ability to stash quick-access cards in the slots on the front flaps, and the elastic band is a flexible solution for securing an assortment of cash, cards, or receipts on the go.
While the whole package is a tad more refined from the previous version, there are some issues that I had mentioned in the previous iteration. Your cards slide out of the RFID box in a tight grouping, which means some fumbling if you're trying to pick a specific card. This isn't a big deal if you're not getting to those cards often, but can be a pain if you're in line at the convenience store. There's also not a lot of flexibility in the design, so things get chunky if you have a wad of bills secured with that elastic band. If your daily carry consists of 8-10 cards and a couple of bills for emergencies, however, you won't have a problem with this.
Beyond that, the build quality is absolutely top notch. It looks great and is very durable, with no moving parts beyond the thumb switch. I expect this wallet to last a long time.
The location service is hit-or-miss for me. It's great if I am within Bluetooth range, but the long-range tracking requires other smartphones with the app activated to be within range of the card to work. I live on the edge of suburbia and haven't had any luck locating my wallet a few miles away in testing. Perhaps this is more effective in urban areas where the network is more active, but I am not seeing the benefit where I live.
What I like
High quality, durable construction.
RFID blocking capability.
Tracking card is great for locating your wallet within Bluetooth range (about 200 feet).
What needs to be improved
RFID case can be difficult to use if you need to get to a specific card quickly.
Rigid structure does not allow for flexibility if you need to carry extra stuff.
Long-range tracking card location seems to be inconsistent.
Final thoughts
The Ekster Parlaiment wallet is a fine wallet on its own. There are some form factor issues that may not appeal to all users, but I think you'll be pretty happy with it if your daily carry favors keeping 8-10 cards at the ready with minimal cash. The tracking card is great for locating your wallet within Bluetooth range if you are absent-minded, but I am not convinced that it will work consistently over greater distances due to the crowdsourced nature of the network.
Price: Currently $79 USD for the wallet, and $29 USD for the tracker card.
Where to buy: Ekster Parliament product page and Amazon
Source: The sample of this product was provided by Ekster.