We use affiliate links. If you buy something through the links on this page, we may earn a commission at no cost to you. Learn more.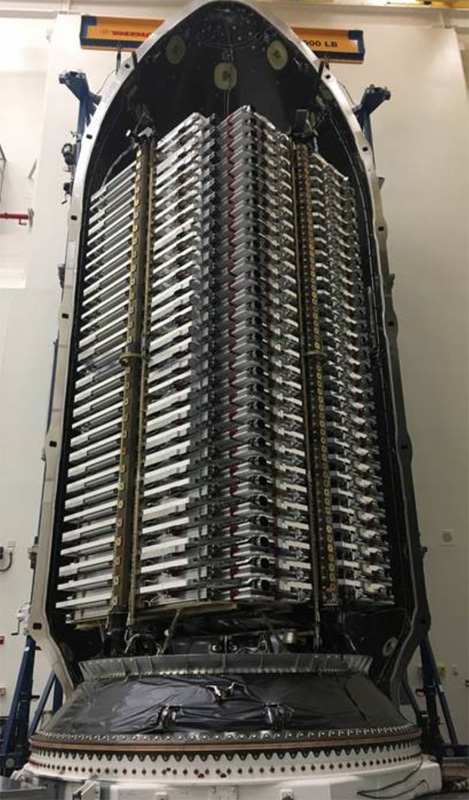 NEWS – A while back, I wrote about Amazon's Project Kuiper – a plan to launch over 3,000 satellites into low Earth orbit to provide broadband access to underserved areas. SpaceX, Elon Musk's space venture is preparing to launch the first 60 of nearly 12,000 Starlink satellites.
The photo above shows the 60 satellites strategically packed into the faring of a SpaceX Falcon 9 rocket. These are what Muck called "production design", differing from a couple of test satellites that SpaceX tested last year. They are more of a demonstration of the concept than the first step in the ultimate constellation, but it is an important step in getting the ball rolling.
SpaceX will be facing competition from LeoSat, OneWeb, Telesat, and Amazon for this market. But so far, SpaceX looks like it will be first to market with space-bound broadband internet with this launch planned for May 15, 2019, from Cape Canaveral.  They have plans for two to six more launches this year.
Internet everywhere has long been a dream.  This week's planned launch might signal that it will be coming more quickly than anyone anticipated.  Here's hoping that costs are reasonable and there are no data caps!