We use affiliate links. If you buy something through the links on this page, we may earn a commission at no cost to you. Learn more.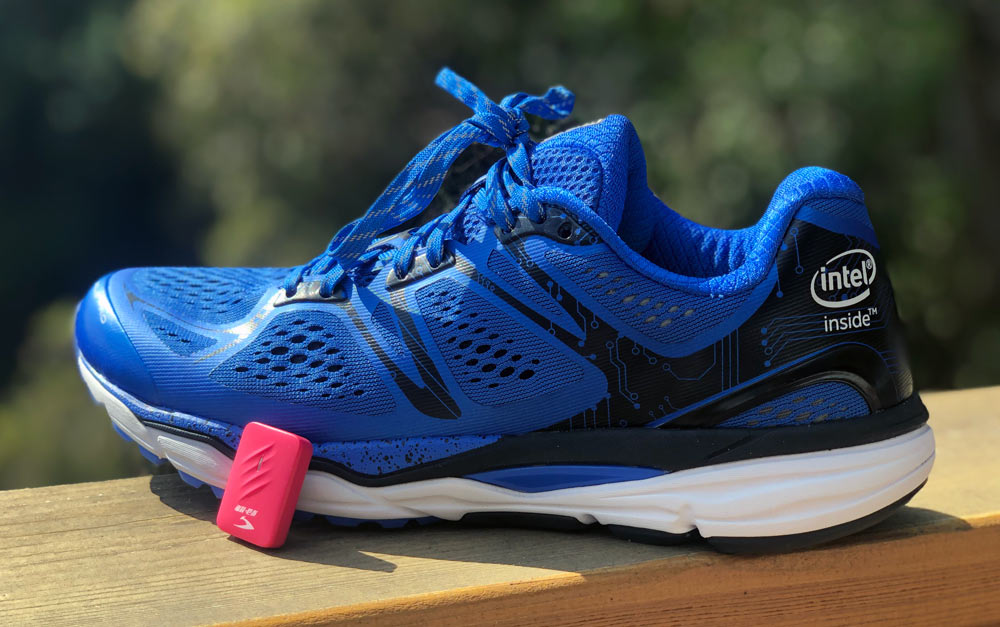 REVIEW – What exactly is a smart shoe? This one is not from Get Smart and does not hide a phone under the heel. It does however have a pocket under the arch for squirreling away some secret tech that could seriously help your running game. Let's take a closer look.
What is it?
This is a fitness system that includes a smart tracking module, running shoes and smart phone app that work in concert with each other to provide data tracking, analysis and advice.
What's in the box?
We can't even discuss what's inside until we look at this "box"!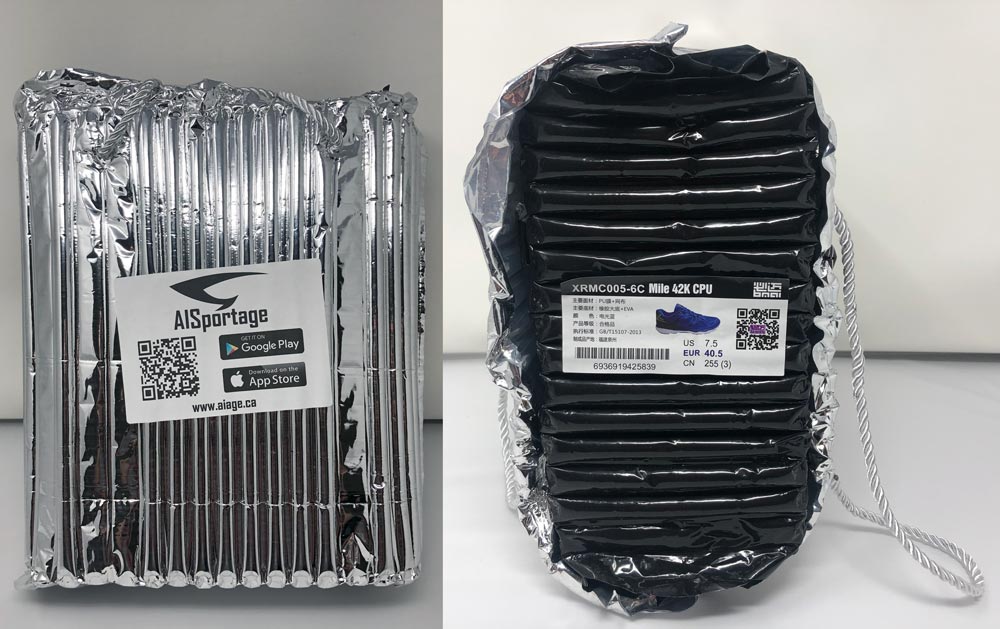 Instead of a traditional shoe box, AISportage opted for a tote bag made of two air-filled packaging material sides nested into each other in opposing directions.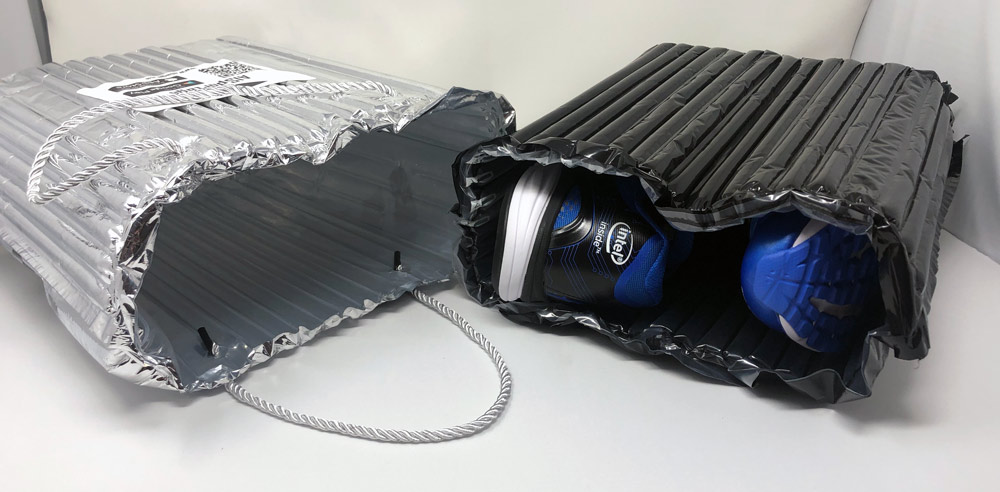 It results in a very different and unexpected take on packaging. It's pretty cool to receive something like this in the mail, but I can imagine this would not work very well at retail. I also question if it is potentially worse than standard box and paper packaging when it comes to recycling.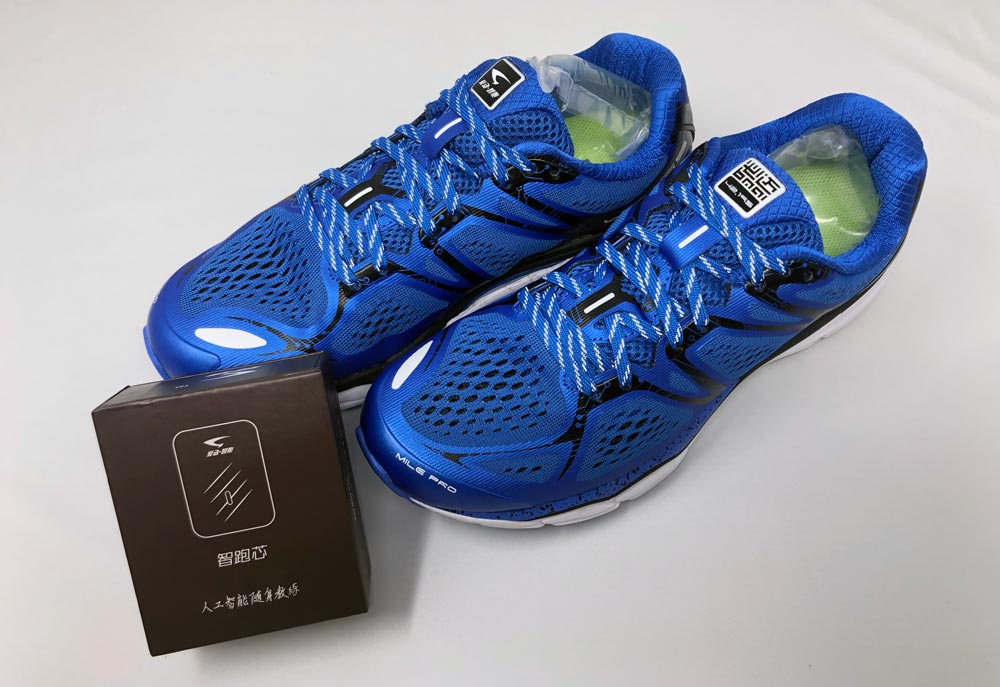 Inside the packaging  is the pair of running shoes and the accessory box.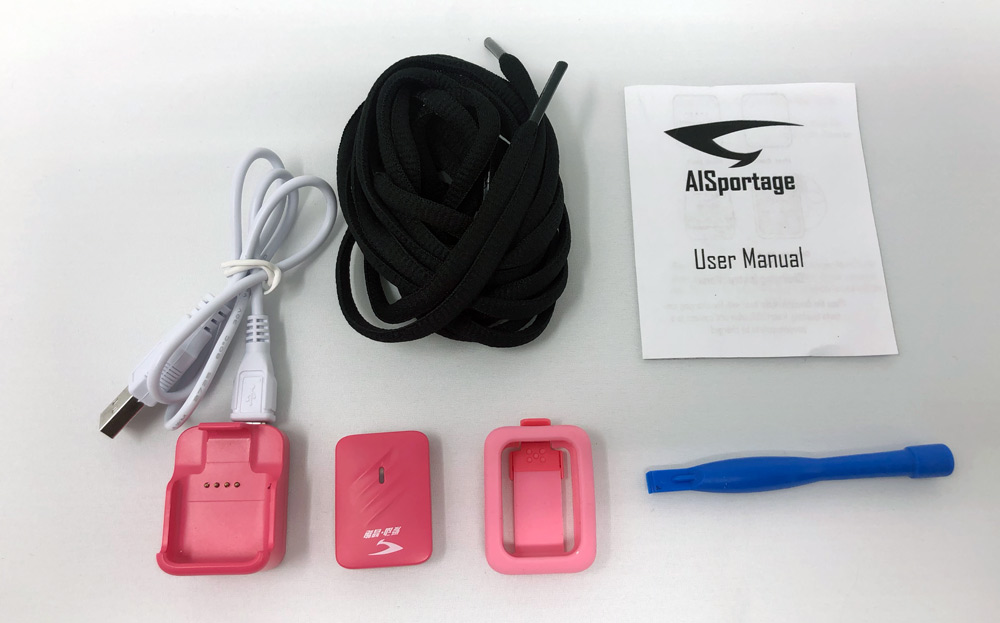 Here's all of what's in the box
AISportage Smart Running Shoes
Smart module
Charging unit
USB-A to USB-Micro charging cable
Shoelace module mount
Module removal tool
Spare laces
Instruction manual
Setup
Let's get this set up…
Insert the smart module into the charger, connect the USB cable to the charger and a wall adapter or computer and let charge until the light turns green.
Install AISportage app by scanning the QR code or searching AISportage in the app store for your device.
Remove smart module from the charger to pair with your phone.
In the bluetooth settings of your device, pair with the smart module that should show up as AIDong ####.
Install the smart module into the right shoe, or into the shoelace module mount.
Here's how to install into the AIS running shoe.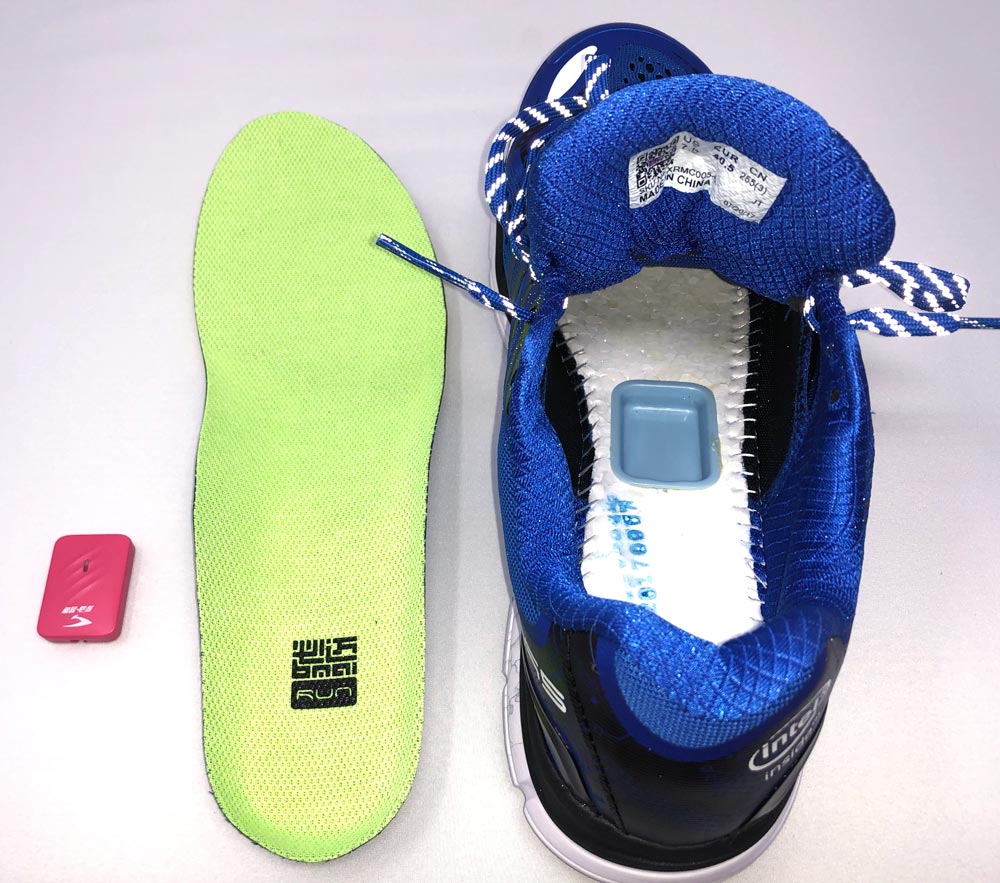 Under the insole in the right shoe is a small cavity for the smart module. Install the module as shown with LED forward and logo towards the heel. The instructions only show a logo without an LED which doesn't really help clarify. It kinda fits the other way, but doesn't fully seat properly.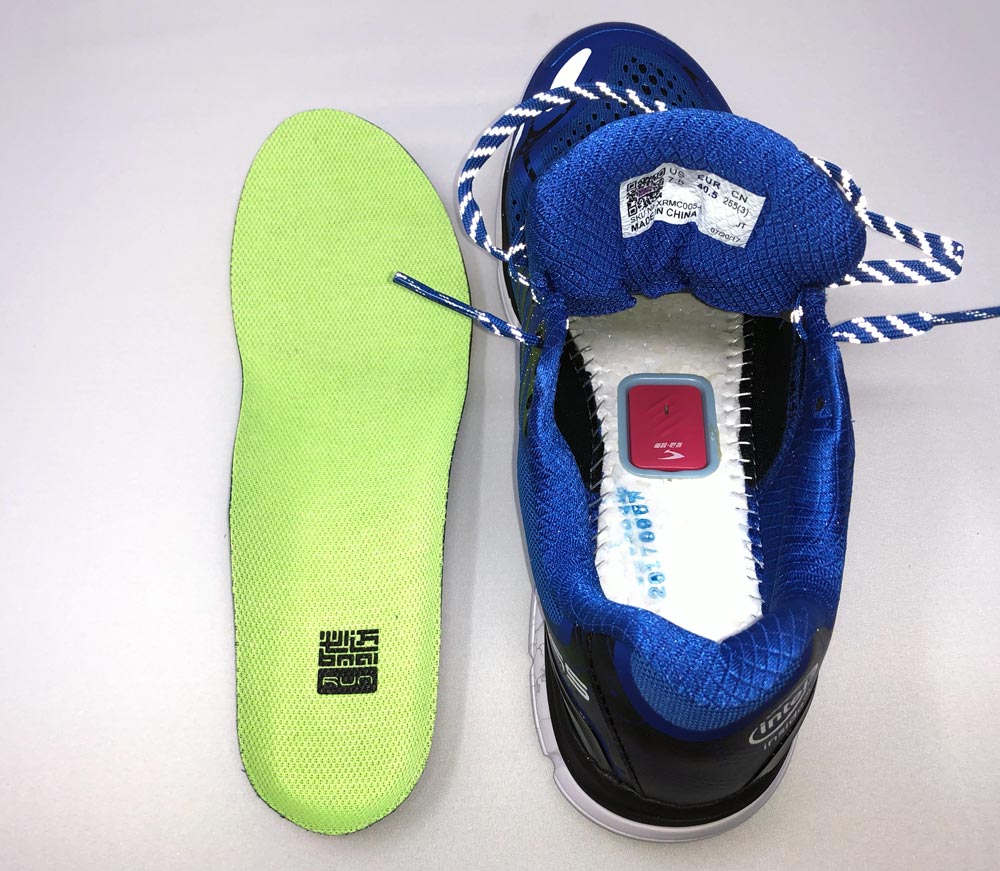 With the smart module installed go ahead and put the insole back into the shoe and you're ready to run. You'll need to remove it periodically for charging and to make that simpler, they included a small prybar tool to pick it out. I was also able to knock it out with a couple of swift thwacks against my other hand.
If you'd prefer to use the module with your own running shoes, you can use the lace attachment that's included in the accessory box. It's a silicone type material that stretches into place around the module and has a strap for running securely behind the laces.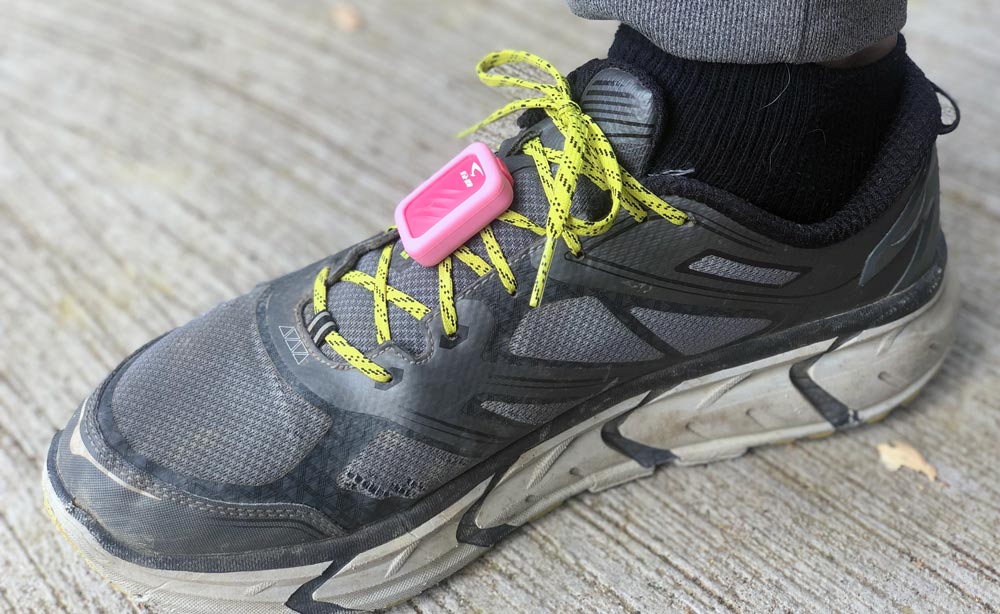 Design, features and performance
Just to start things on an honest foot, I'm not a runner. My wife is though and she helped quite a bit in this review. We also both worked at adidas on footwear over 20 years ago and are pretty comfortable with shoe construction and materials.
PART I: Let's look at the shoe first.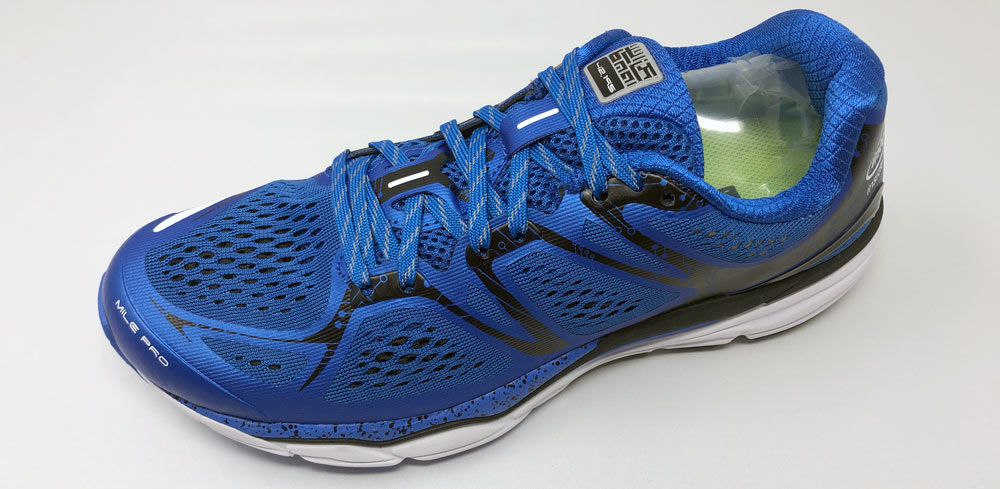 The shoe is built on a standard width last with good quality construction and high quality materials. The upper uses an Air Mesh with non-stretch film heat-pressed or welded to the upper to create a secure cradle around your foot.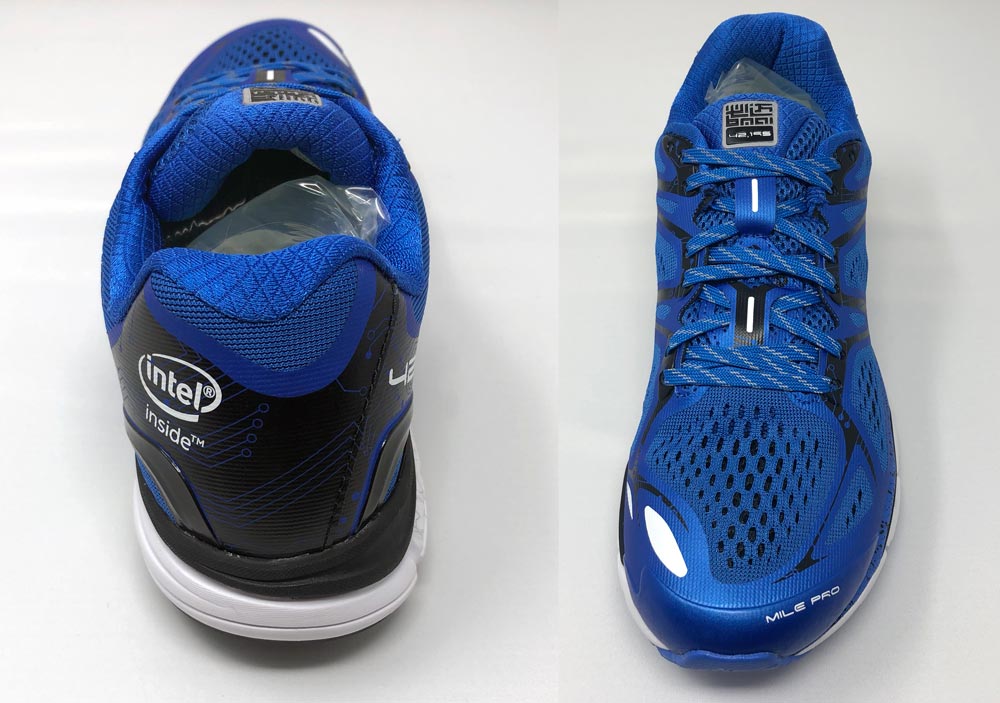 On the heel, it's hard to see past the intel inside™ branding, but there's a molded heel counter on each side to minimize side-to-side roll as you run. The ankle and achilles area has additional padding as does the upper tongue to create a comfortable fit. Two lace-through guides help to keep the tongue centered.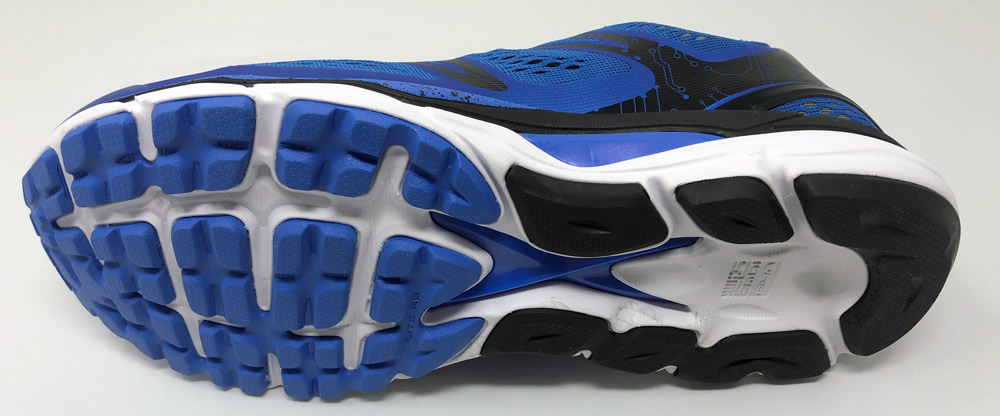 The bottom has good tread pattern with the blue and black rubbers being different hardnesses for compression and rebound. The blue arch-plate's X-design allows the shoe's forefoot and heel to move independently without sacrificing torsional support.

The medial side of the shoe shows the arch support structure of the torsion plate along with the upper's non-stretch reinforcement.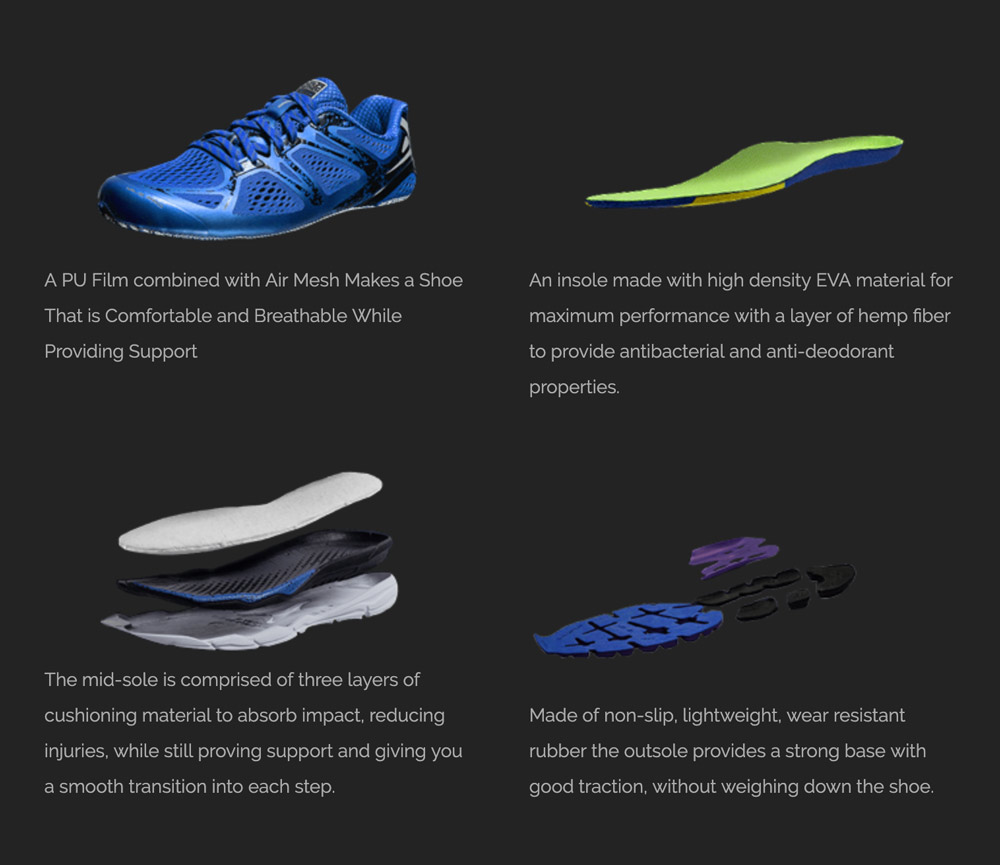 This image from the company's website shows a bit more of all the shoe components. AISportage sells the shoe for $70 without the technology. This is a pretty good shoe for that price. More on this in a bit.
PART II: Now let's look at the smart module part of the system…
The device (on the right) is a simple rectangular module with an LED on the top and 4 contacts on the bottom for interfacing with the charger (on the left).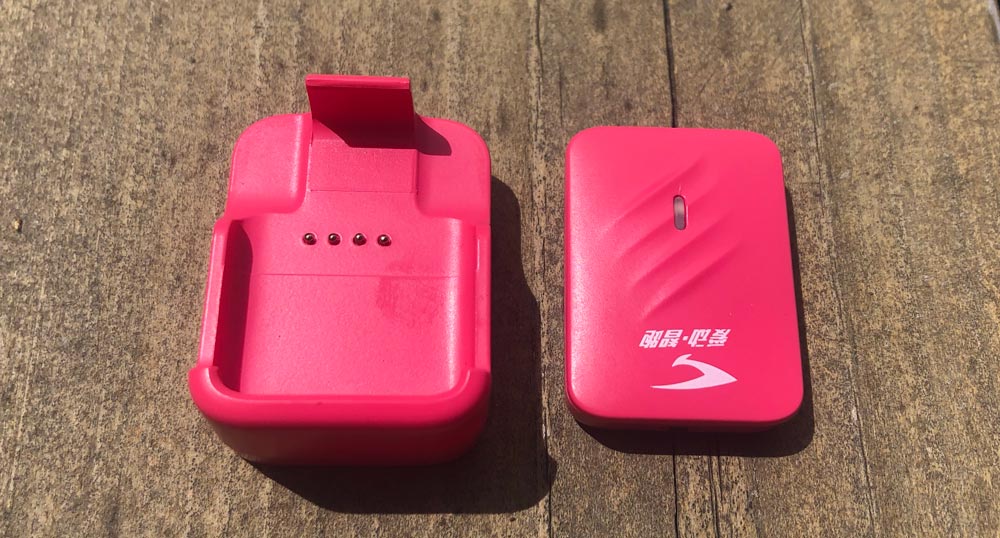 The charger has 4 pins that mate to the module in a single orientation. There is nothing however to keep you from putting it in backward.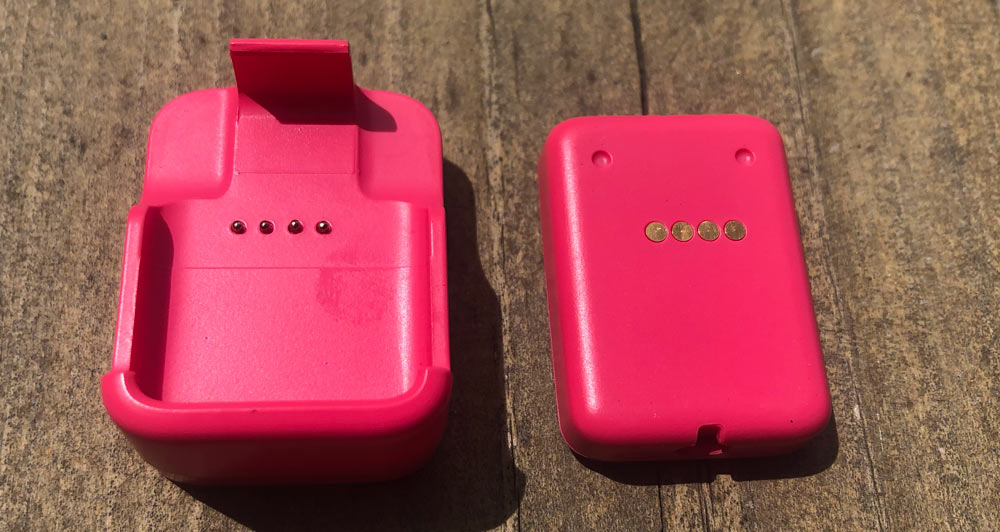 The retention mechanism (lever) does not have a pivot or hinge and instead relies on the material flexibility to deform out of the way during install and removal.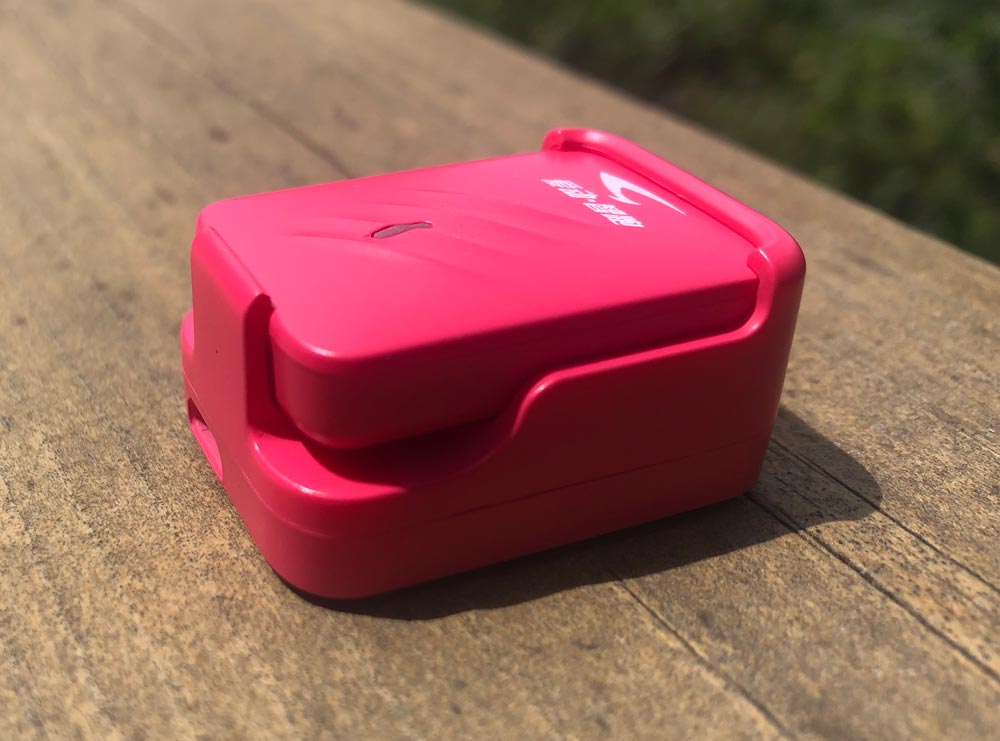 Placing the module in for charging is relatively easy with a positive snap at the end. Retrieving the module however is really difficult. Like break-a-nail difficult as you need to leverage that front edge open to slide the module past.
PART III: App time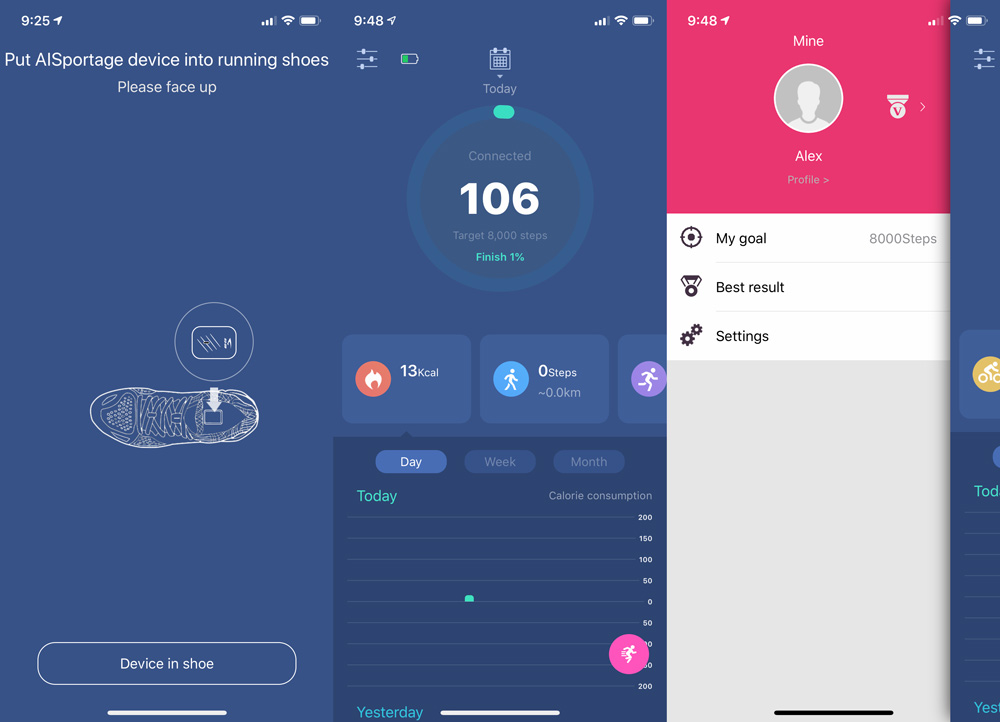 After pairing the module to your phone, launch the app and confirm that it has been placed in (or on) the shoe. The center screen above is the home screen and shows your current step count with selections for day, week or month, along with a side scroll sections of calorie, steps, running, cycling and stair metrics that you can click into for more detail. Tapping the upper left sliders icon takes you to the third screen above where you can edit your goal and access settings for firmware updates, device pairing and clear the cache. The app actively counts your steps, but to log a run, you will want to click the pink run circle at the bottom right and choose indoor or outdoor run.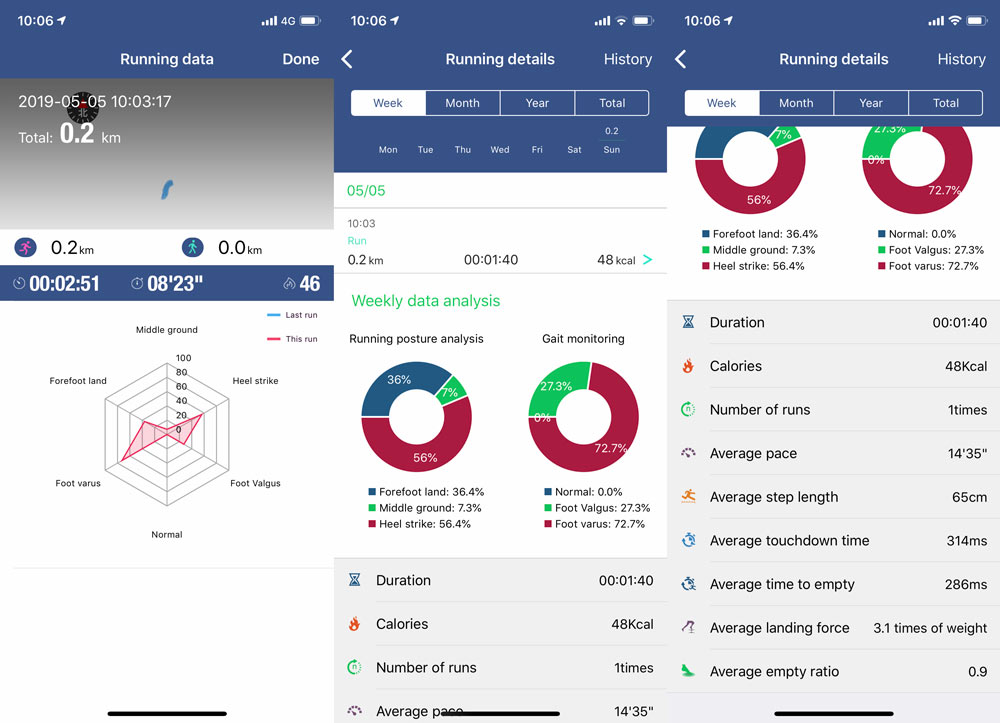 Upon finishing a run and clicking stop in the app, you're immediately presented with the first screen above. At the top it shows the duration, estimated time for a minute and calories burned. Just below is a very cool spiderweb graph showing balance of forefoot to heel landing and angulation of knee/ankle. It's then summarized on the next screen (two screenshots above to catch all of the scrolling), but interestingly enough there is no way to find the spider graph again after dismissing it. This was just a quick run, but you can see that I'm a heel striker, with inward angulation that lands with 3 times my weight. In discussing this with my wife, she assured me I would injure myself quickly without learning to transition to more of a forefoot strike.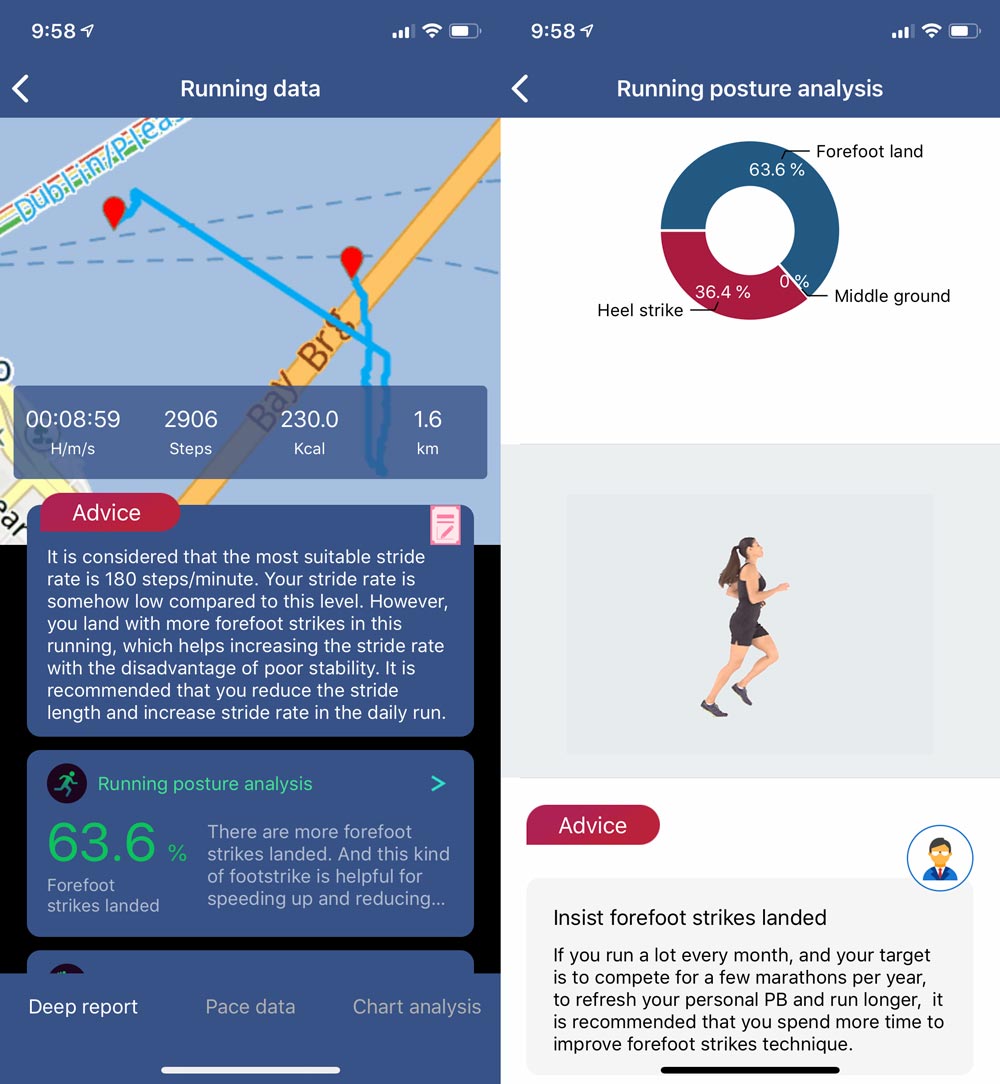 The screens above are from one of my wife's runs. As you can see, she lands with more forefoot strikes and the app has advice in multiple areas related to that.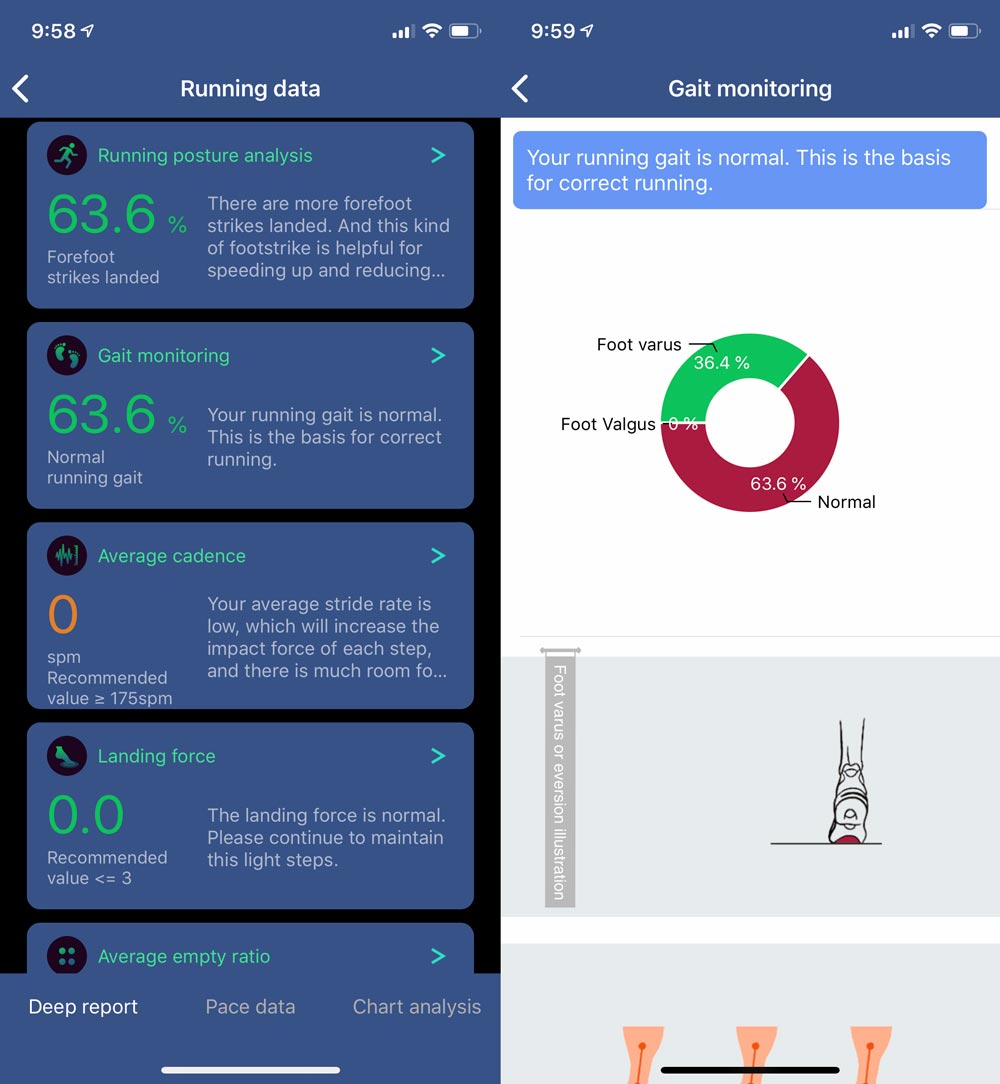 Similarly, the app has details for her on gait as well. The Landing force tidbit above suggests a value ≤ 3 which means I'm in trouble again.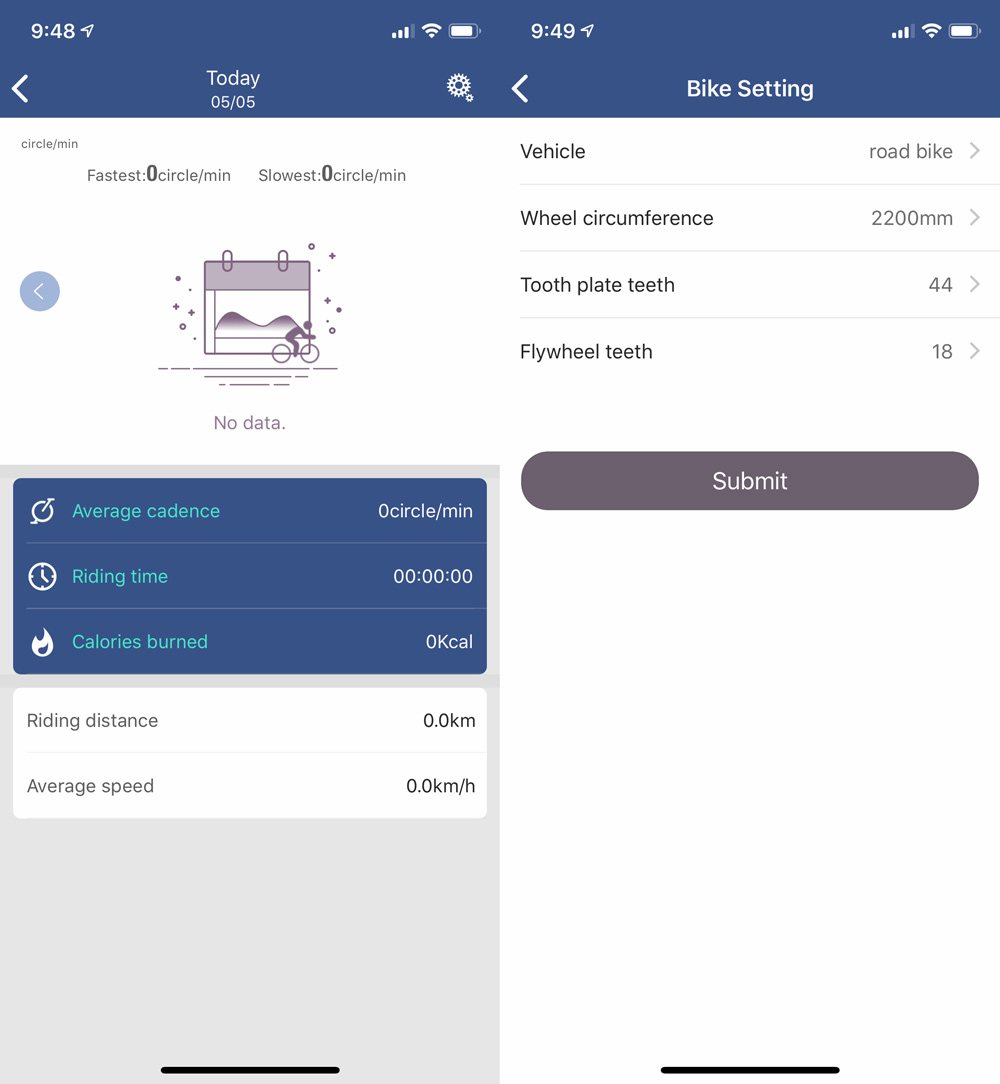 I was excited to find a cycling setting where I could specify bike type. I assumed that it would auto detect a cycling event, but it did not. I'm now guessing that you would also need to click the pink "start run" button and then it would auto-detect that one is cycling due to a lack of any foot strikes.
What's the takeaway here… I'm struggling a bit with the mix of these products. Data science feels like the main product here in being able to learn about how you run and what you can change to increase performance and reduce strain and injury. There's a huge benefit to all of that as a stand alone service. The app has a lot of great information and advice, but struggles a bit with navigation and where to find what you're looking for.
While the shoe is really well made, there are some caveats. One shoe does not fit all runners, although this one should work for anyone in the center of the bell curve. Moreover, left and right feet may have very different strikes and only the right shoe has a cavity for the module. It feels a bit like they needed to make their own shoe to be able to show the value of their module and app. It wouldn't be surprising as it's something that many companies have to do; launch hardware in order to ultimately end up as a component or technology vendor within the space they want to be.
It also feels like this would be a product you might use early in your quest to discover and improve your running technique as you're pretty much guaranteed to have a Fitbit, dedicated running watch, Apple Watch and/or use Strava or Nike Run Club. It's a tough area to compete in, so maybe they're looking to break in and end up as a module provider for shoe manufacturers or one of the established wearables. It could explain why there's no AISportage branding on the shoe, instead choosing to run with a very large 'intel inside' logo.
What I like
Data collection, analysis and advice of more than steps, distance and route
Well made shoe at an affordable price
Good value as a package if you're not duplicating a device or shoe
What needs to be improved
Smart module is difficult to install and remove from charger
A neutral running shoes may not be the shoe you need
Smart module not for sale by itself
Final thoughts
If you're a runner, you have likely found your way to shoes that work well for your anatomy and running style. From publications like Runner's World to local running stores that can help you with your gait, strike and other foot positioning, there are multiple ways to get information and help. AISportage has created what may be a great solution for doing that on your time in your own terms. I would hope that they begin offering the technology for sale without the shoe to lower the entry price and help runners hit their stride.
Price: $129 (Currently on sale at $109)
Where to buy: AISportage
Source: The sample of this product was provided by AISportage.