We use affiliate links. If you buy something through the links on this page, we may earn a commission at no cost to you. Learn more.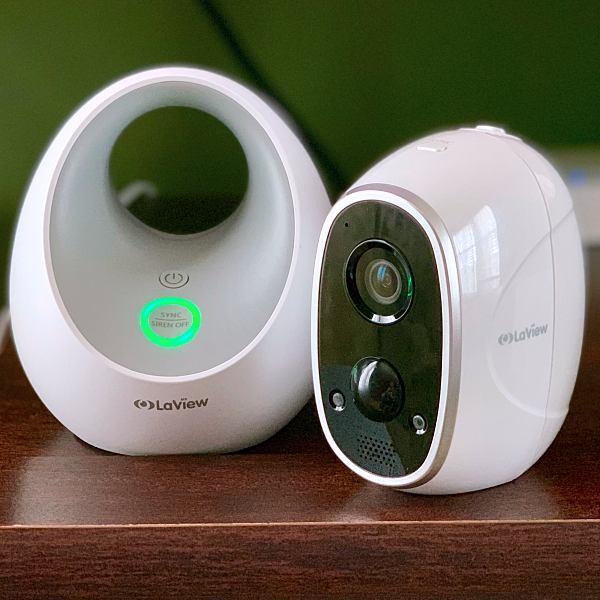 REVIEW – I live on a corner with lots of foot traffic both day and night. Pair that with the recent increase in porch thefts and I felt the need to install an outdoor security camera. I needed one that was totally wireless. The LaView ONE Link Wireless WiFi camera with Smart Station met all my needs, but does it work? Let's find out.
What is it?
The LaView One Link WiFi security camera is a wireless 1080P security camera with a rechargeable battery and easy 2-step installation. The Smart Station plugs into your router. It connects to the camera with the touch of a single button, extends the cameras battery life and expands WiFi transmission.
Hardware specs
Camera
Field of view: Wide angle 130º

IR Night Vision: 25 ft IR distance

Weight: 0.47 lbs

Size: 3.6" x 2.2" x 2.8"

Storage: Laview Cloud storage – Micro SD Card (Max. 128GB)

Audio: Built-in omni-direction microphone – Built-in loudspeaker – Noise suppression

Video: Smart H.264 compression – 1920×1080 Max Resolution – 50hz @ 25fps, 60Hz @ 30fps, Adaptive frame rate

Power requirements: 5500 mAh rechargeable lithium battery and 5V DC
What's in the box?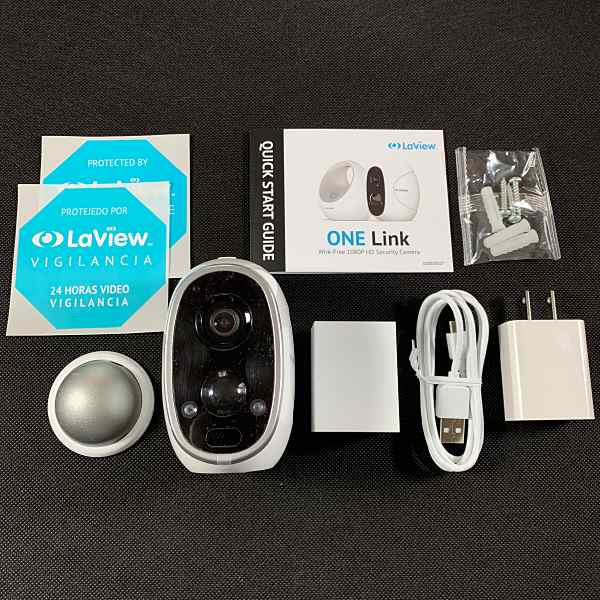 Camera
Battery

Magnetic mount

USB cable

Power adaptor

Screw kit

Surveillance stickers

Quick start guide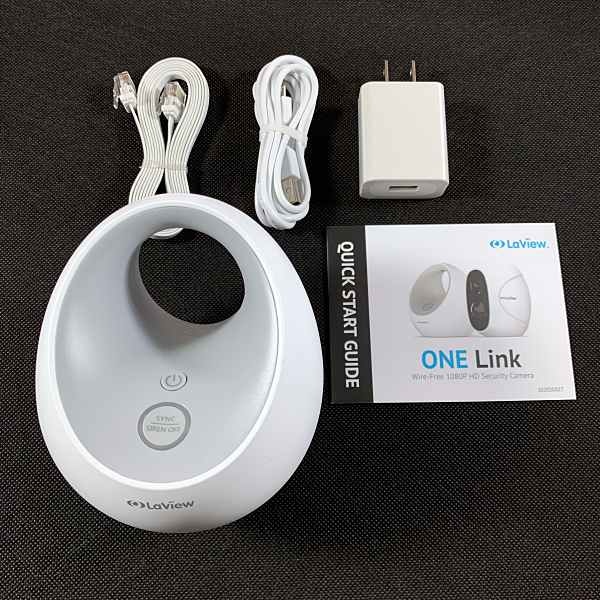 Smart Station
Smart Station

Ethernet Cable

USB Cable

Power adaptor
Design and features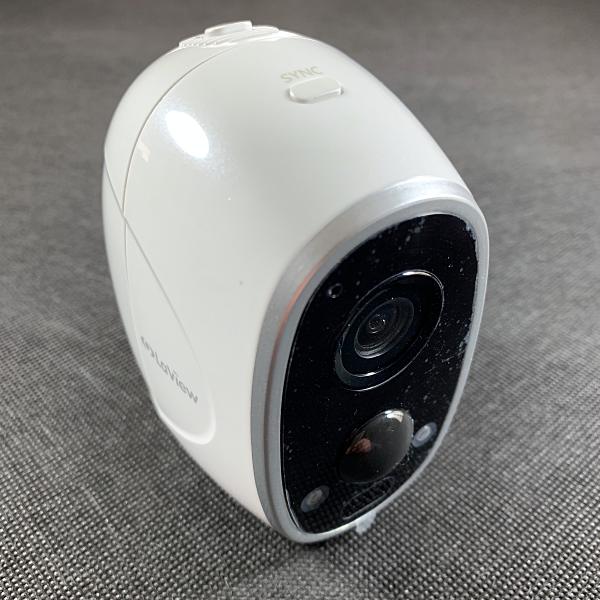 The Laview One Link camera has a pod-like design similar to those offered by Arlo and Eufy. On the front of the camera is the 1080P lens, microphone, IR light (used for supplementing recording light), LED indicator, loudspeaker, PIR (Passive infrared) sensor and Photoresistor (used to detect light conditions to activate the Day/Night switch functions.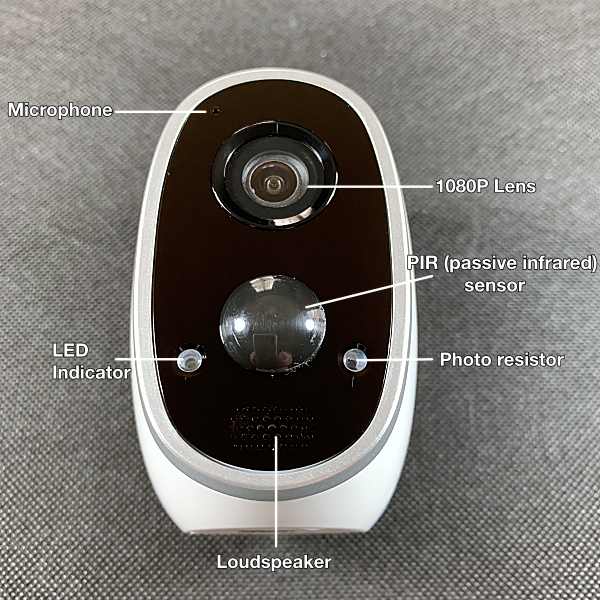 There's a Sync button located on the top of the cam as well as a release latch to open the camera.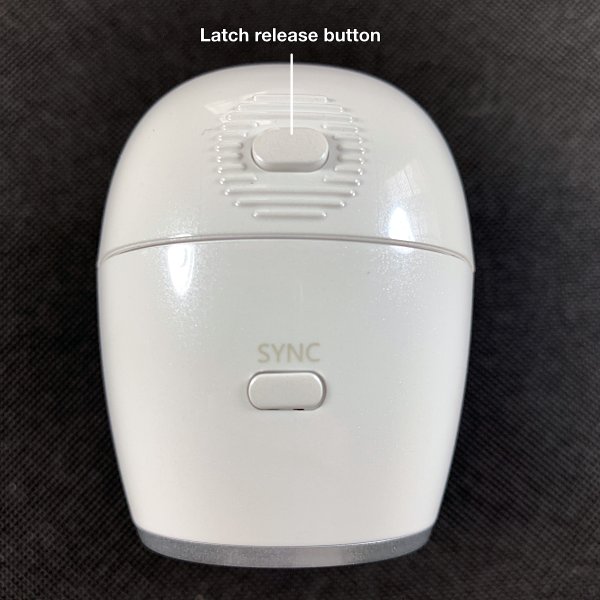 On the back of the cam, there's a micro USB port used for charging the battery or powering up the camera. It's protected by a flexible rubber cover that keeps out moisture.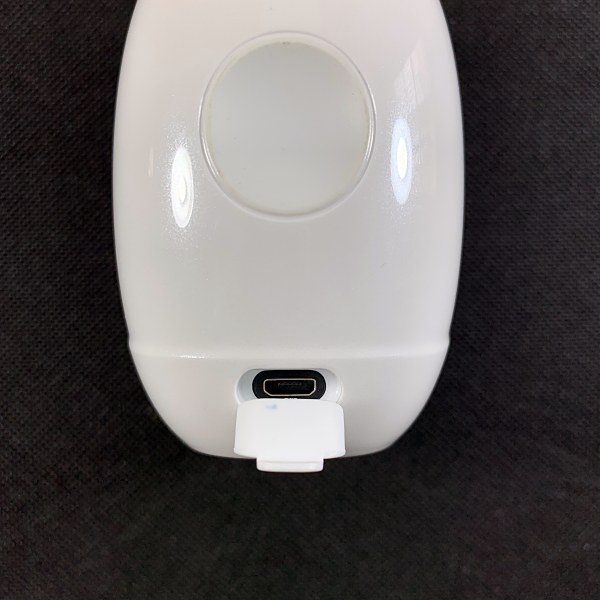 The bottom of the camera has a threaded socket for mounting it onto a tripod.
Opening the camera reveals the rechargeable battery compartment and Micro SD card slot.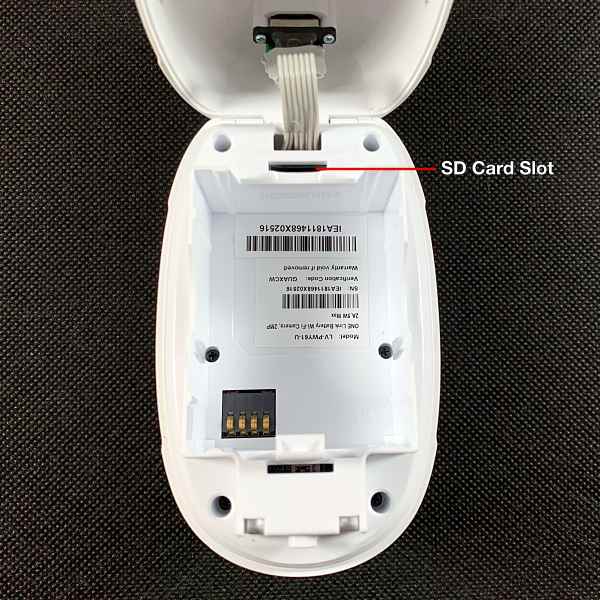 The slot supports up to 128GB of HD footage or if you prefer LaView offers affordable Cloud service options.
The camera comes with 30 free days of ONE Cloud service, after that, you must subscribe to continue to use the service.
Note: Although you can access the ONE Cloud service via the app I was unable to find any info on plans or pricing.
The 5500 mAh battery will last 6+ months on a single charge when paired with the Smart Station. And when it does need a recharge all you have to do is pull it down and plug it in.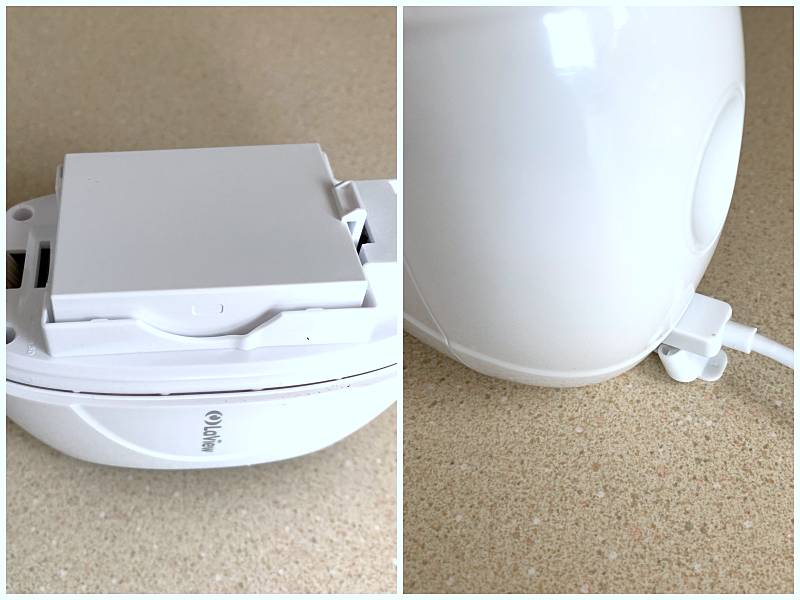 Smart Station
The Smart Station is the brains of the security system, supporting access for up to 6 wireless cameras.
The tear-drop design is quite small (3.7" x 3.7" x 4.3") and weighs less than half a pound.
The front of the unit has a power button, a sync/siren off button with LED indicator ring and a speaker for the built-in 120-decibel siren.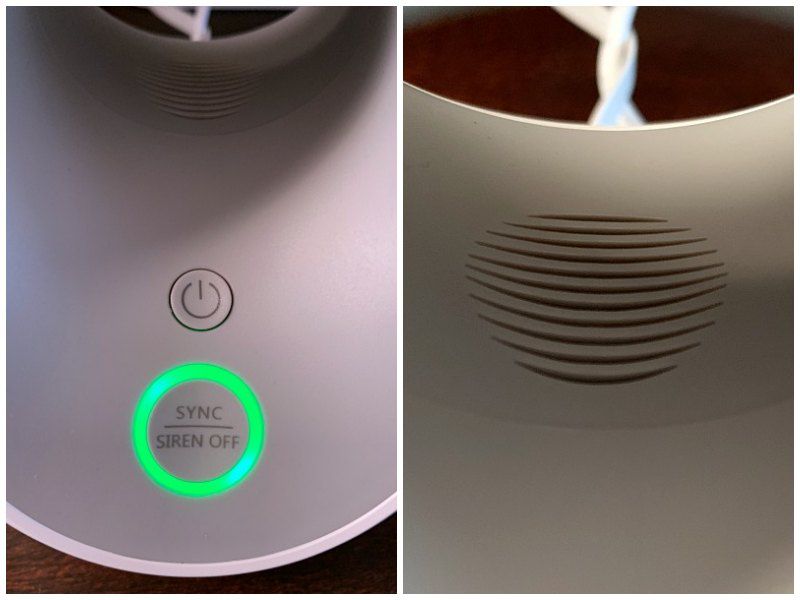 One the back there's a micro USB power port, an ethernet port for connecting the Station to your router and a reset button.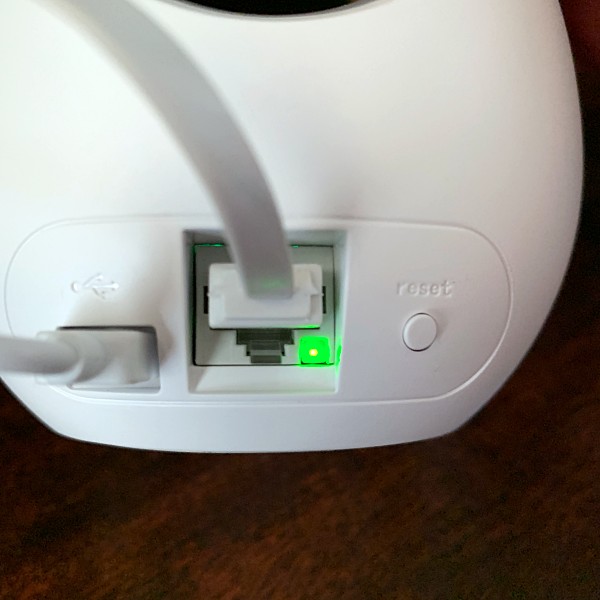 The Smart Station creates a secure ecosystem of WiFi coverage. It also extends the battery life of the cam from 3 months to 6 months versus a WiFi only connection.
The built-in 120dB siren works in conjunction with the cameras motion detection. When enabled it will go off when the cam senses motion. You can set it to stay on from one to five minutes. Or you can manually disable it by pushing the siren off button on the Smart Station. I tested it, and it's VERY loud! In fact, it had my ears ringing for a couple of hours afterward. And it was audible outside even with the windows closed.
The siren might be a little much for everyday use (especially if your cams motion sensor is set off by a critter at 3am), but I could see it being effective if you have it linked to an indoor camera. Or use it to ward off trespassers while you're away on vacation.
Pairing camera with the Smart Station
Setting up the camera and Smart station is relatively simple. First, you must install and fully charge the camera's battery. Fully charging the battery takes 6-8 hours.
Plug the Smart Station in and connect it to your router using the Ethernet cable.
To pair the camera to the Smart Station press and hold the SYNC button on both for 5 seconds. When the camera is connected to the Smart Station, the LED indicator on the front of the cam will slowly flash blue. There are also voice prompts that will update you on the connection status.
Camera installation
Installing the camera is as easy as 1-2-3. 1) screw provided screw where you want to mount the camera. 2) Secure magnetic dome to the screw. 3) Secure cam to the magnetic dome. You're done!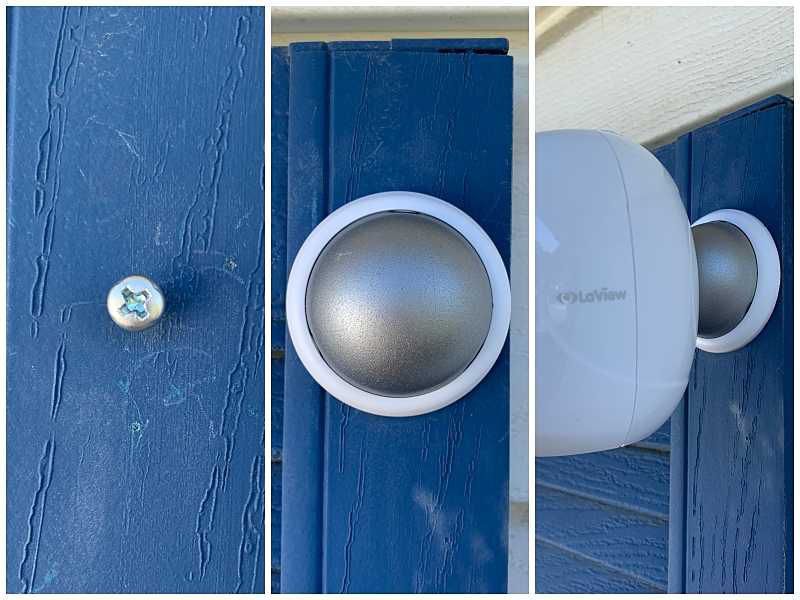 LaView ONE app
Launching the app takes you to the home screen which features thumbnails of both the Smart Station and the cams live view. From there you can access the cams live view by tapping the thumbnail.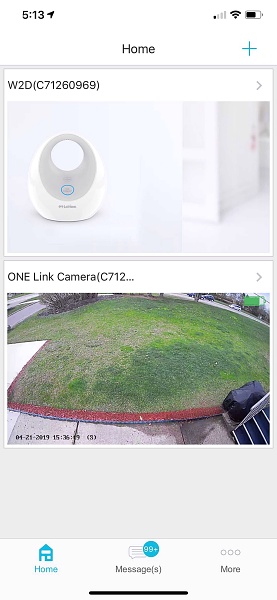 You can also access settings for both the Smart Station and cam. From there you can customize the camera and Smart Stations various features.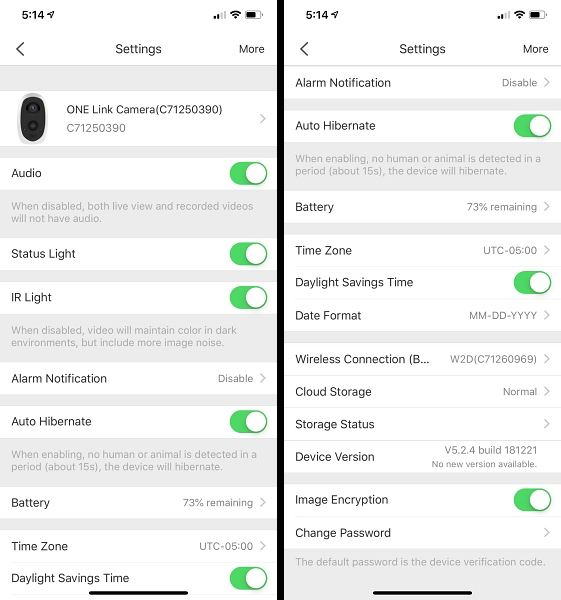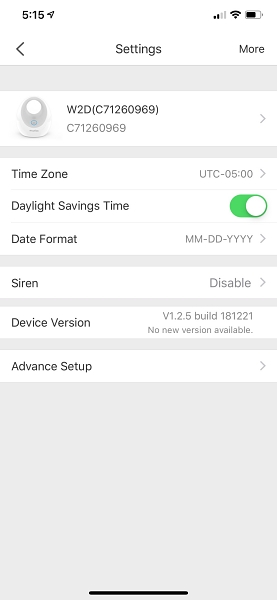 The Messages screen lets you view and playback recorded PIR (motion detection) events.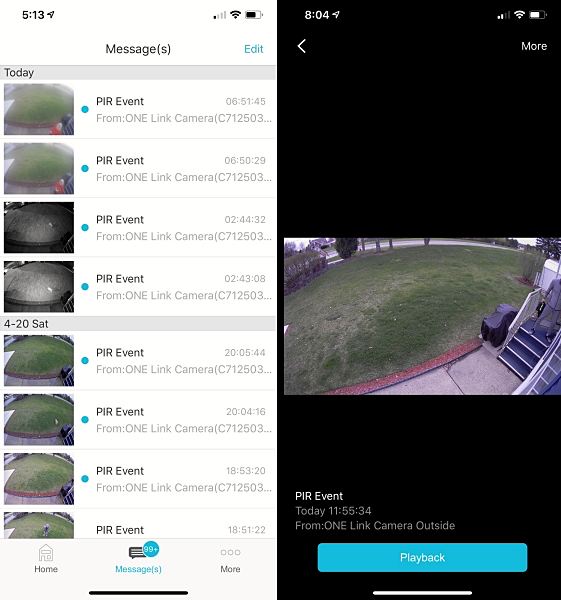 You can enable alerts and choose Motion Detection Sensitivity in the app's settings.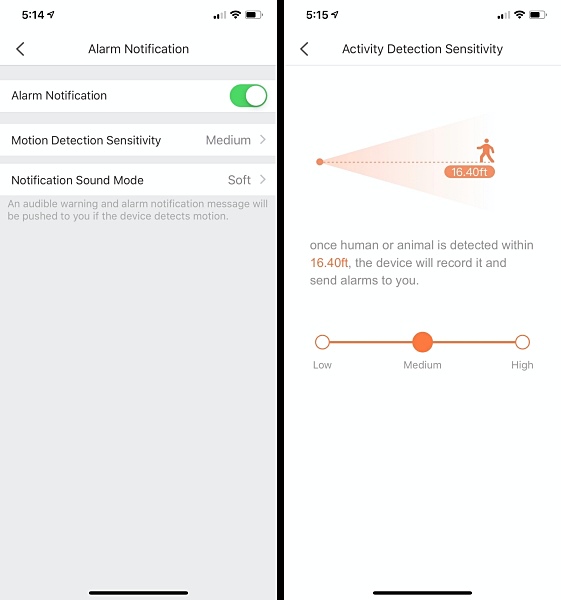 When the cam detects motion, you receive an alert notification on your phones lock screen. Tapping the notification opens up the app, from there you have to go to Messages and tap on the thumbnail of the event to view it.
It would be nice if when tapping on an alert the app would open immediately to the cams live view or at least the recording of the PIR event.
Things I like about the app
Works with Face ID for faster login

Clean interface

Easy to navigate

You can view both live cam and recorded motion detection events

Easy to view and change settings for both the Smart Station and the camera

Ability to easily add cameras to the system
Things I don't like about the app
Both the live view and recorded PIR events can be laggy

No way to check WiFi connection strength

Tapping on an alert doesn't immediately take you to the cams live view

Not optimized for iPad
Camera performance
This camera has a lot of features, I wanted to touch on a few that I thought were the most important.
Motion detection
The camera has a PIR thermal detection sensor for advanced motion detection that focuses on objects with significant heat signals like people and animals. Weeding out false alarms caused by inanimate moving objects.
I did receive a few false alarms, but it was during extremely windy and rainy conditions. I found that lowering the Motion Detection Sensitivity level in the app helped with this.
During normal weather conditions, it works flawlessly.
Night vision
The cams night vision feature works at a distance of up to 25ft. As you can see from the pics below the picture quality is quite impressive.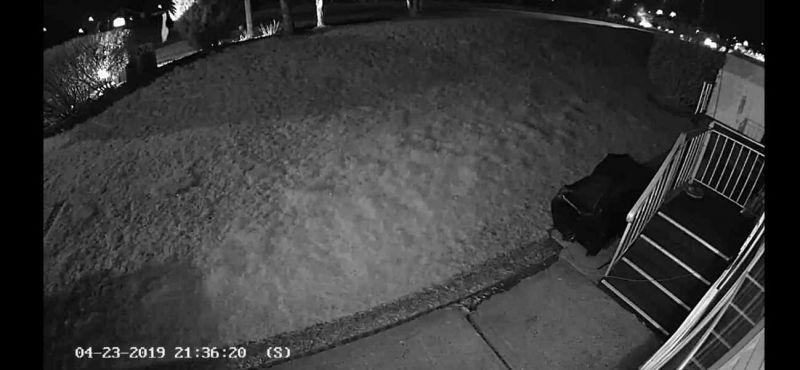 2-Way audio
The 2-way audio feature is hit or miss at best. The biggest problem is that the built-in loudspeaker isn't loud enough. And there's no way to adjust the volume level to make it louder. I suppose that it would work to ward off a trespasser at night but trying to have a conversation with someone is nearly impossible.
What I like
Easy setup

Easy 2-step installation

Option of onboard SD card or Cloud recording

Good picture quality

Rechargeable battery lasts 6 month on a single charge

IP65 weatherproof
What needs to be improved
Viewing live cam and recorded alerts on the app can be laggy (Overall app performance is a little buggy)

2-way audio doesn't work as advertised
Final thoughts
The LaView ONE Link isn't perfect, but its benefits far outweigh its flaws. If you're looking for a totally wireless camera setup with lots of features that's easy to install and use this camera should be on your shortlist.
Note: If you would like to add additional cameras to your system at a later date they can only be purchased by phone from LaView. To order call (626)566-7550.
Price: $229.99
Where to buy: Amazon
Source: The sample for this review was provided by LaView.