We use affiliate links. If you buy something through the links on this page, we may earn a commission at no cost to you. Learn more.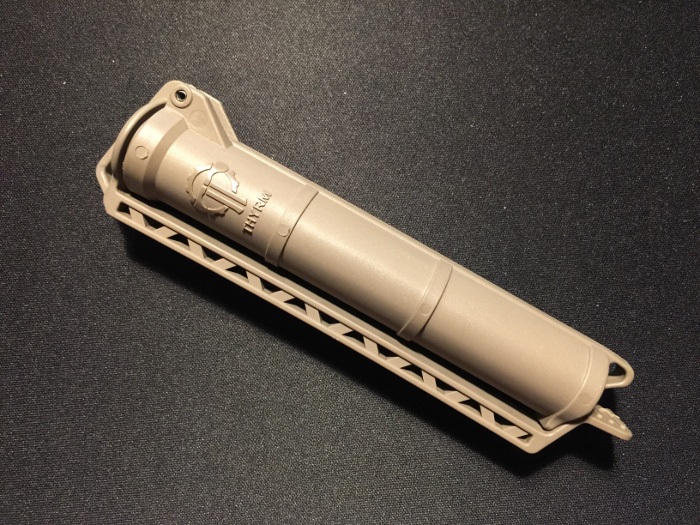 REVIEW – As most active outdoor enthusiasts know, many of our personal lighting solutions still rely on replaceable or swappable batteries. These battery-hungry lights always seem to run out of power at the most inopportune times. The Thyrm CellVault and CellVault XL offer a solution to carrying and keeping your batteries dry. After having my headlamp die on a recent camping trip, I ordered two CellVault XL (one rescue orange and one clear) and one CellVault (flat dark earth) to hold batteries and supplies for my camping backpack and my EDC bag / day pack.
What is it?
The Thyrm CellVault line of attachable gear storage designed to provide a safe and convenient way of storing batteries. The CellVault is design to store CR123 / AA (LR06) / AAA (LR03) batteries. The CellVault XL will also store 18650 rechargeable batteries.
What's in the box?
The CellVault and CellVault XL arrived attached to descriptive hang cards. The CellVaults are easily removed from the hang cards by simply releasing the clip / clasp and sliding the vaults loose from the cards.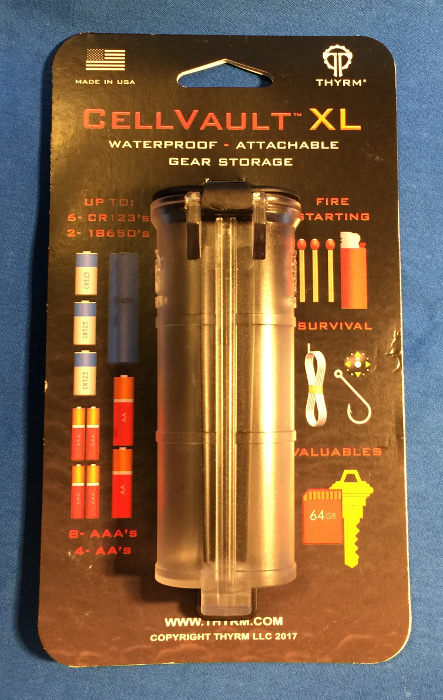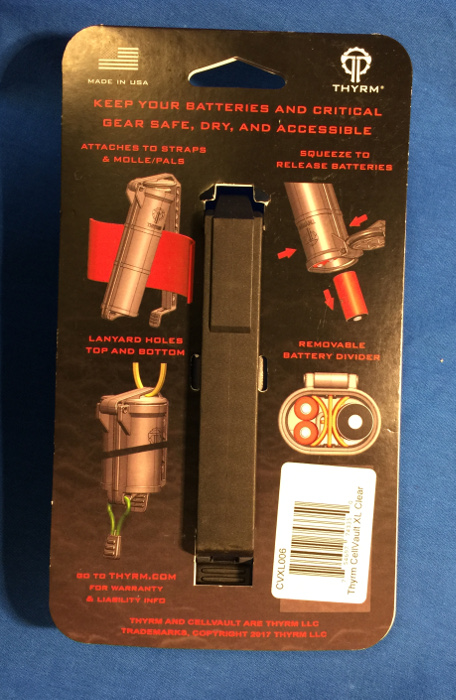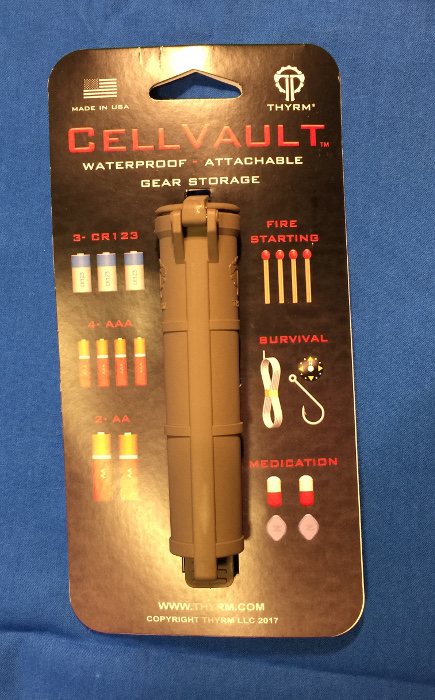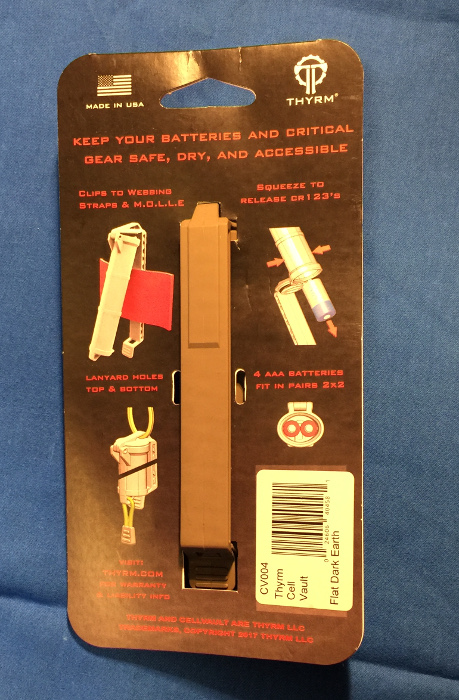 Hardware specs
CellVault
5.25″ long
1″ wide
1.25″ deep (front-to-back)
1 oz weight
CellVaultXL
5.25″ long
1.875″ wide
1.25″ deep (front-to-back)
2.05 oz weight
Design and features
The CellVault has an oval cross-section with a hinged lid and integral clip. The CellVault XL has a figure-8 cross section with a removable divider (with convenient markings to show you which way to reinstall the divider).  The vaults taper slightly from top to bottom (more on that later). When attached to gear, the lid hinge faces out. The integrated clip also serves as the latch for the lid. The length of the vaults allows the clip to slip through 3 rows of MOLLE webbing (so, two loops on your vest / bag). In addition to the clip, there are lanyard loops on the top and bottom of the vaults that provide locations to attach additional gear and to give additional carry options (you can also attach dummy cords to them if you are prone to dropping things–I have not had to add them to mine, yet).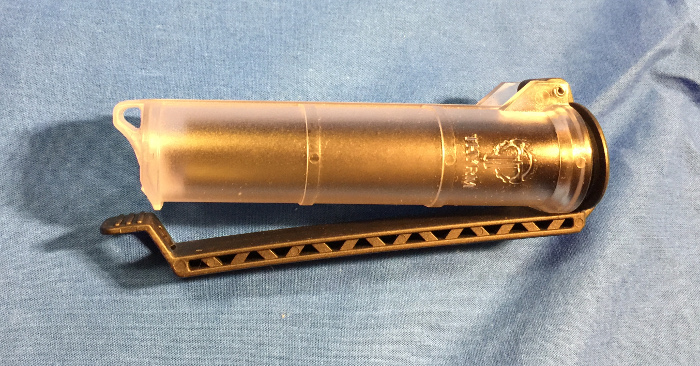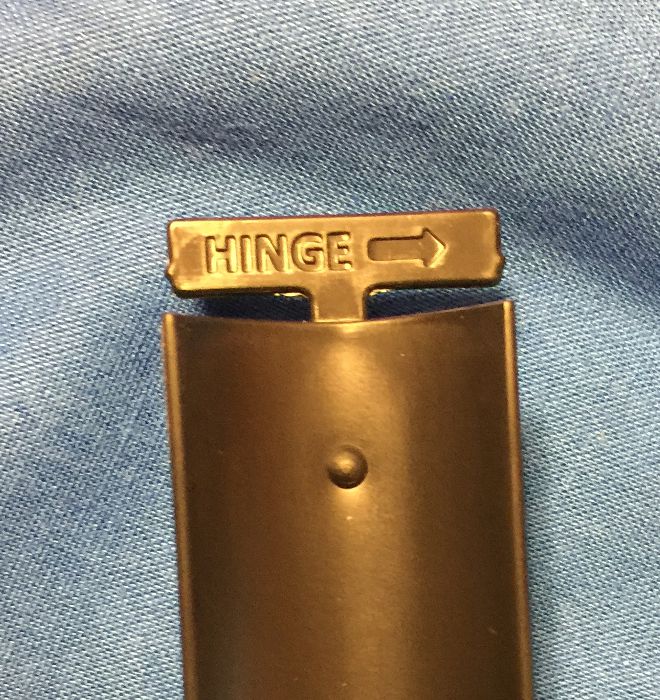 The CellVault and CellVault XL were designed around the 3V CR123  battery commonly used for tactical lights such as those from Streamlight, Surefire, and Inova. The slight taper the vaults is a very clever design feature. This keeps the CR123 batteries from falling out when the vaults are inverted (which is the normal method of opening the vaults when attached to MOLLE panels. A slight squeeze on the narrow sides of a vault releases the batteries. CellVault / CellVault XL is also compatible with AAA (LR03) and AA (LR06) battery sizes. However, the smaller diameter of these other battery types means that the positive retention system does not work for these battery types. Two AA batteries will stack in the CellVault, and four AAA batteries sit comfortably stacked side-by-side two high.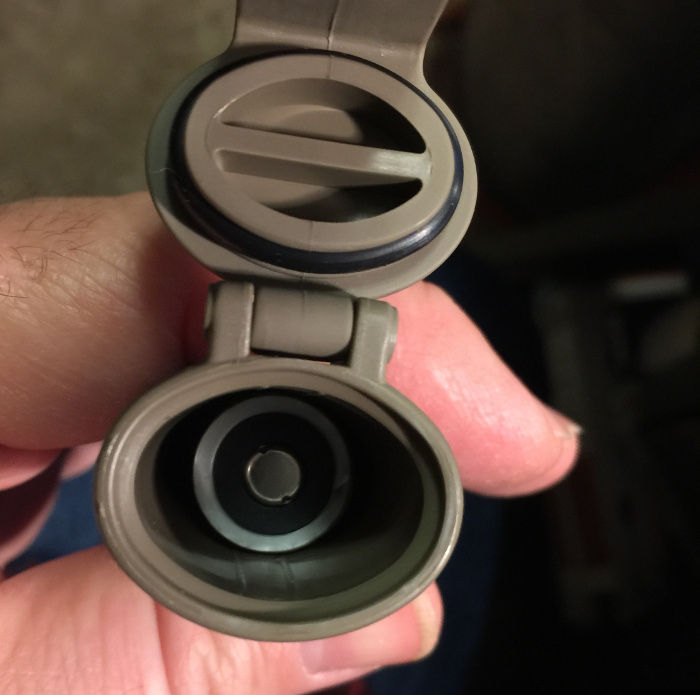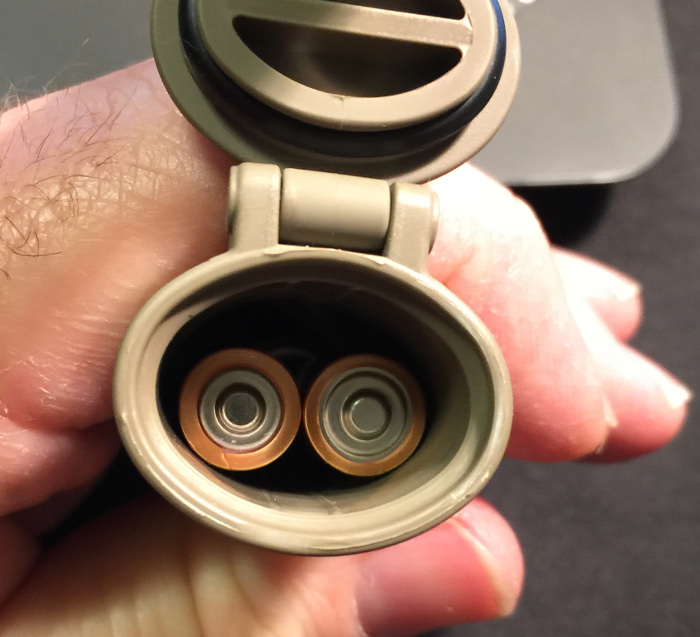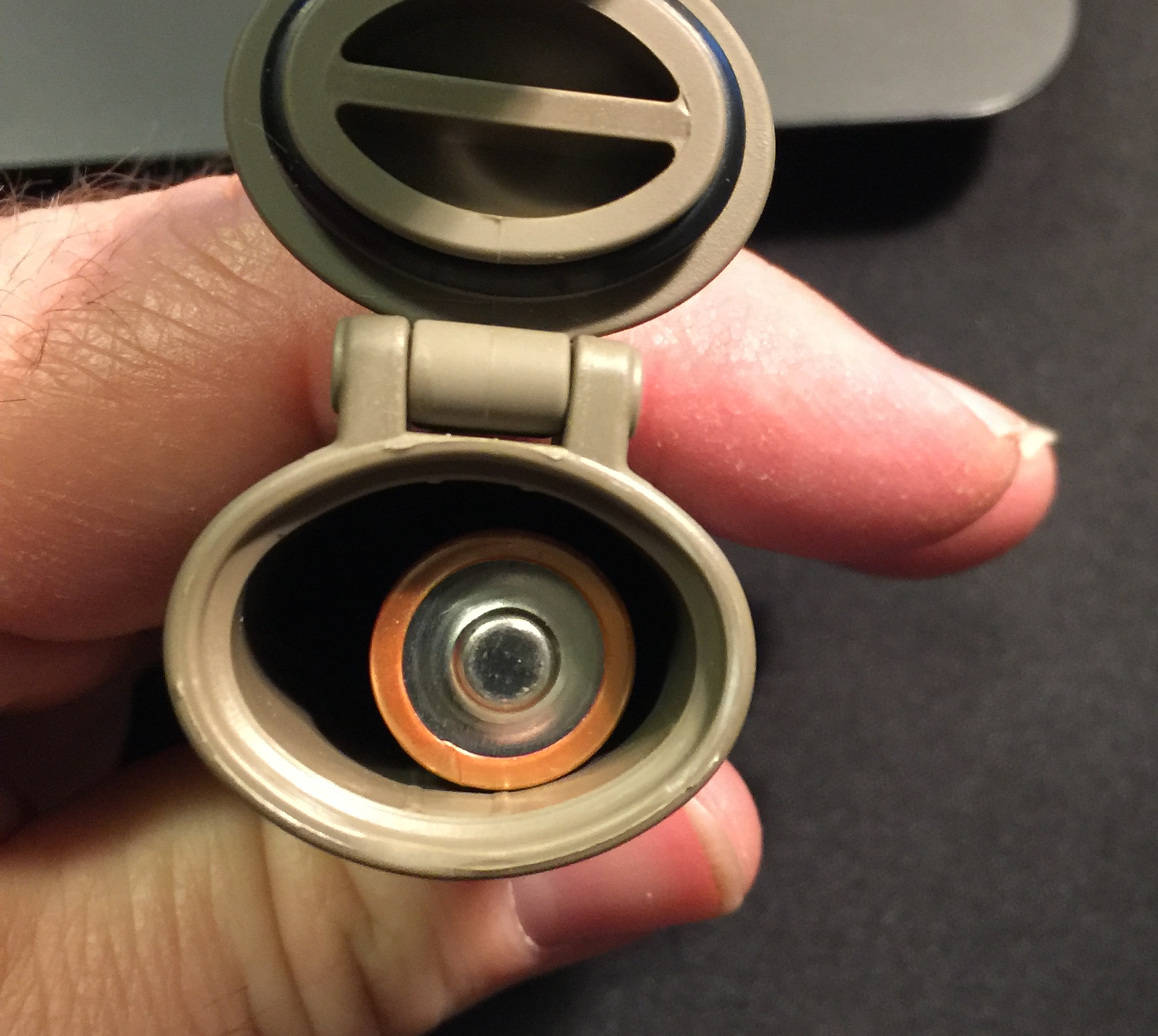 The CellVault will securely hold up to 3 CR123 batteries. Alternately, up to 4 AAA (LR03) batteries or 2 AA (LR06) batteries may be stored in a CellVault instead of the CR123 batteries. The CellVault may als be used to store fire lighting or survival supplies or medications. Small cigars may also fit.
The CellVault XL doubles the storage capacities for the aforementioned battery types and adds the option of storing up to two 18650 batteries. The center divider of the CellVault XL may easily be removed to allow bulkier items, such as keys, memory cards, or first aid / survival supplies (see below) to be stored in the vault.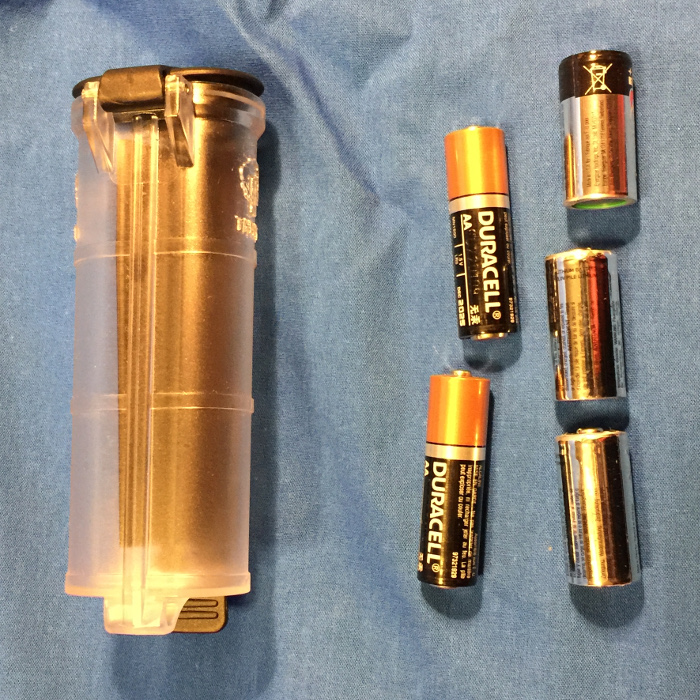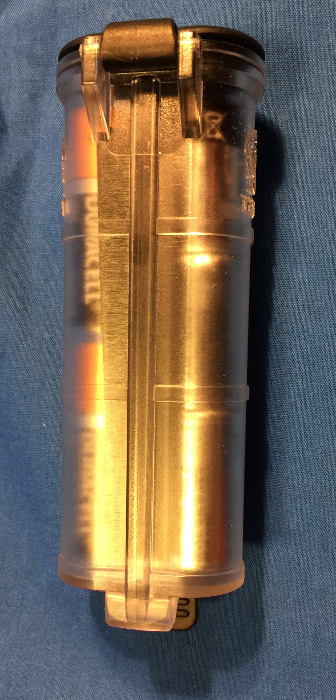 I have allocated my trio of vaults as both battery carriers and an EDC first aid kit (see below). One CellVault XL is attached to my Mystery Ranch Komodo Dragon pack (to the side MOLLE loops) that I use when camping. It carries AA and CR123 batteries for my headlamp and my Streamlight Polytac 90 flashlight.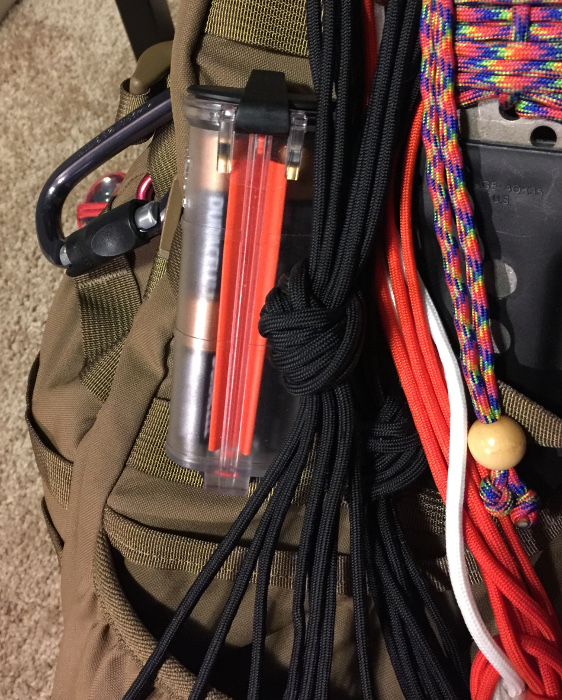 Alternate use
I removed the center divider from my second CellVault XL and converted it into my EDC first aid kit (see below). The CellVault currently carries AA batteries as spares for my wireless mouse and my small EDC flashlight. The first aid kit and CellVault are clipped into the MOLLE loops on the side of my Mystery Ranch ASAP which is my EDC / day pack. To attach a CellVault to a strap or to MOLLE webbing, just release the clip / latch by pulling the lower tab away from the lower lanyard hole and slide the clip over the strap / down through the webbing and then clip to re-latch and secure the vault.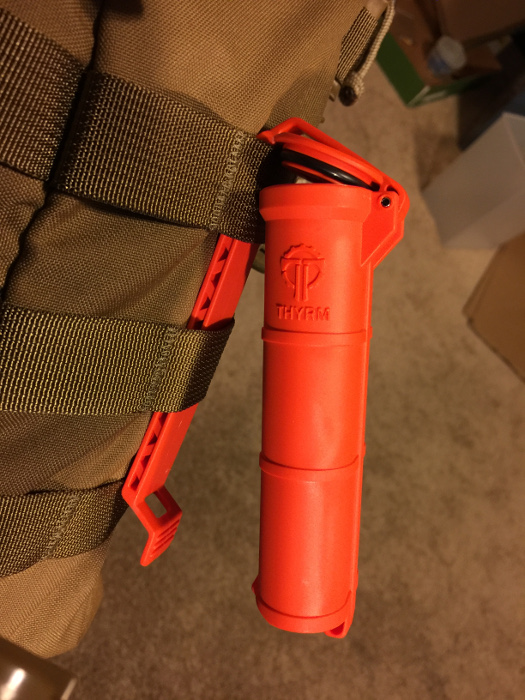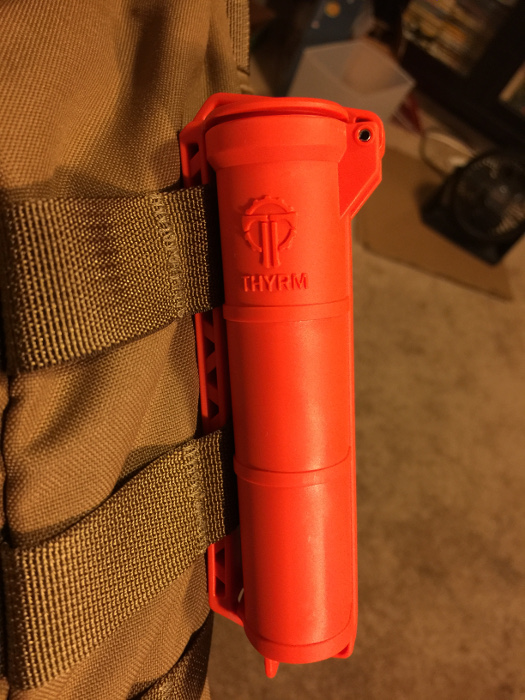 The contents of my first aid kit are shown below. I ended up taking the tweezers out of their tube and used the tube to store a combination of acetaminophen, ibuprofen, and naproxen tablets, but I didn't photograph the new contents.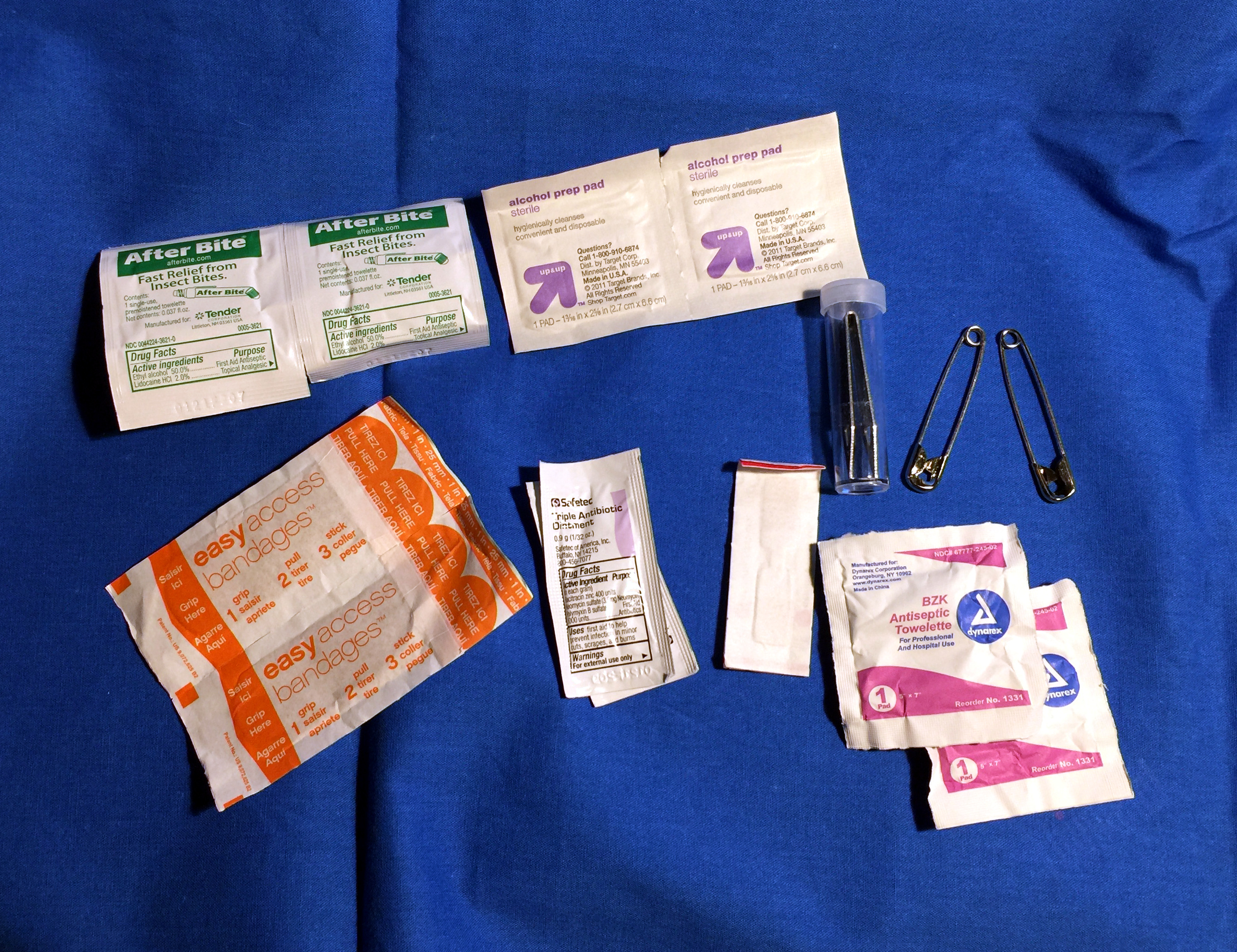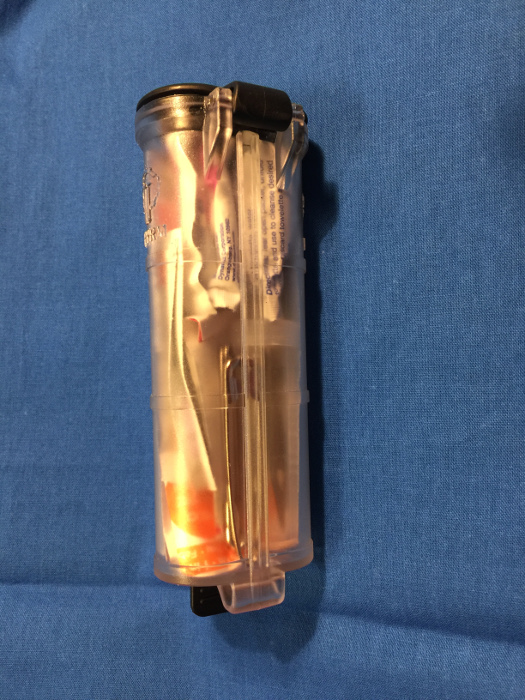 Performance
I have found that the CellVault and CellVault XL work very well for carrying CR123 batteries. They also do a respectable job of carrying AA and AAA batteries, but I need to do a little shock packaging to keep the smaller batteries from rattling around. I don't carry these in tactical situations (I'm an idea rat and computer jockey), but the rattling is bothering me with just daily carrying between my truck and desk. The first aid kit has proved useful several times and has been restocked with bandages once (I had an accident involving a bagel and a Leatherman Wave)
What I like
MOLLE-compatible clip
CR123 batteries can be removed easily one at a time without the remaining batteries falling out
Fits multiple types of cylindrical batteries: CR123, 18650, AAA (LR03) and AA (LR06)
Can be used to store items other than just batteries.
What needs to be improved
Non-CR123 sized batteries rattle around and are not held in when a CellVault is inverted
CellVault cannot be removed from gear without opening the vault (this can also be viewed as a benefit)
Final thoughts
The CellVault and CellVault XL are excellent CR123 battery holders / carriers with many ingenious design features that enhance their function. The CellVault XL also makes an excellent EDC first aid kit, but don't expect it to serve as your only kit for more than hikes on prepared surfaces. With a few modifications, such as adding a bit of foam padding, the CellVault works well as a AA / AAA battery carrier.
If you are looking for an elegant way to keep your lights supplied with batteries, you would be hard pressed to find a more elegant solution than the Thyrm CellVault / CellVault XL.
Price: CellVault $19.99 / CellVault XL $29.99
Where to buy: Thyrm LLC website and Amazon
Source: The samples of these products were purchased with personal funds.