We use affiliate links. If you buy something through the links on this page, we may earn a commission at no cost to you. Learn more.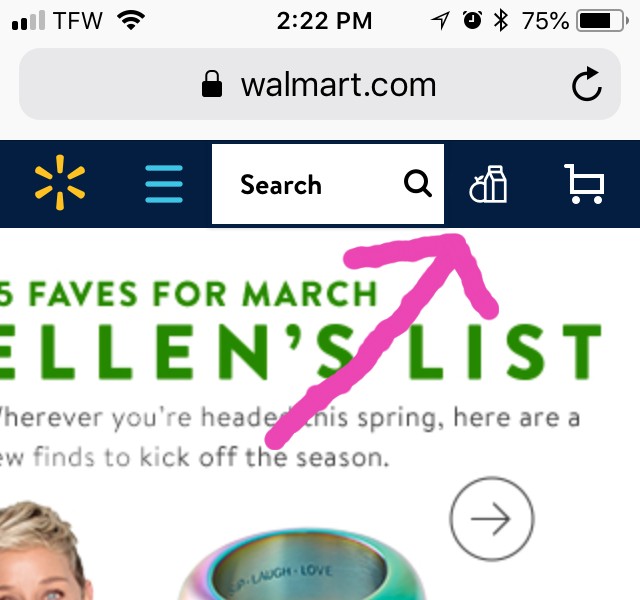 ARTICLE – When it comes to groceries, Walmart offers impressive deals and selection, but it can get extremely crowded with long checkout lines. The super-sized stores can also feel especially daunting if you have young children, a tight schedule, health challenges or mobility issues.
And that's the beauty of online grocery ordering: You get all the deals without any of the hassles. And it's a free service, just make sure to spend $35 or more on your order.
Not every Walmart has grocery pick-up, but they're introducing it more and more places. Just click on the grocery icon to the right of the search bar on Walmart.com. From there you can search your zip code to find the nearest available pick-up location. And if you already have a saved store on the site, it will immediately show you if it's available at your usual spot or, if not, where the closest locations are.
It's easy to search and select items to add to your cart, indicating how many you'd like of each. I've gotten goodies far beyond my weekly menu, like cleaning supplies, medicine, fresh flowers, even a new dog harness.
Then you select a one-hour timeslot to pick up your items. My store offers one-hour windows from 8 a.m. to 8 p.m.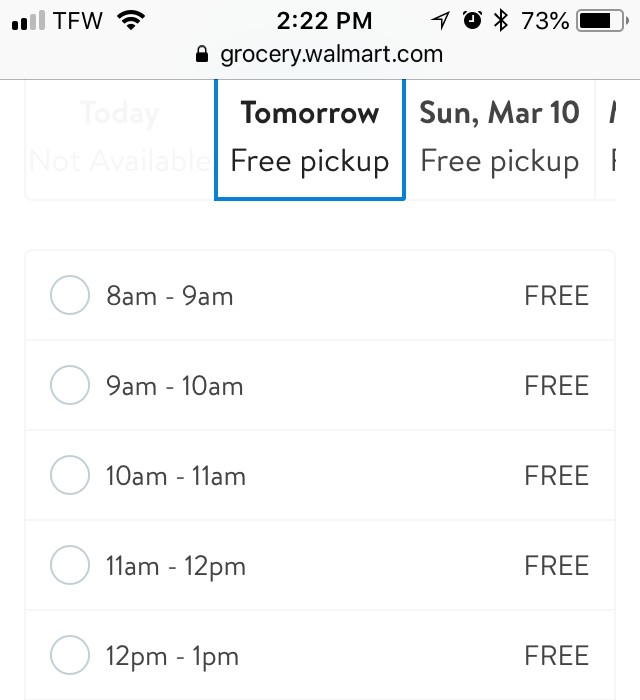 As part of your order review, you can check a box to accept substitutions on all items or individually select which items you're willing to accept substitutions for, in case they're not available. For example, as a substitution, I've gotten a bigger size carton of blackberries at no extra cost when the small size was out of stock. And I was upgraded from the store brand to a name brand of pizza crust (also at no extra cost). But I don't allow substitutions on items where we're picky about having a certain brand (Alexia hash browns, please) or particular flavor (blue Kool-Aid, never the orange).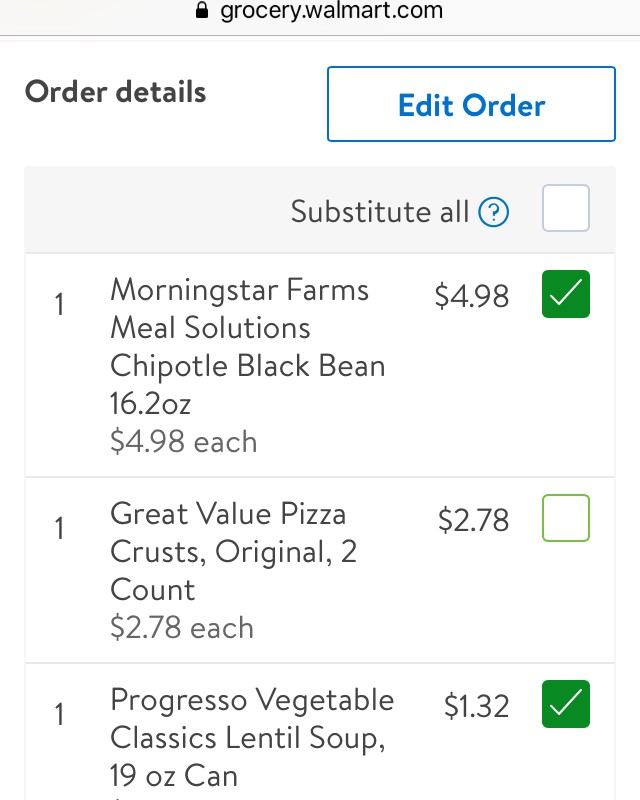 If you do allow the substitutions but don't like what they come up with, you can always have them take it off your order and subtract the cost at pick up. So there's really no risk of getting stuck with something you don't want.
After you've submitted your order online, you can log in and add or subtract items until 12 hours before your pick-up time.
I have text notification set up to let me know when my order is ready. At pick-up time, if you use the app, you can click to say you're on your way. Otherwise, there's a posted phone number in the pick-up lanes so you can let them know you've arrived.
Once you've done it the first time, your list is saved on the site, and it's much easier to click on your favorite stuff the next time without having to search. After my first visit, I also had the pickup number loaded into my phone, so now I just call and let them know when I'm five minutes away.
Now, if you're a coupon connoisseur or BYO bag kind of person (count me in both camps) this might not be your weekly jam. While you can't use manufacturer coupons, there are some $10 off coupons floating around right now. And so many plastic bags —I'm not exaggerating, in my last order, I had NINE single items packed in their own nine different plastic bags, and several other bags with only two small items. However, this might be overlooked for convenience sake when dealing with a sick kid, super-busy week, or the first day you get home from vacation. In fact, I'm already setting up my cart so it's ready when we get back from spring break.
Overall, Walmart online ordering and grocery pickup is easy to use and very convenient. If they had this when my kids were toddlers, it would have been a game changer! Find it at https://grocery.walmart.com/.