We use affiliate links. If you buy something through the links on this page, we may earn a commission at no cost to you. Learn more.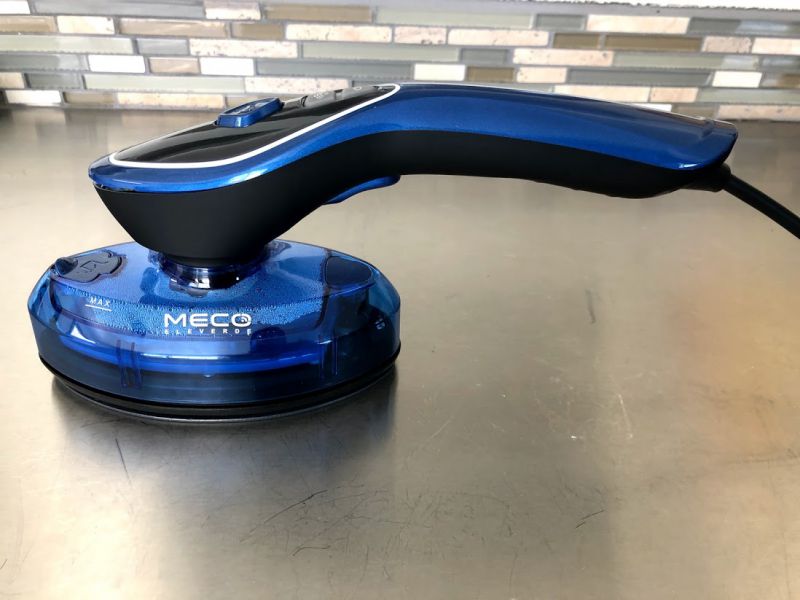 REVIEW – I would think that most people are not a fan of wrinkled clothing, however, I tend to be one to throw a damp towel and a wrinkled shirt into the dryer to knock those wrinkles out and hope for the best. Well, those days are over for me thanks to the MECO Steamer I recently had the pleasure to review.
What is it?
The MECO Steamer is a handheld corded steamer that allows you to iron or steam your wrinkled fabrics. It has a 90 degree push button rotating head, digital display, adjustable temperature and adjustable steam level. It also has an "anti-ironing" and brush attachment.
What's in the box?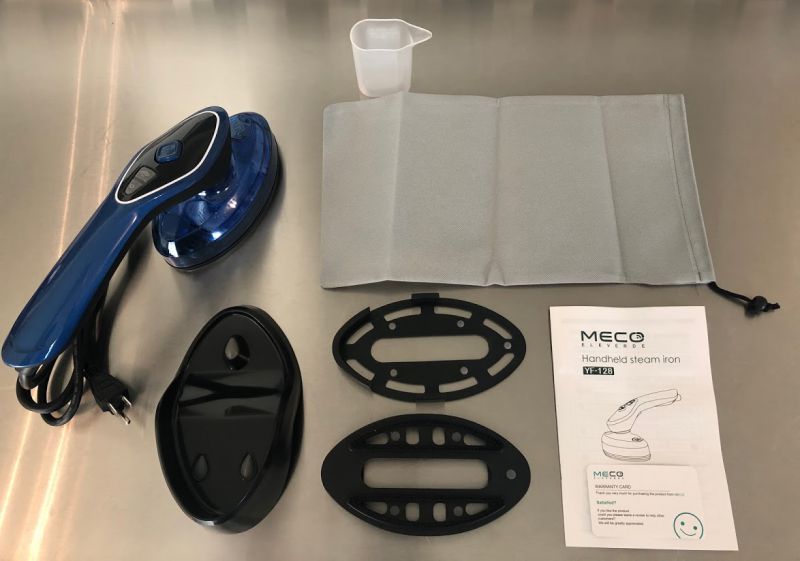 MECO Steamer/Iron
Base
Measuring Cup
Storage Drawstring Bag
Anti-Ironing Attachment
Brush Attachment
Manual & Warranty Card
Design and features
I went into this review expecting nothing more than a basic steamer and I was quickly proven wrong. First of all, this is a pretty hefty tool, coming in at a shade over 2 pounds in weight. It has a sturdy handle with a convenient trigger button for the steam underneath; as well as the power, steam level and digital display in plain view on top.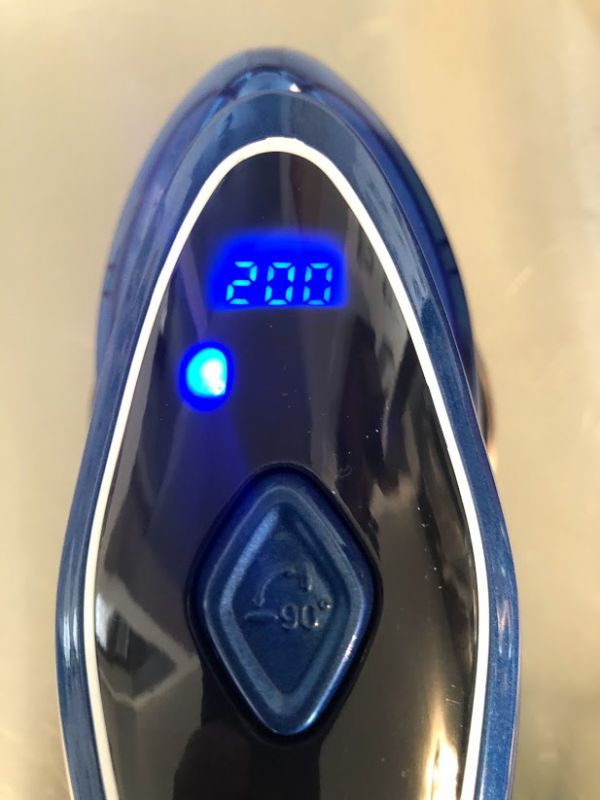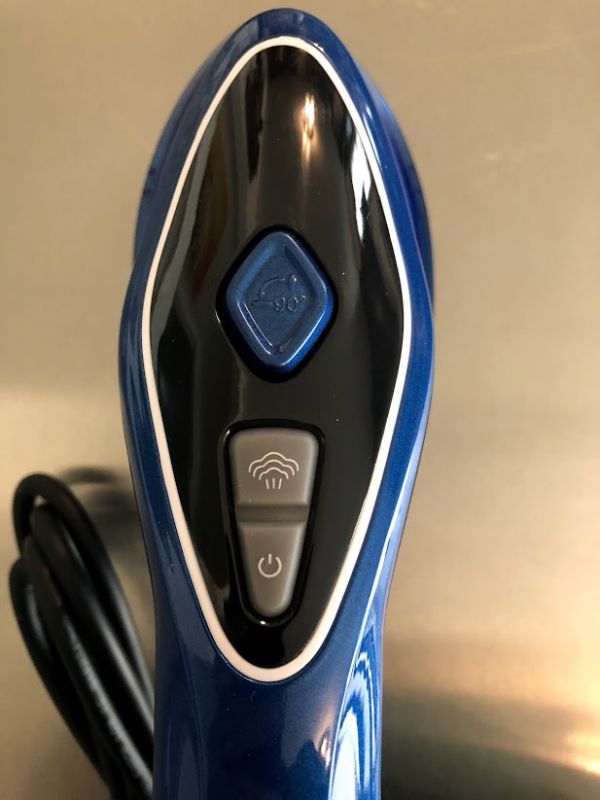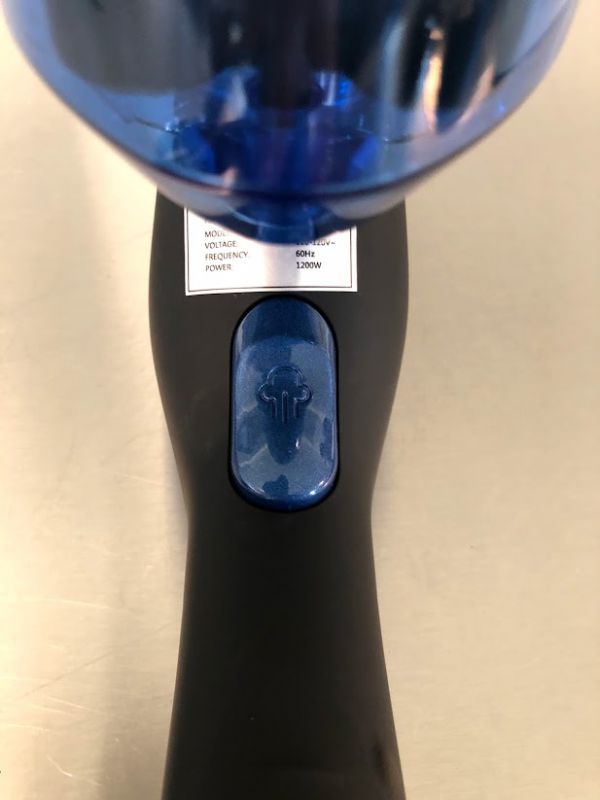 The push button rotation makes it very simple to adjust to a vertical steaming mode that covers a wider swath of fabric. This turns it into a 2-in-1 horizontal and vertical clothes steamer and steam iron/dry iron. Simply press down the button when rotating the iron plate head.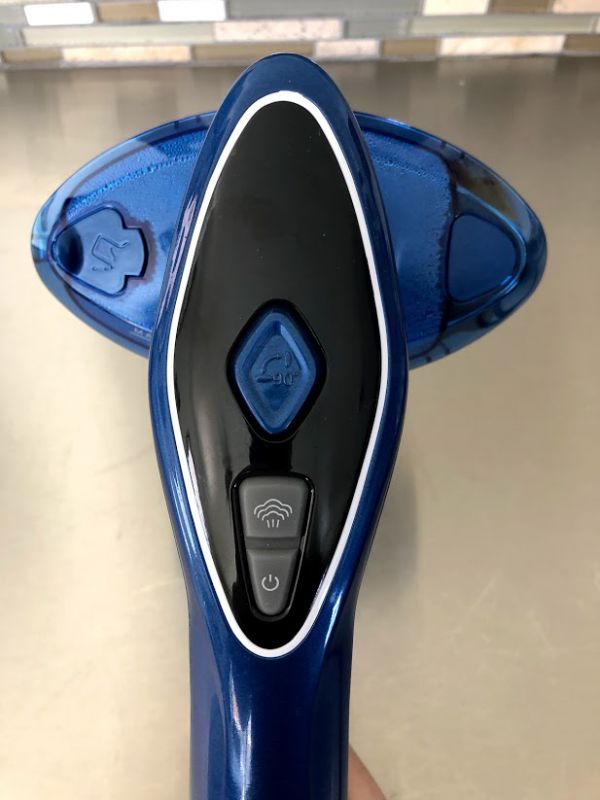 There is a 7 temperature gear, by pressing the power button repeatedly after turning the unit on, it cycles through 80/100/120/140/160/180/200 degrees CELSIUS – I emphasize this for our readers accustomed to Fahrenheit indicators. There is a handy chart in the manual that gives you clear usage instructions for the type of fabric and temperature setting.
There is a small cover at the front of the ironing head where water can be poured into the unit. It is best to use the provided measuring cup with a spout, as the hole to pour the water into is small but the cup has a spout on it that makes it easy to pour without spilling.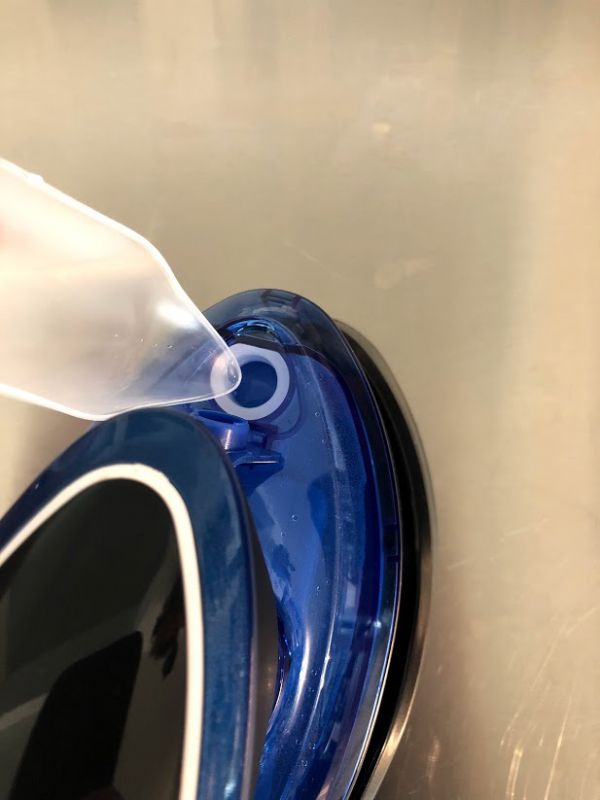 Setup
Setup on this device is pretty simple – plug it in and hold the power button down for 5 seconds to get it to power on. Then press the power button to cycle through to the temperature you want to use. Steam is only generated when set at 180 or 200 degrees. Then press the steam button on the top of the handle to set your steam level (low, medium, high) if desired. As the unit heats up, the temperature will flash, once it reaches the set temperature it will stop flashing and the temperature will show in the digital display in solid blue numbers.
Performance
I tested this steamer in two applications: ironing and steaming. First, I had a shirt that I had received months ago and put on a hangar hoping the wrinkles would fall out. They didn't. It was a cotton shirt so I set the iron temperature to 180 degrees with steam on low to start, as I progressed through the process of ironing the shirt, I adjusted it up to high to get the last few wrinkles out. This was a great test of its horizontal function.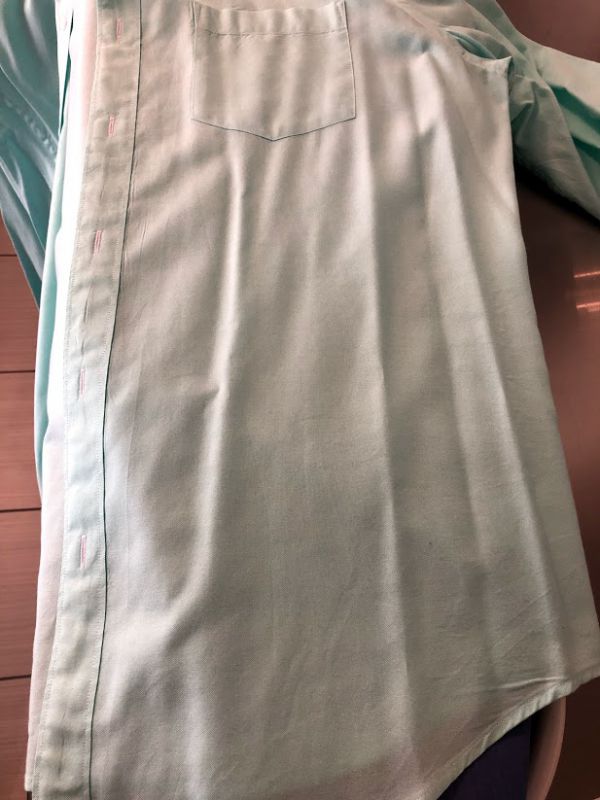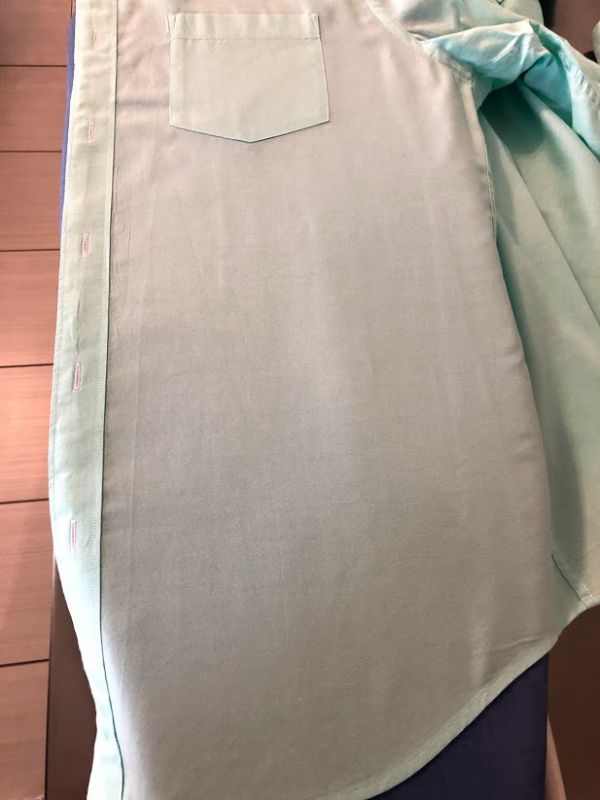 As you can see, it got all the wrinkles out. I used a standard flat ironing board under the shirt to prevent scalding the clothing and it worked great. I consider any deficiencies in performance to be related to my inexperience ironing clothes, I was pretty impressed with its ease of use as well as overall functionality. It heated up quickly and the steam that I used along the way didn't leave spots or stains as I'm accustomed to in my past uses of an iron.
The next thing I tested was the steaming function. Our guest bath had a polyester shower curtain that still had massive wrinkles in it despite 5 years of being on the curtain rod. This made a perfect test of the vertical application of the steamer with the head rotated 90 degrees. I attached the "anti-ironing" attachment, heated the head to 180 degrees and turned the steam level on high.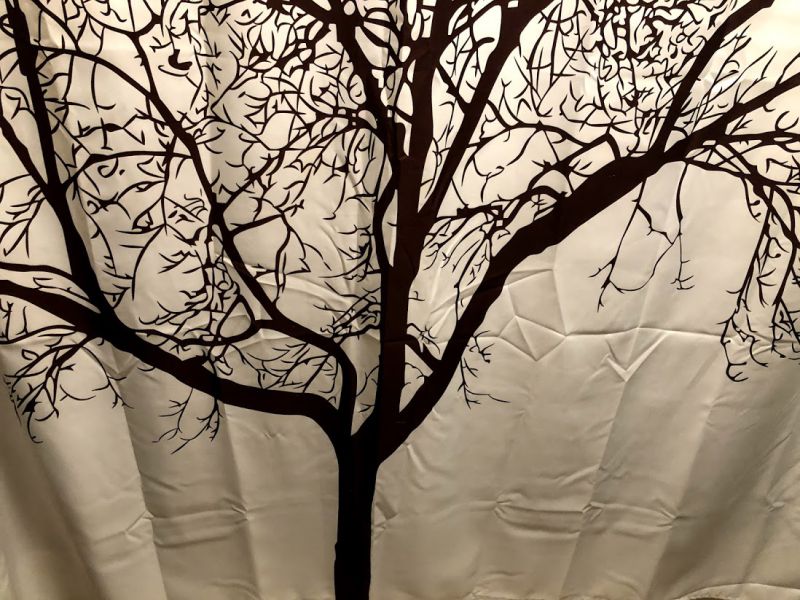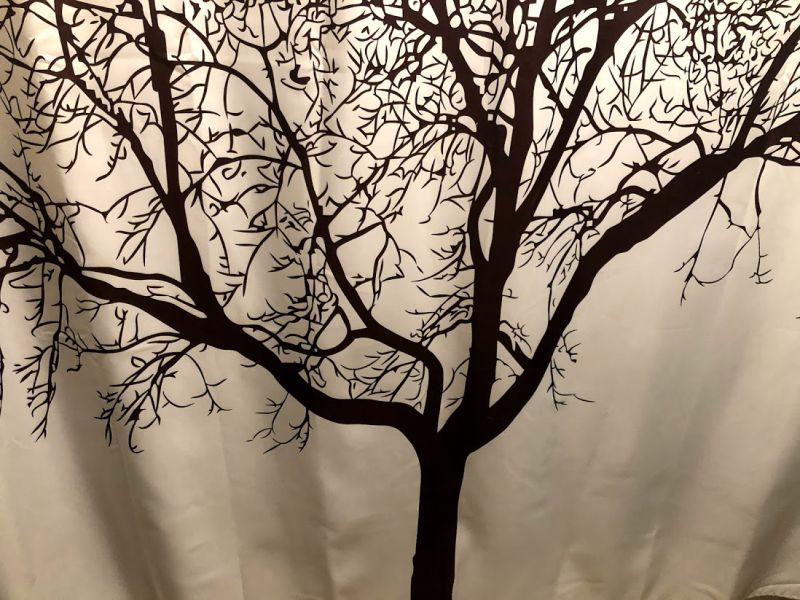 In less than 15 minutes, the shower curtain was pretty much wrinkle free. Again, it was easy to use, the steam function worked perfectly and with the head rotated it was pretty easy to maneuver to get to all the wrinkles without feeling like you had to have a hard surface to press it against. Holding the head of the iron about an inch away from the fabric, I was able to simply hold a bit of tension to the fabric and the wrinkles started coming right out.
The base that is provided is rather handy as well. You can set the unit in the base while it's heating and at any desired temperature as it has pads to protect it from melting. As always with a steam iron, you need to release all the water once cooled and this is as easy as opening the flap and turning the unit upside down over a sink. On the Amazon link we were provided, it is touted as easy to pack for travel. At two pounds, this does take a good amount of weight in a suitcase but with the travel bag provided, it would definitely be an item worth taking on a trip especially if you have business attire or dress clothes for a special occasion. The brush attachment is also designed to remove pet hair, while MECO also touts their iron for uses such as sterilization, replacing laminators, sealing snacks, cleaning candle wax and more.
What I like
Multiple heat settings correlated to the fabric types.
Ergonomic controls and design, easy to handle, move and situate.
Easy to fill/empty water reservoir
Performs very well at ironing and steaming
Rotating 90 degree head really does make a difference when steaming vertically.
What needs to be improved
Instruction Manual – the translation of the manual to English is pretty rough and leaves room in some places for interpretation. For an inexperienced user, it was confusing at times. Additionally, it never explained exactly how or when you're supposed to use the attachments.
A bit top/front heavy when using for a long time in a vertical application.
Celsius temperature settings are not normal in US, possible to have a switch for Fahrenheit setting.
Final thoughts
The pros of this unit greatly outweigh any cons I may have. With my wife previously buying several steamers, I finally found one that I could have some confidence in and want to use without feeling like I'm going to ruin my shirt with a water stain or spend entirely too much time trying to get a single wrinkle out. I may have finally ended my days of finding a damp towel to throw in with my wrinkled shirt.
Price: $42.99
Where to buy: Amazon
Source: The sample of this product was provided by MECO.