We use affiliate links. If you buy something through the links on this page, we may earn a commission at no cost to you. Learn more.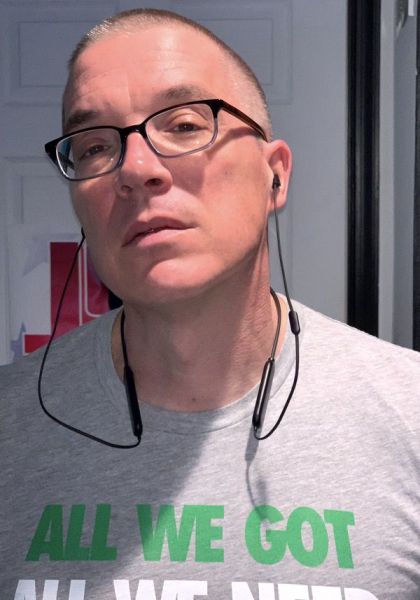 REVIEW – Last month we announced the launch of Phiaton's new active noise cancelling earphones. First impressions were great, and I've been testing them ever since in my quest for the perfect earphones for the gym. What have we learned? To the review!
What is it?
It's a neckband style pair of Bluetooth earphones that offer call features, active noise cancelling, and IPX4 water resistance..
Hardware specs
High Quality Dynamic Speakers Unit: 12 mm
Impedance: 16 Ohm
Sensitivity: 102 dB/mW
Frequency Range: 20 Hz ~ 20 kHz
Max. Input Power: 40 mW
Communication Network: Bluetooth 4.2
Operating Range: Within 10 m / 33 ft.
Call Time (NC on / off): 5 hrs / 8.5 hrs
Music Play Time (NC on / off): 5 hrs / 8.5 hrs
Standby Time (NC on / off): 12.5 hrs / 290 hrs
Full Charge Time: 2 hrs
Weight: 25 g
What's in the box?
Your kit comes with the earphones, three different sizes of silicon ear tips, two sizes of "RightFit+ Ear Wings" (more on that below), a USB charging cable (not shown), a warranty card, and a quick guide.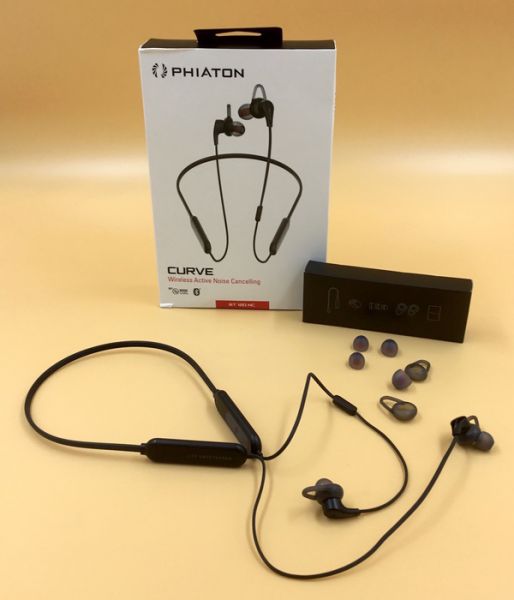 Design and features
I am on the endless quest for the perfect Bluetooth earphones for the gym. I've been trying all kinds of variations from completely wireless buds to neckband-style configurations. Compared to some other models I've tested, the Phiaton Curve earphones get a lot of things right. Let's start with an overview of the design, then delve into performance!
Design Overview
The Phiaton Curve earbuds are actually a two-part configuration. You've got your silicone nib (the part that sits on your ear), along with something Phiaton calls RightFit+ Ear Wings. These are little silicone tabs that tuck into the whorl in your ear.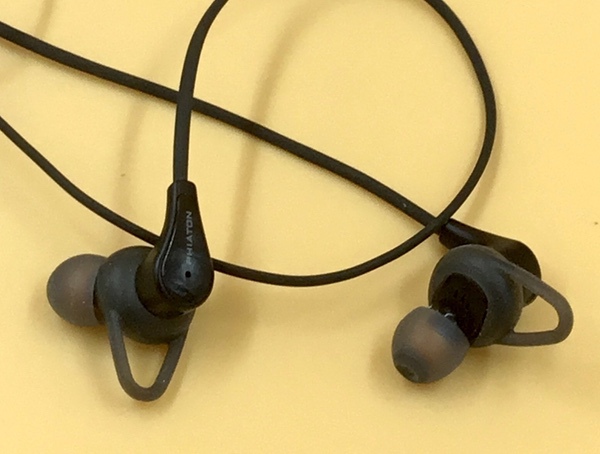 The Internet tells me that this fleshy fold is the part of the ear called the antihelix (thanks, Internet!). And that little tab does a good job of keeping your earbuds from popping out, while being really comfortable. Here's what it looks like when the tab is in place: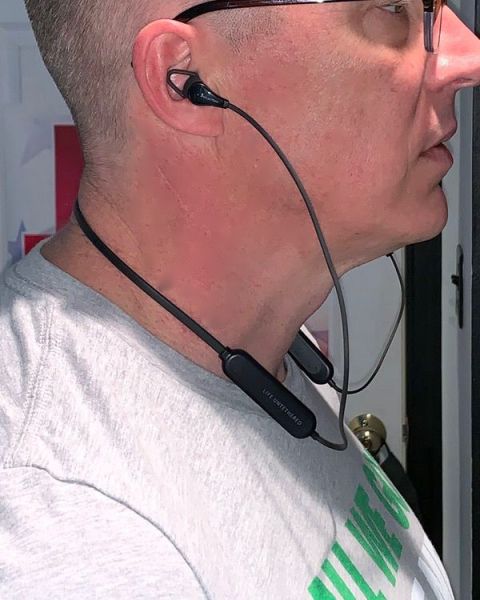 Phiaton includes three different sized nibs and two sizes in the ear wings, so that you can mix and match to find a snug fit. I have two in the earbuds now, the extras are shown below.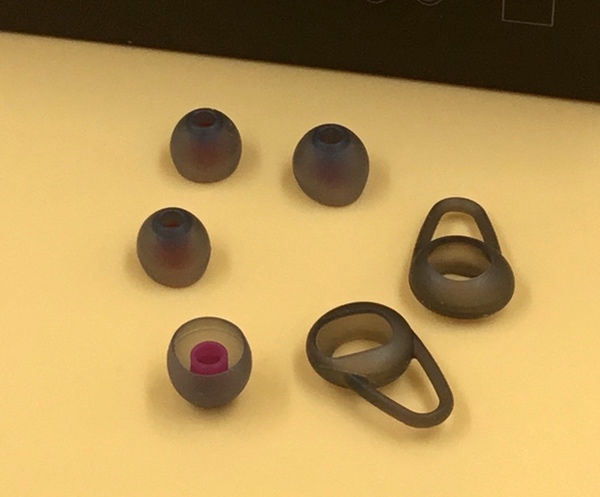 The earbud cables drop to two pods that house all the components, which then connect via a neckband (that small pod you see just below my chin is the microphone). Note that the whole unit is IPX4 water resistant, which means it will stand up to sweat and offers water resistance. It's not designed for sustained water contact or to be submersible, so be careful with your chosen activities.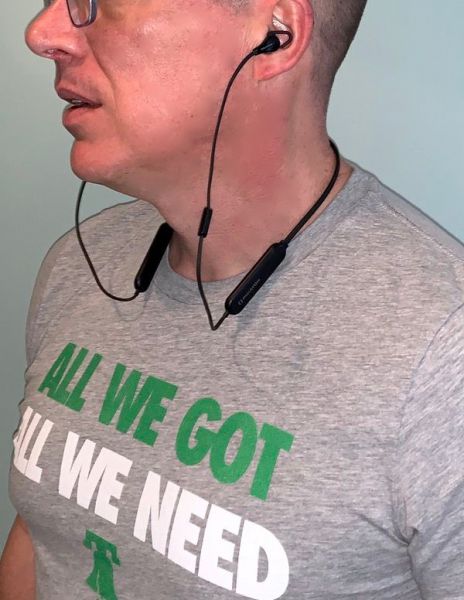 The neckband itself is made from a thicker rubberized "memory flex" material, designed to stay in place while you are in motion. It's light and comfortable and generally does a good job staying put. Here's a shot from behind to see how it hugs the neck: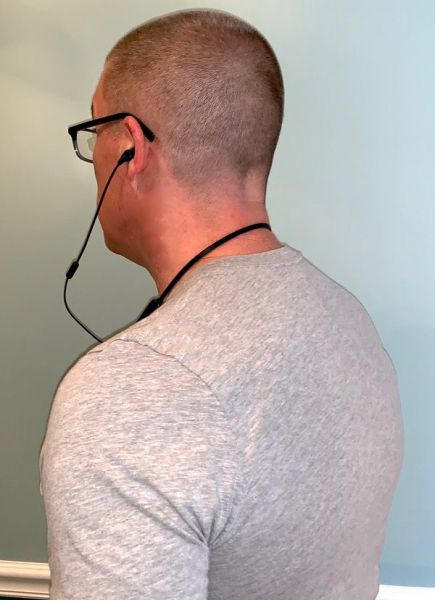 All of your controls are found in the left-hand pod. There are three buttons on the inside face, each slightly raised for tactile feedback. These three buttons (volume up, volume down, and power) are actually each multifunction buttons with a "one click" and a "click and hold" function. The volume buttons, for example, raise and lower the volume with one tap but switch tracks on a click and hold.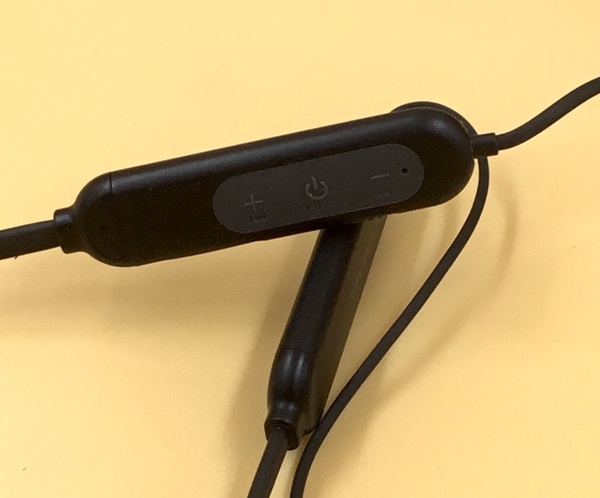 The side of this pod houses the USB port tucked behind a rubber seal as well as a button that enables the active noise cancelling feature: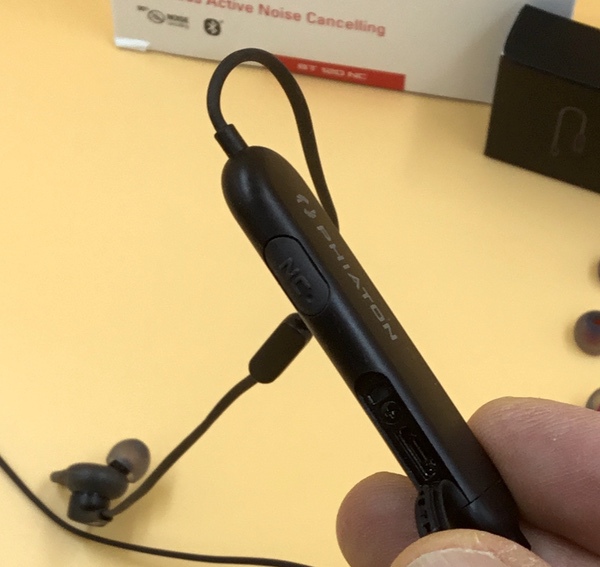 Performance
The Phiaton Curve earphones do a lot of things well. Some areas of general usability may be hit or miss, depending on your intended use.
Let's start with the big one: compared to numerous other options I have tested, the Phiaton Curve earphones may have the best sound quality I have heard in a pair of minimalist earphones to-date. The audio is crisp and clean with great range when listening to music. You won't mind using these on the train or during a flight, because the active noise cancelling feature really does the job. Call quality is excellent as well with great pickup on the microphone. I have had no issues making calls, nor have I had anyone complain about sound quality on the other end.
Power management is also excellent on the Phiaton Curve earphones. When you turn them on, a little voice informs you of the current power level. You can charge them for 5 minutes to get an hour's charge for a quick workout, a great feature if you forget to charge your earbuds! A full charge takes about 2 hours and holds for between 5 and 9 hours of active use, depending on how much music you're playing. I've had them sit for a week powered off, and still come back to nearly a full charge when I power them up. Very impressive.
The fit and comfort on these earphones are also excellent. I really do like the Ear Wings provide *just* enough stability and flexibility to keep the buds in your ears without being irritating. It's a great little design.
If you're a runner or doing activities that keep you vertical, you'll have no issues with the neckband. It's really comfortable and practically weightless. The neckband does tend to slide around a bit in other situations. I've had it get caught on the lip of the weight bench, for example, or flop around when I am doing stretches on a mat. The memory fit neckband doesn't really hold its shape, you can't cinch it tightly for more complex maneuvers. I did see that Phiaton states that a clip is included in the package for this purchase. That would help, but my pre-release copy did not come with it.
The other issue that takes some getting used to is the controls. Ideally, you'd like to be able to manipulate the buttons without looking at them, like so: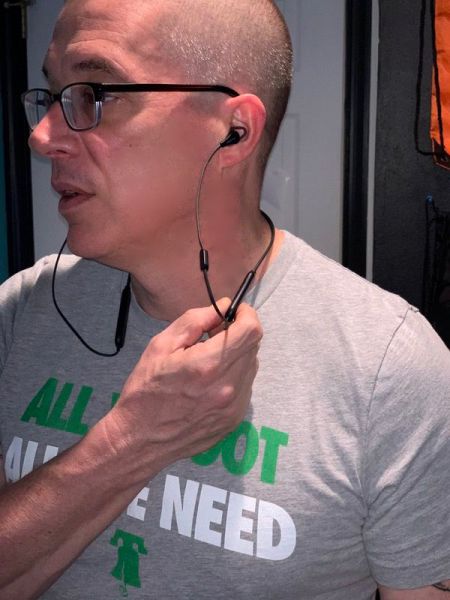 To make this truly intuitive those controls could use for some fine tuning. The tactile feedback on the buttons is not very pronounced, making it hard to find the right button without looking at the controls. The dual-function features are also super-sensitive, often resulting in you triggering three wrong functions. I'd often find myself pressing the wrong button, or skipping to the next song (press-and-hold on the volume up button) when I just wanted to increase the volume. I'm getting better at it with practice, but I actually find it easier to use the controls on my iPhone directly rather than messing with the pod controls.
What I like
Amazing sound quality
Excellent microphone
Comfortable to wear
Great power management
Noise cancelling that really works
What needs to be improved
The neckband could use some more grip or rigidity to stay in place when you're not standing or sitting up.
Touch controls can be super sensitive and are hard to manipulate without looking at them.
Final thoughts
Some minor issues aside, this is a really great pair of earphones. They're lightweight, comfortable, and produce great sound quality for the gym or travel. The quick charge feature is fantastic. The active noise cancelling is the real deal, and call quality is excellent. Runners & cyclists will love them, and so will commuters. I'd just a like a better solution to keep the neckband in place for a broader range of activities. Given the rest of the good qualities, however, I'm happy to find other solutions to solve for that.
Price: $79.99
Where to buy: Get 'em on Amazon.
Source: The sample of this product was provided by Phiaton.