We use affiliate links. If you buy something through the links on this page, we may earn a commission at no cost to you. Learn more.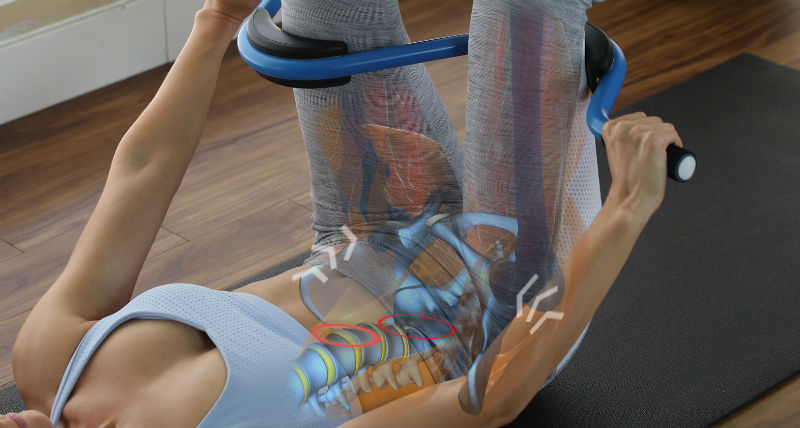 NEWS – Do you have back problems? I'm lucky to say that I don't… at least not at the moment. But having said that, my back has gone out 2 times in the last few years and I never want to suffer through that kind of pain again, not to mention the frequent trips to the chiropractor. I think working out 4 days a week and improving my core strength has helped to keep my back from going out in the last year, but I'm always looking for specific things I can do to prevent another flare up. The Back Pedal looks like a specialized tool that might be the perfect solution for me and many people that deal with frequent back pain, hip pain, or sciatica issues.
What is the Back Pedal? It's a tool designed by a physical therapist that is used to help strengthen and realign your pelvis.
Pushing with your legs opposite directions against the pads facilitates a co-contracting isometric pull that causes a rotational force in our pelvis. When we contract our hip flexors on one side we cause an anterior/forward rotation on that side of the pelvis. When we contract our hip extensors on the opposite side it causes a posterior/backward rotation.

This rotational co-contraction force brings the pelvis back into its normal position, realigning the spine and pelvis while strengthening the muscles (Iliacus, Psoas Major, Psoas Minor, Gluteus Maximus, Semitendinosus, Semimembranosus, Biceps Femoris, Transverse Abdominis, & Rectus Abdominis) and stabilizing the joints. This causes a better distribution of force up through the spine and down through the legs alleviating your back, hip, and sciatica pain!
Dr. Beddoe sent me a pre-production sample of the Back Pedal that I've used for a few minutes every day and I can tell you that it's easy to use and you can really feel it when you use it. I'm adding it to my regular workout routine as an easy preventive maintenance measure.
The Back Pedal campaign ends on 2/15/19 and they are just starting the climb towards their funding goal of $12,500. You can pre-order a Back Pedal starting at $35. After the Back Pedal campaign ends, rewards are estimated to start shipping in April 2019. Visit their Kickstarter campaign page for all the details.