We use affiliate links. If you buy something through the links on this page, we may earn a commission at no cost to you. Learn more.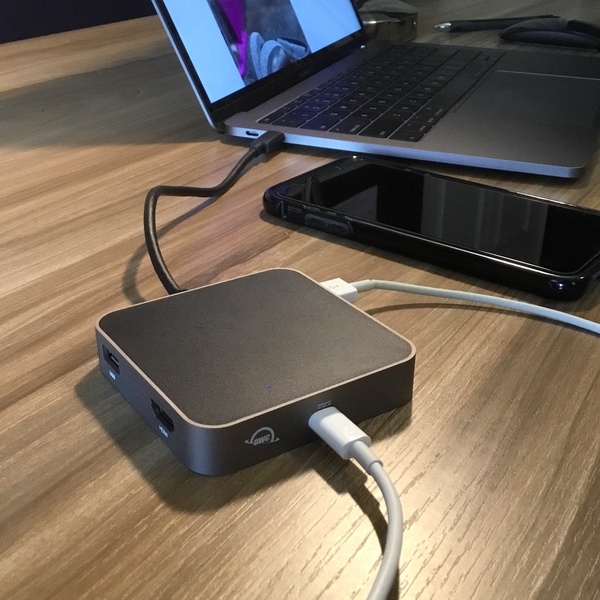 REVIEW – Multitaskers are the road warrior's best friend, and that's what the USB-C Travel Dock by OWC offers. It's a single device that includes an assortment of ports for your charging and peripheral needs! Leave the extra gizmos and doodads at home… but stay for the review!
What is it?
It's a USB-C travel dock with a USB-C port, 2 USB ports, an HDMI port, and an SD Card Reader.
Hardware specs
1 USB-C Port, fully compatible with all Thunderbolt 3 equipped Macs and PCs
2 USB 3.1 (Standard-A) Ports
USH-II SD Card Reader
HDMI 2.0 Port
Supports 4K display resolution – up to 4096 x 2160 at 30Hz
What's in the box?
The dock, and nothing but the dock.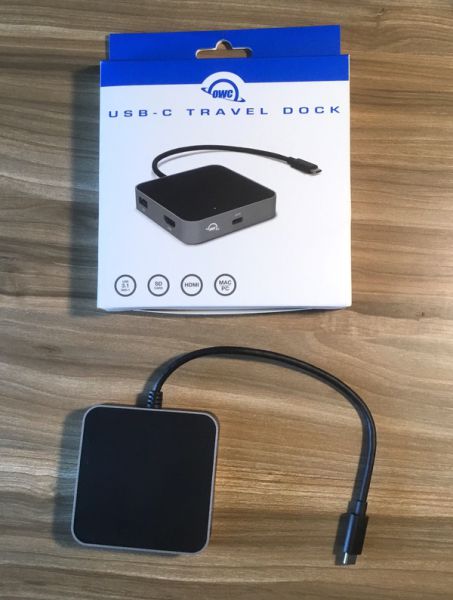 Design and features
The Travel Dock is a 3.2″ by 3.2″ by 0.7″ block that weighs in at a mere 3.2 ounces, perfect for tossing in just about any pocket in your bag. You can get it in a choice from four finishes to match your MacBook (Gold, Silver, Space Grey, or Rose Gold). It looks and feels like a natural accessory. While it's a bit chunkier than some other USB-C adaptors on the market, there's actually a lot of subtle and very functional usability built into the design.
For starters, it's got a dedicated 9″ UBC-C cable, which is great for uncramping the immediate space around your laptop. The 3-sided port setup also helps with managing your chords because you're not fighting to plug a bunch of stuff into a small space. There's plenty of room to work.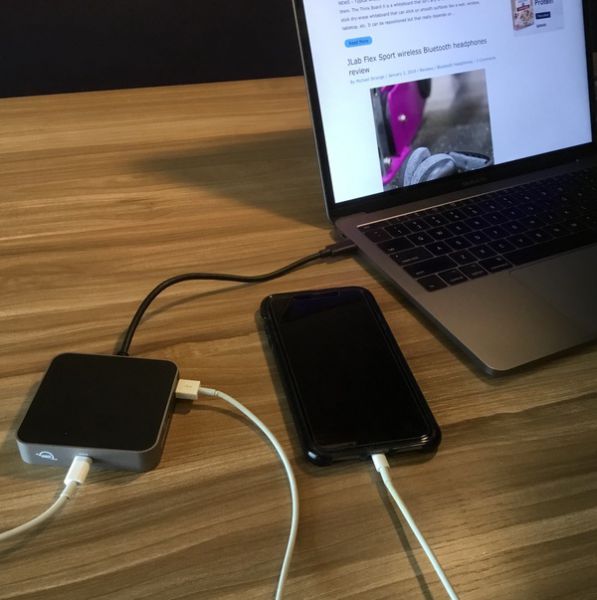 Once you're plugged in, a blue indicator light shows you that you're drawing power: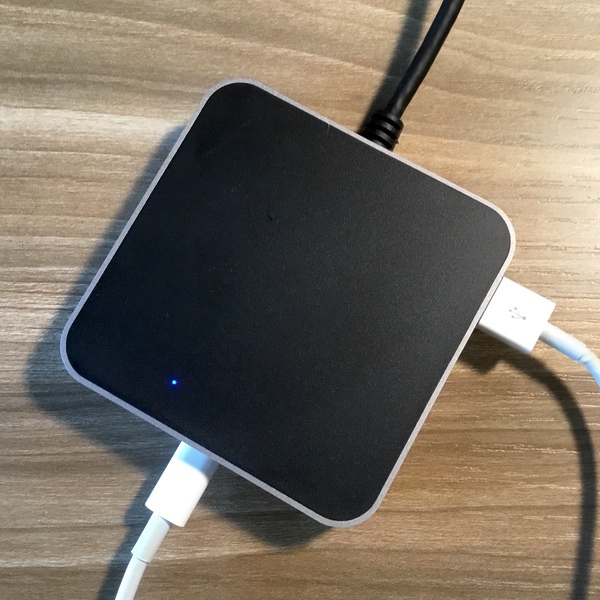 The USB-C port is on the opposite face from the dedicated plug, which allows your power cable to keep running without interfering with the other ports. You can plug your power into this port, and the pass-through feature enables you to take full advantage of integration with the rest of your devices. You can charge your laptop, your accessories, and link your iPhone or iPad to the MacBook at the same time: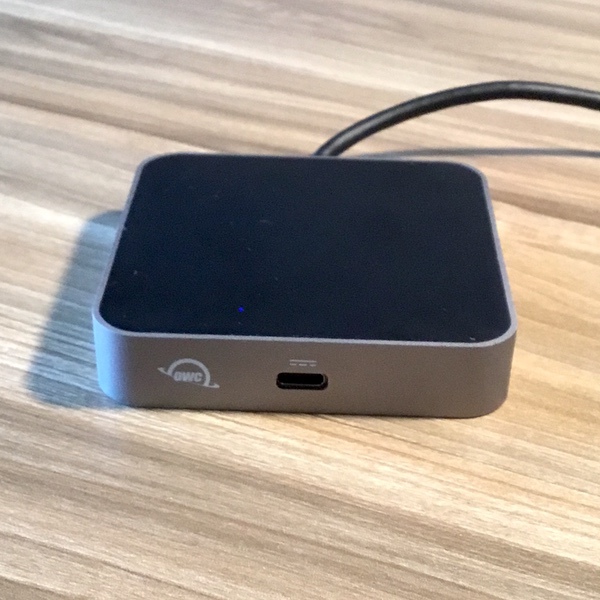 One face has a standard USB port and an HDMI port. This faces towards the back of the unit when plugged into the left side of your laptop, which is handy if you have a permanent location for your monitor or are trying to hook up to a projector in a conference room: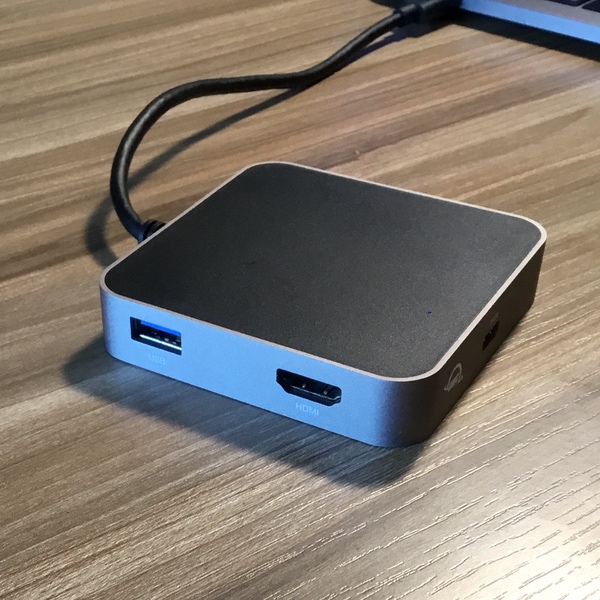 The other face has a second USB port and an SD Card Reader, which faces the front if you're plugged in on the left-hand side. That extra USB port is lovely when you're trying to charge multiple items at once: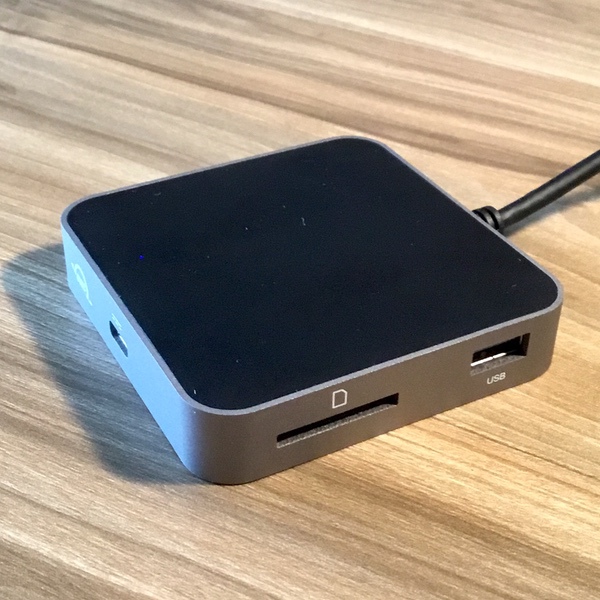 The base also has some soft tabs on the corners to keep it from scratching your desk, which is a nice touch: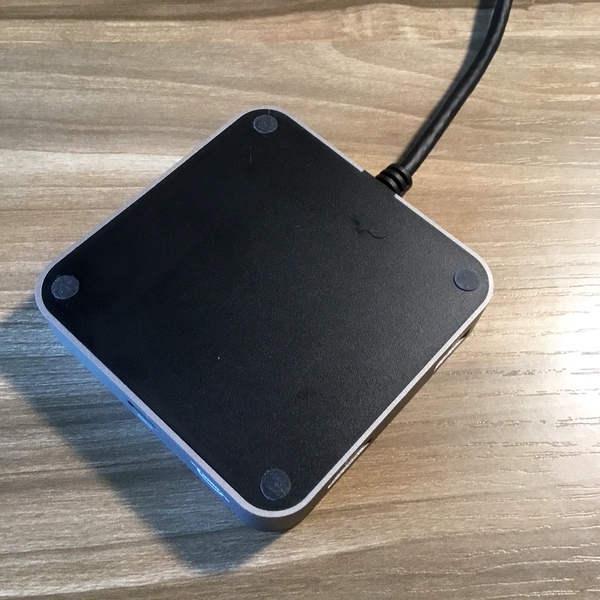 As someone who doesn't have a permanent desk these days, I'm loving the convenience that a single dock offers. I can tap into whatever power and video sources are available in any conference room or hoteling station at work, and still have ports to spare to charge my iPhone and iPad (or other USB-compatible peripherals) as needed. The roomy dock also means less fumbling when you're trying to plug things in, a plus over some of the more compact adaptor solutions.
As an added bonus, you can plug the dedicated USB-C cable into your MacBook power brick and use the dock as a dedicated charging station. Not only is that great for when you crash in a hotel room, but that means less stuff to manage when traveling. I've been running with the MacBook power brick and USB-C cable and two extra USB cables for charging stuff, leaving the other assorted power bricks at home. It's ideal for the minimalist traveler.
What I like
9″ dedicated USB-C cable uncramps your workspace
Well-spaced ports make for easier management of cables
Also works as a dedicated charging station with your MacBook power brick
What needs to be improved
Final thoughts
I'm really liking the OWC USB-C Travel Dock as a do-it-all accessory. It's well designed, well built, and has some nice design features that make it easy to manipulate while giving you some extra room to work with. Some may prefer the more compact adaptors, but I like the added features an extra USB port for all the gadgets I typically carry. It looks great and comes at a great price, too.
Price: $39.00
Where to buy: Go to the product page on the OWC web site.
Source: The sample of this product was provided by OWC.