We use affiliate links. If you buy something through the links on this page, we may earn a commission at no cost to you. Learn more.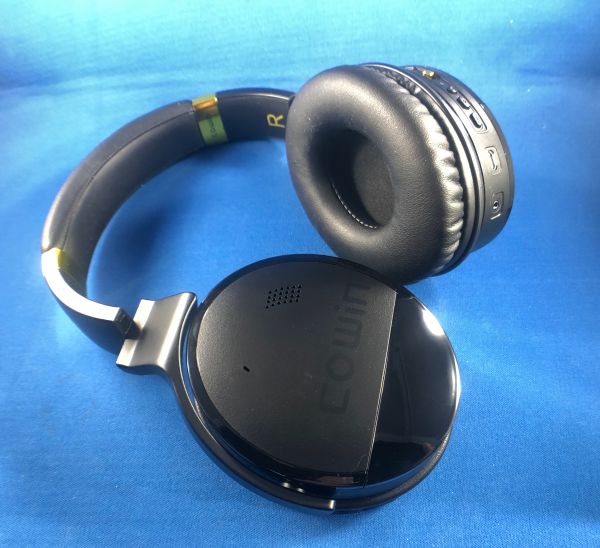 REVIEW – Noise-cancelling over-the-ear headphones are a great investment for this time of year. If you're traveling, you're probably needing the soothing envelope of your own sounds, whether it's a podcast, an audiobook, music, or something calming like a neutral soundscape. Corded is fine, but if it's wireless, so much the better. Cowin recently sent us a set of their E8 model Over-the-ear noise-cancelling headphones, and I've been testing them. Come into my quiet place and let's talk about them.

Note: Photos may be tapped or clicked for a larger image.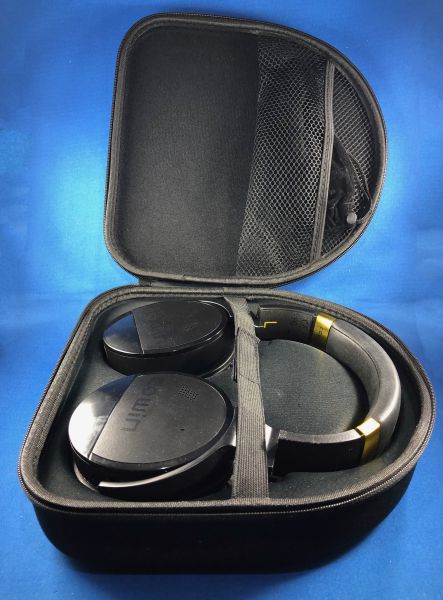 What is it?
The Cowin E8's are a very nice looking, well-built set of over-the-ear headphones. They arrive in a hardshell, form-fitting protective zippered case with all the cords, cables, and adapters you can imagine.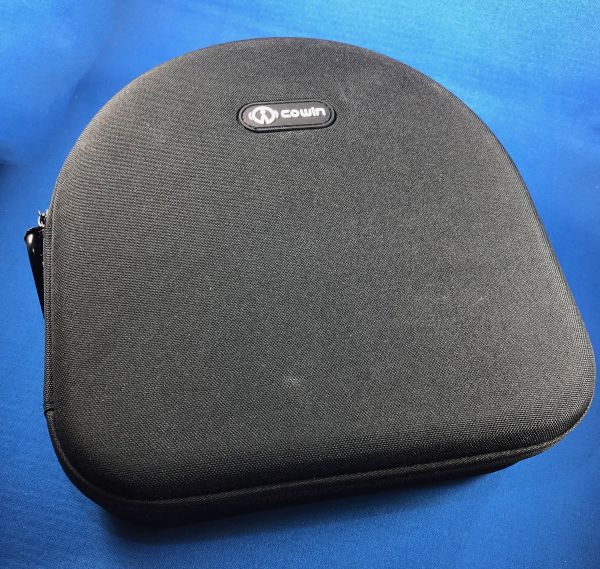 Hardware specs
Impact-resistant materials
Corrosion-resistant stainless steel headband spring
Premium listening experience with Adaptive Noise Cancelling (ANC)
18 Month Warranty
Cushions feature advanced venting and ergonomic pivoting
Advanced mic system with HD Voice on calls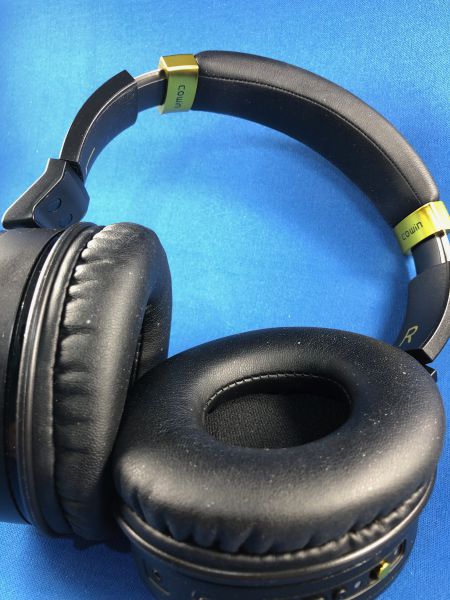 What's in the box?
Headphones
Hard-shell travel case with net pocket for accessories
USB charge cable for battery
1/8″ – 1/4″ adapter
Proprietary audio cable to connect to AUX
Airline audio adapter
Velveteen drawstring bag for above adapters
Design and features
The Cowin E8's are a premium-look and feel in the NC Headphone space. Leather earcups, nicely stitched headband and padding around the earcups, and a soft, springy mesh over the actual speakers inside, as well as firm, sure switches make every touch a positive experience. There is no creak, squeak, or groan when you bend and adjust the unit to your head. The wide steel band that slides into and out of the headband for adjustment is etched to give you a place to reset to, should you share them, or pack them away and the adjustment gets changed.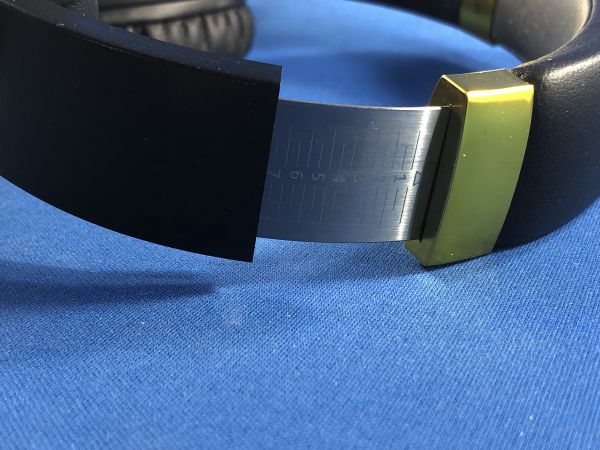 Like most over-the-ear headphones, the E-8's fully cover your ears and seal against your head. This prevents much background noise from permeating your soundscape. But sometimes, say, in my office right now, there may be a machine running that is distracting. Like, say, a dehumidifier. Turning on noise-cancellation reduces this noise from a low roar to a slight whoosh. A tiny bit of background music or sounds will remove it entirely.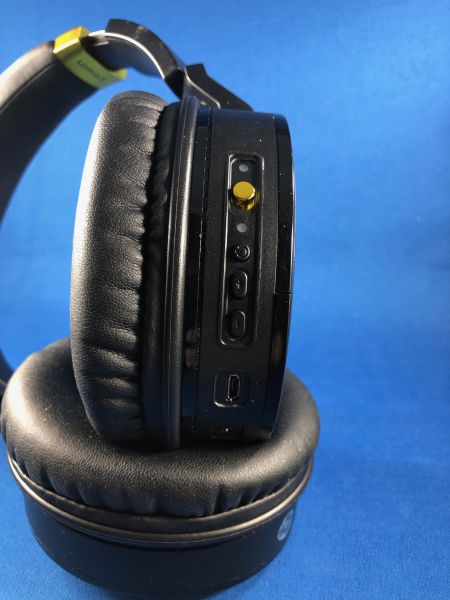 All controls for the Noise cancellation and the Bluetooth connection, as well as phone and playback controls, are on the right earcup. The top brass round button engages or disengages the noise-cancellation, while the power button turns the Bluetooth radio on or off with a long-press. A short press of the power button while connected will stop or start music playback, or connect/disconnect a call. At the very bottom below the buttons, there is an open microUSB charging port, and the 3/32″ proprietary audio input jack.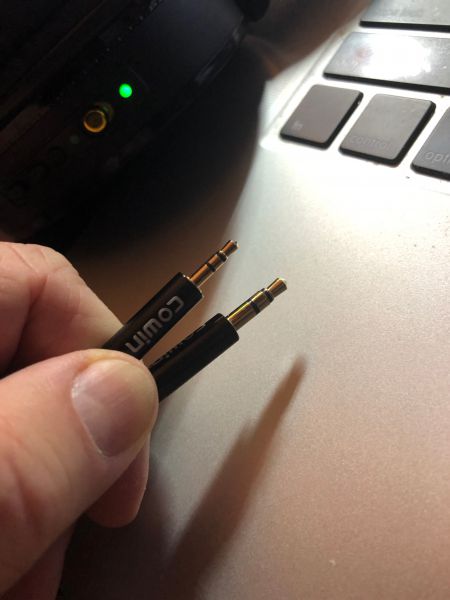 Performance
The headphones work well to isolate unwanted sounds from the environment without using noise cancellation technology. If there are really loud or irritating sounds, turning on noise-cancellation will produce an anti-wave to cancel it out. Plane engines, loud machinery, or other loud, repetitive noises will simply disappear.
What I Like
Nicely padded ear cups with sound-isolating properties
Comfortable band and adjustments
Nice travel case with a net pocket for cables
Easy to find and use controls
Rechargeable battery for Noise Cancelling feature
What needs to be improved
Small, non-standard AUX cable for headphones (difficult to replace)
Not stereo when using cable
Battery has short shelf-charge life
Final thoughts
I love over-the-ear headphones. Whenever I'm sitting at my Mac, I'm usually wearing a set, since others in the house are rarely in the mood for whatever sounds and music are coming from my virtual environment. The other reason I love them is the immersion you get from being fully surrounded by the soundscape of whatever you're listening to. The E8s from Cowin are a well-made set of headphones that have a decent sound profile but are hampered by a few little electronics issues. First, they went with a cheaper 3/32" connector into the headphone for the wired connection. Why? The 1/8" jack cannot possibly be that much larger. and you know what? As a result, when operating with the noise cancellation and only the wired headphone, only the right side gets sound. How special is that?
The battery only lasts a few days when not being used or charged. Before you leave for a trip where you're expecting to use this, make sure you have it freshly charged.
Price: $149.99
Where to buy: Amazon
Source: The sample of this product was provided by Cowin