We use affiliate links. If you buy something through the links on this page, we may earn a commission at no cost to you. Learn more.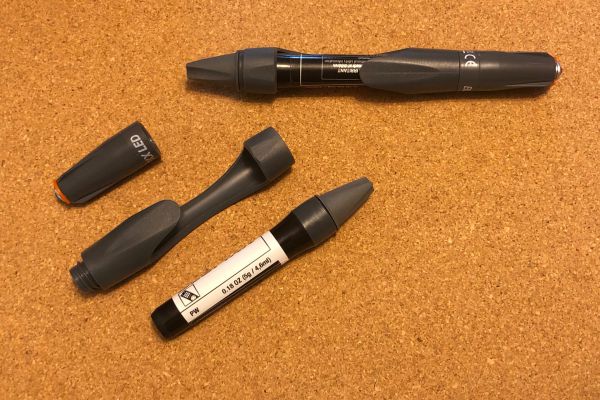 REVIEW – Fixing broken things is one of the Gadgeteer superpowers. We use a lot of different materials for this, and we were recently offered a new product that can fill those patching and repair needs. It's a series of light-curing products called BluFixx. These are liquids that are designed to repair everything from your phone charger cable to wood floors and plastic pipe. The liquid is cured with a UV light, just like the tooth-filling material your dentist uses.
Note: Photos may be tapped or clicked for a larger image.
What is it?
A tube of liquid that flows easily, backed by a UV light source at the opposite end, which cures the liquid into a hard material.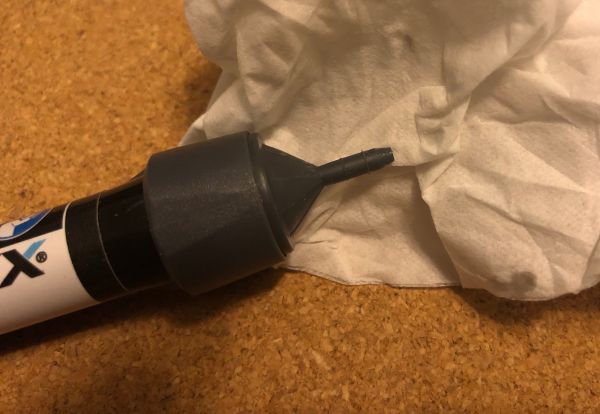 Hardware specs
The product is sold both as a full kit (holder with a tube of liquid and UV curing light together) or just the refill of the actual material. (Since any UV light source, even direct sunlight, will cure the liquid, this is an easy entree into trying out this product.)
What's in the box?
As mentioned, there are two main ways to order: as a kit (including holder and light) or as a refill (liquid in tube with applicator tip. There is also a three-fold brochure on safety and usage tips that is 7"x11" when fully unfolded. The lede photo above shows two kits – one fully assembled on the upper right, and the other disassembled on the lower left. The Refill is just the tube with the white label in the lower center.
Design and features
The design of the product is sheer simplicity. A needle-tipped applicator is used to direct a thin film of product onto a surface needing repair. When the liquid is in the right spot, the user spins the applicator around and activates the UV light on the other end (it's a push-on/push-off affair), and in 5-10 seconds, the product is hardened into a tough, yet pliable surface.
Setup
While there is really very little "setup", I thought a few words about how the "pen" aspect of the design. It feels very natural to hold it in your hand, point down, gently squeezing the flexible body of the tube and allowing the gel to flow into the area of application. If it gets too thick, however, the UV light won't penetrate and cure it. Remember: Thin layers, just like your outdoor adventure guide always told you.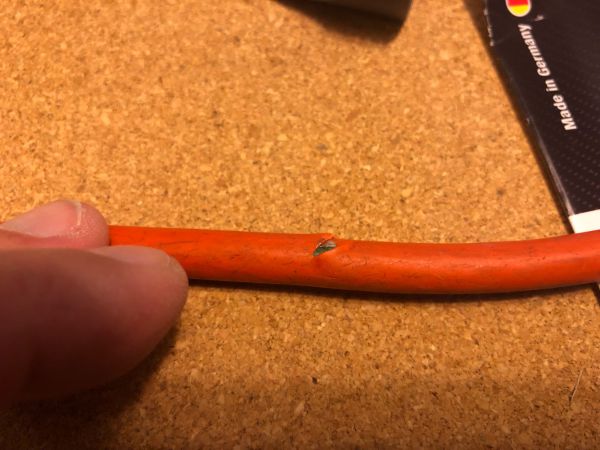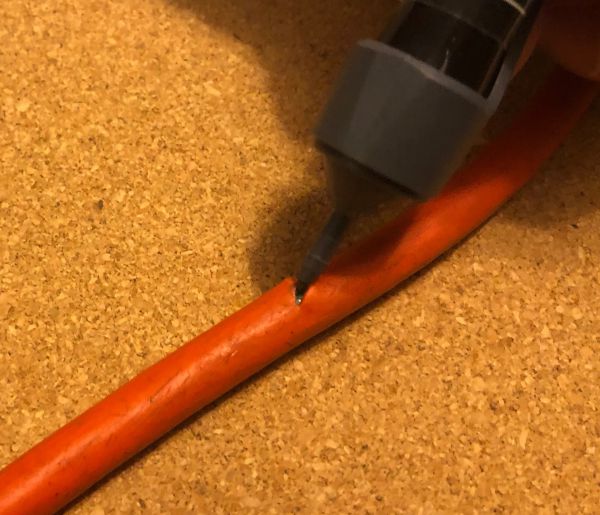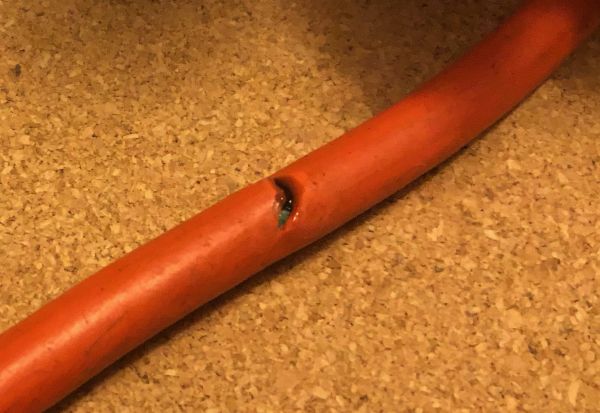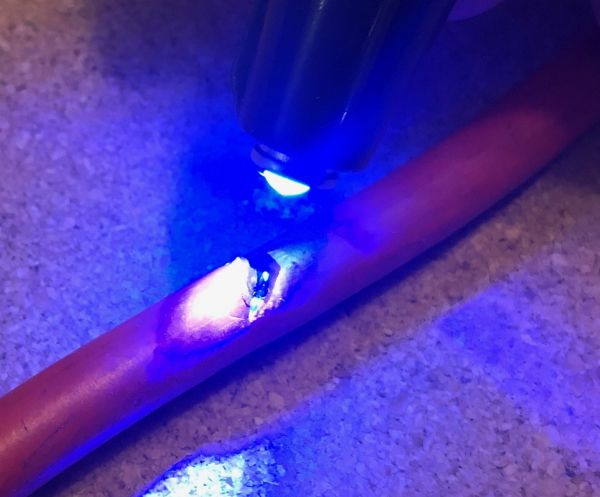 Performance
I found the application and curing process easy to work with, but many repairs have points where the edges do not line up and I needed to build up layers of material to fill in space, or the liquid flows into a deep crevice of the surface, where the UV light cannot penetrate to cure it. Placing just a dab in a deep crack, curing it, and adding another layer is not intuitive to those of us raised on airplane glue. But once you get the hang of it, it's pretty good stuff.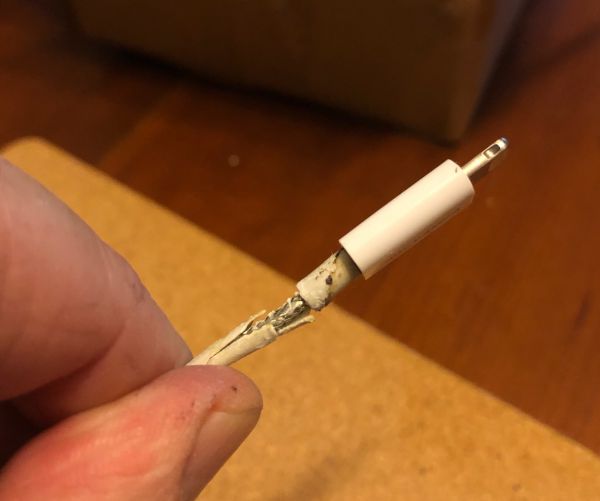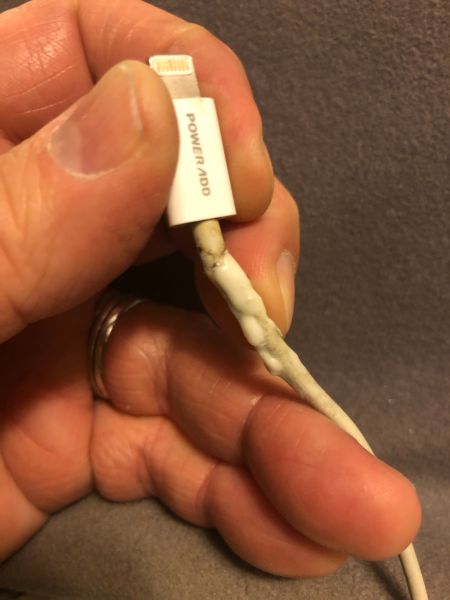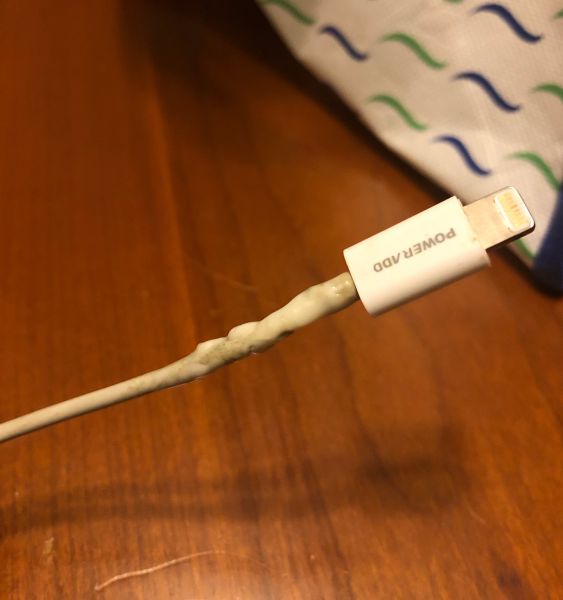 What I Like
No fumes
Doesn't dry out easily if left uncapped
Cures instantly
Can be shaped after curing
What needs to be improved
Not as flexible when cured as some glue/patching products
Final thoughts
If you're really a Gadgeteer at heart, you are always playing around with stuff, trying to make things do something just beyond the edge of what they were built to do, prototyping, or breaking stuff. If you're not using a bit of superglue, Sugru, Epoxy, or Duck tape on a regular basis, you're not living up to your full potential. (As an aside, anyone reading this site regularly needs to know about This to That. It's a website devoted to helping visitors find the best way to attach one material to another. You'll get lost in there, so set a timer!) This product is an entry into a new line of connectivity methods that I've been exploring. I find it easy, quick, and usually robust. BluFixx's innovation of different grades of liquid and colors is a needed innovation.
Price: $14.99 for a full kit, $9.99 for refills.
Where to buy Manufacturer's website and Amazon
Source: The sample of this product was provided by BluFixx.