We use affiliate links. If you buy something through the links on this page, we may earn a commission at no cost to you. Learn more.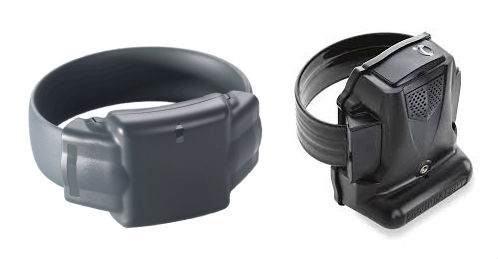 NEWS – Tampa Bay Monitoring out of Tampa Florida offers a monthly service that will let parents keep tabs on their teens by having them wear a trackable ankle bracelet just like the ones that people who are on house arrest might wear. No, I'm not kidding. Their service allows the choice of two different trackers. The buddi Insight bracelet shown above on the left offers what they call minimally intrusive GPS monitoring. The buddi tracker sends parents instant alerts when the tracker enters or leaves a set geographic zone and it will also send an alert in the event it loses communication, suspects tampering, or has been removed.
If you need something a bit more intense (their words), you can opt for the ReliAlert XC ankle bracelet which provides location info at all times. They even offer an optional, hardened steel encased security cuff for high-risk teens. Yikes.
I contacted Tampa Bay Monitoring to ask for more info on their service and didn't get a lot of info from them. As soon as I told them I wanted to write a story about parents using these devices, they stopped responding to my emails when I asked for more details about how the service works. The only info they did offer is that the service is currently only available in the Tampa Bay Area and that it costs $8 – $10 daily depending on which bracelet is used. Note that parents don't buy the bracelets, they are basically leased and they are only charged for daily usage.
Let me just say that I'm not a parent, so I don't know what it's like to raise kids or at-risk kids, but I really can't imagine getting to the point where I'd make them wear an ankle bracelet. That just sounds terrifying for both the parent and the child. What do you think about it?
If you're interested in more info about this service, you can visit tampabaymonitoring.com for more details.