We use affiliate links. If you buy something through the links on this page, we may earn a commission at no cost to you. Learn more.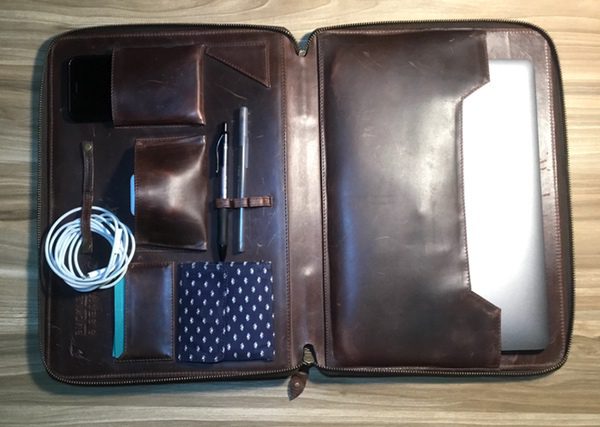 REVIEW – I'm a big fan of the style and practicality of the business portfolio. This week we're looking at a good one: the Ralph Portfolio from Buckle & Seam. Not only is it a nice piece of leather with excellent usability, but you can also personalize it a bit to match your style. Buckle & Seam also donates a portion of their sales to a very worthy cause. To the review!
What is it?
It's a leather business portfolio and organizer for your meeting essentials.
Hardware specs
Vegetable tanned leather with custom fabric lining
Padded laptop compartment fits up to 14" laptops
14.2" by 9.8" by 1.2"
1.5 Pounds
Design and features
The Buckle & Seam is a classy piece of office gear. Vegetable tanned cow leather is the primary fabric, with a minimum thickness of 1.6mm throughout the build. It's also padded for extra protection of your electronic bits. You can personalize the front cover with your embossed initials in the lower right corner if you like.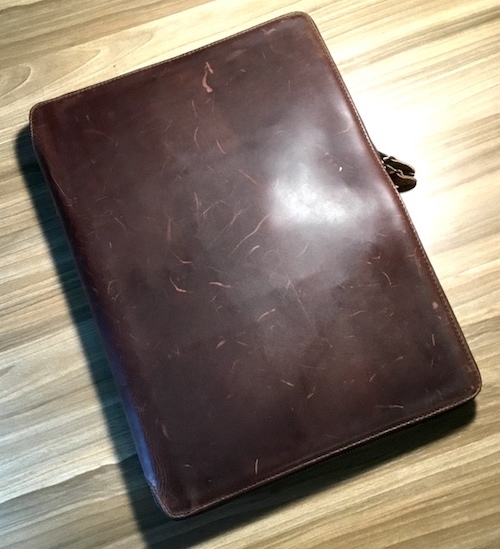 Dual zips run the perimeter of the portfolio to keep your stuff from falling out as you run between meetings. There's some nice, simple finishing detail in the construction that doesn't distract from the leather: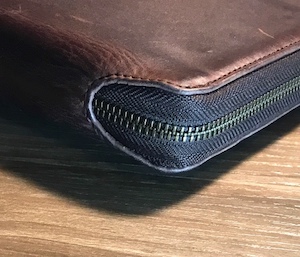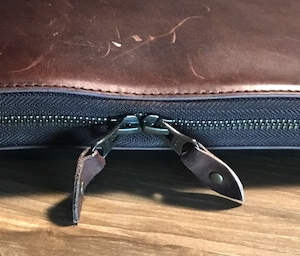 The Ralph Portfolio also has excellent usability for managing your essential meeting requirements as you run about doing businesslike things. Open it up, and you'll find all of your gear organized and ready for action: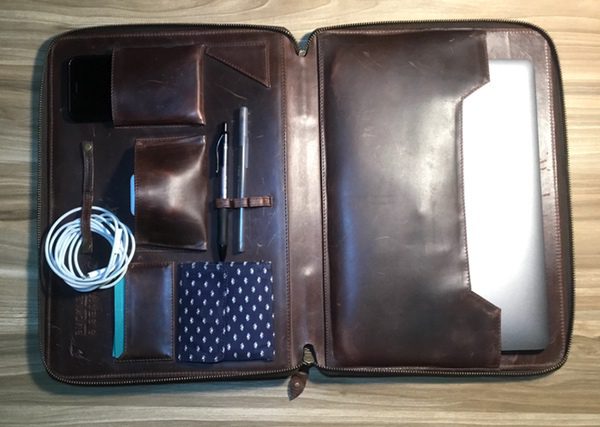 The right side is a sleeve, sized for up to a 14″ laptop. I've got a 13″ MacBook Pro in here for size reference, but it will also fit a 12.9″ iPad Pro with the Apple cover & keyboard. The portfolio is *just* a bit oversized, so slipping your moneymaker in and out of the sleeve doesn't become a wrestling match: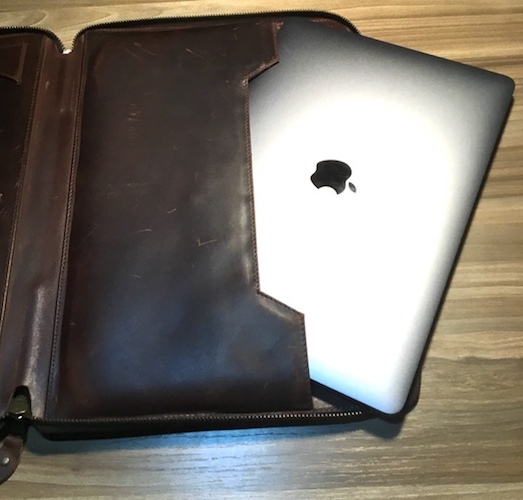 The organizer panel features 7 different spots for your gear. The size of the portfolio also works in your favor here, as the different pockets and slots are well-spaced for quick access to the thing you need at the moment.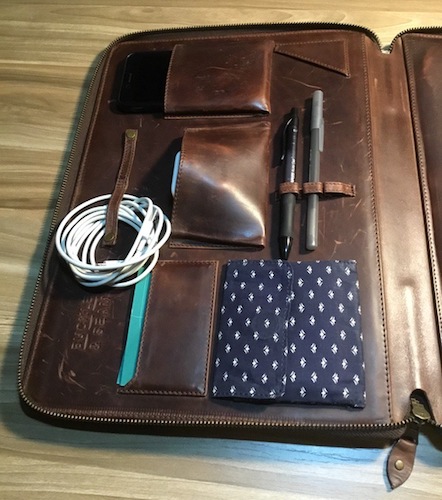 Walking around the organizer panel, you start with business card (or credit card) holder site below the logo. I found that my business cards fit here, but it did need some stretching at first. This spot is probably better served for your essential credit cards or a keycard.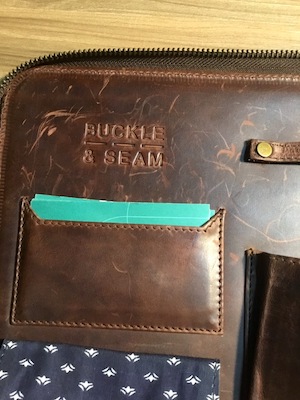 Below this is a 3.75″ by 3.75″ fabric pouch that seals with a magnet. You get to choose your fabric color from 6 different patterns, which are also used to line all the portfolio's pockets. This pocket is gusseted for some extra expandability.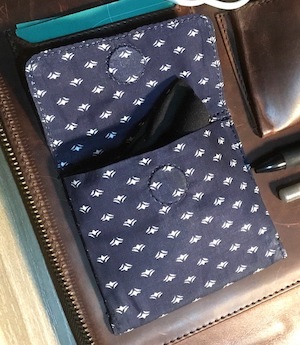 The top center of the panel has two leather strips fastened with buttons, designed to wrangle charging cables or your headphones.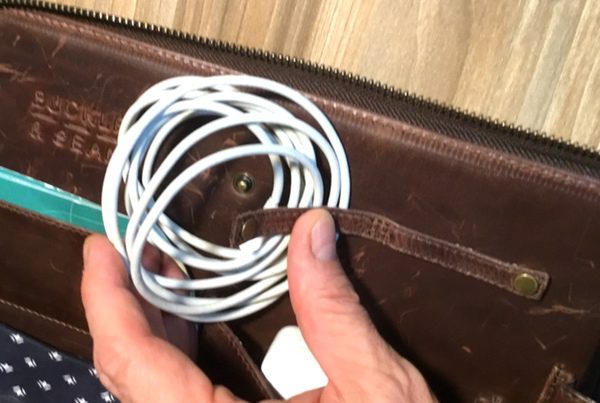 Below the chord ranger is a 4.75″ by 2.75″ pouch that bellows a bit for thicker items. My iPad power brick is in this slot for reference: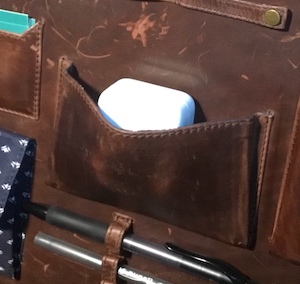 Three pen loops sit below the pocket. I appreciate the sizing on these, which work for thicker writing instruments as well: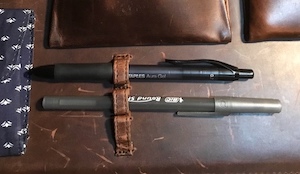 Moving to the right of the organizer panel, there's a 3.25″ by 3.75″ bellowed pocket that will fit a smart phone. My iPhone 6s in its case fits with some room to spare. You'll want to check the dimensions for larger phones. Smaller notebooks (like Field Notes) will fit nicely in this space, too.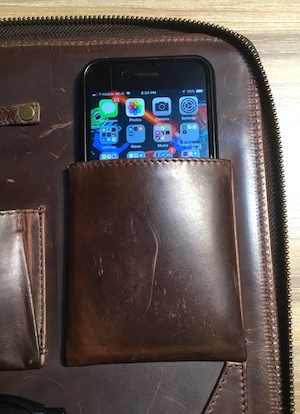 Finally, you have another card slot below the phone pocket. This one is ideal for business cards.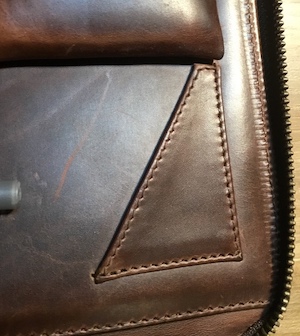 Made in Pakistan, the assembly is tight throughout. The leather has a smooth burnished finish. While it's not the thickest leather I've seen, additional padding and reinforcement throughout the build give it a nice balance of substance and flexibility. As you can see from the pics it quickly pics up character marks from daily use, but I'm not seeing any signs of wear that would impact the portfolio's functionality. I expect the patina to age nicely as I continue to use it.
With an overall depth of 1.2″, you won't get a lot of extra stuff in the portfolio beyond what fits in the organizer areas. But this is for minimalist carry, and not meant to be a replacement for a regular bag. I'll add a small notebook that sits in there when I am carrying it about, or maybe some folders with my laptop… but that's about all you need.
I should note that there's not really a good place in this setup for a laptop power brick. My MacBook Pro brick is just too bulky to fit comfortably in any of the organizer spots. I'm not as worried about that given the battery life, but it is something to consider if you need access to power all day for your laptop.
Buckle & Seam is also dedicated to a great cause. They've developed a partnership with Anum School, supporting girl's education in economically challenged neighborhoods in Karachi, Pakistan. A portion of all sales go towards the school.
What I like
Excellent quality in the build and materials
Great organization for common business tools and accessories
Perfect sizing for easy carry, but big enough to give your gear room to breathe
What needs to be improved
Smartphone pocket may not be big enough for plus-sized devices
No space for a laptop power brick
Final thoughts
There's nothing worse than shuffling between meetings with a bunch of stuff under your arm while juggling your coffee, phone, and tech. The Buckle & Seam Ralph Portfolio makes for an ideal work companion for those who don't want to haul a bag through the halls all day. It's got just enough organization to keep your bits and doodads in order in a sleek, professional package. The leather is good. The quality is good. And the company is supporting a great cause. Overall I call this one a winner.
Price: $214.00 USD
Where to buy: Buy it at the Buckle & Seam web site.
Source: The sample of this product was provided by Buckle & Seam