We use affiliate links. If you buy something through the links on this page, we may earn a commission at no cost to you. Learn more.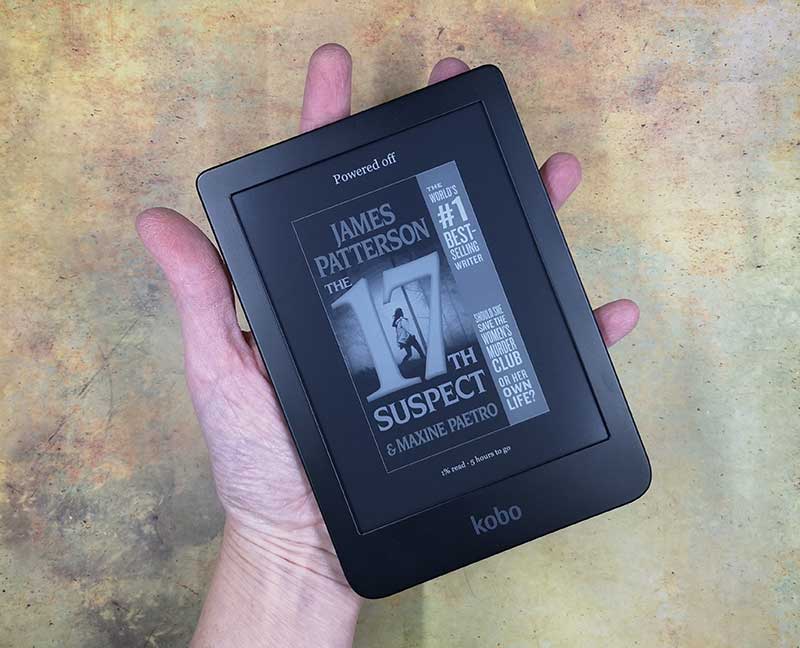 REVIEW – Carrying a whole library of your favorite books in the palm of your hand is a glorious luxury and a lot of us do just that on our smartphones or tablets. But there is an alternative to reading on your iPhone or Android device; a dedicated eBook reader like the Kobo Clara HD. Why would you want a separate device? Keep reading to find out.
What is it?
The Kobo Clara HD is a small handheld eInk eBook reader.
What's in the box?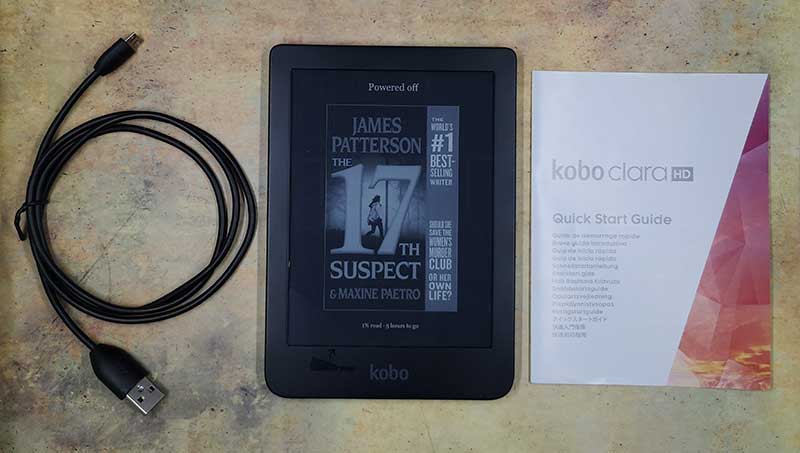 Kobo Clara HD eReader
micro USB charging cable
Quick start guide
Hardware specs
Screen: 6" Carta E-Ink touchscreen, 300 ppi, print quality
Storage: 8 GB of on-board memory, holds up to 6,000 eBooks
Front-light: ComfortLight PRO – Reduces blue-light exposure for more comfortable nighttime reading
Customizability: TypeGenius: 11 different fonts and over 40 font styles
Supported formats: 14 file formats supported natively (EPUB, EPUB3, PDF, MOBI, JPEG, GIF, PNG, BMP, TIFF, TXT, HTML, RTF, CBZ, CBR)
Read eBooks borrowed from Public Library
Connectivity: WiFi 802.11 b/g/n, Micro USB
Battery Life: Up to weeks of battery life depending on usage
Languages: English, French, German, Spanish, Dutch, Italian, Brazilian, Portuguese, Japanese, Turkish
Weight: 166 g
Size: 159.6 x 110 x 8.35 mm
Design and features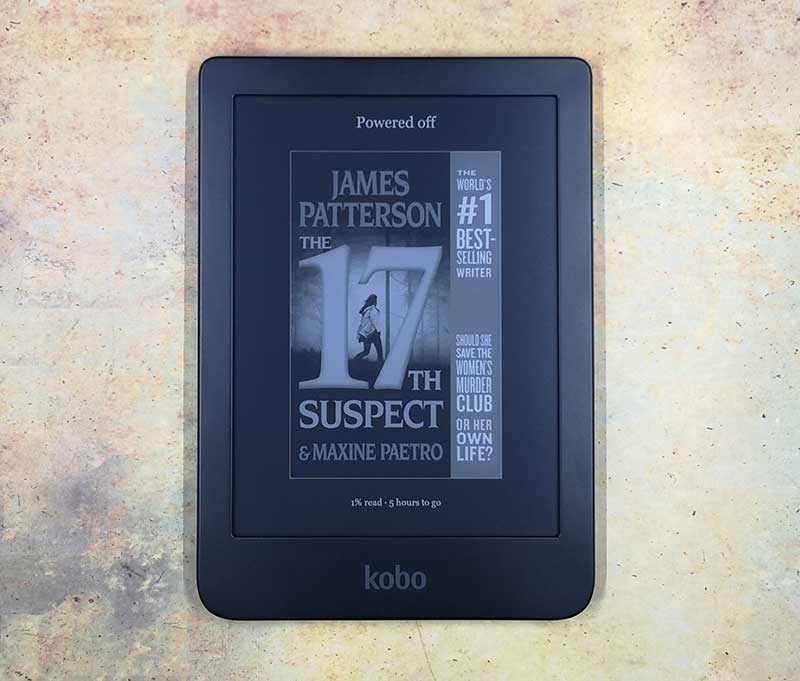 The Kobo Clara HD eBook reader is almost pocket sized. It actually does fit in a cargo pocket in a pair of my pants. It's almost exactly the same height as my Pixel 2 XL, but its black plastic case is half again as wide as the Pixel. Front and center below the 6-inch display is the Kobo logo, but otherwise, this device is low key when it comes to style, which isn't a bad thing.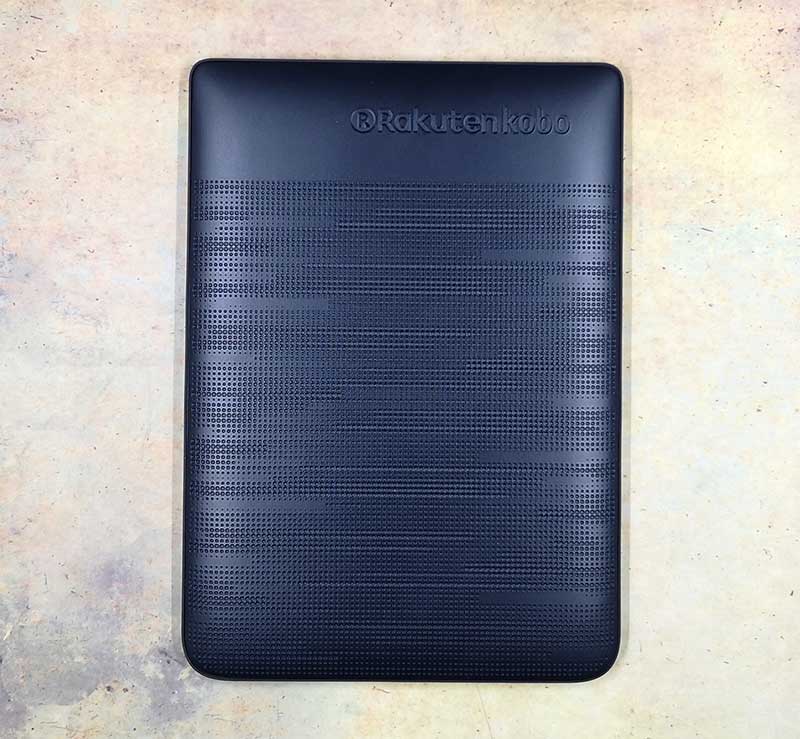 Never miss one of our posts again. Sent MON, WED, and FRI with the latest gadget reviews and news!
The back of the eReader has an interesting pattern etched in the rounded back case that adds a minimum amount of grip to this small device.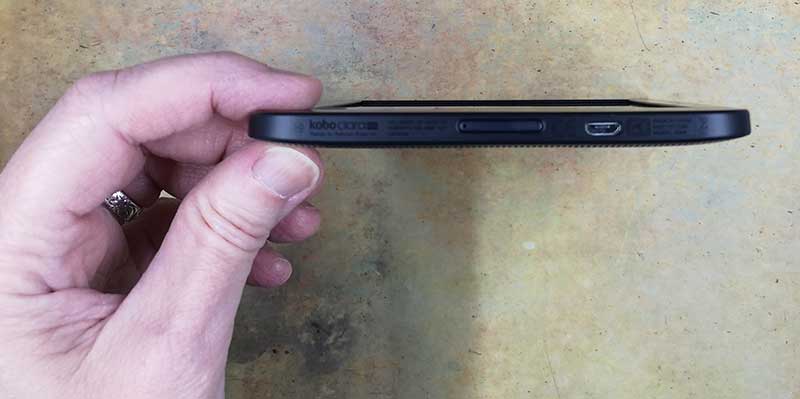 Along the bottom edge of the Clara HD is a small power button with a micro USB port next to it that is used to both charge and transfer files to the device with the aid of a computer.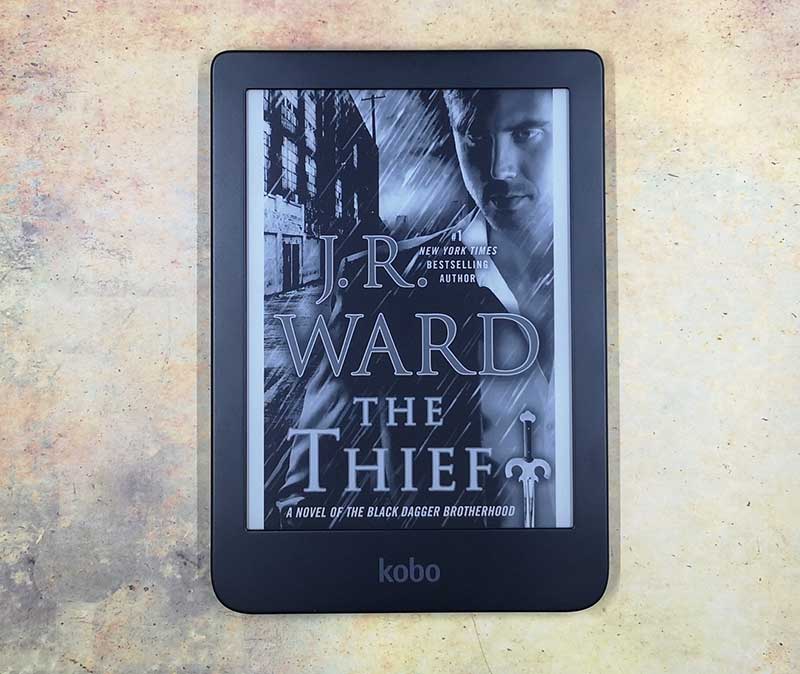 The e-Ink touchscreen display is easy on the eyes with or without the automatic backlight on. Text is perfectly crisp and clear just like printed text on paper.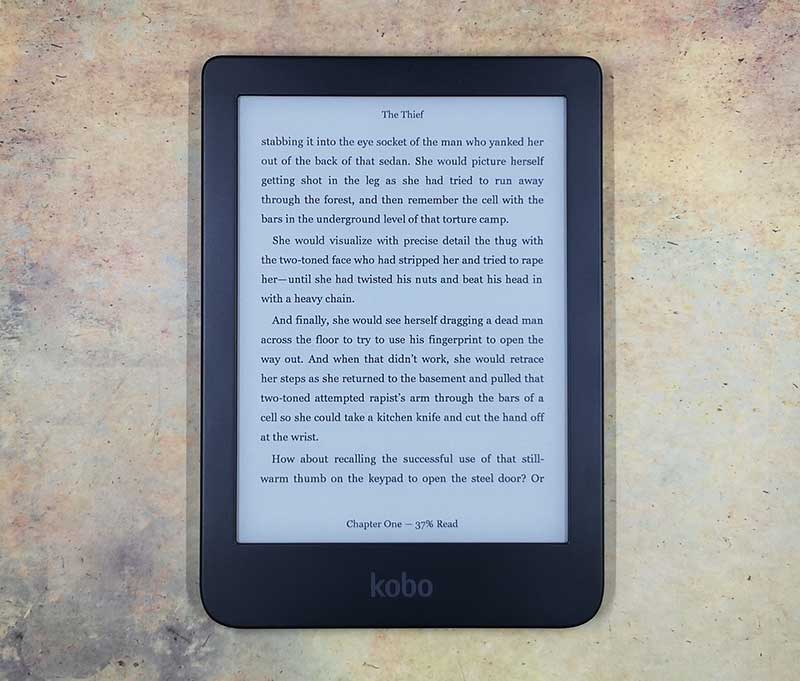 This type of display has a much lower power consumption than the displays that we have in our phones and tablets. This little eReader can be used for a couple of weeks with one charge instead of a few hours with a phone. It's also perfectly readable in the full sunlight which one of the main reasons that I still find dedicated eReaders compelling. If you've ever tried to read a book outside on a smartphone on a sunny day, you know that the results aren't great.
The Kobo's interface is meant to be simple so that it doesn't get in the way of the job of this device, which is to let you read a book with zero distractions. It displays the page in the book with your choice of reading status lines at the bottom of the page like the percentage read.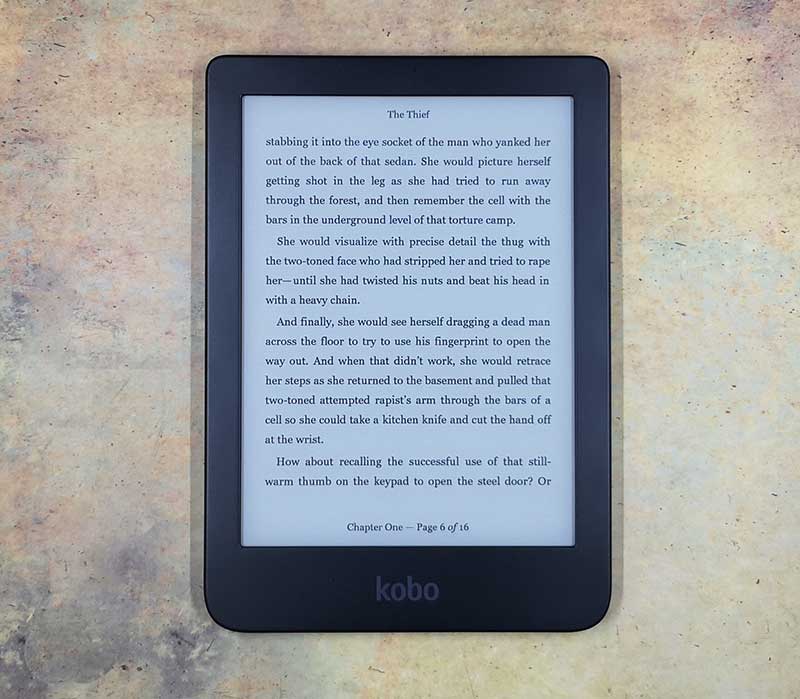 Another option is to show the current page number and total pages.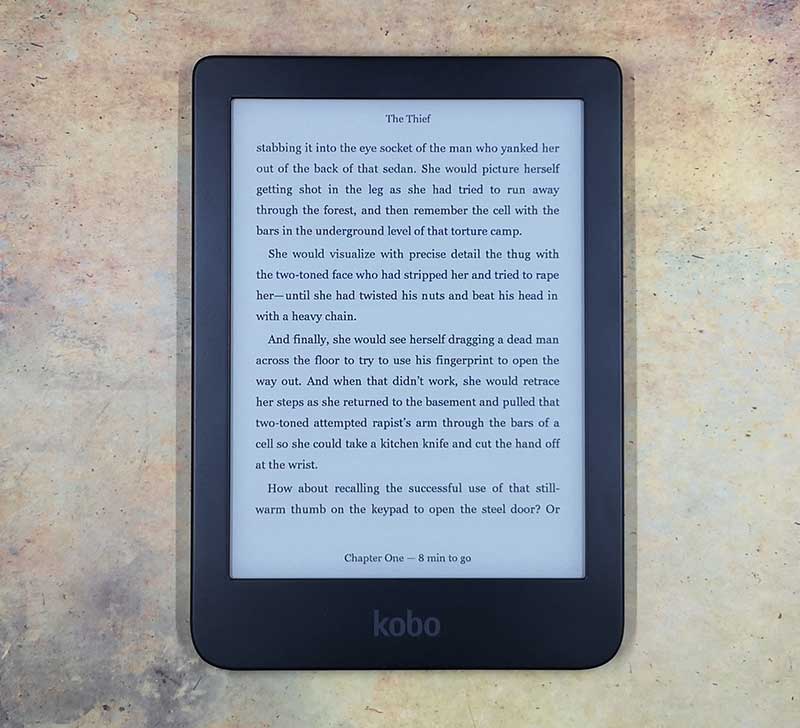 Or even how many minutes or hours it will take to finish reading the current chapter or the entire book.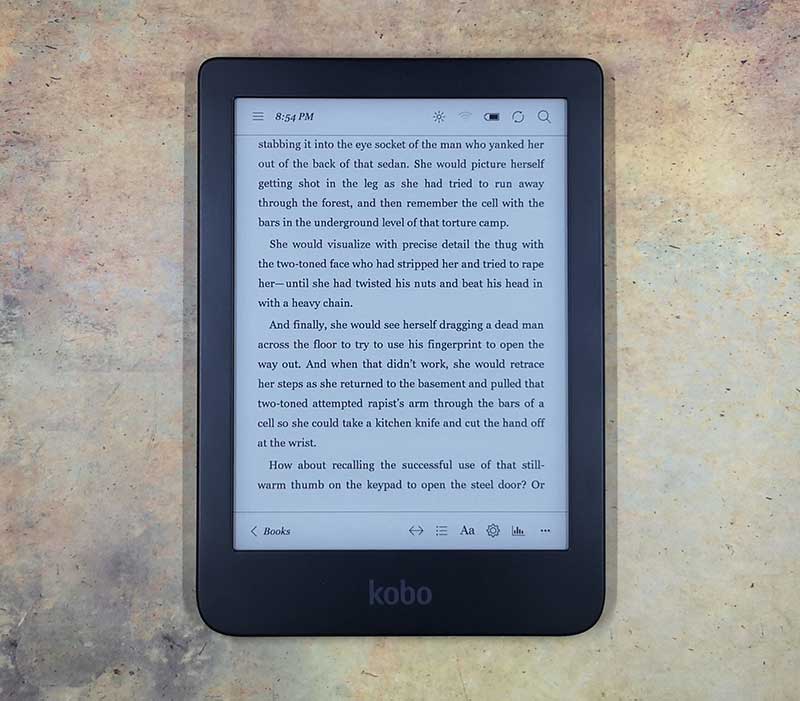 Tapping the screen will bring up a status bar at the top and bottom from which you can access the main menu and various customization menus.
You can customize the line spacing, where to tap to advance to the next page, brightness levels, fonts and more. As far as fonts, Kobo's TypeGenius offers customizable font options, which include exclusive weight and sharpness settings, with the choice of 11 font types and more than 40 font sizes.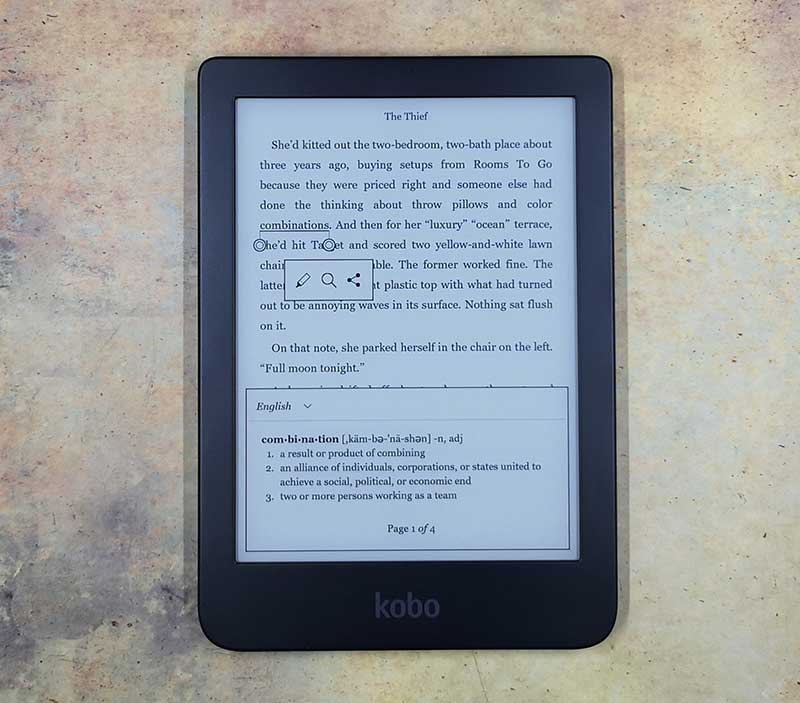 In addition to choosing a font, you can also adjust margins, highlight passages, write notes, and look up words with the built-in dictionary.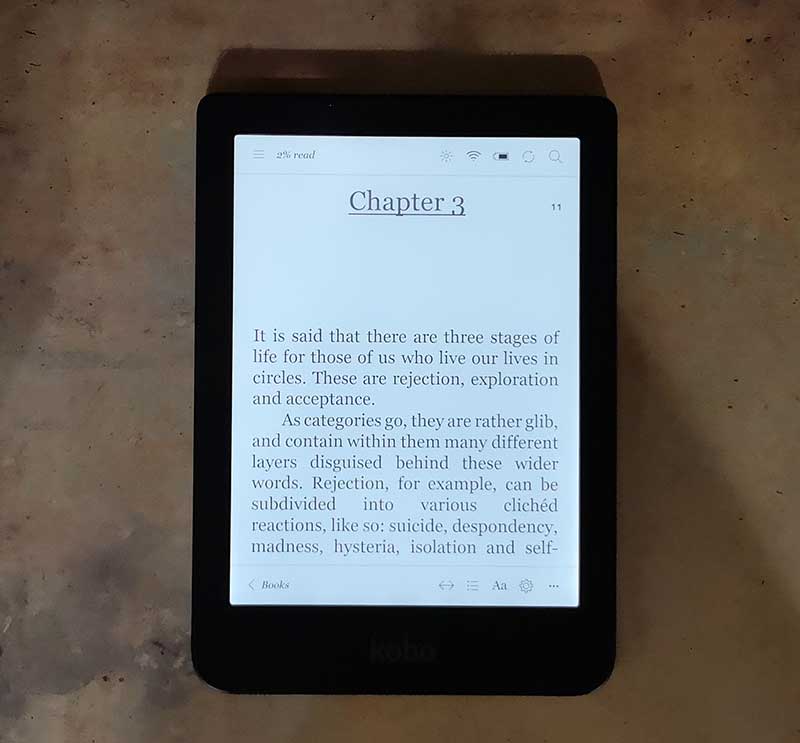 The Clara HD eReader also features a ComfortLight PRO backlight that automatically softens the brightness and blue-light exposure as the day progresses into the night so using this device will not affect your sleep.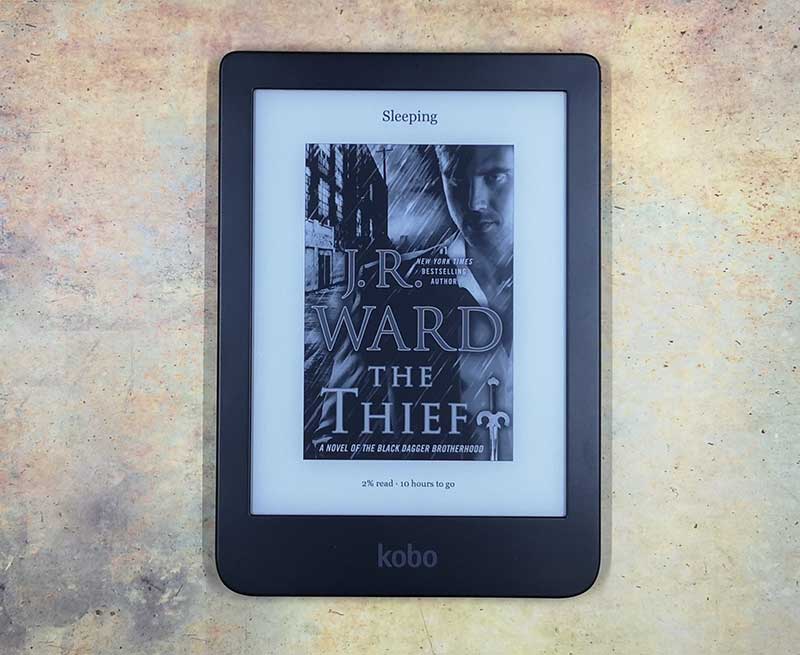 Adding books to the Clara HD eBook reader
You can buy new books directly from the reader itself when you connect to WiFi and browse the built-in storefront. Other ways to add books is to connect the reader to your PC or Mac with the included USB cable. From there you can drag and drop EPUB, EPUB3, PDF, MOBI, TXT, HTML, RTF, and other formats. For DRM books that you own, you will need to install the Adobe Digital Editions application on your PC or Mac and use that to transfer books to the Clara HD. Another way to add books to this reader is with Overdrive which is an account that uses your local library to borrow books.
Another cool feature is that you can install the Kobo app on your smartphone, tablet, PC, or Mac which lets you start reading with Kobo Clara HD and pick up on your smartphone or tablet or vice versa as your place in the book syncs across devices.
What I like
Small size
Long battery life
Clear crisp text
What needs to be improved
eBook prices are too expensive but this isn't limited to Kobo
Final thoughts
Dedicated eBook readers are not extinct yet. There is still a place for them on the market. Especially for people who want a distraction-free method of reading on an eye-friendly display. When you read on your phone or tablet, you can get distracted by notifications, text messages, and other apps, but on a device like the Kobo Clara HD, you won't be bothered with a notification that it's your turn to play Words with Friends or that your frenemy just tweeted something annoying on Twitter. Nope, you'll be happily engrossed in your favorite book that you can continue reading it outside on a bright sunny day without having to worry about finding an outlet to charge it in a couple hours.
Update 12/18/20
I haven't used this eReader in 2 years and decided to pull it out and start reading again because I've only read 1 book this year. Thanks Covid! I usually read on my phone but decided that I wanted a more book-like experience. I was VERY surprised that it powered on and had over a 50% battery charge left. After 2 years of no use. Wow!
Price: $129.99
Where to buy: Rakuten Kobo
Source: The sample for this review was provided by Rakuten Kobo.