We use affiliate links. If you buy something through the links on this page, we may earn a commission at no cost to you. Learn more.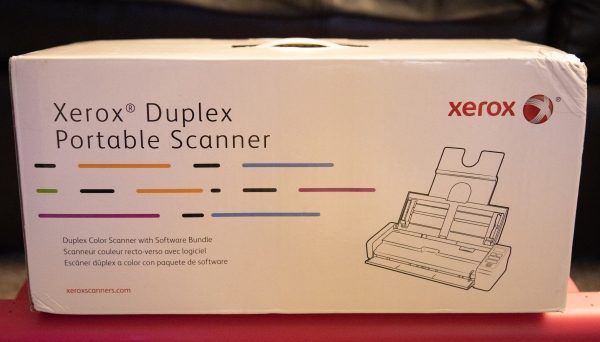 REVIEW – For folks like me that walk around with as much technology as possible, portability is a critical need. The art of being ready for any and every situation related to the photography/videography industry means that I should be ready and able to meet the needs of clients at a moments notice. In my mind, a portable scanner adds value to my on-the-go gear.
What is it?
The Xerox Duplex Portable Scanner is a compact, well built portable scanner that is capable of simplex or duplex scanning. However, it is not battery powered.
What's in the box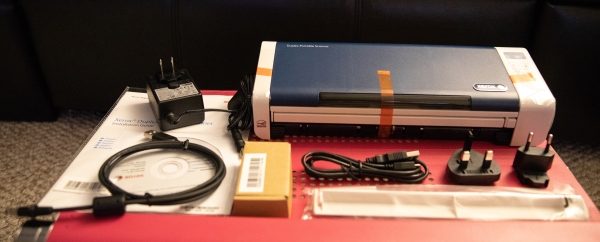 1 x Xerox Duplex Portable Scanner
1 x AC Adapter
1 x Rear Paper Feed Tray
1 x Spare ADF Pad
1 x Micro USB Cable
3 x Power Plug Adapters
1 x Quick Install Card
1 x Warranty Card
1 x DVD (includes user's manuals and software)
Design and features
Specifications:
• Weight: 3.3 lbs.
• Simplex or Duplex: Duplex (two side scanning)
• Interface: USB 2.0
• Optical Resolution: 600 dpi
• ADF Capacity: 20 sheets (20 lb. paper)
• Visioneer OneTouch Technology (PC): Yes
• Duty Cycle: 1000 pages/day
• Dimensions: 11.78″ x 4.1″ x 2.93″ (299 x 104 x 74 mm) (W×D×H)
• Output Bit Depth: 24/8/1
• Scan Method: ADF Duplex
• Light Source: LED (light emitting diode) instant on
• Maximum Paper Size: 8.5 x 118 in
• Drivers: PC: DriverPLUS TWAIN, ISIS, WIA Mac: Visioneer Scan Utility, TWAIN, ICA
• Imaging sensor: CIS (contact image sensor)
• Paper Thickness/Weight: 16 – 28 lbs.
• Background Color: Black
• Minimum Paper Size: 2.25 x 2 in
• Speed @ 300 dpi, b&w, grayscale, or color: 15 ppm / 30 ipm
• Speed @ 200 dpi, b&w, grayscale, or color: 20 ppm / 40 ipm
This scanner has a sleek and simple design. When opened up from its compact state, it has a rear paper feed tray, a front folding out paper tray and a top side control panel.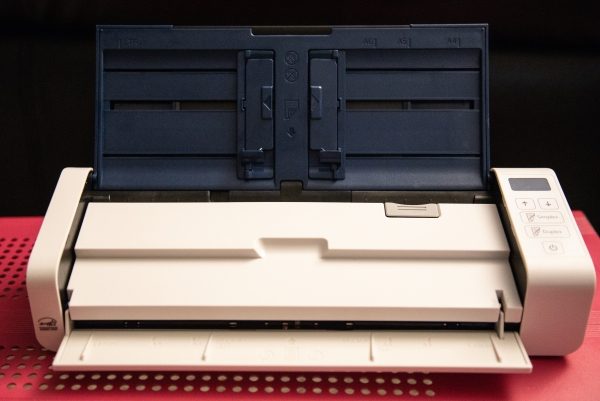 There is also an included rear scanning tray for pass-through scanning.


When the scanner is powered on the power button lights up blue and the LCD display shows status and current settings.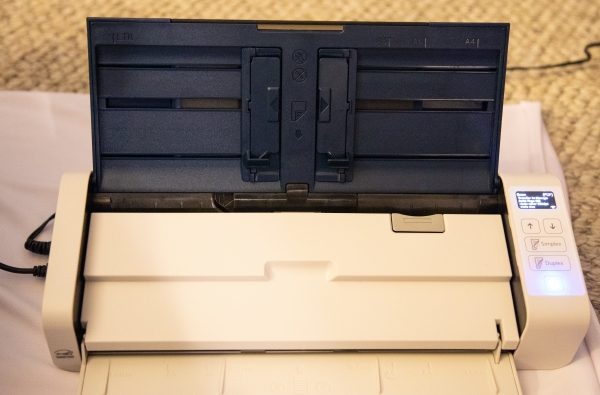 Below is a close-up view of the control panel. It is well labeled with function buttons for scanning in simplex or duplex mode and the up/down buttons for changing settings.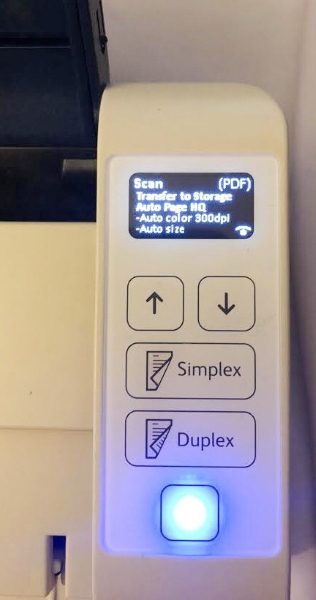 Below are screenshots of some of the screens that are presented when installing the software suite.
Software included in the bundle:
PC: Visioneer OneTouch with Acuity
ABBY® Fine Reader Sprint
ABBYY Business Card Reader 2.0
Desktop Organizer software
Scanner Drivers: Visioneer DriverPLUS, TWAIN, ISIS, and WIA
Mac: Visioneer Scan Utility
TWAIN and ICA drivers
ABBY® Fine Reader Sprint
Performance
System Requirements:
Intel Pentium 4 or equivalent processor
DVD-ROM drive capable of reading Dual Layer DVDs
Universal Serial Bus (USB) port
Microsoft Windows operating system
2 gigabyte (GB) internal memory (RAM)
Minimum available hard disk space:
350 MB for the scanner driver
1GB for Visioneer OneTouch
1 to 2 GB for each additional application
Opening the scanner from its compact form and getting it ready to scan is very easy, and the installation of the software that includes the drivers and the software bundle is very easy. I installed it on a laptop with the Windows 10 OS and there were no issues. One important process is to follow the instruction to not connect the USB cable until the software installation prompts you to do so. This process is actually normal practice when installing USB devices. Once the installation was completed, I placed a document in the feeder and pressed the simplex button. In seconds it scans and appears on the screen. I did the same for a two-sided document using the duplex function. For the first test, I chose .pdf as the file format. You can also scan documents as various image formats and you can scan various types of documents like business cards, etc. You can scan via the Automatic Document Feeder or via the rear scanning tray. In addition, you can initiate the scanning process from the software. There is an abundance of settings available that are too many to mention in this review. You can see all of the features by reading the manual here.
The following are some screenshots to show some of the options, settings, and features available via the software:
What I like
The size of the scanner
The simplicity of the setup
The included software
The ease of use
The build quality
The simplex/Duplex functionality
The scanning options and versatility
What can be improved
A built-in rechargeable battery to make the scanner truly portable and usable even in environments where AC power is not available
Final thoughts
I really like this Xerox Duplex portable scanner. it is lightweight but yet well built, and it is so easy to use. As a photographer/videographer, I frequently meet with clients at locations convenient to them, and when I have them sign a contract, I usually take it back to my studio, scan it and then email a copy to them. On many occasions, I have seen the uneasiness with some clients after they make a down payment, and don't have a copy of their contract right away. I will use this scanner to scan the signed contract on the spot, and then they can have the document and I will have a copy. Well done Xerox!! Thumbs up!!
Price: $249.99
Where to buy: Xerox website or Amazon
Source: The sample for this review was provided by Xerox.