We use affiliate links. If you buy something through the links on this page, we may earn a commission at no cost to you. Learn more.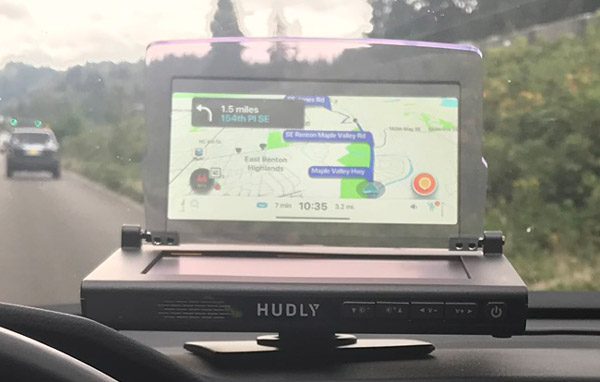 REVIEW – Pretty much every car made today is a rolling computer, with who knows how many processors controlling everything from the fuel system to your high-tech LCD display. But there are still many older cars on the road with nothing but an AM/FM radio to keep you entertained and informed. Many of these low-tech cars can be retrofit with an Apple CarPlay or Android Auto head unit. But if the dash of your car doesn't allow or that sort of thing is too much hassle, the Hudly Wireless is engineered to bring the smarts of your phone to you while you're driving in a non-distracting, hassle-free manner. Let's see how well it does bringing some modern day features to our very low-tech Ford Thunderbird when paired with my iPhone X.

What is it?
The Hudly Wireless is a portable head-up display (HUD) designed to project navigation directions, notifications, and other info from your smartphone to your field of view while driving. The latest Hudly product connects wirelessly to both iOS and Android devices and can be installed in virtually any car. Though be aware, for whatever reason Google Pixels and Nexus devices are not compatible.

Design and features
The Hudly Wireless portable head-up display began earlier this year as Kickstarter and Indiegogo campaigns receiving nearly $750k in combined funding with 1500+ backers.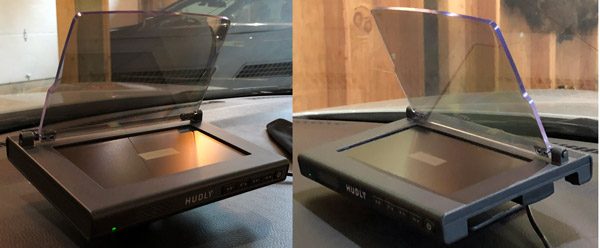 The Hudly Wireless measures 7.1 by 5.3 inches and stands about 2 inches high with base, less the transparent screen. Its casing is made of black plastic and adheres to your car's dash via a removable 4.0-by-3.0-inch adhesive base.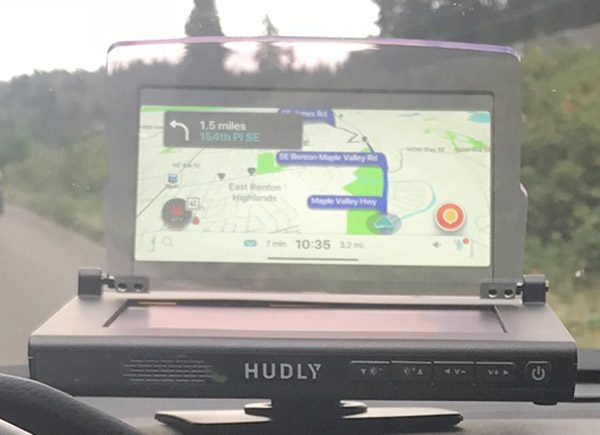 The Hudly wireless has a 6.2" screen with a resolution of 800 x 480. The screen reflects onto an adjustable transparent display with a special coating that optimizes the reflection clarity and enhances the color and contrast of whatever you're viewing. A sensor automatically adapts the brightness to ambient lighting conditions for optimal visibility. According to Hudly, the Wireless can get 5 times brighter than the typical smartphone screen.  Overall, I found the screen very bright, clear, and readable in all lighting conditions.

Hudly uses optical collimation to display directions in a similar focus plane as the road, elevating your reaction time and situational awareness since there is no longer a need to refocus your eyes for directions.
I have to disagree with this feature… I found that the screen was definitely on a closer plane of viewing than the road and objects ahead of me. That said, it is no more a distraction than a mounted smartphone or display in a typical modern car.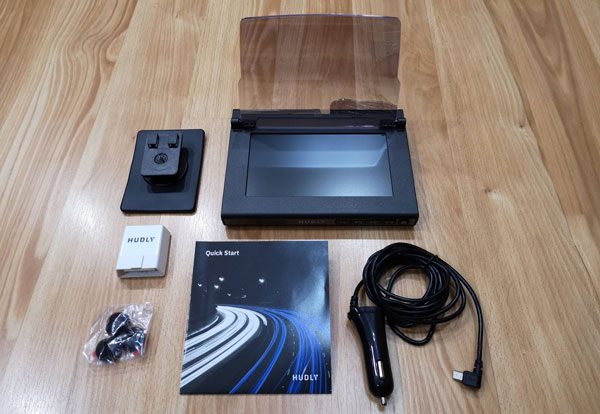 In the Box:
Hudly wireless heads-up display
Cigarette lighter power cable
Adjustable mount
Cable clips
Microfiber cloth
Optional OBD2 smart module
Installing the hardware and setting up the app is easy and takes just minutes to get things operational. Then each time you want to use the Hudly Wireless, your smartphone automatically reconnects to the device via WiFi.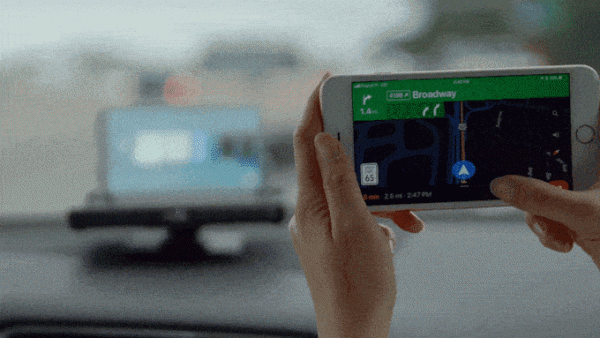 But you do have to reestablish the mirroring from your phone to the Hudly. Occasionally the connection would flake and I had to power cycle the Hudly for it to work again but that was a rarity.
Like other vehicle tech-accessories, the Hudly Wireless is powered by a 12-volt power cord that plugs into the miniUSB charging port on the back of the device. The power cable is long enough to go around your dash and along your windshield enabling you to tuck it out of sight/the way. Though since I was using this in multiple vehicles, I never got around to making the wiring look presentable.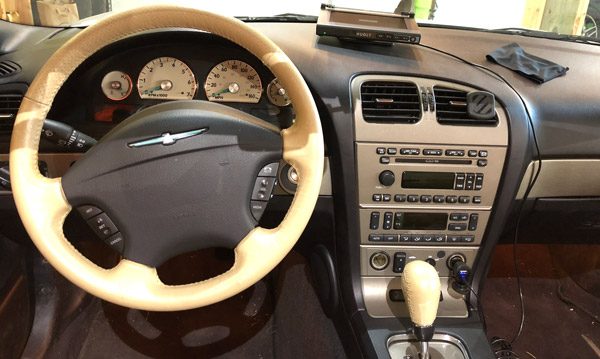 Here you see the Hudly Wireless installed in our very low-tech T-bird and it worked well even considering the steep angle of the windshield. Though I did prefer it off to the side and turned towards me, once again due to how the Hudly sat and the angle of the windshield.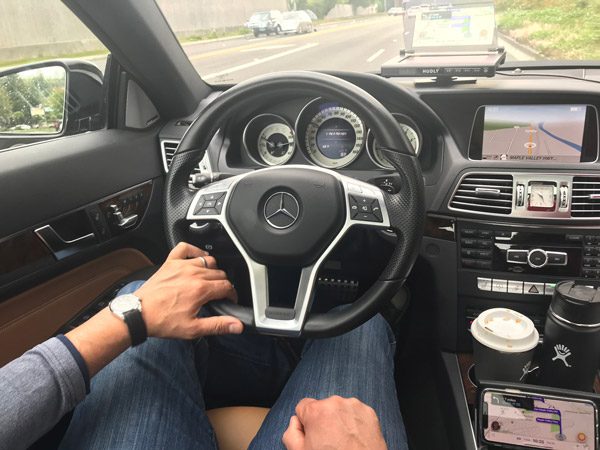 Here you see the Hudly installed in my three-year-old car and how it compares to the nav unit in my dash. Overall, the dash screen was brighter but the fact I could mirror Waze on the Hudly was much preferred to the stock nav software. You can also see how your smartphone has to be on and mirroring the screen for the Hudly to work. For extended use, you'd need to plug in your smartphone cause having your WiFi connected plus mirroring/casting with the screen on definitely chews thru your battery.

The front of the device has the power, volume, and brightness buttons for easy access/control. The speaker was loud enough to hear while driving.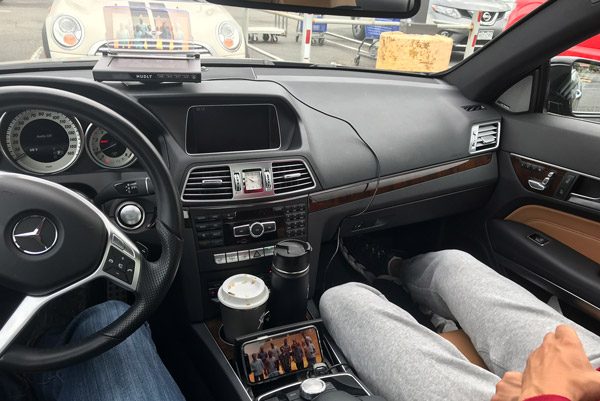 If you look real close, you can see Straight No Chaser on YouTube streaming from my iPhone to the Hudly Wireless. There is no safety feature to prohibit this sort of thing while driving. I was able to stream/view many video apps…anything Apple allows to be Screen Mirrored.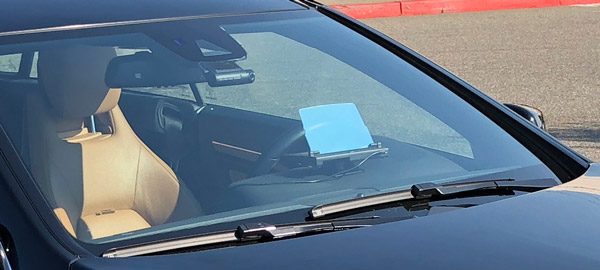 As it would happen, my wife was driving towards me while I was testing the Hudly Wireless and the first thing she said to me was how obnoxious the glare from the screen was. Obviously, the special reflective coating works both ways. I told her it was a safety feature like the flashing/oscillating motorcycle headlights.
What I like
Well build/engineered device
Bright, clear display
Mirrors your smartphone screen
Adds modern day functionality to old vehicles
Quick and easy to setup
Loud audio/speakers
What needs to be improved
Focal point more in the car than looking forward
Smartphone has to be on and mirroring/casting
Connection occasional had to be reset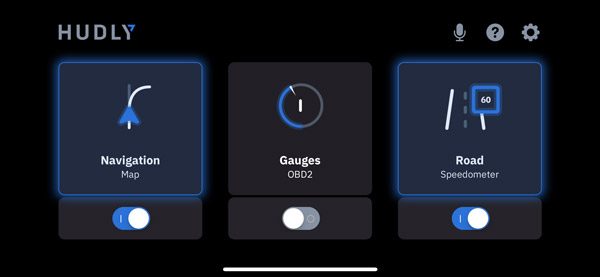 For you motor-heads, the optional OBD2 smart module enables you to also stream your car's performance data to the Hudly screen as well.
Final thoughts
Bottom line…the Hudly Wireless head-up display works as advertised. It enables you to mirror your smartphone's screen in front of you while motoring down the road. The screen is bright, vibrant, and clear, easily seen in all lighting conditions. That said, in today's high tech world, I see it as a relatively niche device. Most vehicles today coming with pretty good tech as a standard/included option, the ability to install Apple CarPlay/Android Auto head units into older cars, or just using a well-placed mount for your smartphone all of which gives you the same capability/features as the Hudly Wireless.
Price: $299
Where to buy: gethudly.com and Amazon
Source: The sample of this product was provided by Hudly.