We use affiliate links. If you buy something through the links on this page, we may earn a commission at no cost to you. Learn more.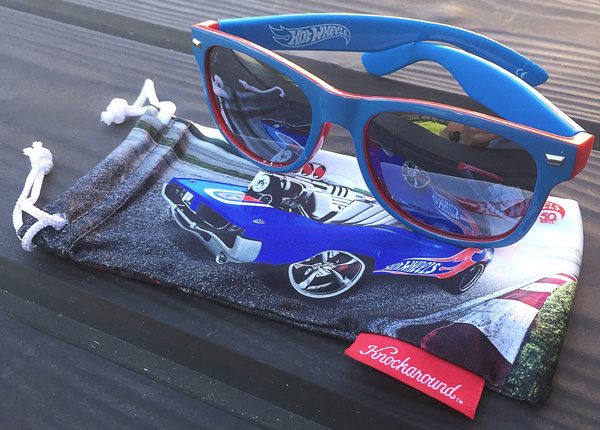 REVIEW – Rule #1 is "Always look cool."  And what better way to look cool when the temps outside are hot than a pair of cool shades?  Knockaround Sunglasses is keen to this; they've been doing cool shades since 2005, and for one of their cool brand collaborations check out these Hot Wheels 50th Anniversary "Rodger Dodger" shades.  Gadget on!
What is it?
These shades are a brand collaboration between Knockaround, makers of cool, durable and affordably-priced sunglasses, and Hot Wheels, icon makers of beloved 1:64 scale toy cars for generations.  These Fort Knocks shades are styled to be reminiscent of the Hot Wheels "Rodger Dodger" toy car, with its distinctive blue and red flames chrome accents.
Hardware specs
Polarized silver chrome lenses with full UV400 sun protection
Microfiber cloth pouch
What's in the box?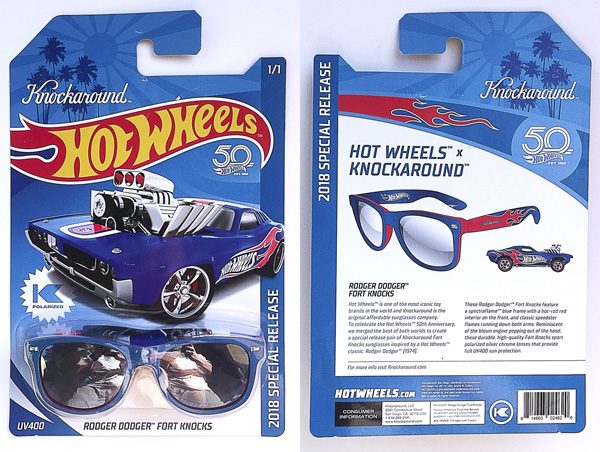 As a child of the 70s and 80s, I had an immediate feeling of nostalgia when I first saw the packaging of these shades.  The packaging itself is designed to very closely mimic that of the classic Hot Wheels toy car packaging.   I have to say that of all the products I have reviewed, the packaging of these shades is one of the most impressive and clever.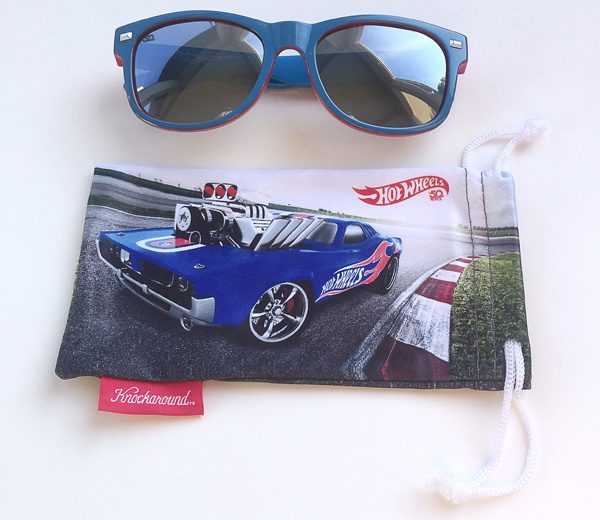 Inside the package:
Knockaround "Rodger Dodger" Fort Knocks sunglasses
Microfiber "Rodger Dodger"-styled drawstring storage/cleaning pouch
Design and features
As a bit of background, I first became aware of Knockaround when I stumbled upon their G. I. Joe Premium shades, which I wrote a short news article about here.  (Note to Knockaround: I'm a huge G. I. Joe fan and still hoping to be able to try them out!  Yo Joe!)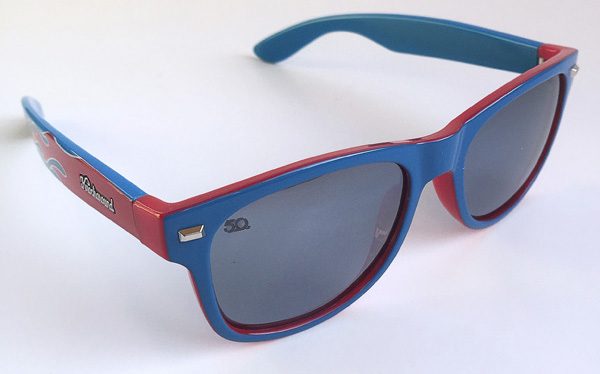 Let's check out the shades themselves.  First off, Knockaround has done a great job with the styling on these, the blue and red paint color scheme is bold, bright and eye-catching, and it really does look like something that would have originated in the 80s.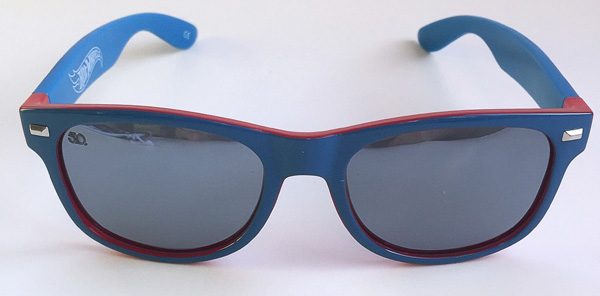 These frames are Knockaround's Fort Knocks style frames, which have a classic style but with a slightly wider fit than their other frames.  Plus, Knockaround claims they were so named because they are tough and can take a beating.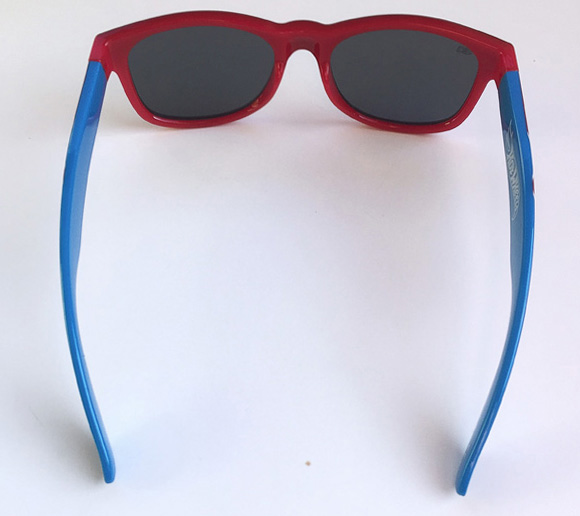 The inside of the front has a "hot rod red interior," which is a neat contrast to the arms in blue.  When I first put them on, the red rims produced a cool effect when looking through them.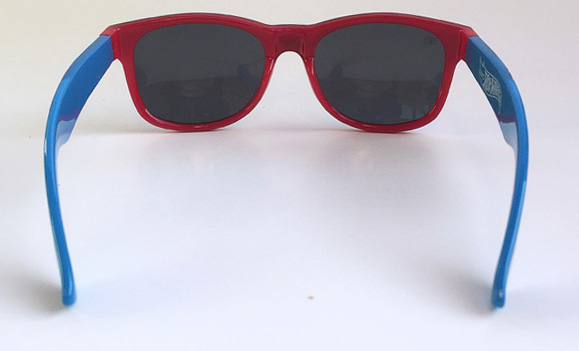 The Knockaround Fort Knocks sunglasses also include hidden spring hinges that help provide a more comfortable and conforming fit.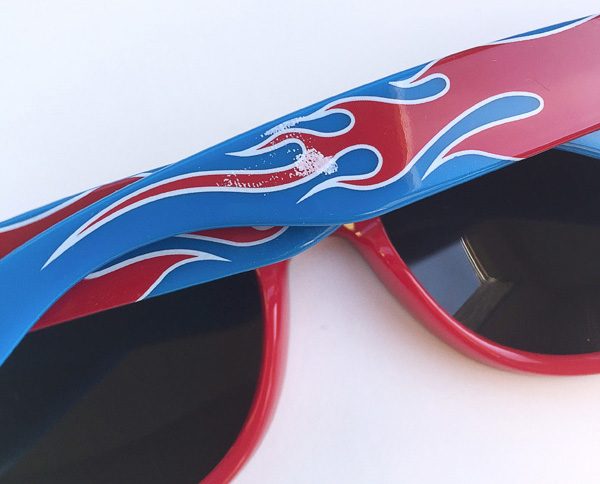 I noticed something on the right arm, as seen above, which appeared to be a bit of white residue.  In the process of scraping it off with my fingernail, I thought the flames would come off with it, but they did not.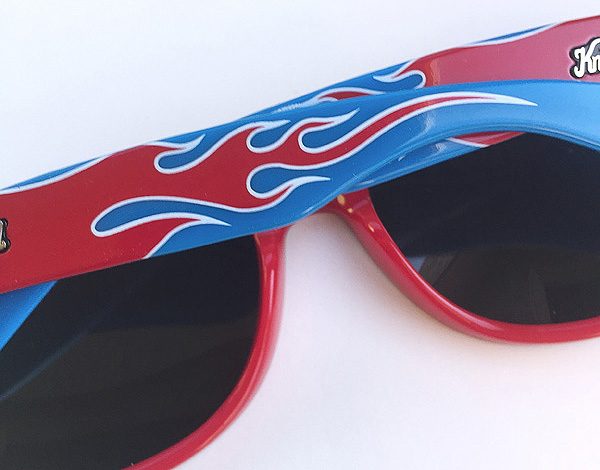 The other arm was fine, with no residue, as seen above.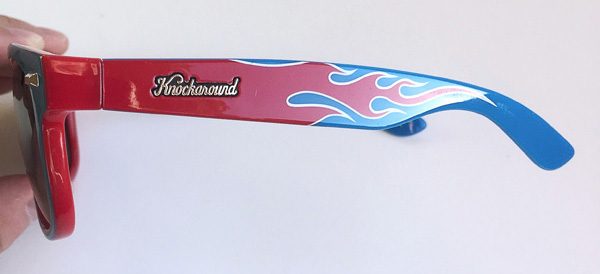 Knockaround calls this styling "nitrous blue flame," but to me, it looks like red flames with a blue background.  Either way, it looks cool.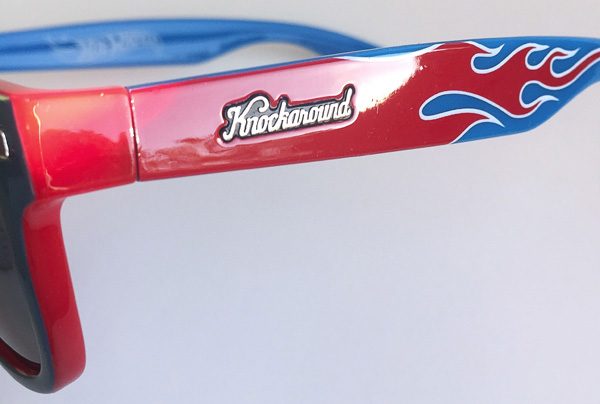 The blue and red color scheme is not the only thing that is reminiscent of the Hot Wheels "Rodger Dodger" racecar.  These sunglasses also have chrome accent, like the little silver squares on the front, and the recessed chrome "Knockaround" logo on both of the arms, as seen in the image above.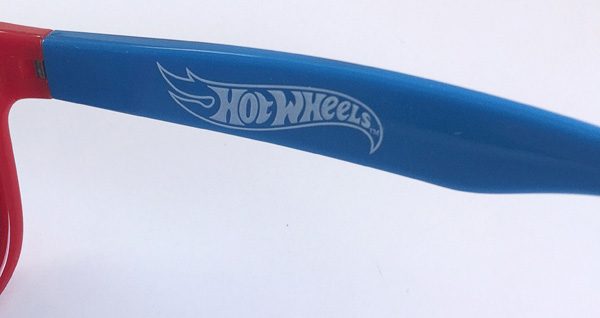 Knockaround also included a classic Hot Wheels logo in white on the inside of the right arm.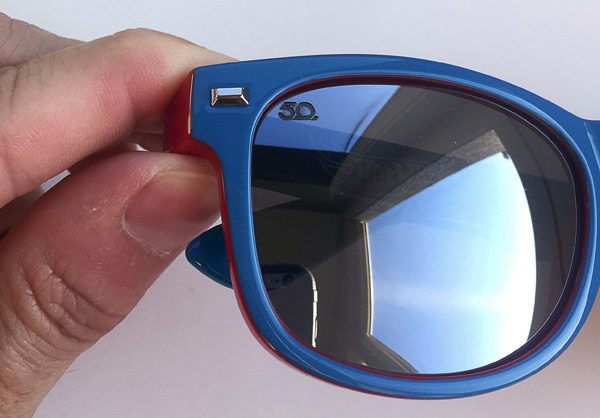 The upper right corner of the right lens of these shades has a tiny "50" molded in, a nod to these being Hot Wheels 50th anniversary edition.  You can also see one of the small chrome accents bars.  Note also that these Fort Knocks style sunglasses include Polarized silver chrome lenses (which gives them a very slight reflective look) with UV400 sun protection.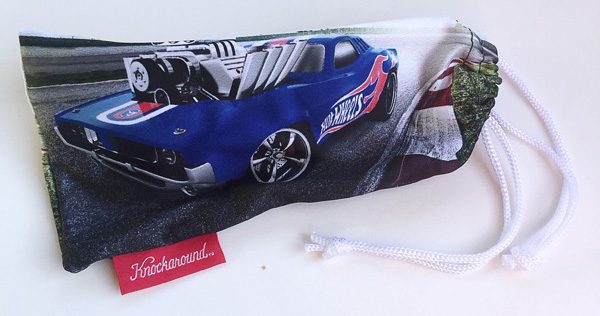 The microfiber drawstring storage/cleaning pouch is a really nice addition.  It features a lifelike image of the Hot Wheels "Rodger Dodger" race car sitting on a racetrack.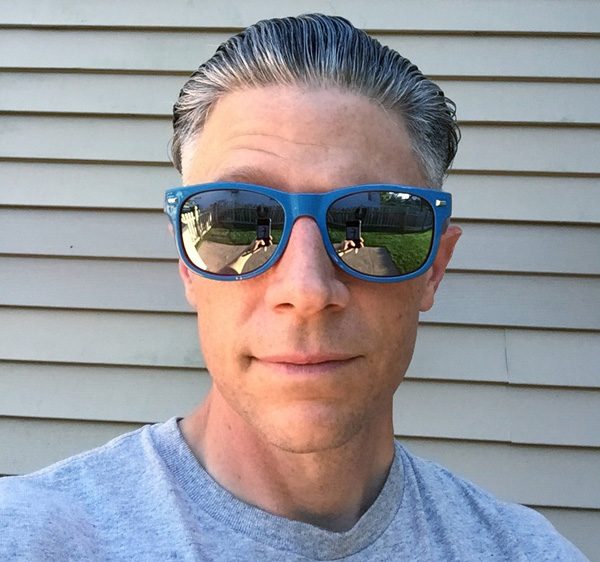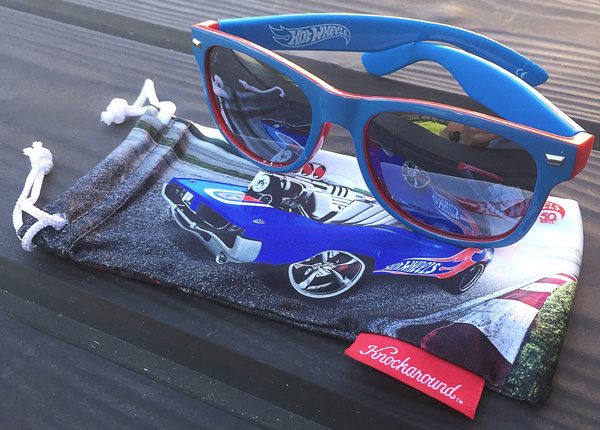 While I do like the nostalgic 1980s styling and linkage to such an icon and beloved toy company, I'm not sure these shades really fit my own personal style.  I'm more of a subdued, wraparound shades type of guy.  Still, these Rodger Dodgers are definitely fun and eye-catching.
It's worth noting that last time these Knockaround "Rodger Dodger" Hot Wheels Fort Knocks sunglasses went on sale, they sold out very quickly.  As of this writing, they are currently sold out, but Knockaround reports that these will be re-issued starting in "mid-October."
What I like
Retro 70s/80s throwback styling
Polarized lenses, UV protection and durable frames, but affordable pricing
Microfiber drawstring storage bag/cleaning cloth is included
What needs to be improved
Just that bit of white residue on the outside of the arm that I had to scrape off with my fingernail.
Final thoughts
Fun and nostalgic Hot Wheels styling with durable frames and polarized lenses, yet affordable pricing.  Knockaround has something good going with these brand collaboration shades.  These shades have a definite 80s throwback look and are definitely bold and eye-catching, so if these you think they are your styles, they are worth a look (pun intended).
Update 6/26/20
These shades are a fun item, but they were not really my style, so I handed them off to my teenage son, who enjoyed using them. It is also worth noting that my son is pretty hard on sunglasses, but these lasted longer than most others he's worn, likely because they are well built for their price.
Price: $35.00
Where to buy: Knockaround.com
Source: The product sample for this review was provided by Knockaround.com.