We use affiliate links. If you buy something through the links on this page, we may earn a commission at no cost to you. Learn more.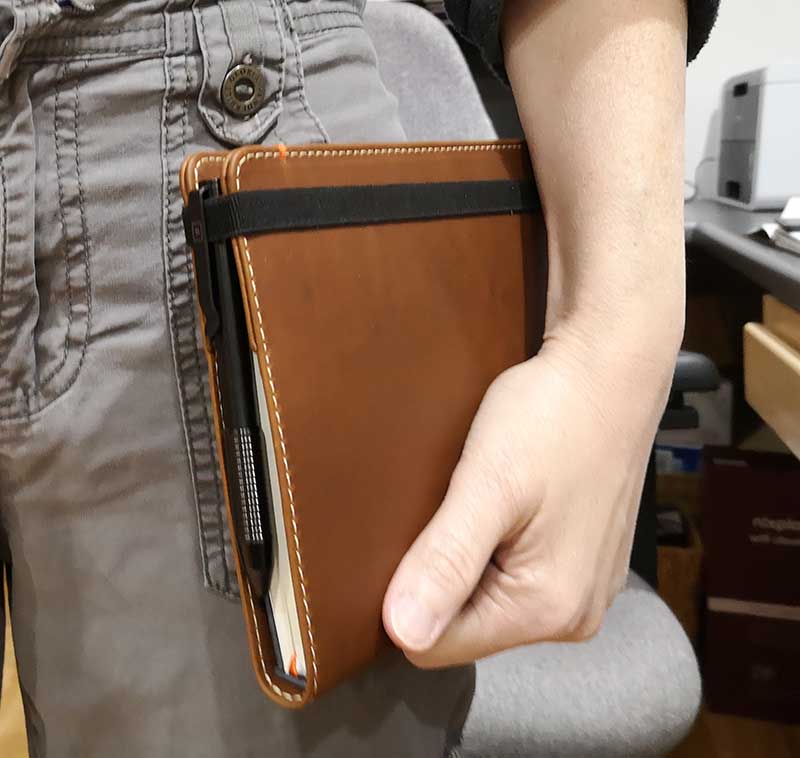 No matter how many times I've tried to switch to digital task and journaling apps, I always end up missing using my favorite pen and notebook. There's just something so personal about putting pen to paper and a notebook full of doodles, taped in ticket stubs, photos, and memories means more to me than any app on my phone ever could. For that reason, I enjoy trying new notebooks and covers that protect them. So let's check out one of each from Pad & Quill.
What is it?
I guess that should say what are they instead of what is it because I'll be telling you about two separate products being offered by Pad & Quill. There's the Journal Notebook which is available in two sizes, and the Deluxe Leather Journal Cover also available two sizes and two colors. I was sent the medium size version of each one.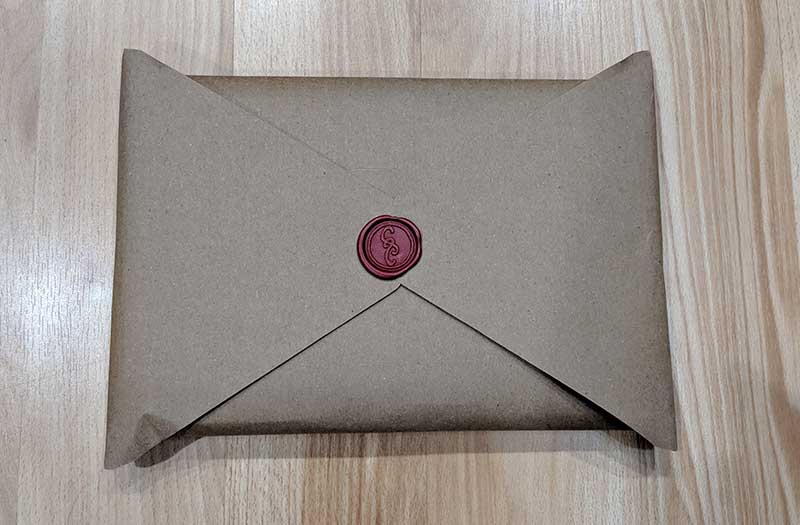 My package arrived wrapped in brown kraft paper with a wax seal which felt very Harry Potter-esque to me.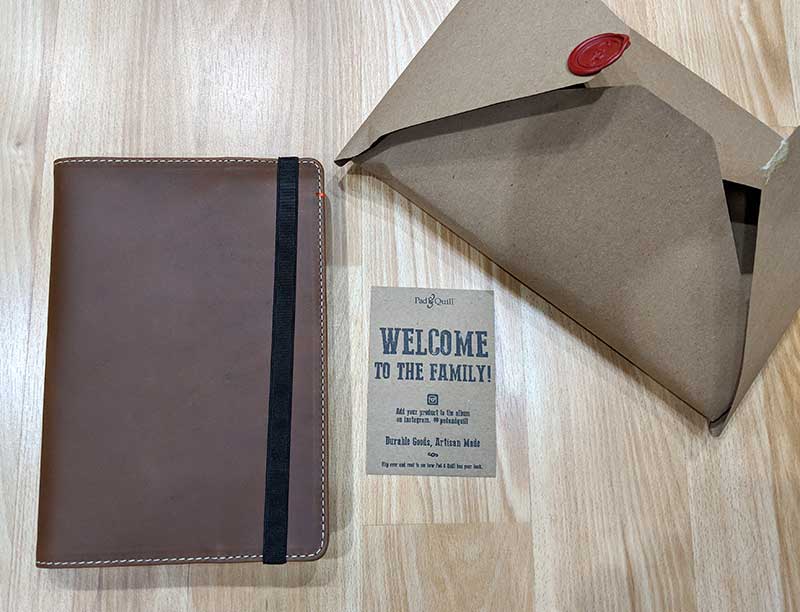 Inside the package was the A5 sized leather cover in Whiskey brown with an A5 sized notebook inside. Remember, that each of these items is a separate purchase and that a notebook is not included with the purchase of a leather cover.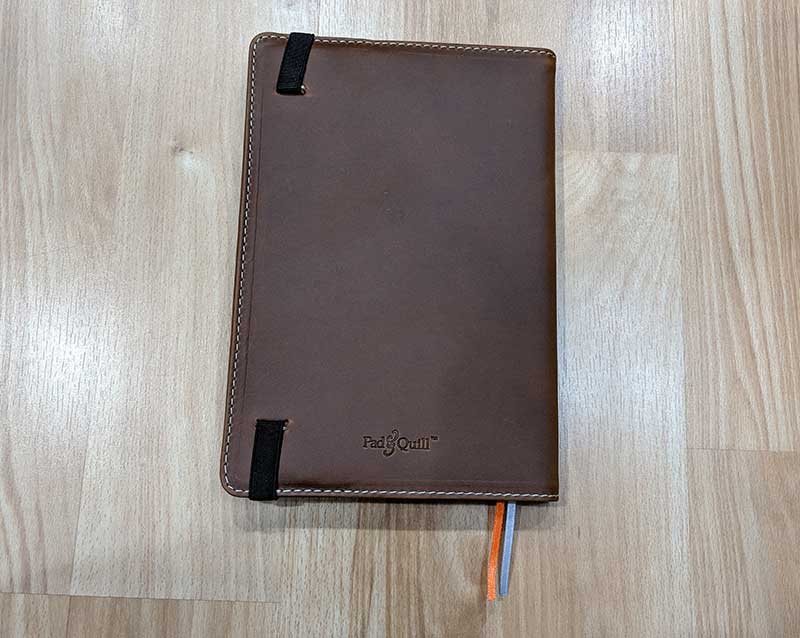 The leather cover is made of full-grain leather sewed with a tan colored parachute grade thread. The only branding on the cover is the Pad & Quill logo which is stamped on the back cover.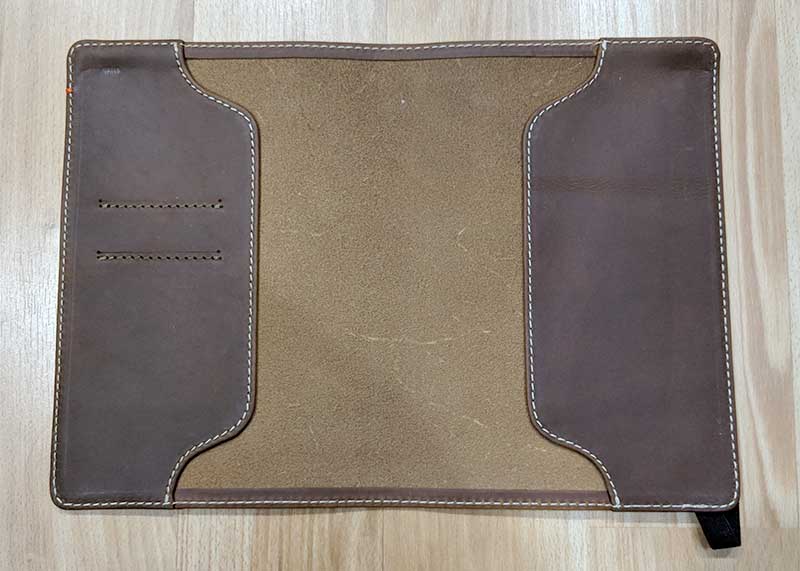 The notebook cover has wide flaps inside to hold the notebook in place and the left side has two card slots sized to hold standard sized credit cards or business cards in the vertical orientation.
As you can see from the image above, the interior of the cover is not lined. The raw side of the leather is visible. The nap is smooth and does not shed or leave crumbs when you insert and remove a notebook.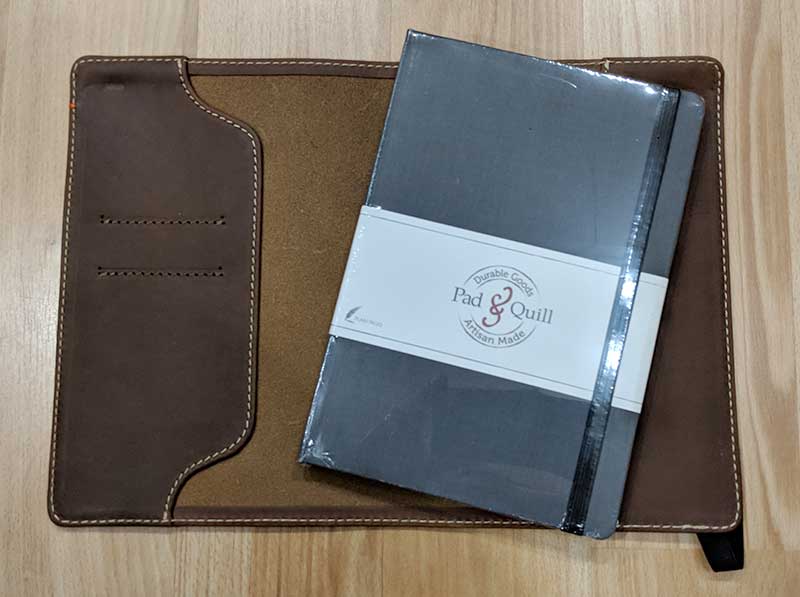 The Pad & Quill Journal Notebook comes in 8.3in x 5.6in x 0.5in (A5) and 5.3in x 3.7in x 0.5in sizes. I was sent the A5 size.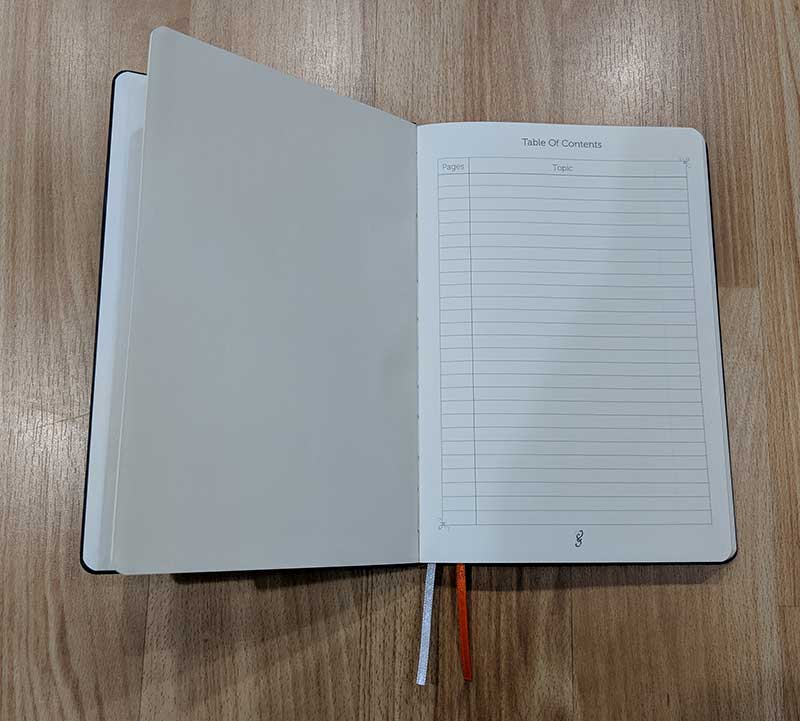 The notebook has a dark grey linen cover, an expandable pocket, 192 pages of 100 GSM acid-free off-white recycled paper, and is available with either plain or dot graph pages.
The notebook has a 2-page table of contents and all the pages are numbered which is a must-have feature when I'm shopping for a new notebook.
The pages are smooth and easy to write on. I'm not a fountain pen user, but regular ink did not bleed through the pages.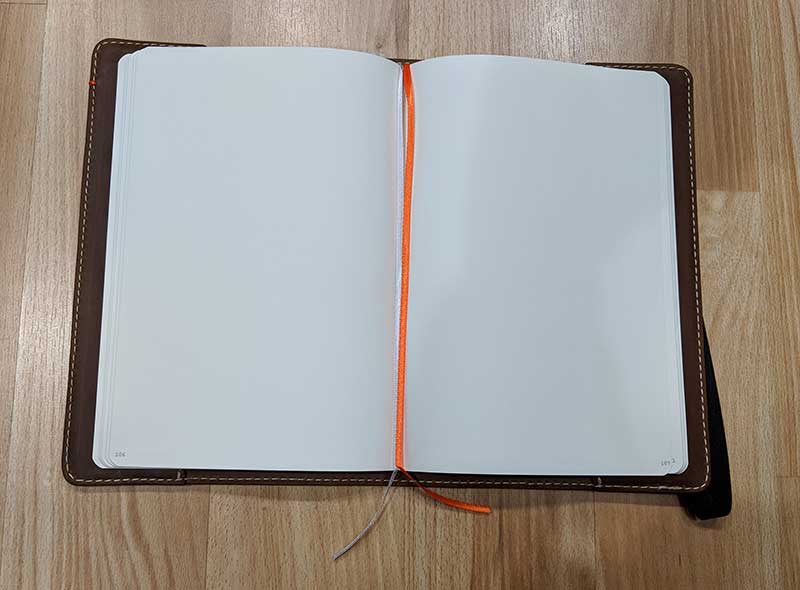 Another nice touch is that the Pad & Quill Journal Notebook has two bookmarks. There's an orange one and a white one. Even the ends of the bookmarks are sealed so they won't unravel. Also, you'll notice that the notebook can lay flat because it uses a Smyth-swen binding which means that you can open it to your desired page and it will stay that way.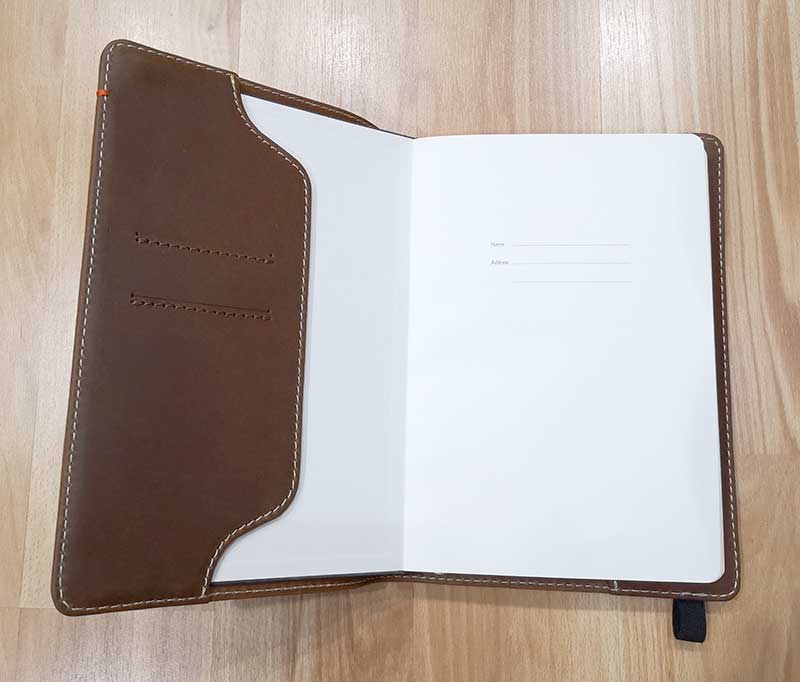 It's easy to insert the notebook into the Deluxe Leather Journal Cover. All you do is slide the front and back covers of the notebook into the cover's sleeves on either side.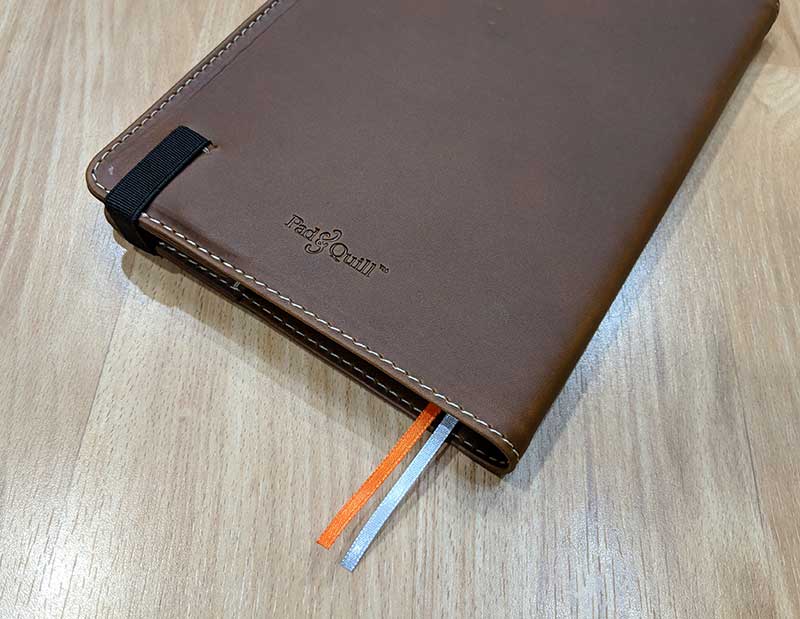 A nice wide black elastic band secures the cover closed.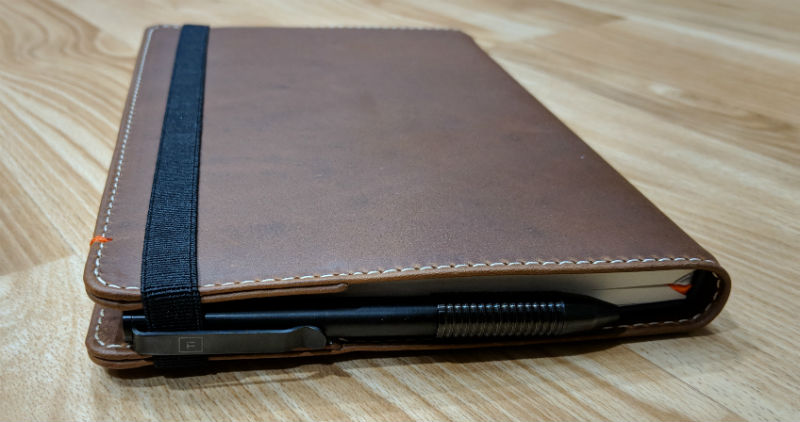 Check out the French seams along the edges of the Pad & Quill Deluxe Leather Journal Cover. I even discovered that I can clip my pen to the elastic band and it will hold it in place between the covers which is a nice touch. Everything about this cover is first class including the 25-year guarantee on the leather.
What I like
Notebook cover is attractive and well made
Journal has numbered pages and a binding that lays flat
Standard sized cover can be used with other notebooks
What needs to be improved
Final thoughts
If you share my love of notebooks and pens and have been shopping for a new notebook and cover to protect it. Do yourself a favor and stop by Pad & Quill's site so you can read more about their new journals and journal covers. They are well made, attractive, and nicely priced.
Price: Journals are $18.66 for the Medium A5 size and $15.26 for the small size, Delux Leather cover is $59.46 and $42.46.
Where to buy: Pad & Quill
Source: The sample for this review was provided by Pad & Quill.