We use affiliate links. If you buy something through the links on this page, we may earn a commission at no cost to you. Learn more.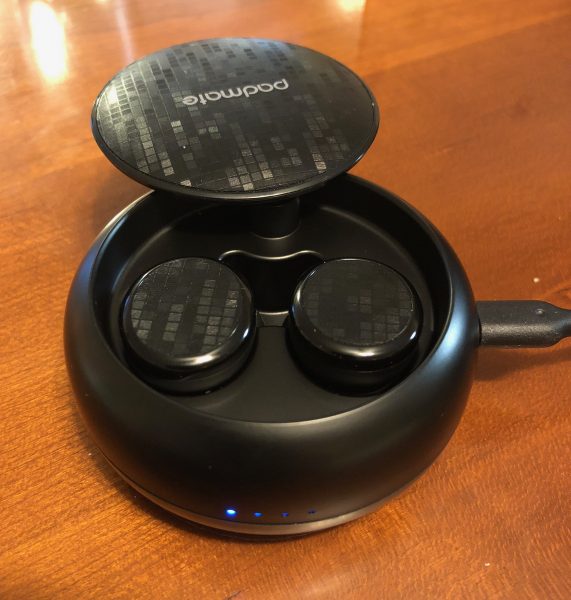 REVIEW – Listening to music on your smartphone is probably the most frequent use case, with the possible exception of social networks. One reason for this is that you can listen to music while doing other things. With the removal of the ancient yet still viable headphone jack, a few manufacturers have managed to anger a huge swath of their customer base. Stepping into this vacuum, several existing and new companies have started offering totally wireless earbuds that connect to these devices and each other via Bluetooth. One such company, PadMate, sent us a pair of their earbuds, called PaMu, to test.
Note: Photos may be tapped or clicked for a larger image.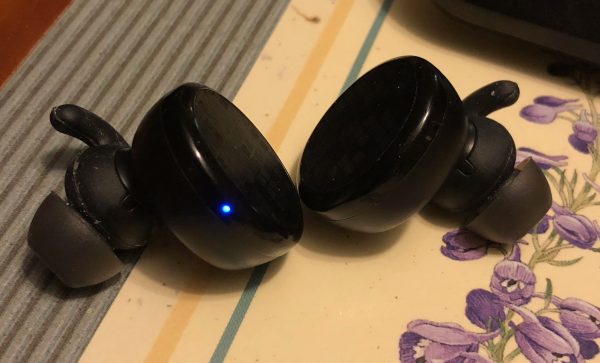 What is it?
The PaMu are a pair of earbuds with a charger designed to seal off outside sound and to resist sweat and vigorous motion in use. While I did have to open the Bluetooth setting to initially pair, from then on, they always found the phone and paired without fail, unless I had paired them with another device. More on this under Performance.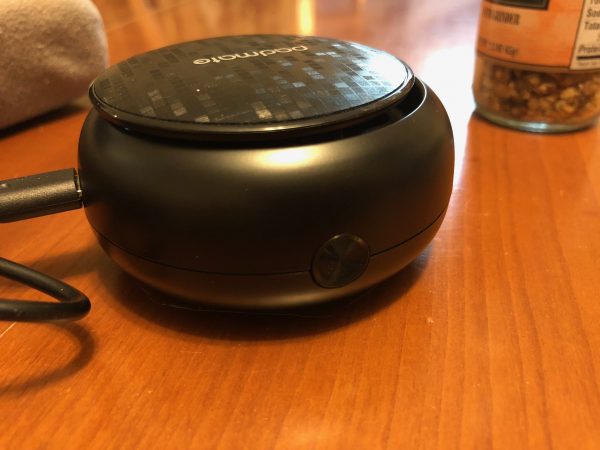 Hardware specs
(from product website)
Type: In-ear Headphones with Mic
Colors: Black / White
Connection: Bluetooth Version 4.2
Frequency Response: 20Hz – 20KHz
Sensitivity: 97±2dB(SPL)
Transmission Range: 10 Meters Without Obstacles
Charging Time: 2 Hours
Headphone Dimensions: 22.5 x 10.5 x 26mm
What's in the box?
Earbuds
Charger
One-foot long USB2< ->microUSB cable to charge charger
Earbud tips in 3 sizes and ear hooks for a custom fit
Instruction pages

Design and features
The earbuds are housed in a 2.75" diameter biscuit-shaped docking case with a pop-up cover. Around the outside are three interfaces: a button to release the top, a microUSB port for charging, and a series of four LEDs that indicate the amount of charge remaining in the onboard battery when you remove/replace an earbud or plug the charger in. These are located at 12, 3, and 6 o 'clock positions, respectively. The case is just over 1.25" thick.
The top surface of the PaMu case has a patterned piece of vinyl material with the "padmate" name printed on it. When you push the lid release button, this entire top pops up and can be swiveled out of the way, revealing the earbuds below.
The earbuds are subtly marked on the back side with an L and R for the proper ear. The docking areas also have a letter for correct placement as well. You can't place them in the wrong dock. There are two retractable pins in the form-fitted docking area for each bud. The outer surface of each earbud is covered in the same patterned vinyl as the cover of the charger, but there is no overprint. There are no markings or visible buttons of any type showing on either earbud, and only the tiniest pinhole LED glowing a solid red until they are fully charged. (Irritatingly, this LED slowly pulses blue while the earbuds are in use.)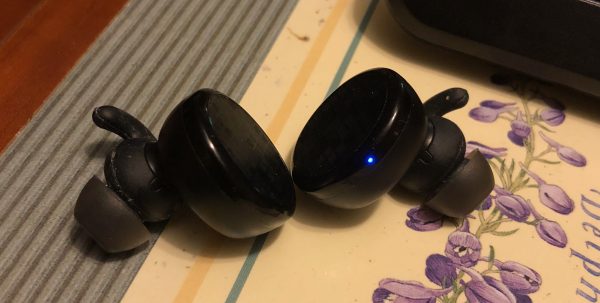 They are held in the charger magnetically, which is a nice touch. There is no doubt which orientation is correct, or whether you have made good contact. You don't even have to insert them – they are pulled in when you get close. A tiny red LED appears on the outside of each bud to indicate you have placed it in the dock, and the power LEDs on the case light up for just a second or two to let you know they are charging. (see photo below) Very subtle.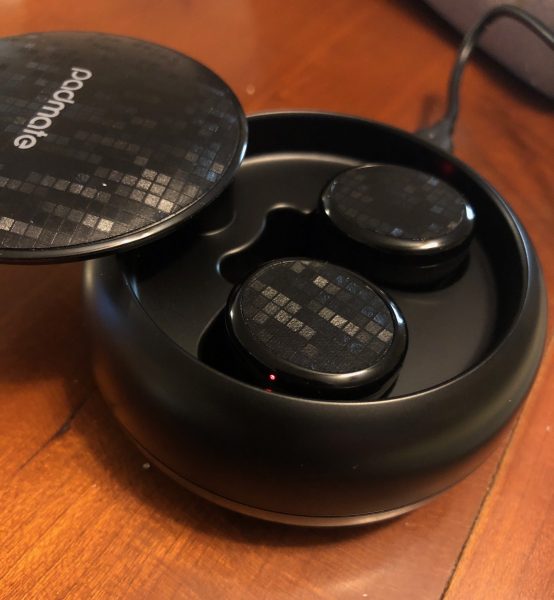 When you remove the earbuds from the base, they start talking to you immediately. They announce which channel they are, and, once they are both inserted, when they are paired with each other. They also announce that they are
"connected" to your device. The voice is very pleasant and clear. This is my third pair of wireless earbuds, and, I must say, the most seamless and impressive set to date. Even the Apple Airpods, which I bought after losing the charger for my first pair, is only on par, not ahead of the PaMus.
Under the vinyl cover of the left earbud, there is a button that will play/pause your device's sound, or answer/end a call. It doesn't show at all, and you can't feel it, but when you tap it, it does what it should. It's not programmable but does let you stop play in order to speak to someone.
The single thing that bothers me with the PaMus is this: the case feels cheap. The pop-up top feels like it will break off if I sneeze at it. The plastic of the rest of the case just feels thin and cheap. This doesn't carry over to the earbuds themselves, thankfully. They feel solid and well-made and fit into my ears with a good, sound-insulating seal. The seal is better and far more comfortable than my Apple AirPods, which for sound and comfort are the third-best of the three sets I have used.
Setup
Setup is straightforward. Pairing, disconnecting, and pairing with a second device all work as expected. If you put the PaMus in the case to charge, it releases the device. When you next wake them, it will reconnect to the same device, if it's in range. If that's not the device you wanted, you'll have to disconnect it from that one. Such is the pain of BlueTooth – a true first-world problem!
Performance
The sound is full and, due to the excellent seal, very clear. The bass is good, but they are still earbuds, not large speakers, so it doesn't jar your body, but it doesn't get muddy, either. I found the difference between these and the built-in speakers for my iPhone and iPads lacking after having the PaMus in, mostly because of the base. Usually, you go from earbuds to the speaker, and it's a slight bit tinny, or you notice a little background noise. These are like opening up a window and letting in the traffic noise and kids playing outside. Without the sound isolation, the PadMate buds offer, you can't really hear your music as deeply.
What I Like
Easy to set up and pair.
Long play time.
Impossible to get the wrong bud it the wrong ear **
What needs to be improved
Charging case feels very, very cheap. I'm afraid I will break the lid every time I open it.
Earbuds have a tiny blue slow-pulse LED that I couldn't find a way to turn off.
Final thoughts
I was very interested in trying this product. As mentioned, I bought a set of wireless earbuds (Erato Muse 5) a while back (before Apple had released their AirPods), and liked them a lot. About six months back, I lost the charging dock, so have been unable to use them. I got a set of AirPods for a slight discount from Target or BestBuy or similar, and have been using them, but they don't seal off outside sound like the Eratos I had been using. The PaMus have the auto-on and easy pairing of the AirPods with the sealed sound isolation of the Muse 5s. With their magnetic auto charge placement, they don't have the irritating loose fit in the charger that would find one of the Muses not charged after an hour or two. For the price, the PaMus beat out both the AirPods and the Erato Muse5 hands down. I just hope the case doesn't break.
Updates 09/11/18
Most days when I walk from my car to the office, I am still needing the quiet of a podcast or a Spotify playlist to get me revved up for the day. I also prefer these to my Apple AirPods when I'm taking my afternoon "meditation" break, listening to the surf samples in a relaxation app.
Price: $109.00 on sale currently for $79.00
Where to buy: PadMate and Amazon.
Source: The sample of this product was provided by PadMate.
**Unless you don't know that the "Left Channel" should be in your left ear and "Right Channel" should be in your right ear!