We use affiliate links. If you buy something through the links on this page, we may earn a commission at no cost to you. Learn more.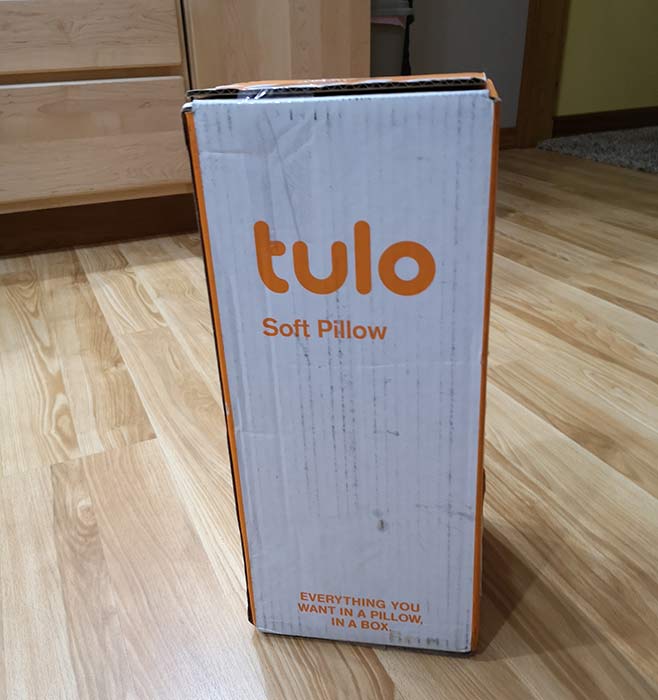 REVIEW – I'm on a quest. But it's not for the best smartphone or the best gear bag. I'm on a quest for the best pillow and the latest pillow to cradle my head while in gentle slumber is the tulo pillow. Will it be too hard? Too soft? Or will it be just right? It's time to find out.
What is it?
tulo means "sleep" in Chichewa which is a language spoken in Zambia, Malawi, Mozambique, and Zimbabwe. tulo is also a pillow that is made of high-density foam that is infused with particles of titanium. No, I'm not kidding. It also features an AquaCool phase-change material designed to keep your head cool. That's a lot of tech for something that isn't powered by a battery.
Design and features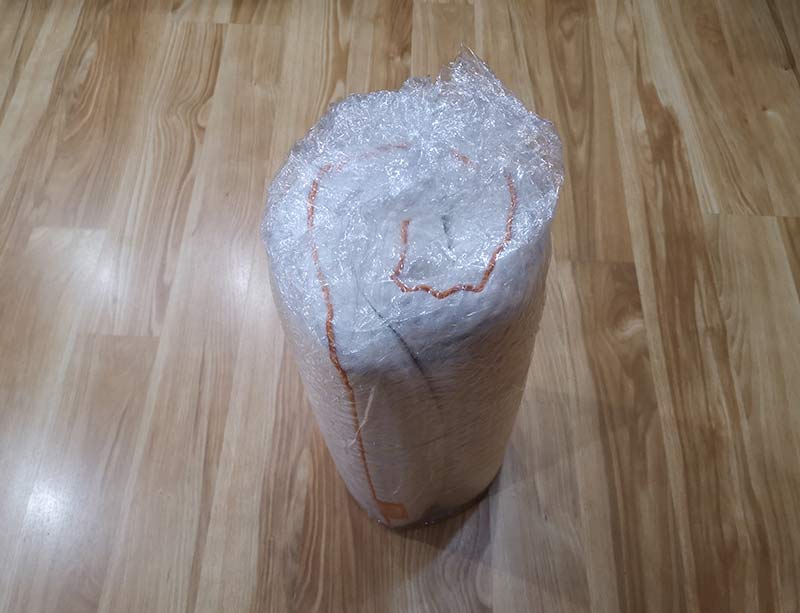 The high-density tulo pillow arrives in a surprisingly non-pillow shaped box. Opening the box reveals a compressed "jellyroll" pillow wrapped in protective plastic.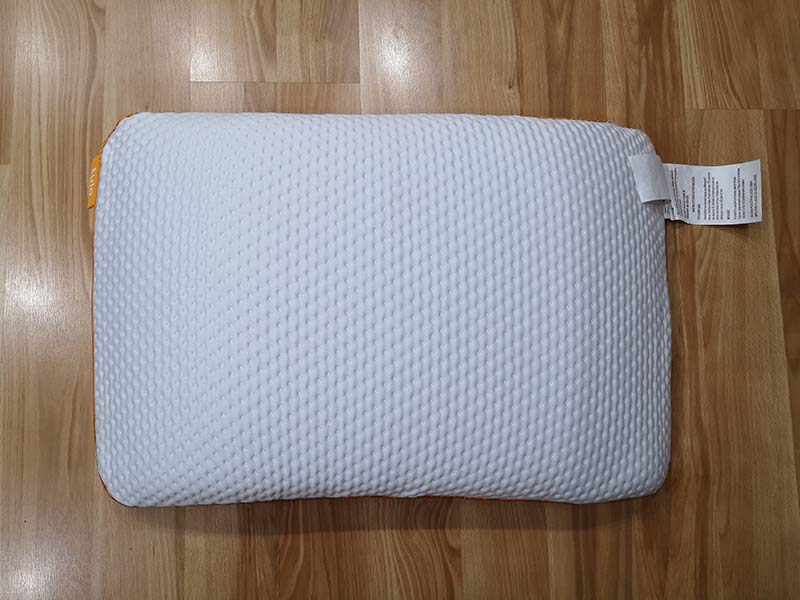 When unwrapped, the pillow unfurls into a  16″L x 26″W x 5″H form factor which fits into a standard-sized pillowcase.
I was sent the soft version of the pillow, but the tulo pillow is also available in a medium and firm version. Choosing the firmness level depends on your typical sleeping position. Soft is for stomach sleepers, medium is for back sleepers, and the firm version has been designed for side sleepers. Even though I sleep on my side, I opted for the soft version of the tulo because I like a soft pillow. Recommendations are for mortals, not the Gadgeteer 😉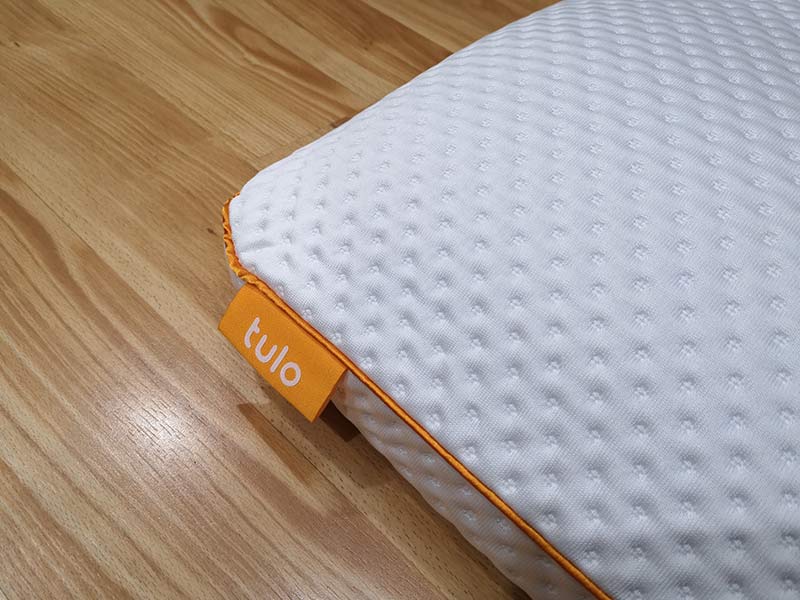 The outer cover of the tulo pillow is a soft dimpled material with an orange piping around the sides and a tulo branded tag sewn into a corner seam.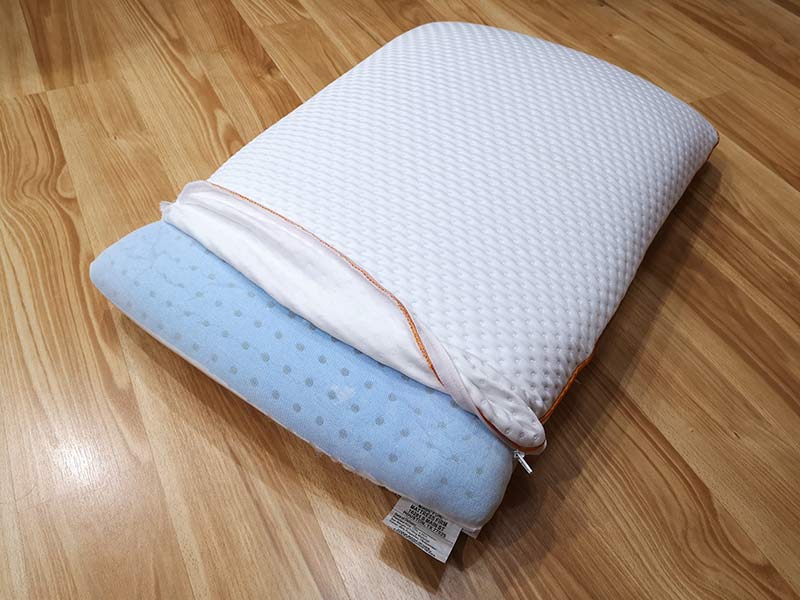 The cover unzips to reveal a foam pillow. One side of the pillow is blue as shown above. I'm assuming that this side is the side with the AquaCool phase-change material that is designed to keep your head cool. The tulo website and the materials included with the pillow do not offer any details about this special material except to say that it's a super conductive highway for heat flow.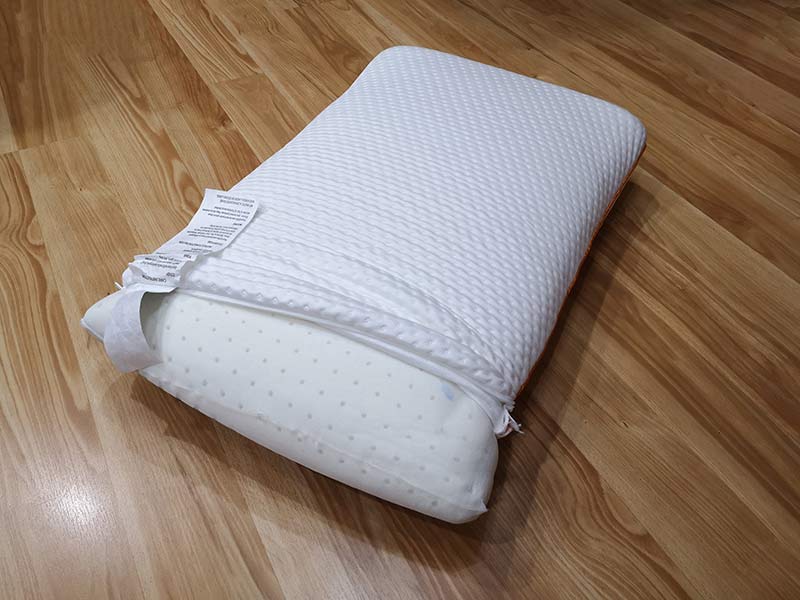 The same is true about the opposite side of the pillow which is white. This side might be the one that is infused with particles of titanium. But again, I can't find any details about the benefits of this "feature".
Can you throw the pillow in the washer to clean it? Nope. The zippered cover can be washed, but the pillow itself can only be spot cleaned with mild soap and water, and then air dried.
Time for a snooze!
I've mentioned in some of my other pillow reviews that I'm like Goldilocks. Pillows are either too hard, too soft (rarely), and almost never just right. That's why I've continued to sleep on the same pillow for many years now because I just can't find a new pillow that is as comfortable as my current one.
As for the tulo, I was happy with the height of the pillow. That tends to be my main complaint when it comes to trying new pillows. They are usually too high and cause my head to raise at too much of an angle when I'm sleeping on my side. The tulo didn't have that issue, so it got an immediate thumbs up. Laying on the pillow supported my head and neck at the perfect angle and also didn't bother my shoulder.
What about the AquaCool and titanium particles? Did they keep my head cool while sleeping on the tulo? Well, I didn't wake up with a cold head or a hot head. I woke up with my head feeling just right. Yes, we're using the Goldilocks reference again. So a thumbs up for the special materials too – I guess. Seriously though, I don't think the pillow has a super conductive heat highway. It just feels like a typical pillow as far as coolness goes.
Unfortunately, that was where the happiness ended because the tulo pillow didn't live up to its "soft" name. It felt one level too firm for me. If it were just a bit softer, it would be a keeper. But as is, it just felt a little meh.
What I like
Right size and right height
Washable cover
What to watch out for
Can't wash the pillow in a washer or dryer
Soft version of the pillow wasn't soft enough for me
Final thoughts
I realize that pillow firmness and comfort is subjective and everyone will have their own idea of comfort when it comes to a pillow. That said, of all the pillows I've tried in the past year or so, the tulo is the one that comes closest to replacing my antique pillow. The tulo is well made and comes in at an affordable price, so it is worth a try if you're also looking to replace an older pillow. But for me, my quest continues.
Price: $89.00
Where to buy: tulo.com and Amazon
Source: The sample for this review was provided by tulo.com.