We use affiliate links. If you buy something through the links on this page, we may earn a commission at no cost to you. Learn more.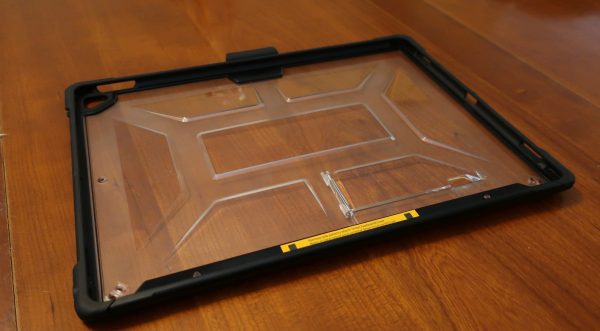 REVIEW – The iPad Pro 12.9″ has been reviewed and discussed all over the Tech Press, and, love it or hate it, everyone agrees on one thing: it's a big, thin, fragile slab that is a bit unnerving to handle. Adding a case to the already 1.5-pound unit is almost a given, but then it's hard to schlep around. Enter our friends from Urban Armor Gear. They have designed a case they dubbed the Plasma, which protects this beast of an iPad while not significantly increasing the weight or the visual impact. Not an easy task.
Note: Photos may be tapped or clicked for a larger image.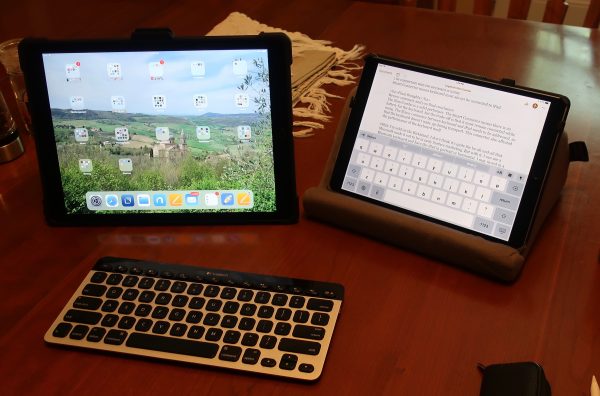 What is it?
The UAG Plasma case combines the protection of a larger case with the features of a traditional iPad case – full back coverage, a pop-out stand, and access to the smart connector. They threw in a pencil clip for good measure. (Since I've taken to writing out my articles in Nebo with one of the iPads and my Apple Pencil, this ease of access is not lost on me!)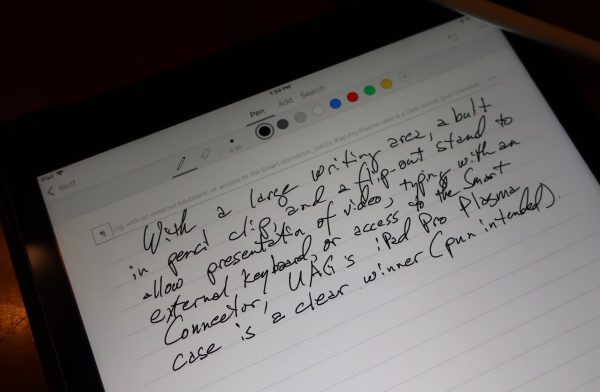 What's in the box?
Just the case – no frills.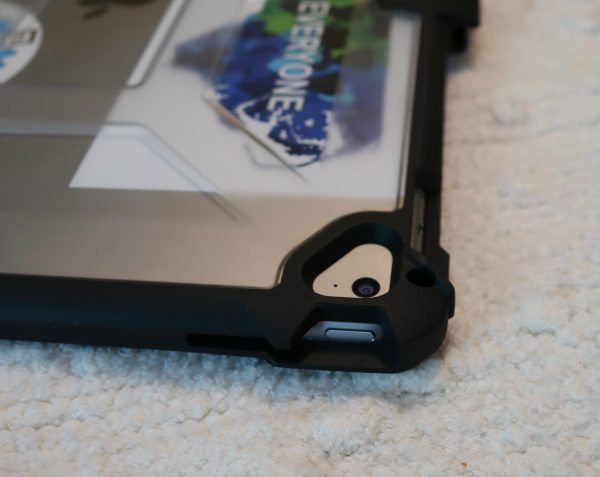 Design and features
The back cover of the Plasma is a hard, clear acrylic with the traditional UAG pattern of angular lines and open spaces etched in a clear v. frosted finish. I know it went against everything they consider holy, but the UAG logo was not emblazoned front and center in the large, silver type it usually comes in! It was instead writ small at the top center of the vertical orientation, under the pencil clip. (I give these guys a hard time about their logo, but their stuff is really kick@$$!) The photo below is the other side of the table from the photo just after the break above. I wanted to post it to show the difference in the stand between the Plasma (right) and other methods of holding an iPad at a good typing angle. That's an iPad Pro 10.5″ on the left, but it takes up quite a bit more space due to the WedgeStand that's supporting it.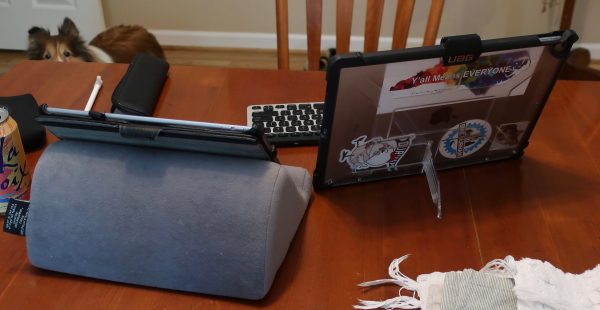 As expected, the mics, camera, charging port, speaker grills, and earphone jack are all left open and accessible. Even the volume controls and the sleep/wake button are uncovered. The sleep/wake button and the earphone jacks are somewhat covered by overhanging protective eaves, however, which was a welcome touch. The power port has a large enough opening to easily allow an Apple Pencil to "assume the position" for charging.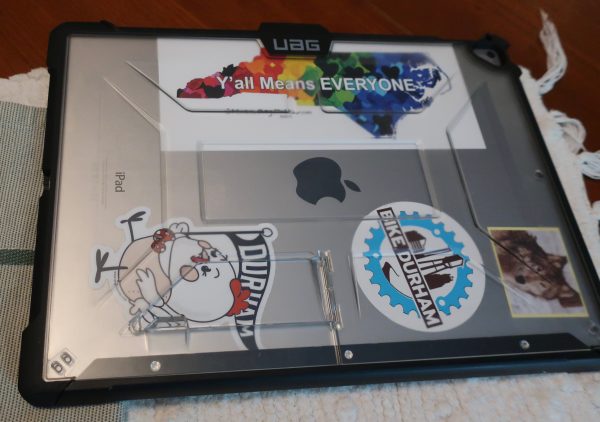 While a nice feature, I found the Pencil clip a bit difficult to use. Putting the Pencil in is not a problem, but when I tried to remove it, I was always afraid of it breaking in the center as I pried up a loose end. I could probably just slide it up and out, but I'm still quite paranoid about hanging a $100 piece of plastic in an exposed loop in my bag. I have a case where I keep it nice and safe. For the record, I also never clipped good pens to the rings of spiral notebooks back in the day, either. You do you.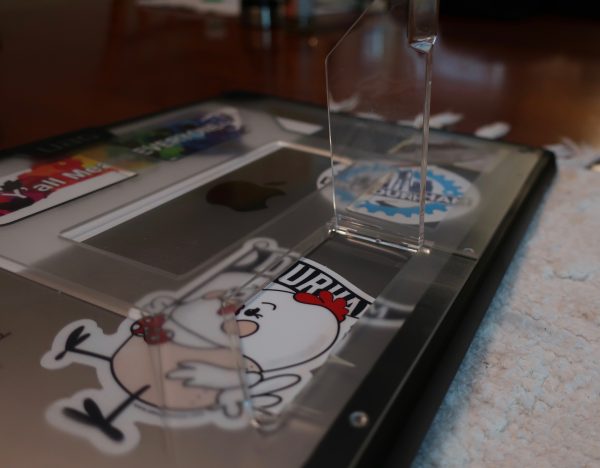 On the long edge opposite the pencil clip, there is a pop-out stand which gives the Plasma the ability to stand at a 16º slant from vertical. This position is quite nice if you're watching a video, or writing in split-screen view with a keyboard. The frame below this pop-out prop can also be removed before installing the case, exposing the side of the iPad Pro that contains the smart connector, as well as those clever magnets that allow screen covers to be attached. Different from some covers on the market, this choice is reversible-you can leave it off on one trip where you want to add a smart keyboard or cover, then clip it back in when you want full coverage of the bumper. I like choices.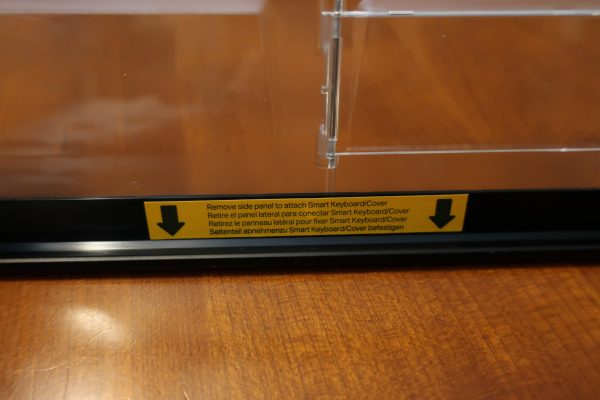 One oddity I found was the lanyard tether attachment point just under the earphone jack and the opposite side. As heavy, unwieldy, and awkward as I sometimes find the 12.9″, I have not once imagined threading a lanyard to it and having it hang around my neck. But, if that's your thing, you can do it with the Plasma case! Might be good if you're using it for field work and having to do something else with your hands with no good place to sit your iPad between annotations.
What I Like
Excellent protection around the rim and scratch-proof coverage for rear of the iPad.
Pop-out stand to allow the use of a keyboard.
Pencil clip for the daring.
Removable cover on Smart Connector/Magnetic Smart Cover edge.
What needs to be improved
Final thoughts
The iPad Pro 12.9″ continues to be a bit of a puzzle. Most users I know love theirs, but rarely take them out of their homes or offices. This case, with its open side for smart covers/keyboards and the kickstand, gives me enough protection that I have been taking mine out more. Look for it in your local Best Buy and consider how you could use your iPad Pro, rather than that heavy laptop. You may start a new trend!
Price: $89.99 for 12.9″, $79.99 for 9.7″and 10.5″ iPads.
Where to buy: This is a Best Buy exclusive.
Source: The sample of this product was provided by Urban Armor Gear.