We use affiliate links. If you buy something through the links on this page, we may earn a commission at no cost to you. Learn more.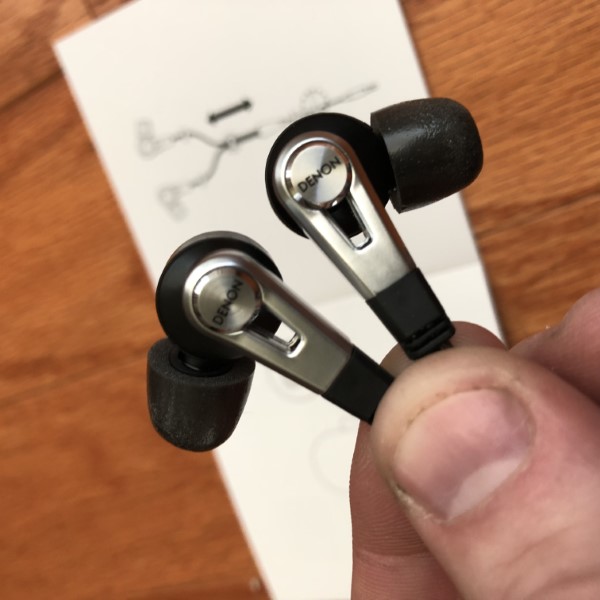 I'm a big fan of high-end headphones and jumped at the opportunity to review Denon's C820 ear candy. Just the specs alone made me want to pull up my most sublime musical selections.
What is it?
The Denon C820s are "dual-air compression" dual wired earbud type headphones that fit snugly and deliver sweet, sweet music into your ear-holes.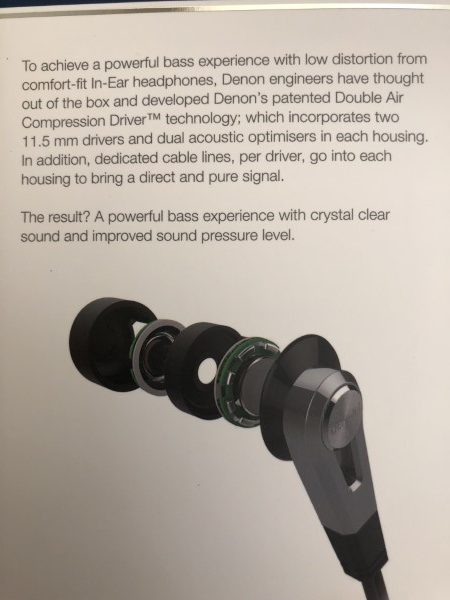 Hardware Specs
Impedance – 16 ohm
Sensitivity – 115 dB/mW
Frequency response – 4-40,000 (Hz).
Maximum power input – 250 mW
Weight – 10.4 g (not including cable)
Aluminum, die-cast resin construction
What's in the Box?
C820 Headphones
Rubbery earphone holder
Four extra ear tip pairs of various sizes
Instruction manual
Cord clip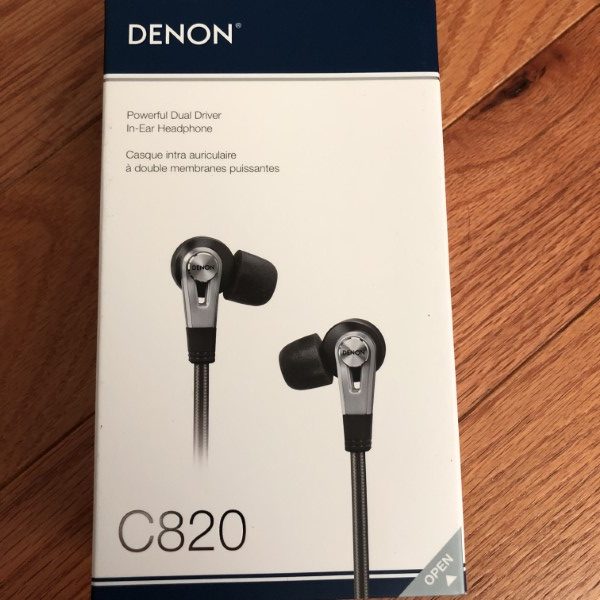 Design and features
The C820 headphones arrived in blue and white boxing nestled into a rubbery-feeling holder. A number of different size ear tips are included.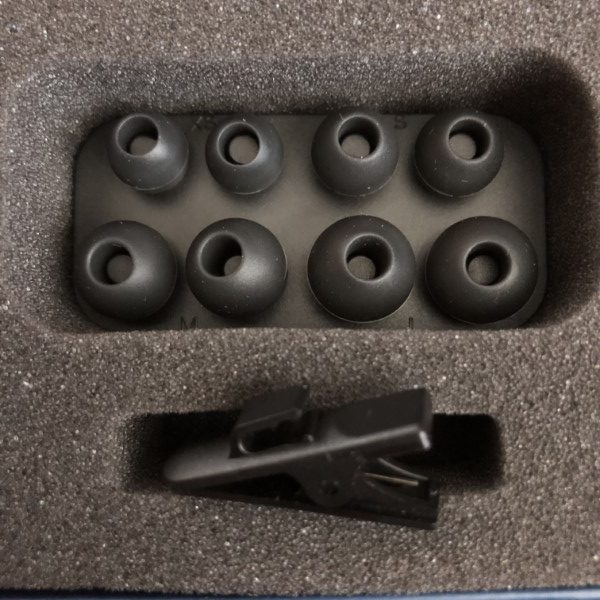 I tried several pairs and decided the default memory-foam ones were the most comfortable and provided the best sound isolation. I was a little worried that the angled metal bits that the cords connect to would cause some discomfort, but I was pleasantly surprised. No problem there. Please excuse my scruff.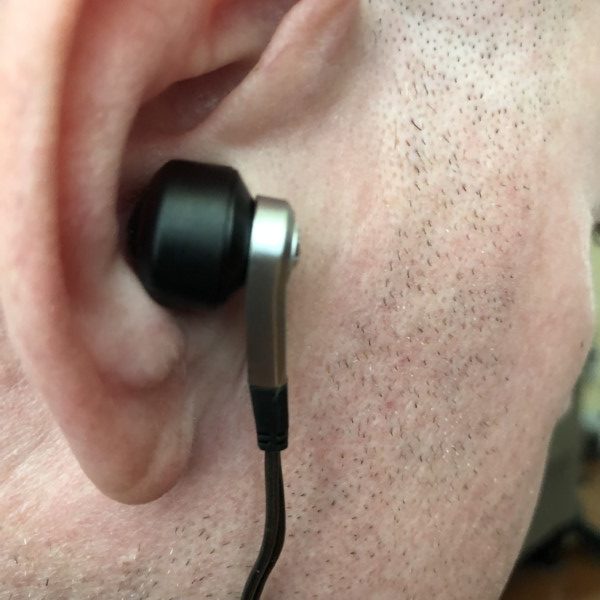 The cords are heavy duty and should hold up well for years of being tossed into my pockets or day bag. These headphones FEEL sturdy. They are metal and have some decent heft to them. Rapid head movements might make them pop out, but I had no troubles even when using them while mowing the lawn. I used the cord clip for a bit of added security, Good sound isolation means I can keep the sound at a safe level even with the mower blades engaged. The 1/8″ stereo jack is narrow enough to fit into most cases without the need of an adapter.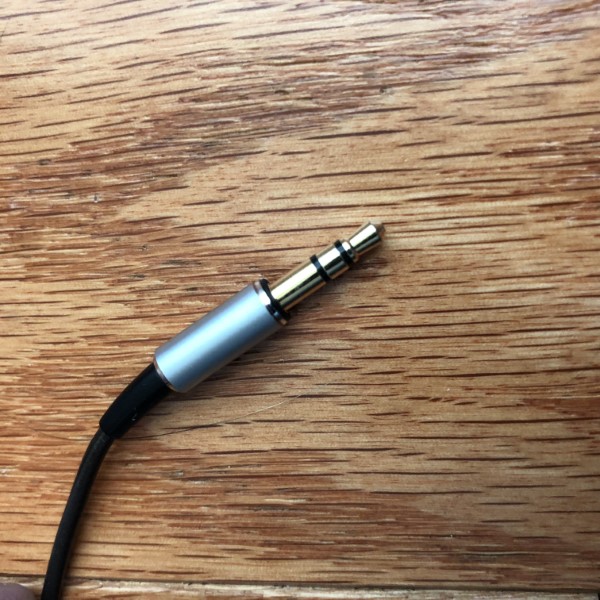 I pulled up a relatively eclectic parcel of tunes. Music of the Koto, Eric Clapton, Handel's Messiah, and Kenji Kawai's "Making of a Cyborg" from the 1995 Ghost in the Shell anime film were a few of my choices.
These headphones are impressive. Even at reasonable volumes the bass booms. In fact, I had an odd sensation during a particularly bass-filled passage. The specs indicate full spectrum sound down to 4Hz and Denon wasn't kidding. These headphones produce sound you can feel. You know that sternum-vibrating bass you feel when you go to a live concert? These headphones gave me that bass-shaking felling in my ears that I expected to feel it in my torso. Delicious!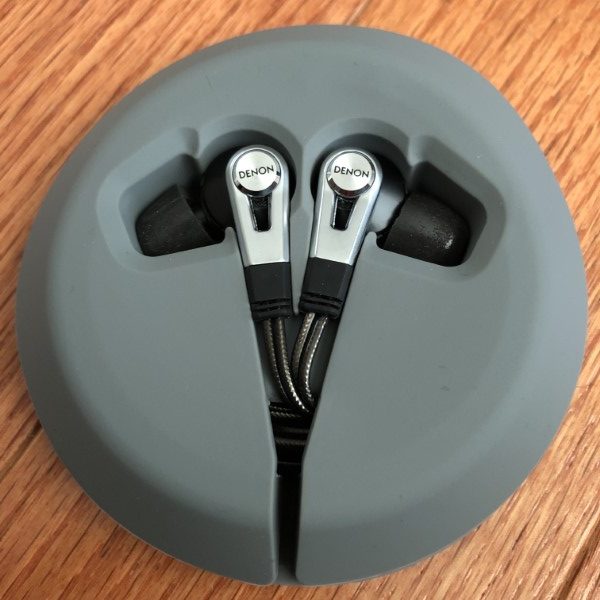 Treble is also well-represented with crystal-clear highs. I was easily able to pick out tiny details featuring the triangle in the percussion section of orchestral pieces.
Great sound, tough construction, and good sound isolation, what more could one ask?
What I like
Metal construction
Tough cords
Extremely wide frequency response
Comfortable
What needs to be improved?
Nothing. These headphones are works of art.
Final thoughts
While testing these headphones, I accidentally bumped the volume bar while listening to Family Force 5's "Put Ur Hands Up." I actually scared myself! I felt the same way I did as a kid when I visited the stereo section in the department store and turned on a stereo to find someone had spun the volume knob all the way to the upper limit and everyone in the entire store knew some unsuspecting chump had punk'd.
I've been a long-time fan of balanced-armature headphones with their flat frequency curves, luscious bass, and crisp highs. For many years my Etymotic ER-4 headphones have been my go-to choice. I believe Denon's C820 headphones with their comfortable fit and "dual air-compression" drivers may have usurped my beloved ER-4s as my new audio buddy.
Price: $159.00 and worth every penny
Where to buy: Amazon
Source: The sample for this review was provided by Denon.