We use affiliate links. If you buy something through the links on this page, we may earn a commission at no cost to you. Learn more.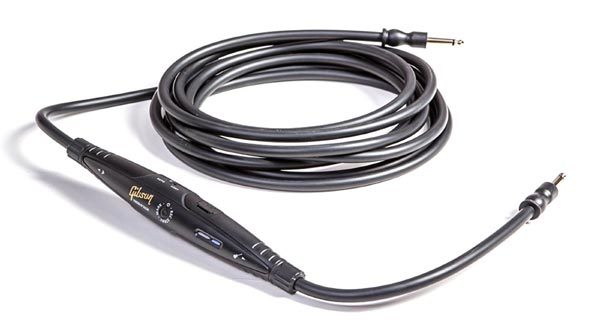 Whether you're an amateur or a professional musician, you probably have been inspired by something you're noodling around with, but you've lost it before you can get it down.  You'll never lose your ideas again if you replace your current audio cables with the GC-R05 memory cable designed by TASCAM for Gibson.  In addition to being a high-quality 16′ audio cable, the GC-R05 cable has an in-line solid-state microSD recorder built right in.
With a push of a button, you'll be able to save a file to the included 4GB microSD card for later reference.  There are two recording modes: continual or recording triggered only when you play.  You can record 13 hours of music with uncompressed WAV-format 16-bit, 44.1kHz CD-quality files on the microSD card.  Transferring your files to a computer is easy with the included microSD-to-SD card adapter.  Gibson says "thanks to the studio-quality A/D converters, if you record a 'keeper', you can bring the file into any recording software, then build the song from there."
The in-line recorder is powered by one AAA battery.  The audio cable is compatible with guitar, keyboards, bass, and electronic drums or even a mixer bus output.  You can expand the storage capacity by replacing the microSD card.
The Gibson GC-R05 Memory Cable is $51.00 at Amazon.