We use affiliate links. If you buy something through the links on this page, we may earn a commission at no cost to you. Learn more.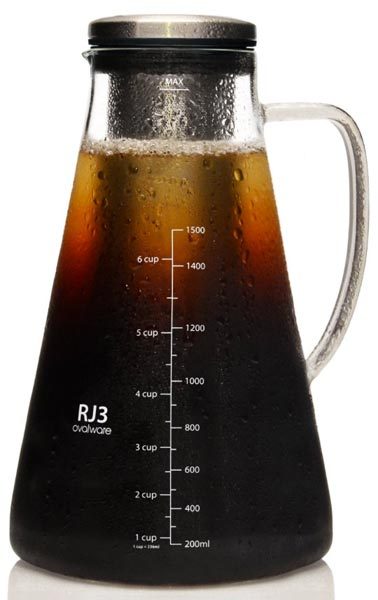 I have a B.S. in chemistry, so you can imagine I have a fondness for laboratory glassware.  That's why the Ovalware RJ3 Airtight Cold Brew Iced Coffee Maker caught my eye.  But you don't need a degree in chemistry to make coffee in this maker.  You simply add ground coffee and cold water and come back in a few hours.  You may wonder why anyone would bother with cold-brewing when there are so many coffee makers on the market that can produce a cup in seconds or a whole pot in a few minutes.  Well, cold brewed coffee has a richer taste and is 70% less acidic than hot brewed.  It's a concentrated solution sitting in your fridge until you decide to dilute it to make iced coffee or heat it for a hot cup.  It also works great for brewing tea from loose tea or tea bags.
The brewer is available in a one- or 1.5-liter size.  The carafe is extra-thick, lab-tested borosilicate glass that can even stand up to hot brewing.  The rust-free superfine dual-mesh filter and the cap are made of 18/8 medical-grade stainless steel. The cap has a BPA-free silicone airtight seal. The whole kit is dishwasher safe.
Put ground coffee in the mesh filter, add water, and put the carafe in the fridge for 12-24 hours, depending on how strong you like your coffee.  When brewing is done, remove the filter.  You can store the concentrated coffee in the refrigerator for up to two weeks.
The Ovalware RJ3 Airtight Cold Brew Iced Coffee Maker is $29.99 for the one-liter size or $35.99 for the 1.5 liter size at Amazon.