We use affiliate links. If you buy something through the links on this page, we may earn a commission at no cost to you. Learn more.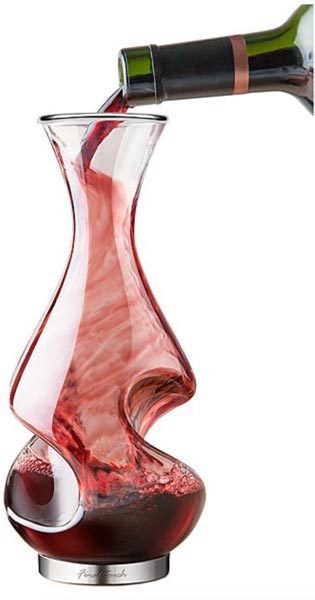 Some wines benefit from extra aeration, more than you would get from just pouring a glass from the bottle.  Other wines benefit from decanting to remove sediment – and of course, decanting provides some extra aeration, too.  If you want to be sure your wine is good and aerated before serving, you need the Twist Decanter.
The decanter is made of borosilicate glass with a stainless base.  Its indented, swooping shape increases the aeration as you pour the wine from the bottle.  Those same features aerate again when you pour a glass.
The Twist Decanter is available in a 12.7 ounce size (8.75″ tall x 4″ diameter) to hold about half a bottle of wine for $29.99 or a 25 ounce size (11.4″ tall x 5.3″ diameter) to hold a full bottle of wine for $49.99.  Purchase the Twist Decanter at UncommonGoods.