We use affiliate links. If you buy something through the links on this page, we may earn a commission at no cost to you. Learn more.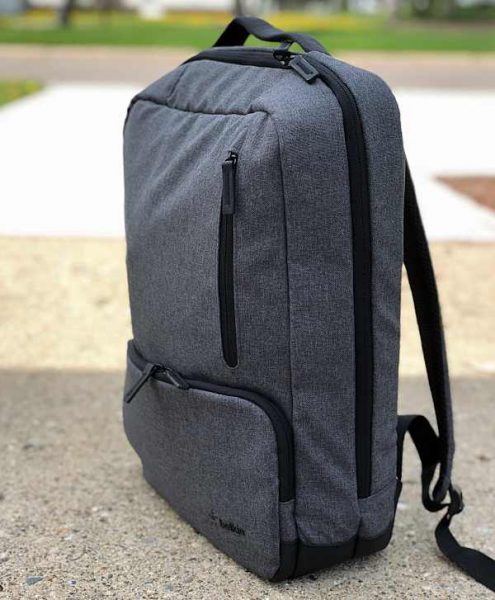 I have an admission to make. I've never owned a backpack in my adult life. I know, shocking right? Honestly, up until now I never felt the need for one. But owning a 13″ MacBook Pro, 10.5″ iPad pro and more chargers and cables then you can shake a stick at I figured it was time to give this backpack thing a try. So I decided to review the Belkin Classic Pro laptop backpack. Here are my thoughts.
What is it?
The Belkin Classic Pro is a backpack with a padded interior pocket designed to carry and protect laptops up to 15.6".
Specs
Backpack size: width x height x depth: 11.7" x 16.7" x 4.9" depth
Weight: 1.15lbs
Design and features
The Belkin Classic Pro Backpack has a really nice slim profile design. The heather grey polyester material and simple black accents give it an understated modern look. Perfect to go from commute to boardroom.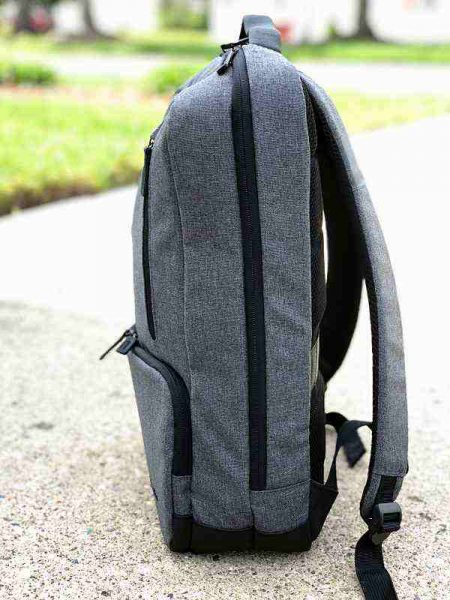 I really like how the one-piece shoulder strap design adds to the backpacks sleek-modern look, at the same time adding a little extra padding just below your neck.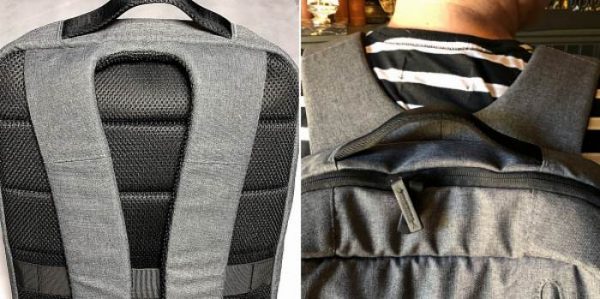 There are pieces of polyester that span halfway up on either side of the opening. This accordion-style design makes opening the bag upright and finding items inside simple.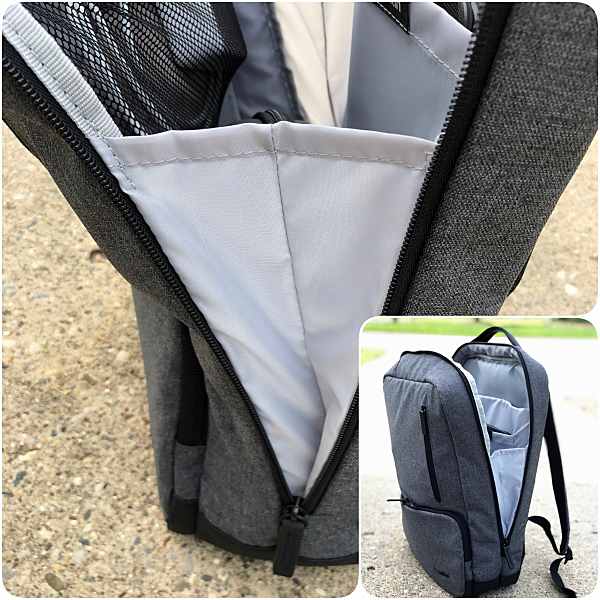 I like this feature because it gives you quick access to items even when you're on-the-go.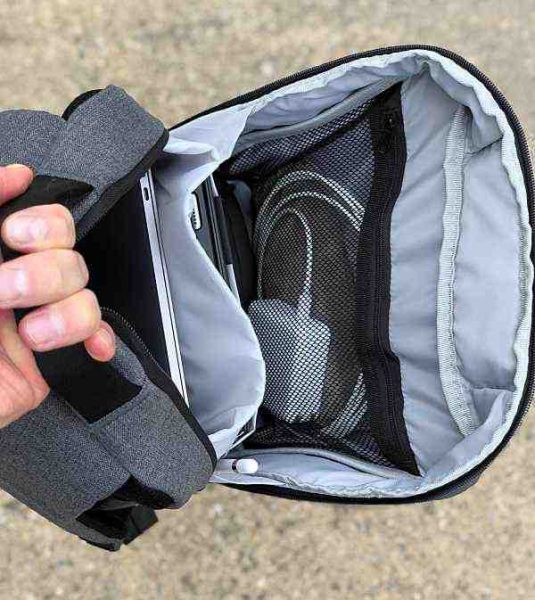 Other small things like the textured zipper pull, a protective water-resistant bottom and even the raised Belkin logo on the front pocket finish off the backpacks sharp minimalist design.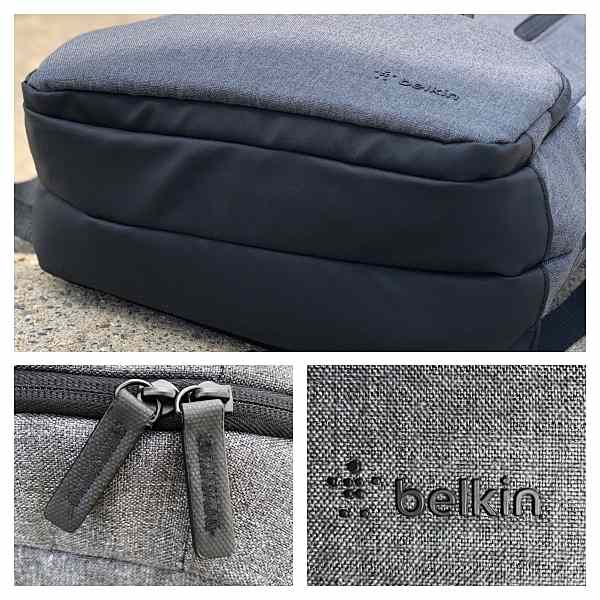 Interior pockets
Inside the Classic Pro, there are two vertical organizational pockets and a zippered mesh pocket. The padded laptop pocket is located on the backside and can accommodate a laptop up to 15.6-inches. The placement of the laptop pocket takes advantage of the backpacks padded back panel. Meaning your laptop is protected on both sides.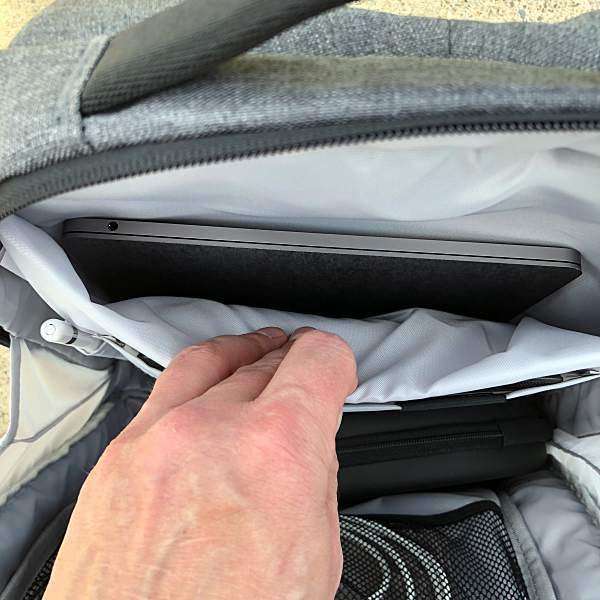 A smaller vertical pocket perfect for carrying a tablet is stitched onto the front of the laptop pocket.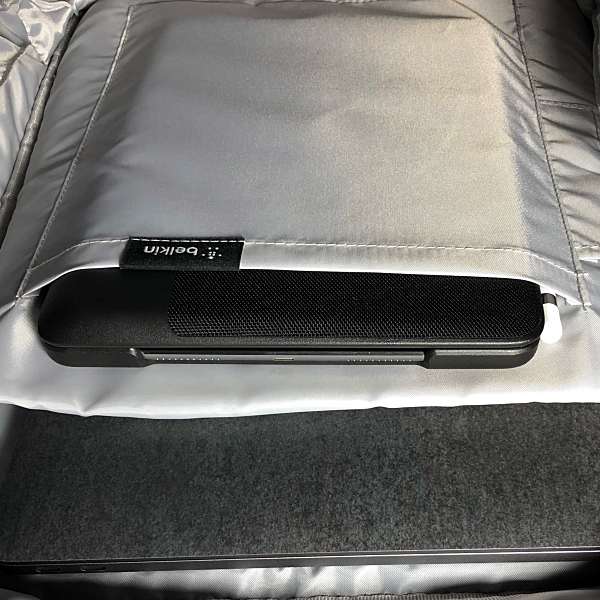 On the opposite side, there's a 6.5″ x 11″  zippered mesh pocket that's perfect for carrying chargers and cables.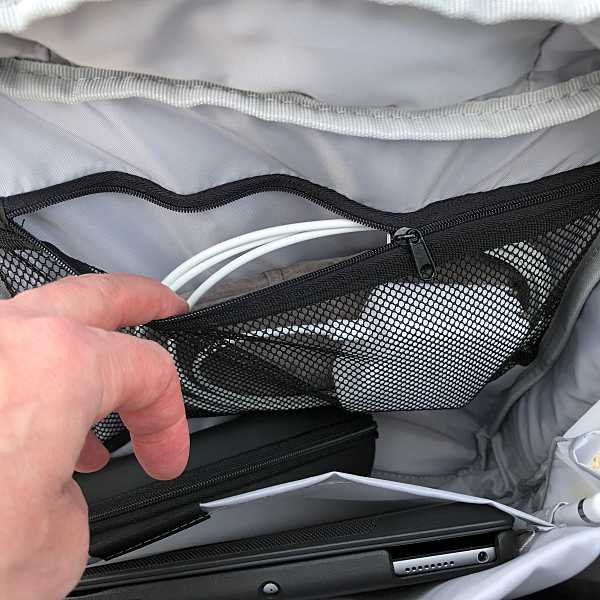 There's even a small sleeve for a pen or in my case my Apple Pencil.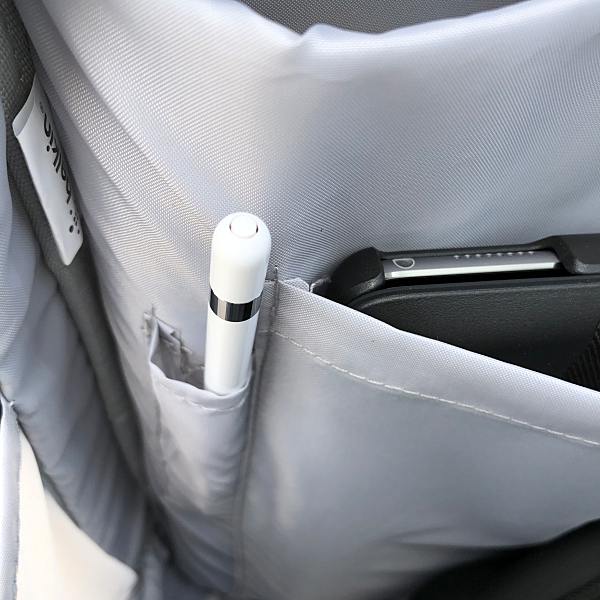 I was able to fit my 13" MacBook Pro, 10.5" iPad Pro, chargers, cables, and a portable battery pack using just the inside pockets. Leaving plenty of extra space inside for my headphone case and more.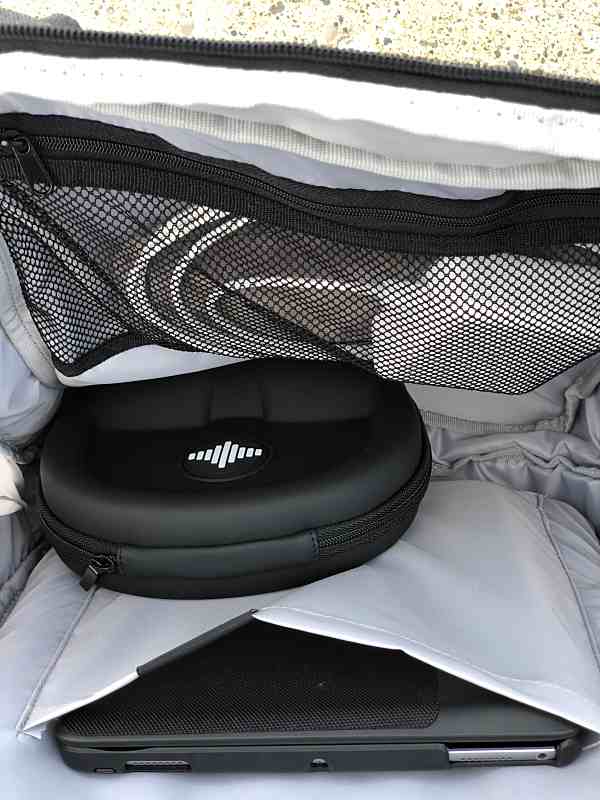 Exterior pockets
There are two zippered pockets on the outside of the backpack. A vertical pocket and a larger padded pocket. The 8" x 9" vertical pocket is accessible without having to remove the backpack, perfect for things you need quick access to like keys or a snack. However, if the backpack is loaded the vertical pocket is a tight fit and a little more difficult to access.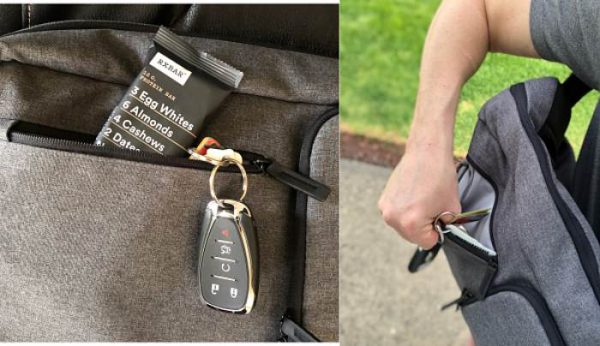 The dual-zippered horizontal pocket measures 6.5" x 11" and utilizes the same padding as the interior laptop pocket.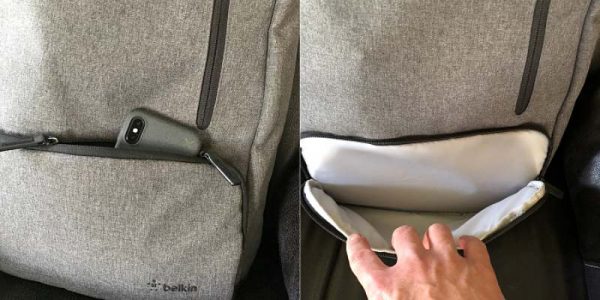 The padding isn't exclusive to the inside of the Classic Pro. The back panel, shoulder straps, sides, and front of the backpack are all padded.
The padded back panel adds comfort and also keeps items in the bag from pressing uncomfortably against your back. Both the back panel and shoulder straps have a mesh covering for breathability.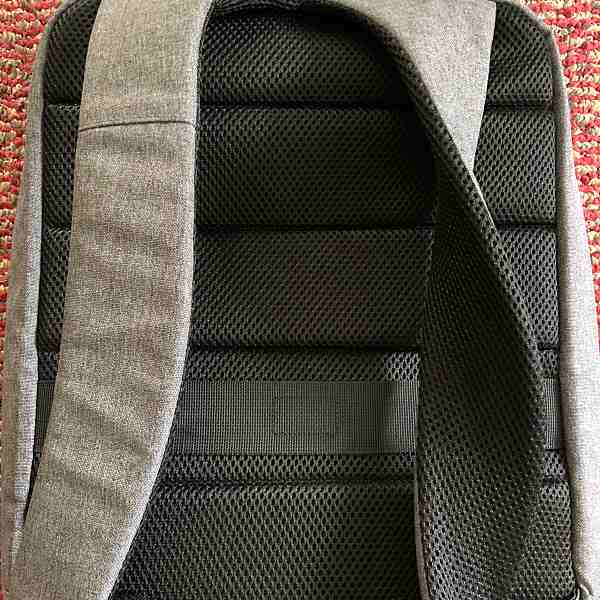 A thin layer of padding around the sides and front of the backpack provides just a little more protection for all your devices inside. The bags carrying handle is also padded and the luggage strap can be used to fasten it to a trolley or case.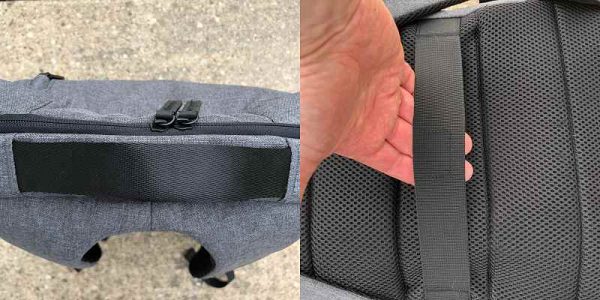 Performance and fit
I wanted to see how comfortable this backpack would be during extended use. So, I decided to load it up and wear it while walking my dog. The walk was two miles and I can say that the backpack remained extremely comfortable the whole time. The backpack felt well balanced and the padded back panel and shoulder straps felt good. I liked how the backpack fit flat to my back and how the padded straps seemed to hug my shoulders. The best part is it doesn't look or feel bulky.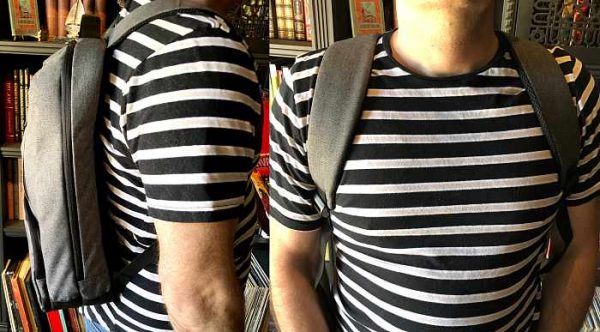 Overall construction
The Belkin Classic Pro backpack is really well made. The polyester material used both inside and out makes the bag lightweight without feeling cheap. Stitching on things like the shoulder straps and zippers is clean and gives the bag a real durable feel.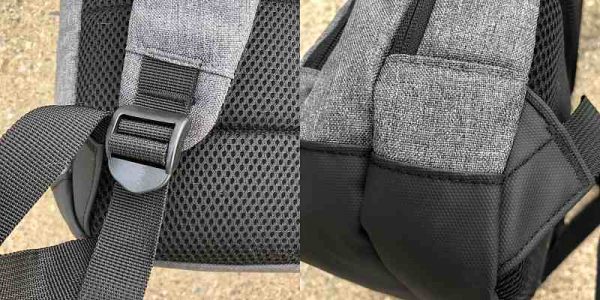 What I like
Slim profile design

Lightweight

Padded back and  shoulder straps

Plenty of storage pockets inside and out
Price
What needs to be improved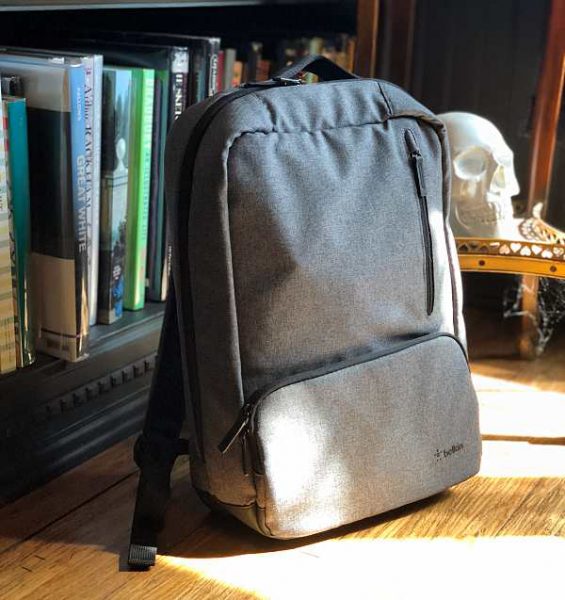 Final thoughts
It won't blow you away with a lot of extras but the Belkin Classic Pro is a quality minimalist laptop backpack with a nice design and plenty of built-in functionality, all at a very reasonable price. Not bad for my first backpack.
Price: $39.99
Where to buy: Amazon
Source: The sample for this review was provided by Belkin.