We use affiliate links. If you buy something through the links on this page, we may earn a commission at no cost to you. Learn more.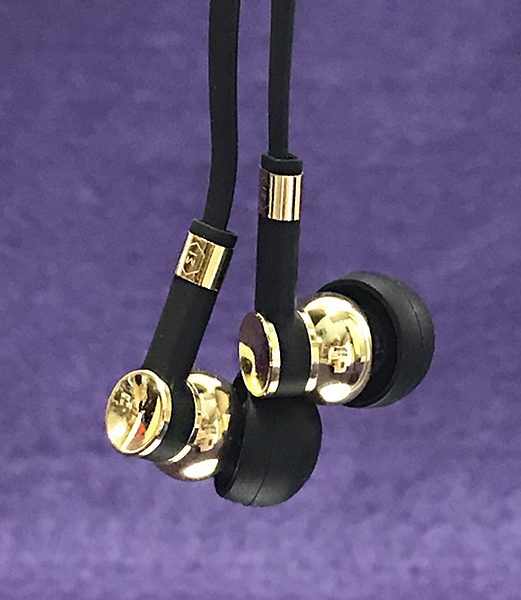 I've reviewed enough Master & Dynamic products to know how well they are made and also how great they sound. Surprisingly, I have not been familiar with their earphones. That's now changed. Here is my review of the Master & Dynamic ME05 earphones.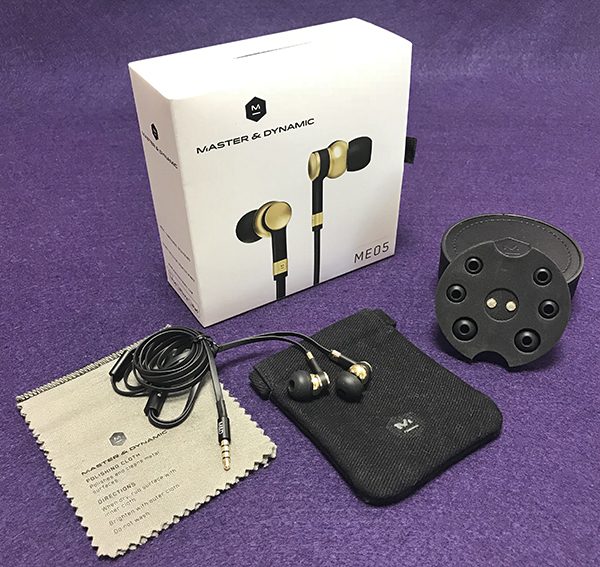 What is it?
The Master & Dynamic ME05 earphones are made from hand-finished brass and are made much like their headphones with an attention to detail missing from many other brands.

Specs
Dimensions: 21.5 mm X 11.8 mm
Drivers: 8 mm Titanium
Impedance: 16 ohms
Weight: 21 grams
Materials: Brass, rubber, silicone
Cable: 47 in.
3.5mm standard plug
Microphone Type: Omni-directional
Apple Compatibility: The remote and mic are supported only by iPhone 3GS or later, iPad, iPod touch (2nd generation or later), iPod classic (120GB, 160GB), and iPod nano (4th generation or later). The remote is supported by iPod shuffle (3rd generation or later).

Design and features
The ME05 Earphones are made of brass and they look it. So, no surprises there. There's even a polishing cloth included. The earphones have some weight to them and I was initially worried that this weight would make the earphones more difficult to stay in my ear. Nothing could be further from the truth. I don't know how they did it but the weightiness is perfectly balanced, so any fears of falling out were alleviated within the first 30 minutes of wearing. I could even jump up and down without dislodging them, although I wouldn't recommend exercising while wearing—especially since they are not water or sweat resistant.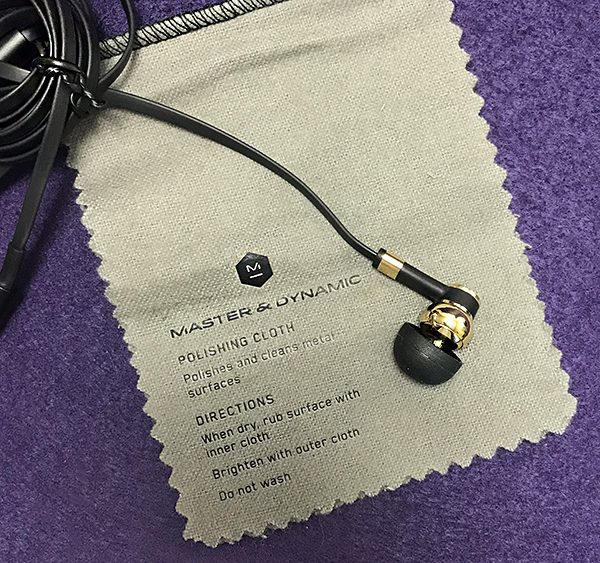 Another welcome surprise are ear tips that fit! With my ears, this is a big deal. I didn't have to revert to my saved stash of ear tips to achieve that important, proper seal.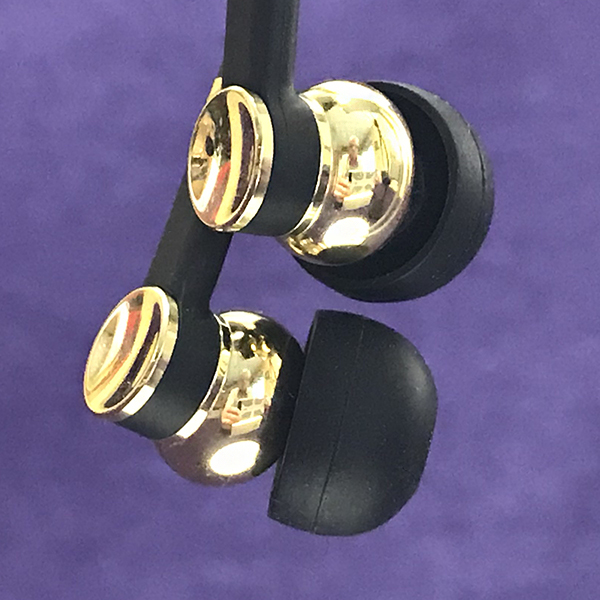 The earphones themselves are rather bulbous, but that allows the large dynamic speaker to sit outside the ear—and it helps with the balance I mentioned earlier. The brass is tastefully paired with black accents from the flat, tangle-resistant cords to the reinforced posts where the cord meets the earphone housing. The cord is a bit short for desktop use, but perfect for smartphone use. The overall effect of black and gold is that the ME05 earphones look more expensive than they are. Although made from brass, there are also two other color options: Black Chrome and Palladium. Master & Dynamic have a habit of matching style with substance and it shows here, also.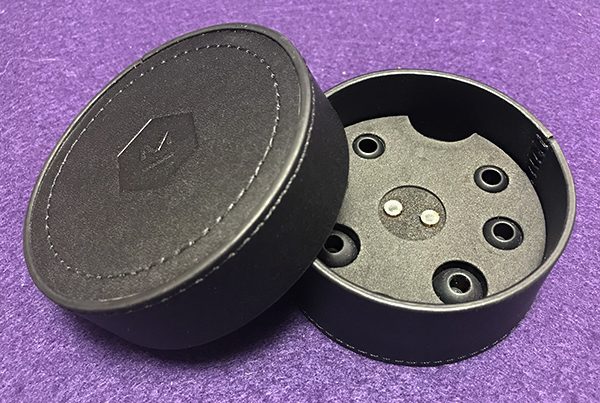 There is the usual assortment of accessories included. Four pairs of silicone ear tips along with an extra pair of "tuning filters." These are not like the changeable filters you see on other brands of earphones that provide more bass, treble, whatever. No, these are identical to the already attached pair. However, unless you have gross ears, I can't imagine why you would need to swap out the filters. Also, the filters are SMALL and yes, I dropped one and had trouble finding it. You've been warned.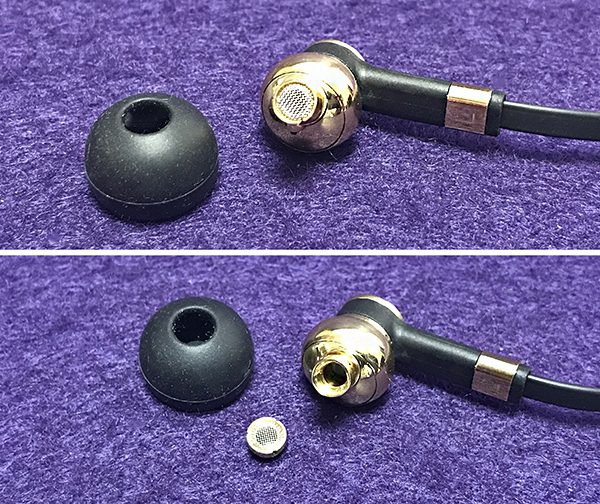 The accessories are housed in a nice leather-covered circular case that originally housed the earphones themselves when first opened. Once you pry out the insert that holds the tips, what's left is a nice, hard case for protecting the earphones. Or you can opt for the included soft, cloth bag for easier packing in a backpack. It's nice to have a choice. There's also a shirt clip—which I have never used.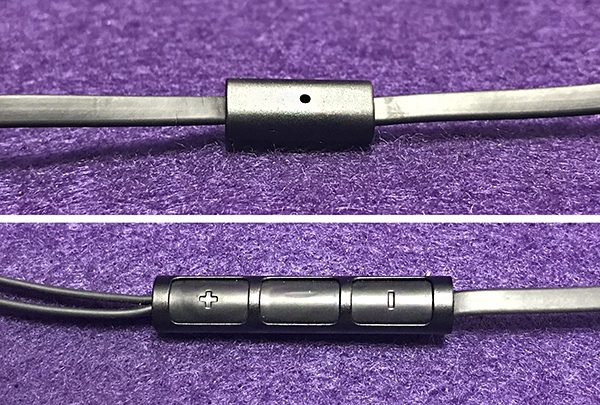 On the cord, Master & Dynamic separated the mic from the controls, so the mic is closer to the mouth while the Play/Pause controls sit where the cord splits into left and right. Master & Dynamic claims that this reduces noise, but I've never noticed that problem with other earphones. But having the controls separate from the mic does reduce weight drag on the right cord since the mic weighs almost nothing.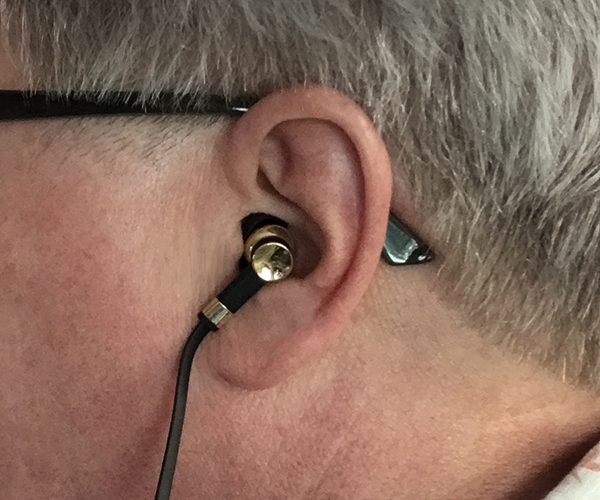 The sound coming out of the ME05 earphones is as rich as the way they look. It's a bit on the warm side but not overly so, which is a good thing. Warm just means that bass is accentuated just enough without crowding out the mids and higher frequencies. I can almost feel the bass thump in songs. Of course, that's impossible with earphones, but the effect is there (depending on the song, of course). 
Brian Eno's "Written, Forgotten" from the album "Small Craft on a Milk Sea" is a real bass tester. With the ME05 earphones, the deep bass notes sounded much like a subwoofer, but I could still hear faint, subtle whispering in the background giving the song an ethereal quality. I can't hear that whispering with regular speakers or many headphones. It's always a treat when you discover new things about songs you thought you knew very well.
Ladytron's musical hooks are evident in many of their songs, but "Ghosts" is particularly infectious. When turned up, this song is a sonic kick in the teeth. Guitars are blurred with synth chords and distorted percussion giving the song a Phil Spector-like wall of sound. Despite this, you can still hear what you need to in order to make out specific instruments. 
Then there's "Red Rain" from Peter Gabriel's classic "So" album. I have a high res version on this album and the sonic improvements are evident throughout the song and album. Bass is tight and distinct from Gabriel's vocals while there are higher frequency things happening in the background. However, the highs are tamed so there is no harshness at all. This is a well recorded album and the ME05s show that off.
What I like
They are extremely comfortable over long periods of listening, plus the ME05s have ear tips that fit me! The audio feels and sounds just right—not to bassy or bright. 
What needs to be improved
Nothing of note except the lack of water resistance. The ME05s are not cheap, but these brass earphones should last a long time if taken care of.

Final Thoughts
The Master & Dynamic ME05 earphones stick closely to the middle of the audio road without veering either too low or too high. This may disappoint some bass heads or people who like a brighter sound, but those people are not M&D's target. M&D wants to please as many people as possible with something that sounds good to great and be comfortable doing it. And in that, they succeed.
One more thing. Before you say that $199 is a lot of money for earphones—brass or not—consider this: HifiMan makes brass earphones and those sell for $800. So by comparison, the M&D ME05 earphones are a bargain—especially since they sound so good.
Price: $199 US
Where to buy: Master & Dynamic
Source: The sample of this product was provided by Master & Dynamic.