We use affiliate links. If you buy something through the links on this page, we may earn a commission at no cost to you. Learn more.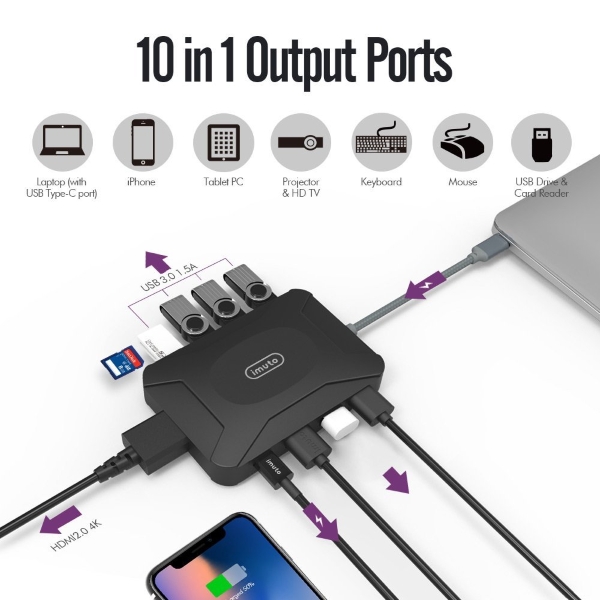 In my home studio, I currently have 4 USB hubs connected to my main computer, for a total of 18 data transfer and 3 charging ports, not including the 8 USB ports that are built-in to the computer. Despite that reasonable number of ports, I still find myself saying that I need another USB hub because I have more devices I need to connect. For me, convenience is very important, and being able to grab photos or videos off of a client's USB hub very quickly is a must, and I must be able to do so without plugging something out to accommodate it.
My USB port needs also extend to my laptops and when I am mobile. In this case, I need the hub to be a multifunction hub, so that I can carry fewer devices and still have great capability and connectivity.
The Imuto 10-in-1 USB-C hub is exactly such a device. This multifunctional hub has 1 USB-C PD 2.0 port, 1 wireless charging pad, 1 USB Type-C to HDMI 2.0 4K output port, and 7 high speed USB 3.0 ports for data transfer and charging. All of the ports can function simultaneously, with the 7 USB ports capable of data transfers up to 5 Gbps, and the 4K HDMI providing a constant and stable resolution of up to 3840 x 2160 at 30Hz. Imuto also stands behind their product by including an 18-month warranty.
You can purchase the Imuto 10-in-1 USB-C Hub at Amazon for $59.99.