We use affiliate links. If you buy something through the links on this page, we may earn a commission at no cost to you. Learn more.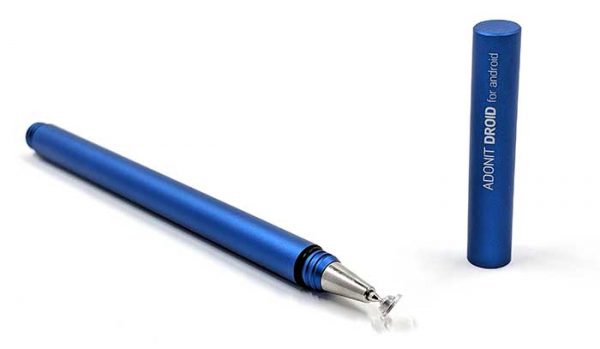 I remember when you had to have a stylus to enter text on your PDA. Then when finger friendly touchscreens took over, styluses became an accessory that most people no longer needed or even wanted. That said, there are still many people who enjoy using styluses to draw and write on their tablets and smartphones. Through the years, Adonit has been an innovator in the stylus market and their latest offering is the Droid stylus that has been designed for Android devices. Let's take a look.
What is it?
The Adonit Droid is a capacitive stylus just for Android devices. It doesn't require batteries, Bluetooth, or any special software in order to use it.
Design and features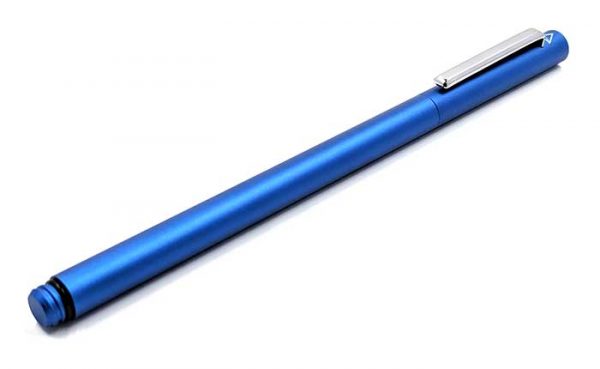 The Droid stylus is made of anodized aluminum and is available in three colors including the blue version that was sent to me. It has a smooth sandblasted type of finish that makes it comfortable to hold.
With the cap in place, the Droid stylus is 4.72 inches (120mm) in length.

The cap unscrews to reveal the stylus tip which is a small plastic disk that Adonit calls the Precision Disc. The disc swivels on a metal ball joint tip.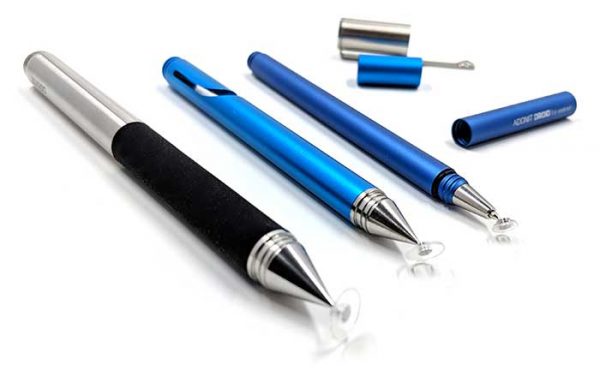 This type of stylus tip is not new. Adonit has featured this type of stylus many times over the years. In the image above, I show two other Adonit styluses with the new Droid stylus on the right. The main difference between the Droid and the other Adonit styluses shown here is the size of the disk. It's significantly smaller at 0.19 inch (4.75mm).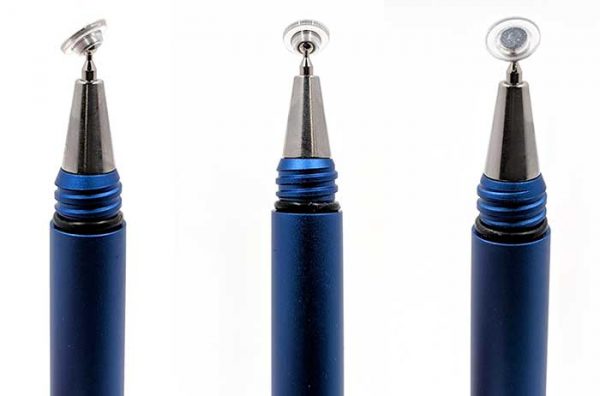 As mentioned above, the Precision Disc swivels on the tip to allow for natural writing. The Adonit website states that the Droid has a non-removable tip, but it appears that Adonit actually sells disc replacements in their shop for $14.99 each. That's pretty spendy for a tiny piece of plastic and a metal tube. It's more than half the price of the whole stylus.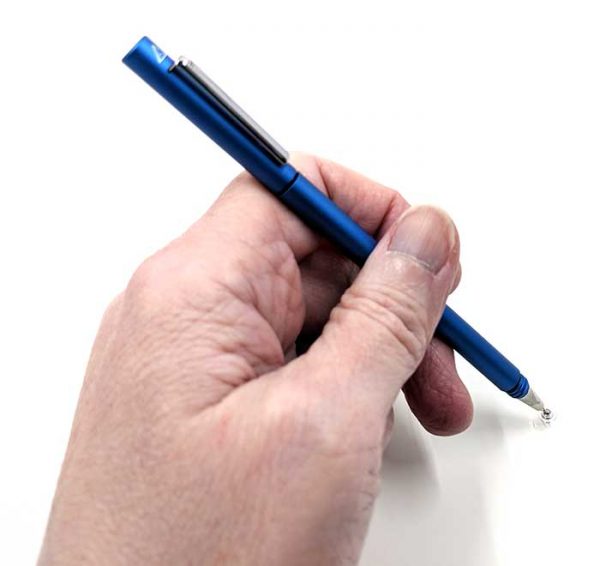 The stylus cap can post on the back of the stylus barrel which is a nice feature. The stylus itself is very slim at only 0.27 inches (7mm) wide. Although I didn't find it uncomfortable to use, a slightly larger version of the Droid stylus might be more comfortable for people with larger hands than mine.
I tested the Adonit Droid stylus on my Samsung Galaxy Tab 3 and my Pixel 2 XL and found that it felt like similar capacitive styluses that I've used. I also tried it on an older iPad and it would not work at all which surprised me. The only thing I can think of is that the tip is just too small for iOS devices.
I had no real issues using the Droid stylus, but the experience is not even close to as nice as the Samsung S Pen which truly does feel like using a pen on paper. Granted, the S Pen is only compatible with certain Samsung devices so it's not fair to compare them.
What I like
Small and slim
Doesn't require batteries
Doesn't require Bluetooth or special software
What needs to be improved
The price for a replacement disc should not be so expensive
Final thoughts
I still find styluses useful especially for doodling and sketching and occasional note taking. I find that scribbling a long note with a stylus is a lot faster for me than using the onscreen keyboard. I like that the Adonit Droid's Precision Disc stylus tip is so small because it makes it much easier to see what I'm writing or drawing. Other capacitive styluses can have large rubber tips that block the view of the digital "ink" as you're trying to work.
If you are an Android user and use a stylus, check out the Adonit Droid. It's a nicely made stylus that barely takes up any space in your pocket or bag. And although it's expensive to replace the disc tips, it is nice that the option is available.
Price: $24.99
Where to buy: Amazon
Source: The sample for this review was provided by Adonit.