We use affiliate links. If you buy something through the links on this page, we may earn a commission at no cost to you. Learn more.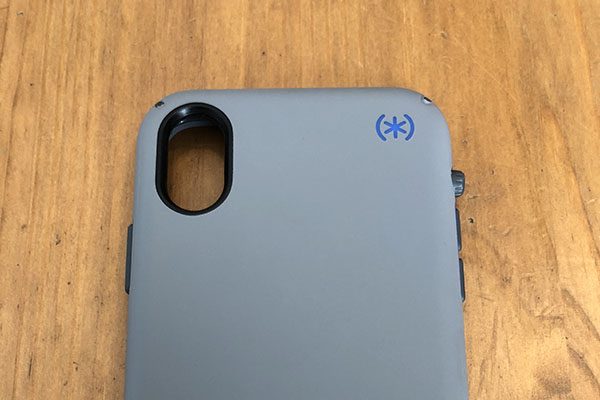 What is it?
A very protective case offering full, rugged protection with a smooth sport visual instead of harsh angles.
What's in the box?
Presidio Sport Case for iPhone X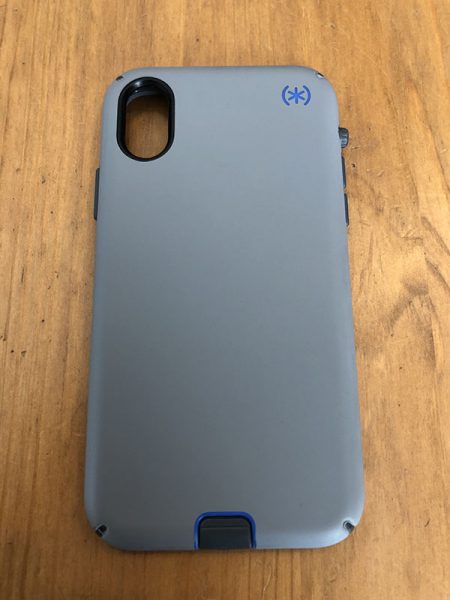 Design and features
Speck isn't new to the case business. They've been creating protective products for devices since 2001, and I want to disclose that I worked for them around 8 years ago. They've learned a lot in the past 17 years and the Presidio Sport Case showcases a lot of that knowledge.
There's a number of features so I'm just going to lay them out here and we'll take a closer look at the key ones in the review.
These features are called out on the packaging…
3-Layer construction of a polycarbonate shell, an Impactium™ Shock Barrier and an Impactium Sport outer layer.
Military-grade 10 feet drop protection
360º port protection
Raised bezel screen protection
Soft-touch no slip grip
Microban® anti-microbial technology
Additionally these two are called out on the website description; the first of which seems rather important to be absent from the packaging.
Qi wireless charging compatibility
Lab-tested durability
It's available in 5 different color combinations. The one shown here is Gunmetal Grey/Cobalt Blue/Slate Grey.
Installation
Installing the case is pretty easy thanks to the flex corners in Speck's design. Lead with the left side of the phone so that the mute switch and volume keys tuck under the edge of the case, then press down on the right corners of the phone until fully seated.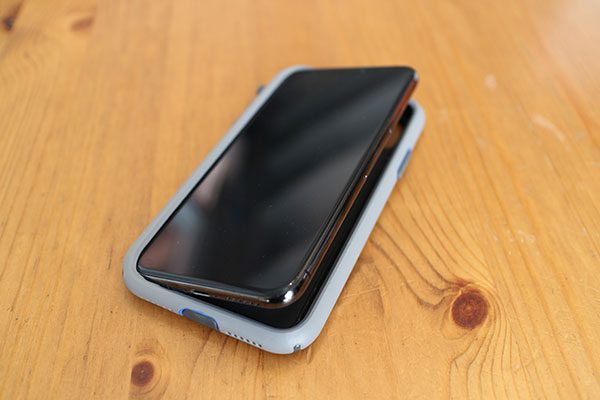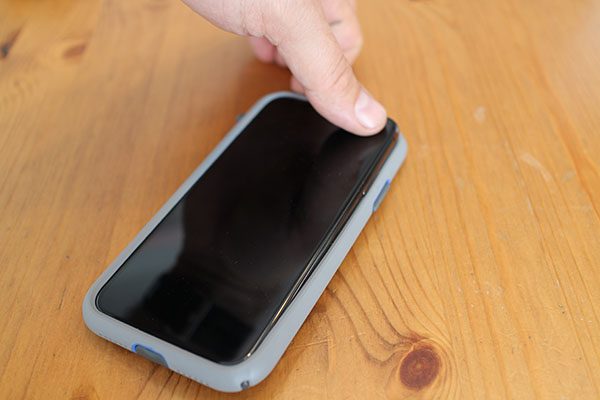 Performance
It can be hard to think about performance when talking about a case, but that's what we're going to do. To start, let me say that I would prefer to run my phone without a case. All the buttons and switches function just the way they should and feel great. As is the case with a lot of us, a phone is too important to my work and personal life to risk an accident. So, a case it wears.
More protective cases like this one add enough dimension that the buttons get recessed too far for easy access. The solution is to cover the buttons and try to maintain functionality. Well, Speck nailed it. All the buttons press beautifully and you know you've pressed them. Similarly, the mute-switch dial is a fantastic alternative to a cavity that would be too small for my fingers. A small turn and the haptics of the phone vibrate to let you know you're muted. When you find yourself idly playing with a feature like this, you know they got something right.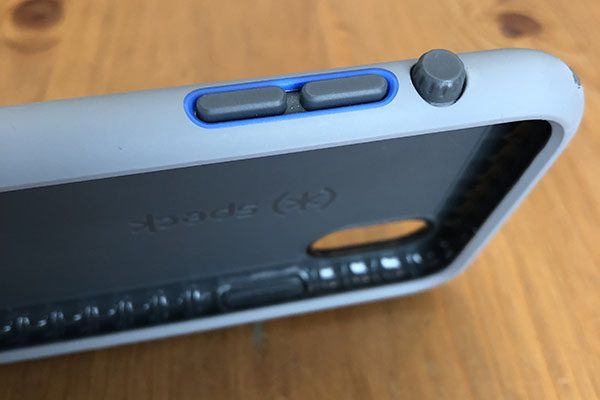 The inner frame has a scalloped design all the way around the inside edges which provide rigidity while reducing weight and serving as an anchor for the softer, shock-absorbing layers. The case weighs about 48g which brings the already hefty iPhone X up to 174g when installed. It doesn't feel significantly bigger than most normal cases and is definitely smaller than some of the real rugged options out there. The outer layer has a great feel and walks that fine line between avoiding a slippery case and one that's too grippy. No issues with wireless charging either which I wondered about initially.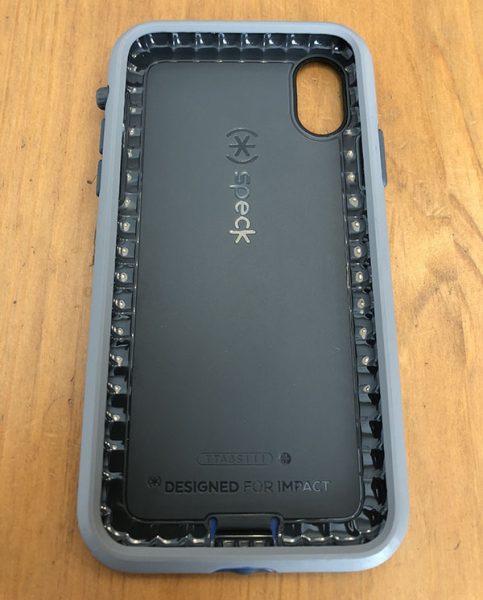 Testing drop performance is a tricky thing if you don't have a budget to replace a phone. I'm happy to report that this case protected mine beautifully when I accidentally fumbled my phone picking up my car from the dealer. It fell from waist height to polished cement and landed on a corner with a sound that didn't give me that uh-oh feeling. All good.
The hinged door does a great job of protecting the lightning port in between the speaker holes which line up the way they should. The door is large enough for some cables with large connector overmolds, and opens and closes with a nice positive snap. The living hinge design wants to stay in the closed position, but it doesn't overly fight you when connecting a cable. The back is totally flat including the lens area which is great for tapping out messages with your phone flat on a table, at least until a cable is connected, when the displaced port cover lifts the end of the phone off the table.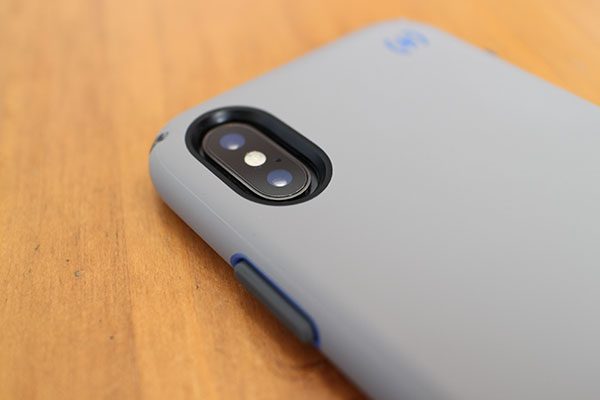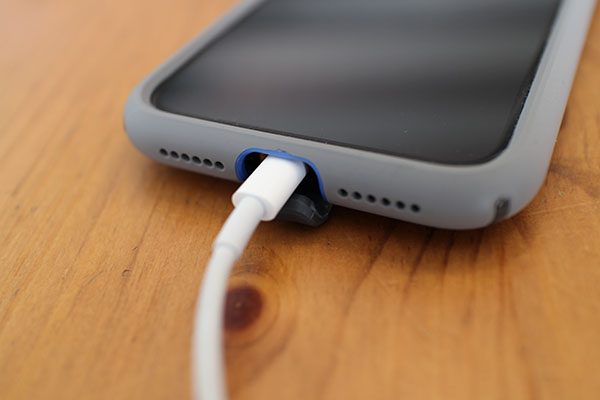 So what's this Microban? They're a company that's been around for over three decades fighting damaging microbial growth before it starts. Here's the thing; it's not the kind of feature that you can really see or tell is working as a consumer. So maybe think about it this way. How frequently do you hand your phone to someone else to share a photo or a website? Set it down in a taxi, or on a cafe counter? If it works even close to as well as they say it does, it definitely can't hurt and if it's on a case that you like, why not?
What I like
Flat back – the back of the case is perfectly flat counteracting the normally protruding camera lens. Tap away to your heart's content without your phone rocking around.
Button feel – The tactility is perfect. You can press and know you've pressed.
Rotary switch – Great solution for a case that would otherwise have a deep finger hole recess for accessing the switch.
Hand feel – the case has a silky touch without being too tacky or slippery.
Screen protection – the iPhone screen is recessed into the case even when using an additional glass screen protector.
What needs to be improved
I would love to see the lightning cover be removable. It's great protection, but when open with a connected cable the case doesn't lay flat. It would be great to see this as an optional part that can be removed before installing your phone.
A mention of Qi compatibility on the packaging.
Final thoughts
There's a lot to like about this case, and very little to gripe about. If you're looking for a case with better than average protection against drops and accidents, this is a solid choice.
Price: $44.95
Where to buy: Speck Products and Amazon
Source: The sample of this product was provided by Speck Products